Tate is the name of the institution that manages 4 amazing art galleries in the United Kingdom.
Two of the most popular ones are located in London and are referred to as Tate Britain and Tate Modern. The other 2 museums are called Tate Liverpool and Tate St Ives in Cornwall.
The institution operates as a company but is closely tied to the UK Government. Its main sponsor is the UK Department for Digital, Culture, Media, and Sport.
Tate has a history that goes back to its foundation as the "National Gallery of British Art" in 1897. It was eventually named after sugar magnate Henry Tate (1819-1899). He donated his substantial collection of art which formed the foundation of the collection.
In this article, we'll take a closer look at some of the most famous paintings at Tate Britain, a museum located in Millbank in the City of Westminster in central London.
1. Snow Storm: Steam-Boat off a Harbour's Mouth – J.M.W. Turner
Date created: 1842
Dimensions: 91 × 122 centimeters (36 × 48 inches)
Snow Storm: Steam-Boat off a Harbour's Mouth is one of the most fascinating paintings by J.M.W. Turner (1775–1851), one of the greatest English artists in history. It's a distinctive painting by the Romantic artist who often produced violent seascapes of which this can be considered to be a prime example.
The painting depicts a steamboat known as a "paddle steamer" that is caught up in a snowstorm. Joseph Mallord William Turner left an inscription on the painting saying: "The Author was in this Storm on the Night the "Ariel" left Harwich." Whether or not Turner experienced an event like this remains uncertain.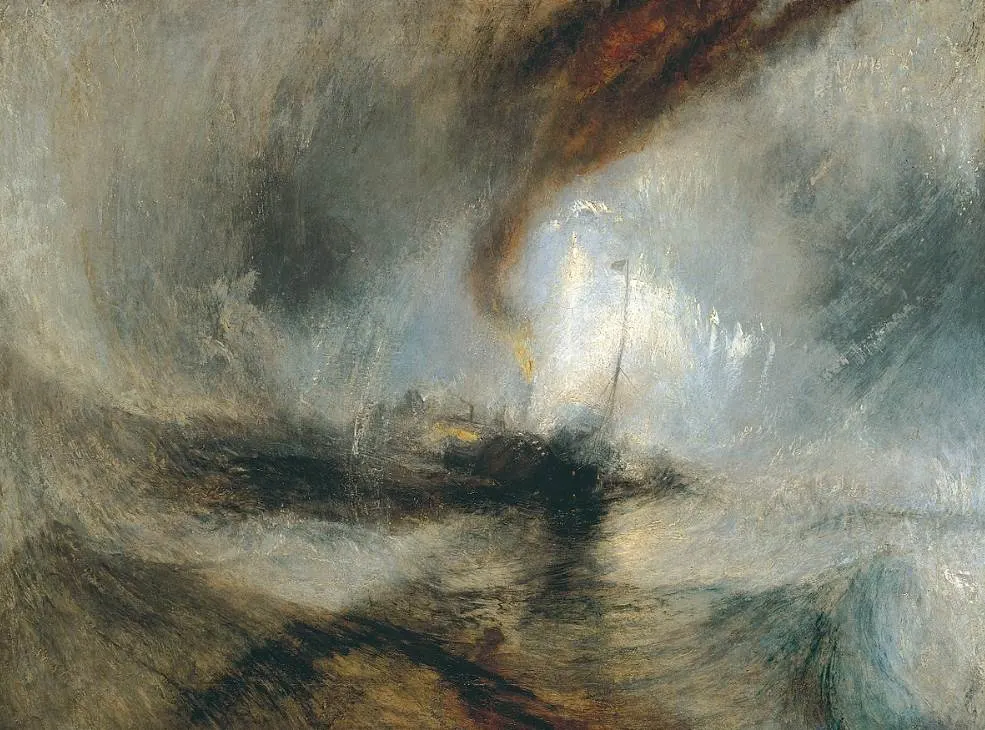 2. The Age of Innocence – Sir Joshua Reynolds
Date created: 1785-1788
Dimensions: 76.5 × 63.8 centimeters (30.1 × 25.1 inches)
The Age of Innocence is considered to be a character study by Sir Joshua Reynolds (1723-1792), one of the most renowned English portrait painters of the 18th century. This type of painting was referred to back then as a "fancy picture." It depicts a young girl who became renowned for being the "commercial face of childhood."
The identity of the sitter is unknown but is believed to be the artist's great-niece named Theophila Gwatkin who was around the age of 3 to 6 when the painting was produced (the exact date remains unknown). The painting was extremely popular during the 19th century and remains an amazing attraction at Tate Britain today.
3. Carnation, Lily, Lily, Rose – John Singer Sargent
Date created: 1885
Dimensions: 174 × 153.7 centimeters (68.5 × 60.5 inches)
---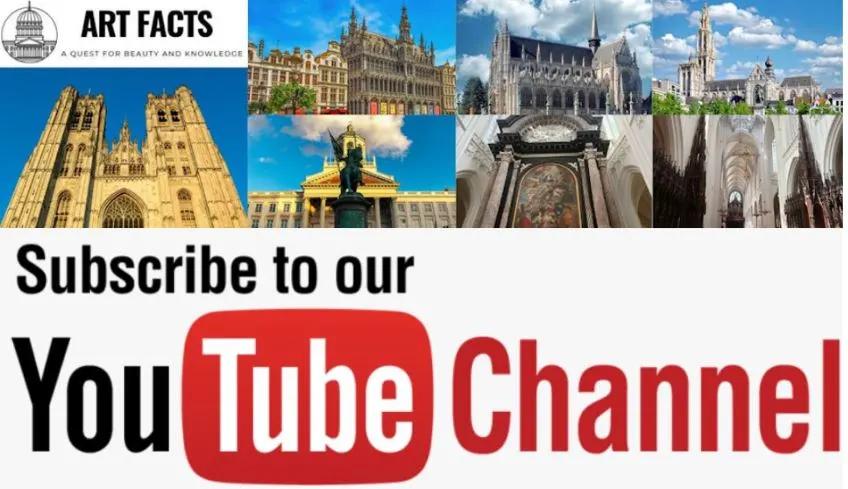 ---
Carnation, Lily, Lily, Rose is one of the best-known paintings by American artist John Singer Sargent (1856-1925). He was one of the leading portrait painters of his time and he lived and worked most of his career in Europe. This painting depicts two young girls who are lighting paper lanterns and is extremely colorful.
The setting of the work is the garden of Farnham House in Broadway. This is a town in the Cotswolds in Worcestershire in south-central England. It was produced in 1885 which was shortly after he moved to England. He had to escape Paris, the city in which he was trained, because of the scandal caused by his "Portrait of Madame X."
4. Giovanna Baccelli – Thomas Gainsborough
Date created: 1782
Dimensions: 226.7 x 148.6 centimeters (89.2 x 58.5 inches)
Giovanna Baccelli is the name of a portrait by Thomas Gainsborough (1727-1788) of an Italian woman named Giovanna Francesca Antonio Guiseppe Zanerini (1753-1801). She was born in Venice and became a famous dancer in the 18th century. She often performed as a ballerina at the King's Theatre in London and was at the peak of her career when this painting was completed.
Gainsborough, a man who preferred to paint landscapes but was forced to paint portraits for extended periods of his career to make a living, painted the woman as she appeared during her performances. This particular pose, make-up, and costume were derived from a ballet called "Les Amans Surpris."
5. The Lady of Shalott – John William Waterhouse
Date created: 1888
Dimensions: 183 × 230 centimeters (72 × 91 inches)
The Lady of Shalott is one of the most famous paintings by Engish artist John William Waterhouse (1849-1917). It's considered to be the epitome of the Pre-Raphaelite Brotherhood, a group of artists of which Waterhouse was one of the leading figures.
The painting was derived from a poem written in 1832 by Alfred Tennyson, 1st Baron Tennyson (1809-1892). The poem has the same name and the painting depicts the artist's interpretation of the poem's ending. The artist's produced 3 more paintings of this character later in his career.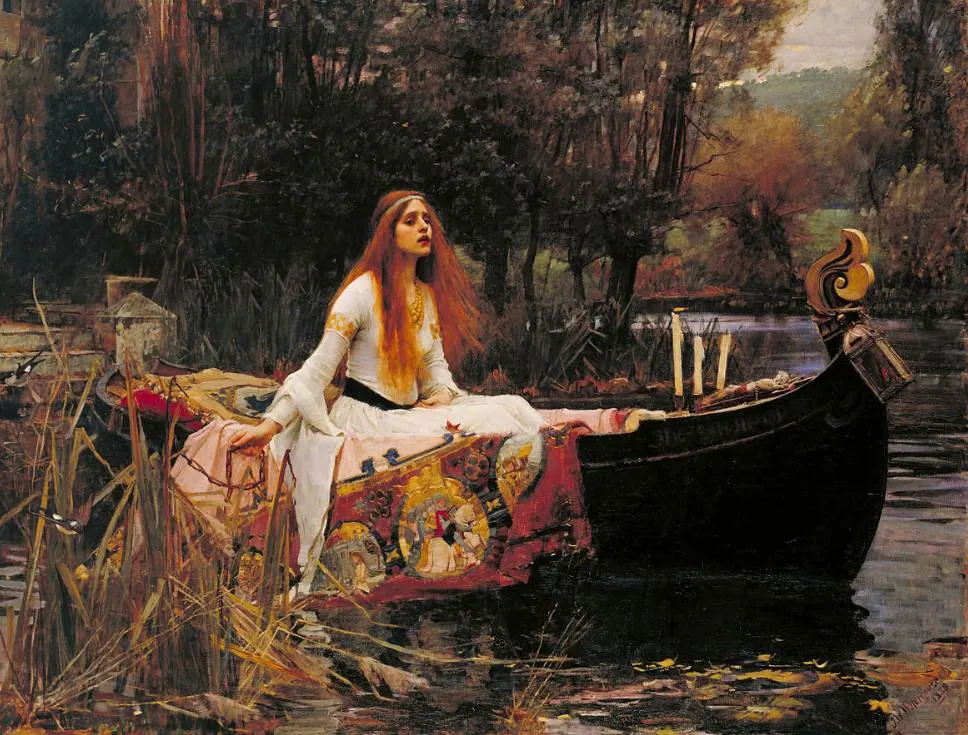 6. Nocturne: Blue and Gold – Old Battersea Bridge – James McNeill Whistler
Date created: 1872-1875
Dimensions: 68.3 × 51.2 centimeters (26.87 × 20.12 inches)
Nocturne: Blue and Gold – Old Battersea Bridge is a rather gloomy painting by American artist James McNeill Whistler (1834-1903). It depicts the old wooden version of the Battersea Bridge, a bridge that crosses the River Thames and connects Chelsea in the north to Battersea in the south.
Despite the hazy view, we can still recognize some other landmarks in the picture. Chelsea Old Church can be seen on the left and the Albert Bridge in the distance. The Albert Bridge was only recently constructed between 1884 and 1887 when Whistler completed this painting. Fireworks on top complete the remarkable atmosphere in this work.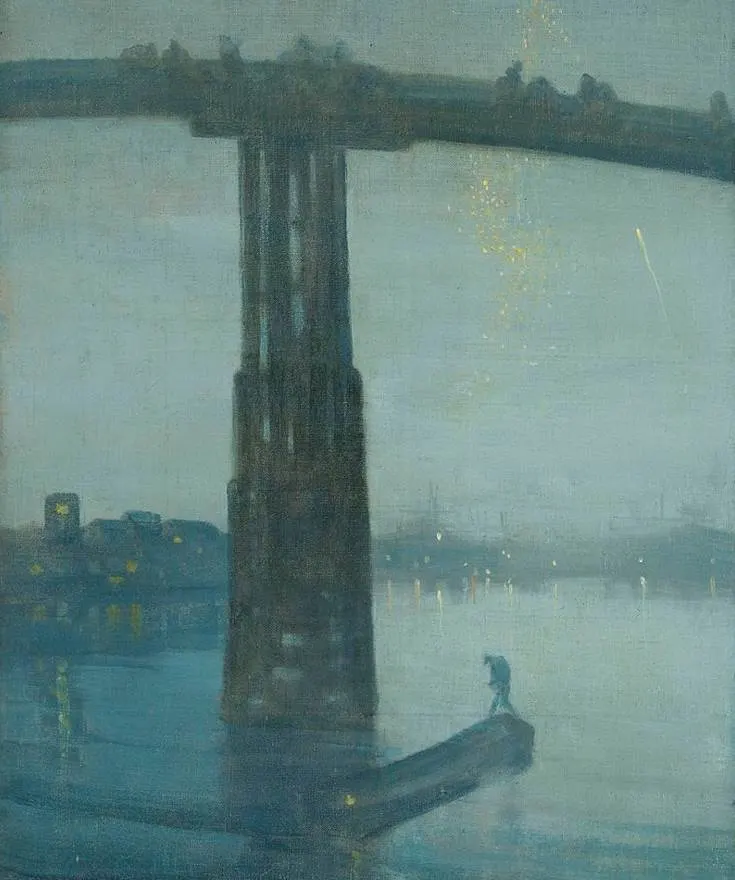 7. The Fairy Feller's Master-Stroke – Richard Dadd
Date created: 1855-1864
Dimensions: 54 x 39.5 centimeters (21.2 x 15.5 inches)
The Fairy Feller's Master-Stroke is a painting by English artist Richard Dadd. It was completed between 1855 and 164 at a time that he was imprisoned State Criminal Lunatic Asylum of Bethlem Royal Hospital. He was placed here following the murder of his father in 1843 and he produced most of his most famous works here.
He started his career producing fairy paintings and was admitted to the Royal Academy of Arts at the age of 20. His mental illness resulted in delusions which led to his heinous crime and admission to the mental hospital. It was the warden of the facility in London who commissioned this work which pretty much explains the state of his mental condition at the time.
8. Salisbury Cathedral from the Meadows – John Constable
Date created: 1831
Dimensions: 153.7 × 97 centimeters (60.5 × 38 inches)
Salisbury Cathedral from the Meadows is the self-explanatory title of a painting by John Constable (1776-1837), one of the greatest English landscape painters of the 19th century. He painted this work 3 years after the death of his wife Maria and added a note to it saying "That the rainbow is a symbol of hope after a storm that follows on the death of the young Amelia in the arms of her lover Celadon."
This was a reference to some lines from a poem written by Scottish poet James Thomson (1700-1748) called "The Seasons." Tate Britain only acquired this painting in 2013 and had to pay the hefty sum of £23.1 million. They raised the money with the help of the Heritage Lottery Fund, the Art Fund, and several other partners.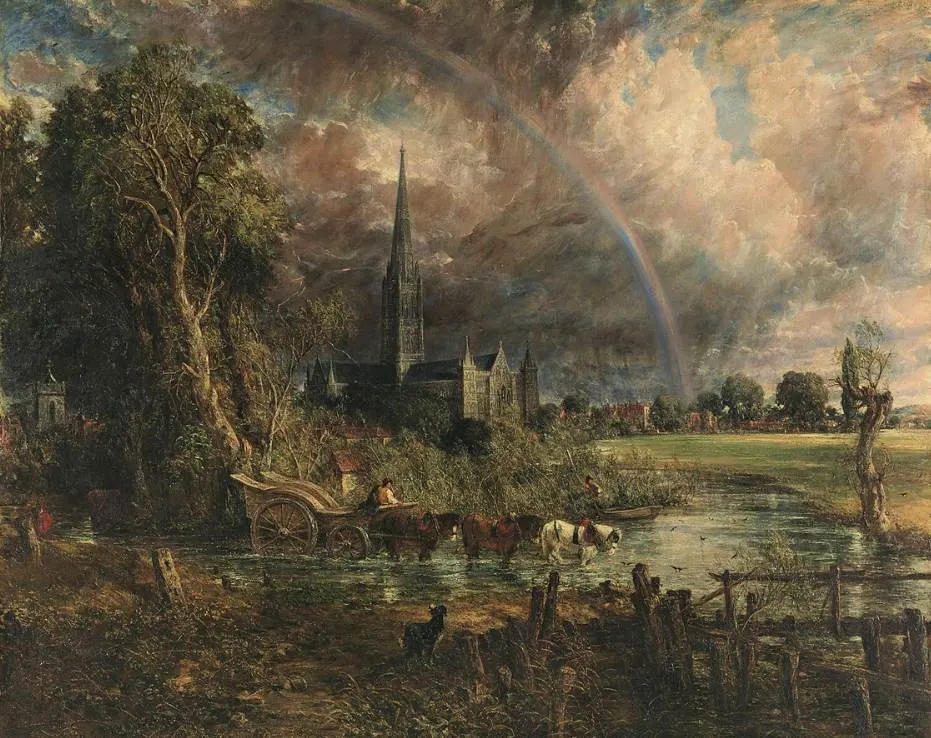 9. Ophelia – John Everett Millais
Date created: 1851-1852
Dimensions: 76.2 × 111.8 centimeters (30 × 44 inches)
Ophelia is the most famous painting by Sir John Everett Millais, 1st Baronet (1829-1896), one of the founders of the Pre-Raphaelite Brotherhood. It depicts Ophelia, a character from William Shakespeare's play Hamlet, while she is singing shortly before she drowns in a river in Denmark.
It's considered to be an immensely important mid-19th-century painting. It influenced numerous other famous artists, including John William Waterhouse and Salvador Dalí. The artist first accurately painted the natural landscape and only added the figure of Ophelia to it later on.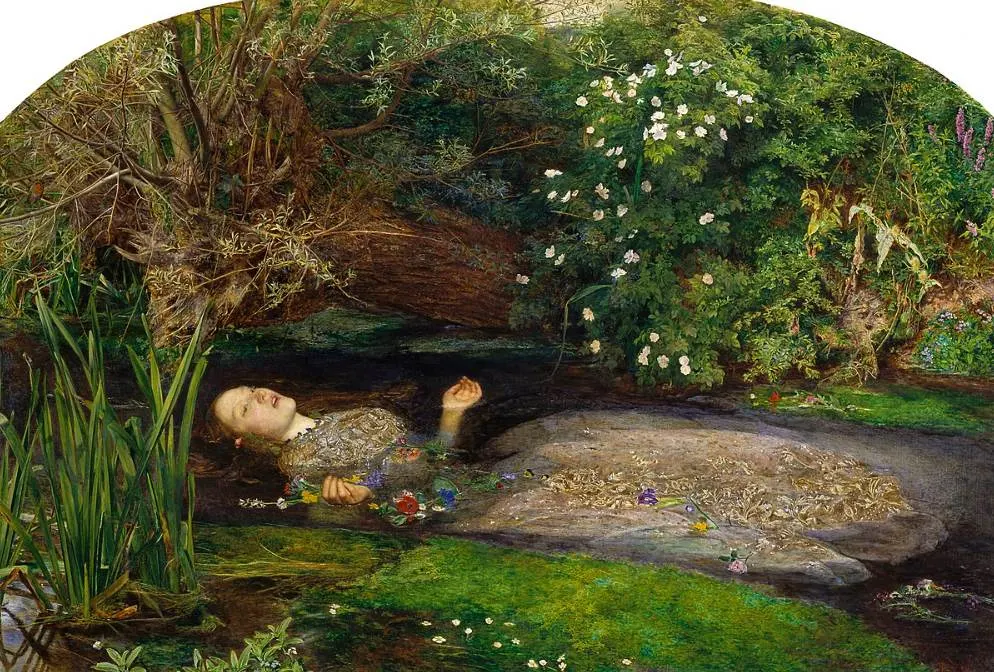 10. Norham Castle, Sunrise – J.M.W. Turner
Date created: 1845
Dimensions: 90.8 × 121.9 centimeters (35.7 × 48.0 inches)
Norham Castle, Sunrise is another amazing painting by J.M.W. Turner, an artist who is well-represented at Tate Britain because of the paintings he bequeathed to the nation. It was one of the artist's final paintings and depicts Norham Castle in Northumberland.
Norham is a small village in the utmost northeastern corner of England and Norham Castle overlooks the River Tweed. This river forms the boundary between England and Scotland which means it has played an important role as a stronghold in the region. Turner visited this castle multiple times in his life and produced many versions, including one of his first paintings completed in 1798.