The Dutch Golden Age or "Gouden Eeuw" as it's locally referred to was a period in history in which the Dutch Republic was the most advanced nation in Europe.
The period is generally dated to between the establishment of the Dutch Republic in 1588 and the "Rampjaar" in 1672, which is almost a century.
That was more than enough time for Dutch Golden Age painters to develop a unique style of art commonly referred to as Dutch Golden Age painting today.
Although many Dutch artists during this period were influenced by Baroque artists elsewhere in Europe, several painted subjects that weren't found elsewhere.
The most notable are genre paintings, still lives, and landscapes. The main reason for this was the lack of Catholic patronage in the Dutch Republic caused by the absence of the Counter-Reformation.
So what are some of the most famous Dutch Golden Age paintings? Let's check them out!
1. The Night Watch – Rembrandt van Rijn
Date created: 1642
Dimensions: 363 × 437 centimeters (142.9 × 172 inches)
Location: Rijksmuseum, Amsterdam, Netherlands
The Night Watch is a painting by Rembrandt van Rijn (1606-1669), a Dutch Golden Age painter who is often referred to as one of the greatest artists in history. It's an enormous work of art that depicts a group portrait of the militia of Amsterdam and was commissioned to hang inside their headquarters.
Most of the men in the painting were distinguished people in the Dutch Republic in the 17th century as was often the case in this type of group portrait. Although the title suggests it takes place at night, this is actually a scene in the daytime. Accumulated dirt made it look as if it took place in the middle of the night.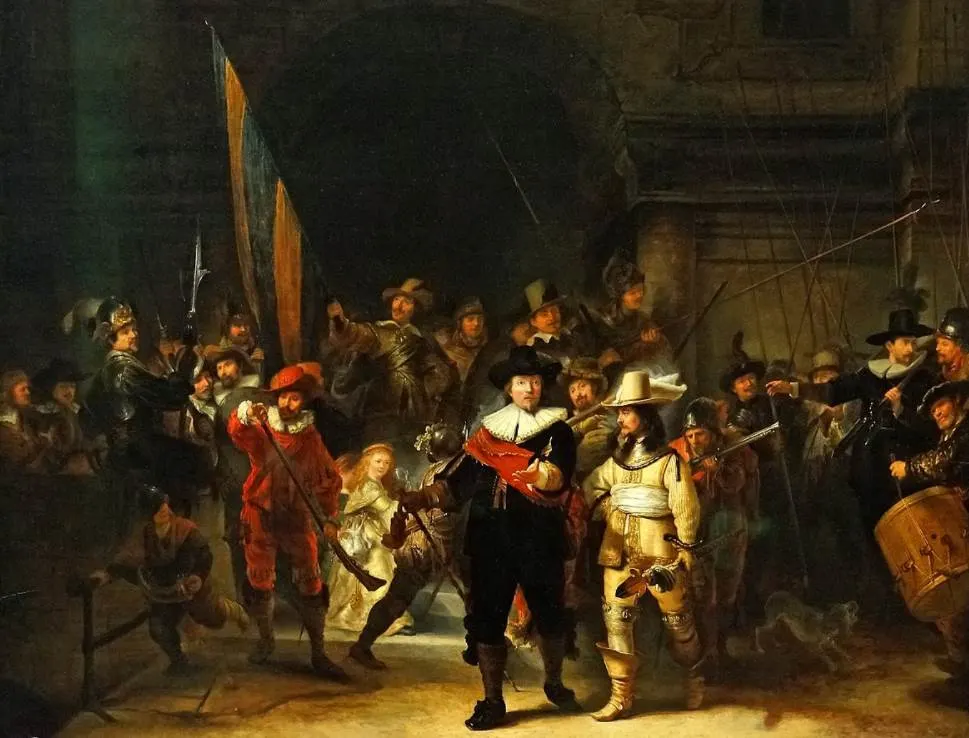 2. Girl with a Pearl Earring – Johannes Vermeer
Date created: 1665
Dimensions: 44.5 × 39 centimeters (17.5 × 15 inches)
Location: Mauritshuis, The Hague, Netherlands
Girl with a Pearl Earring is the best-known painting by Johannes Vermeer (1632-1675), a painter who lived and worked in Delft and who mainly focused on painting domestic scenes. The painting is named after the distinctive earring worn by this young girl.
---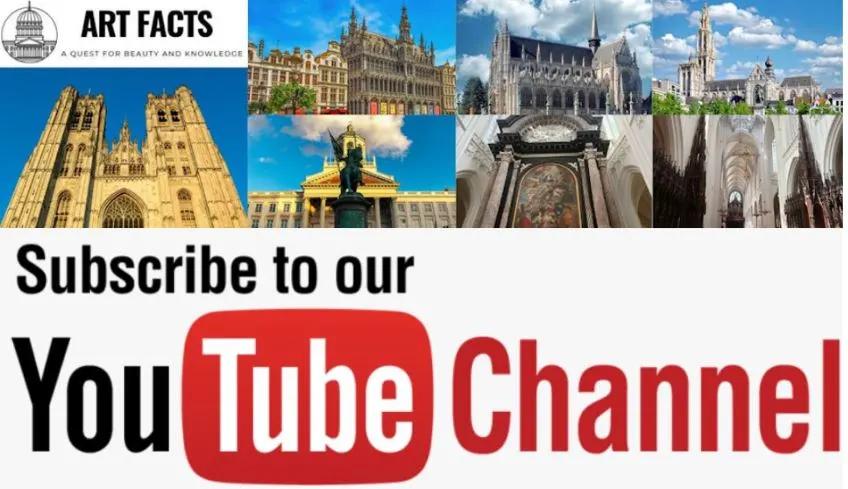 ---
The oriental-style dress and exotic turban are other elements that make this a remarkable 17th-century work of art. The girl looks strikingly modern considering she lived hundreds of years ago. Because of this, the painting has been featured in a wide variety of different media.
3. Laughing Cavalier – Frans Hals
Date created: 1624
Dimensions: 83 × 67.3 centimeters (33 × 26.5 inches)
Location: Wallace Collection, London, United Kingdom
Laughing Cavalier (1582-1666) is a fascinating painting by Frans Hals, the leading portrait painter of the Dutch Golden Age. He lived and worked in Haarlem and barely left his home city. He painted several important members of society during his long career, including this amazing portrait.
The suggested identity of this man is Tieleman Roosterman (1598-1673), a local cloth merchant who certainly had the money to commission a portrait. Not just that, he was depicted in another work as well titled "Portrait of Tieleman Roosterman." It was probably commissioned to commemorate his wedding in 1631.
4. The Matchmaker – Gerard van Honthorst
Date created: 1625
Dimensions: 71 × 104 centimeters (28 × 41 inches)
Location: Centraal Museum, Utrecht, Netherlands
The Matchmaker is a painting by Gerard van Honthorst (1592-1656) that is also known as "The Procuress." It's a typical painting by the Dutch Golden Age painter who learned the trade while traveling to Rome in the early 17th century.
Because of this, he was highly influenced by the chiaroscuro paintings of Caravaggio (1571-1610). This work is a typical painting by Honthorst who mainly focused on artificially lit scenes such as this one. He was one of the leading artists of the so-called Utrecht Caravaggisti.
5. The Dancing Couple – Jan Steen
Date created: 1663
Dimensions: 102.5 × 142.5 centimeters (40.4 × 56.1 inches)
Location: National Gallery of Art, Washington, D.C., United States
The Dancing Couple is one of the most famous paintings by Jan Steen (1626-1679), a man who painted some of the most iconic genre paintings during the Dutch Golden Age. This scene takes place in a local village and shows a bunch of people having a good time.
This type of party took place during the annual kermis, the local fair in a village in the Dutch Republic, and Flanders. The composition is centered around a dancing couple while many other people are eating, drinking, and playing music nearby.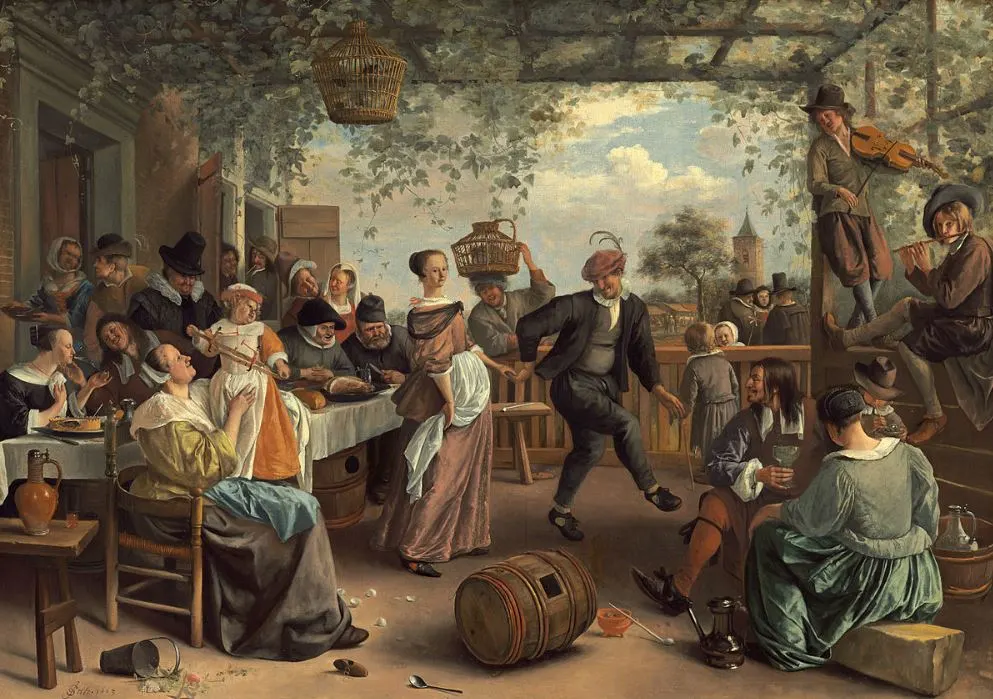 6. A Dutch Courtyard – Pieter de Hooch
Date created: 1658-1660
Dimensions: 69.5 × 60 centimeters (27.4 × 24 inches)
Location: Mauritshuis, The Hague, Netherlands
A Dutch Courtyard is one of the most famous works by Pieter de Hooch (1629-1684), a contemporary of JOhannes Vermeer who also lived and worked in Delft when Vermeer became a full-time painter. Both men were part of the local Guild of Saint Luke.
Like Vermeer, Pieter de Hooch mainly focused on scenes that took place in or in the vicinity of a house. This courtyard depicts two cavaliers and a woman drinking as they are accompanied by a little girl holding a pot. The background depicts steps leading into the garden and the tower of Nieuwe Kerk in Delft.
7. The Last Drop – Judith Leyster
Date created: 1629
Dimensions: 89 × 73.7 centimeters (35 × 29 inches)
Location: Philadelphia Museum of Art, Philadelphia, United States
The Last Drop is the title of a painting by the female Dutch Golden Age Painter Judith Leyster (1609-1660). Leyster's oeuvre was largely forgotten after she passed away and it was only until the late 19th century that her works were attributed to her instead of Frans Hals.
The notion that her paintings were attributed to one of the most renowned portrait painters in history emphasizes the quality of her paintings. She was the first woman in the Guild of Saint Luke in Haarlem. This work is generally believed to depict the loss of self-respect while drunk.
8. View of Haarlem with Bleaching Fields – Jacob van Ruisdael
Date created: 1670-1675
Dimensions: 62.2 × 55.2 centimeters (24.5 × 21.7 inches)
Location: Kunsthaus Zürich, Zurich, Switzerland
View of Haarlem with Bleaching Fields is a work by Jacob van Ruisdael (1629-1682), a man who is considered to be the leading landscape painter of the Dutch Golden Age. It's one of many of his landscapes in which the sky takes up most of the composition.
The painting depicts the flat Dutch landscape with the city of Haarlem in the distance. The city is dominated by the Grote Kerk or "St. Bavo's Church," a former Catholic church. The artist painted several versions of this scene which are located in museums all around the world.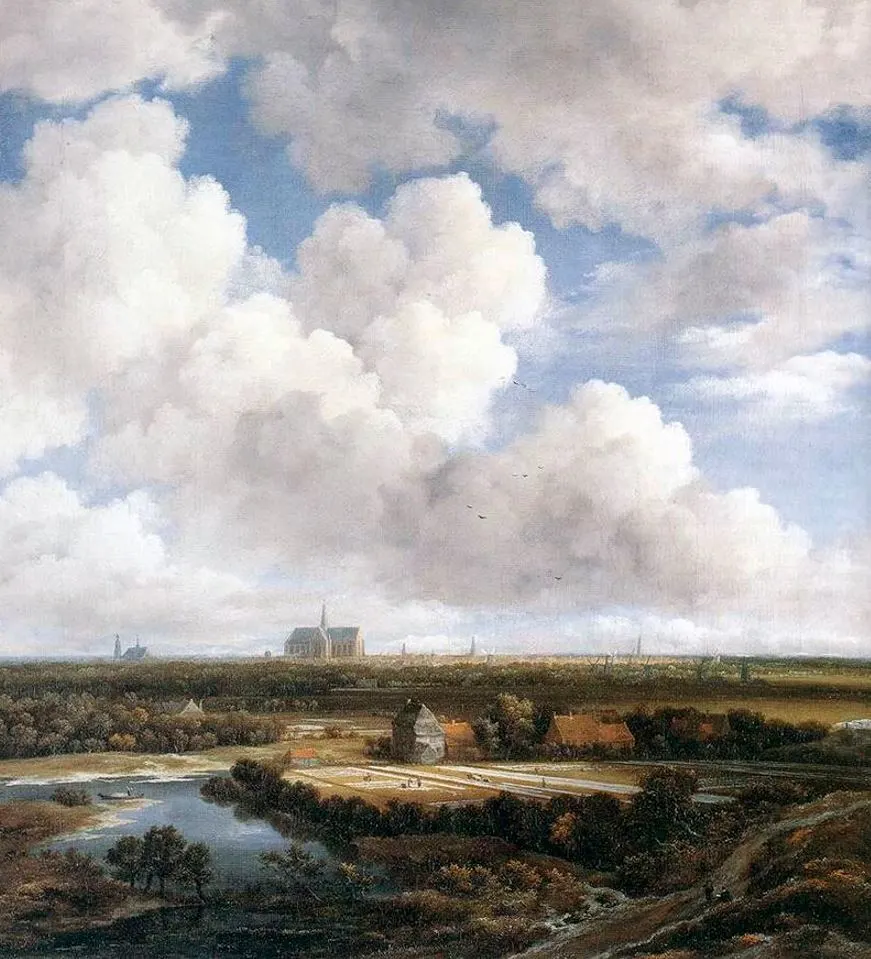 9. A Woman playing the Clavichord – Gerrit Dou
Date created: 1665
Dimensions: 37.7 x 29.9 centimeters (14.84 x 11.77 inches)
Location: Dulwich Picture Gallery, London, United Kingdom
A Woman playing the Clavichord is a painting by Gerrit Dou (1613-1675), an artist from Leiden who was trained in the studio of Rembrandt when the Dutch master was in his early twenties. He didn't adopt the same style as his master and mainly focused on highly detailed and polished works of art.
Ge became one of the leading artists of the so-called "Leiden Fijnschilders," a group of painters from Leiden who focused on depicting things as realistically as possible. Paintings depicting people playing music were often associated with love in the 17th century. The girl might look at her lover as she is waiting for him to accompany her paying the nearby viola da gamba.
10. Winter Landscape with Skaters – Hendrick Avercamp
Date created: 1608
Dimensions: 77.3 × 131.9 centimeters (30.4 × 51.9 inches)
Location: Rijksmuseum, Amsterdam, Netherlands
Winter Landscape with Skaters is the title of one of the approximately 100 paintings by Hendrick Avercamp (1585-1634) that depict winter scenes. Avercamp was the first Dutch Golden Age painter to focus on these types of paintings and unlike other landscape artists, his works often feature crowded scenes.
The style of Avecamp resembles that of the paintings by Pieter Bruegel the Elder (1525-1569), a man who painted similar iconic scenes featuring dozens of people. This winter landscape is considered to be one of the earliest works by the artist and it set the tone for the rest of his career.