This Dutch Golden Age painter was born in a major port city in modern-day Belgium, but he lived and worked almost his entire life in the Dutch city of Haarlem.
Frans Hals (1582-1666) was the son of a cloth merchant from Antwerp who had to flee with his family to the north during a year-long siege in the 1580s.
He started his career restoring art on by the town council but quickly started earning prestigious commissions.
His long career is defined by the famous portraits and genre paintings that he completed in what was then a remarkable painterly style. Many of these can be admired at the Frans Hals Museum in his native city.
He was one of the first artists of his time to integrate visible brushstrokes, a technique that didn't become popular until the 19th century. This makes his paintings easily recognizable.
Let's take a closer look at some of the most famous paintings by Frans Hals, one of the most renowned Dutch artists in history.
1. Portrait of Jacobus Zaffius
Date created: 1611
Dimensions: 54.5 x 41 centimeters (21.4 x 16.1 inches)
Location: Frans Hals Museum, Haarlem, Netherlands
The Portrait of Jacobus Zaffius is one of the most notable paintings in the oeuvre of Frans Hals, and this is for the simple reason that it was his first documented commission. It's the earliest surviving painting by the Dutch master. Remarkable, he already painted a now-lost portrait of this man in 1609.
Jacobus Zaffius (1534-1618) was a Catholic pastor in Haarlem, the city where Frans Hals lived and worked his entire life. The man endured some troubles during his lifetime because of the rise of the Calvinists. He even went to jail after refusing to turn over his Catholic property but was later given amnesty by Willem the Silent. It was on this occasion that this portrait was painted.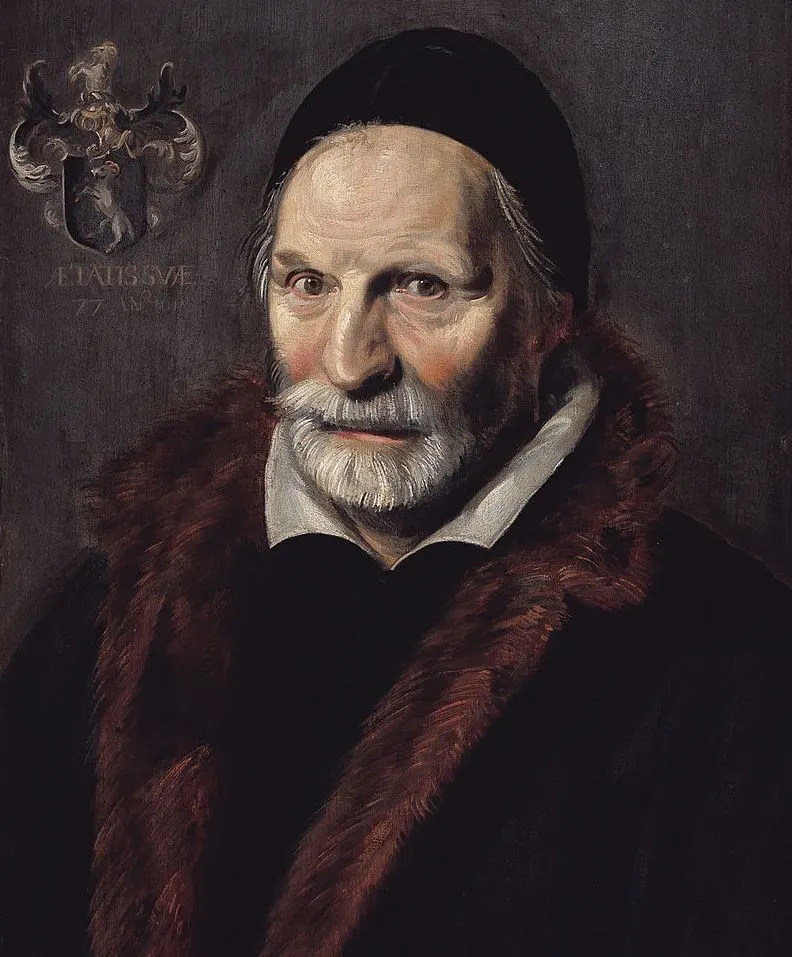 2. The Banquet of the Officers of the St George Militia Company in 1616
Date created: 1616
Dimensions: 175 x 324 centimeters (68.8 x 127.55 inches)
Location: Frans Hals Museum, Haarlem, Netherlands
The Banquet of the Officers of the St George Militia Company in 1616 is the title of another important work by Frans Hals. It was the first in a series of huge group portraits that depict the local militia of Saint George, the civic guard in his home city.
---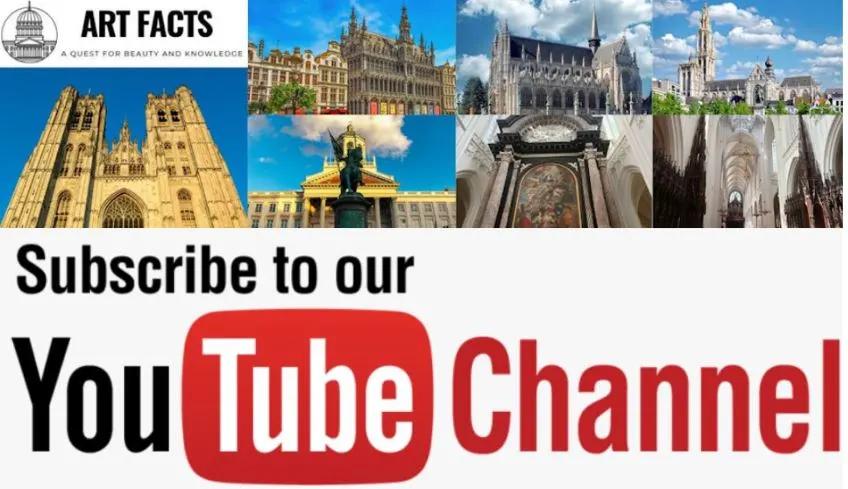 ---
This painting highlights the incredible talent of the Dutch artist because he managed to create a vibrant composition, not an easy task when people sit at a table. He did, however, have a great example to follow because his colleague Cornelis Cornelisz van Haarlem (1562-1638) already painted a similar painting of this militia in 1599.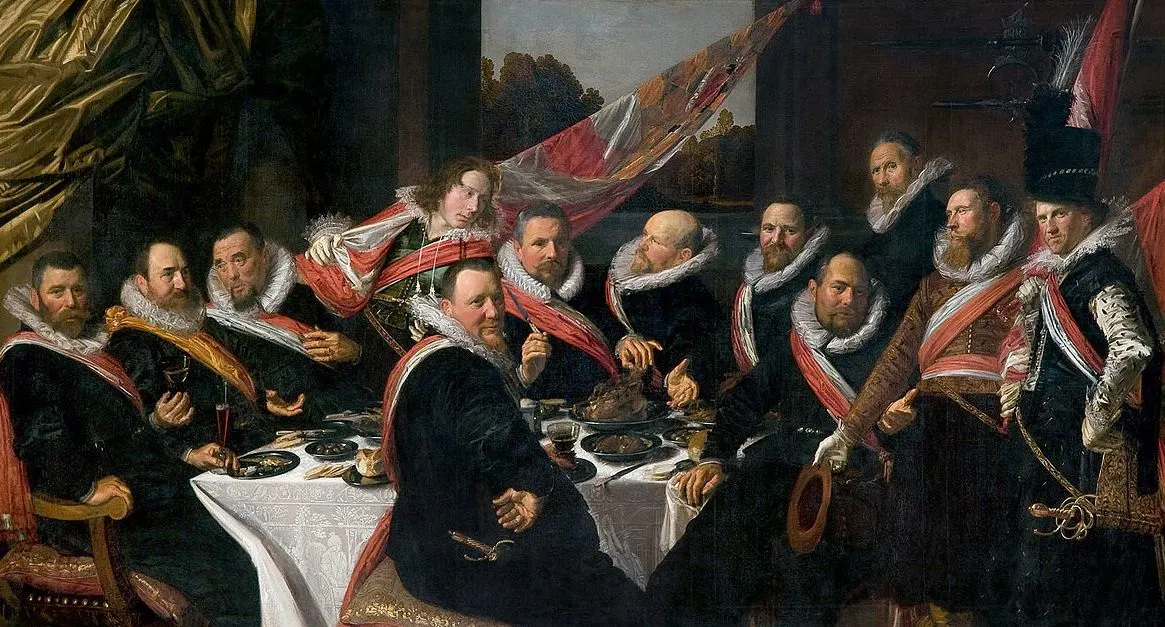 3. Laughing Cavalier
Date created: 1624
Dimensions: 83 × 67.3 centimeters (33 × 26.5 inches)
Location: Wallace Collection, London, United Kingdom
The Laughing Cavalier is a painting that highlights the talent of Frans Hals as a portraitist. It has been referred to as one of the most brilliant portraits ever produced during the Dutch Golden Age, and even the Baroque era, and this is definitely not an overstatement.
The painting was moved to England in the 1870s and it instantly became a sensation everywhere it was exhibited. This was also the time that it earned its current title. The depicted man is presumably the Dutch cloth merchant Tieleman Roosterman, a man who was painted once more in another portrait by Hals.
4. The Gypsy Girl
Date created: 1628-1630
Dimensions: 57.8 × 52.1 centimeters (22.8 × 20.5 inches)
Location: Louvre Museum, Paris, France
The Gypsy Girl is the title of one of the best-known examples of a type of painting known as a "Tronie." This literally translates to "Face" in Dutch and that's because the entire purpose of these genre paintings was to depict a particular facial expression.
These paintings also featured remarkable dresses and this is certainly the case in the work as well. It was very uncommon for a painter to depict cleavage like in the Gypsy Girl. Research has shown that he initially painted this girl with her breasts covered but later changed his mind and made her décolleté more visible.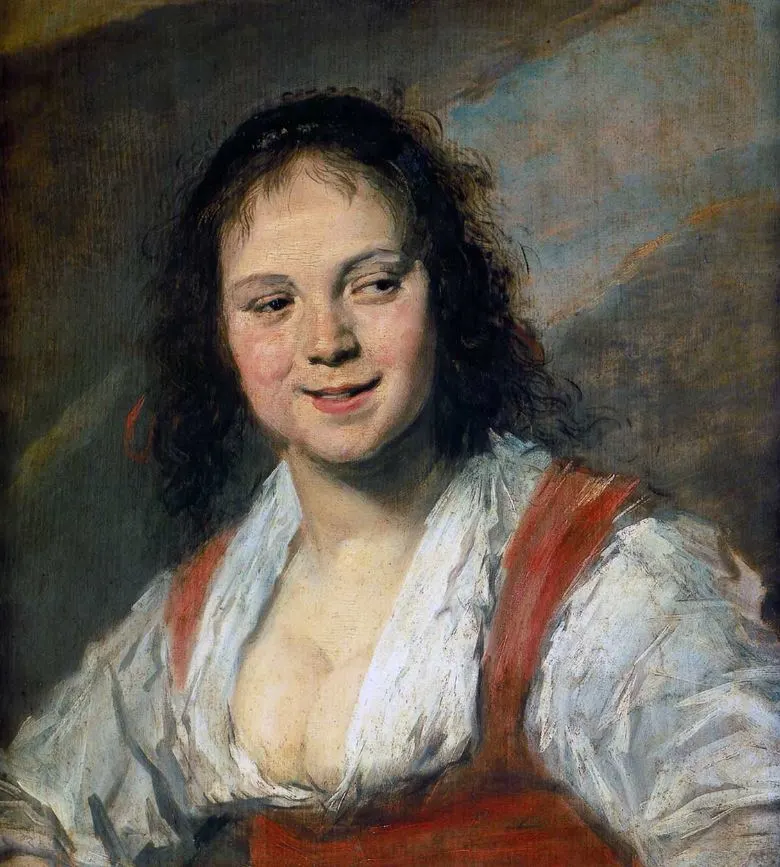 5. Shrovetide Revellers
Date created: 1616-1617
Dimensions: 131.4 × 99.7 centimeters (51.7 × 39.3 inches)
Location: MET Museum, New York City, United States
Shrovetide Revellers is a painting that also goes by the title "Merrymakers at Shrovetide" and is another early work by the Dutch master. This title is a reference to festivities during Shrivetide, a type of carnival in the Netherlands that takes place before the Christian fasting season of Lent.
As you can see, this was a pretty jolly affair full of food, drinks, and laughter. The composition is dominated by an elegantly dressed woman in the center who is surrounded by men who clearly are in fine form. None of Frans Hals' paintings feature such a remarkable dress as the one worn by this young lady.
6. The Lute Player
Date created: 1623-1624
Dimensions: 70 × 62 centimeters (28 × 24 inches)
Location: Louvre Museum, Paris, France
The Lute Player is another tronie in which a young man is playing the lute while wearing a jester's costume. This type of painting was first produced in Italy and especially the painting by Caravaggio, one of the greatest Baroque artists in history, was highly influential.
It was the Dutch artist Dirck van Baburen, a fervent admirer of the Italian painter and leading figure of the Utrecht Caravaggisti, who introduced it to the Dutch Republic. Apart from Frans Hals, many other Dutch Golden Age artists painted similar works.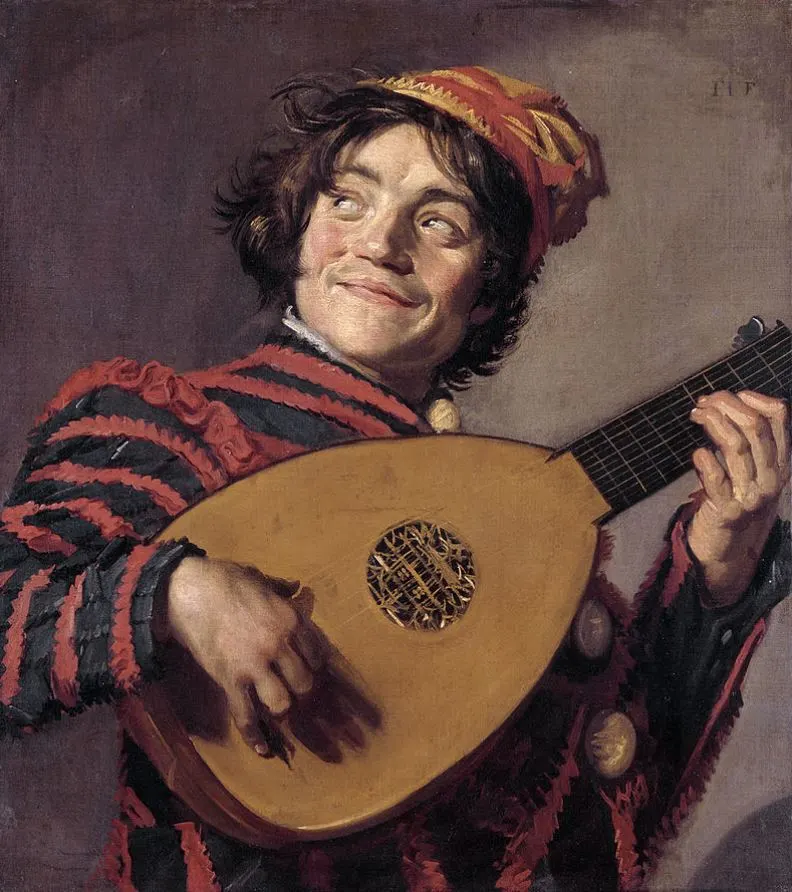 7. Banquet of the Officers of the Calivermen Civic Guard, Haarlem
Date created: 1627
Dimensions: 183 x 266.5 centimeters (72 x 104.9 inches)
Location: Frans Hals Museum, Haarlem, Netherlands
Banquet of the Officers of the Calivermen Civic Guard, Haarlem is the title of another famous militia group portrait by Frans Hals. It depicts a group called the St Adrian Militia Company, another civic guard that was active in Hals' home city of Haarlem (the city had 3 at the time).
What's remarkable about this group portrait is that the colors worn by the members of the civic guard aren't from the militia but the oranje-blanje-bleu of the Prince's Flag. This flag was only first used during the Dutch Revolt in the late 16th century.
8. Marriage Portrait of Isaac Massa and Beatrix van der Laen
Date created: 1622
Dimensions: 140 × 166.5 centimeters (55 × 65.6 inches)
Location: Rijksmuseum, Amsterdam, Netherlands
Marriage Portrait of Isaac Massa and Beatrix van der Laen is the title of a painting that emphasizes why Frans Hals was one of the most sought-after painters of the Dutch Golden Age. Marriage portraits make up another important type of work in the oeuvre of Hals, and this beautiful work surely explains why.
As the title suggests, this work depicts Isaac Massa (1586-1643), a Dutch grain trader who was also the Dutch representative in Russia. The wealthy merchant commissioned several portraits from Hals. He is shown together with his wife Beatrix van der Laen in a composition that was quite unique at the time.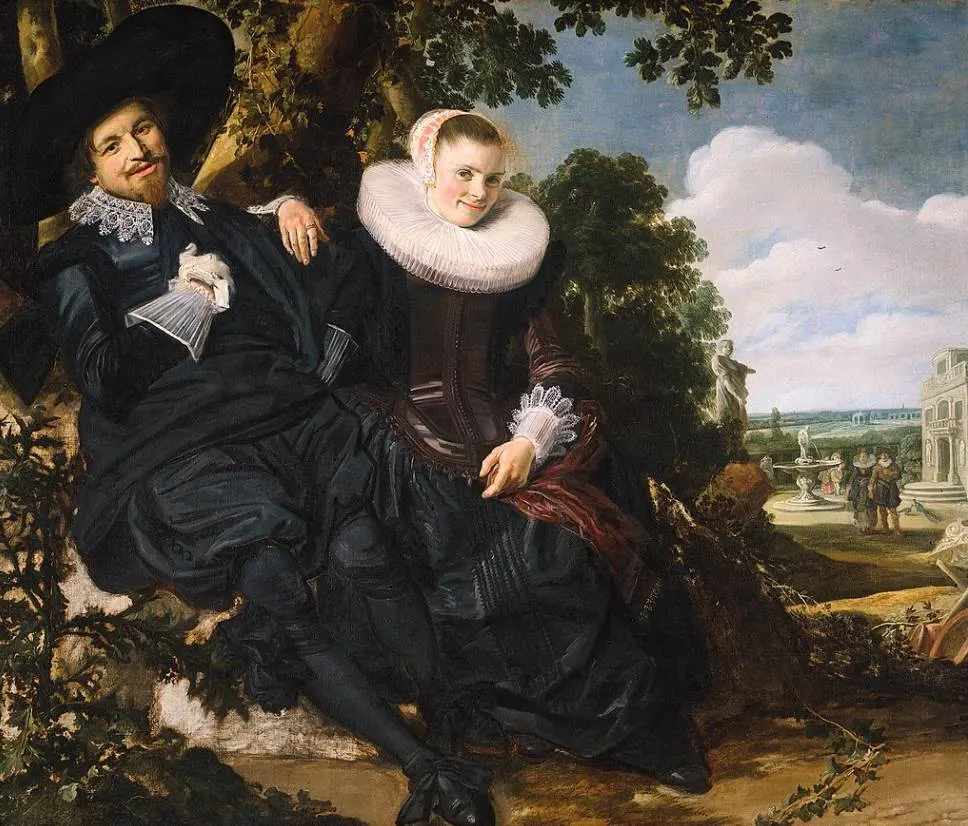 9. Laughing Boy
Date created: 1625
Dimensions: 30.45 centimeters in diameter (11.99 inches)
Location: Mauritshuis, The Hague, Netherlands
Laughing Boy is the title of one of the most iconic tronie paintings in the oeuvre of Frans Hals. It's a relatively small circular painting that depicts a brightly smiling boy and is one of many similar paintings that were completed around the same time.
About 20 paintings depicting a boy in various positions have been identified, but only 3 are positively attributed to Hals. Laughing boy with a soap bubble is part of the collection of the Los Angeles County Museum of Art. A similar work depicting the boy with a flute is part of the private collection of Lady Munro, Storrington, Sussex.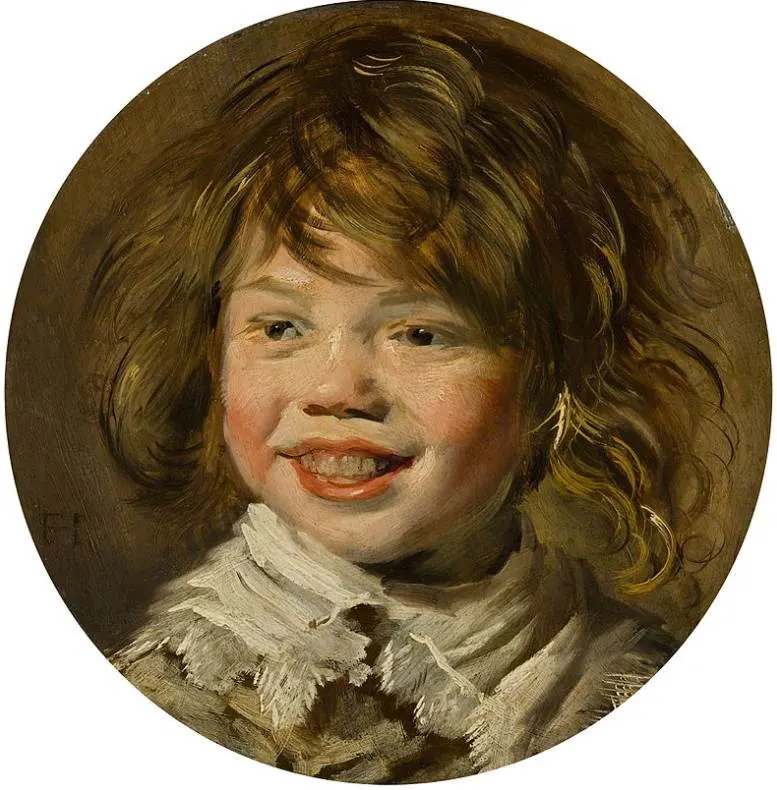 10. Meagre Company
Date created: 1633-1637
Dimensions: 209 x 429 centimeters (82.2 x 168.89 inches))
Location: Rijksmuseum, Amsterdam, Netherlands
The Meagre Company is the short title of a painting known as "The Company of Captain Reinier Reael and Lieutenant Cornelis Michielsz Blaeuw." It's the only militia painting of its kind that Hals painted outside of Haarlem, and because of this, he never managed to complete it.
Hals was getting grumpy every time he had to travel to Amsterdam and finally stopped working on the painting altogether in 1636. The even grumpier members of the militia in Amsterdam finally contracted Pieter Codde to finish the painting, which he did in 1637. Only the left part of this huge work was completed by Hals.