The identity of the sitter in this wonderful portrait by one of the most renowned Dutch Golden Age painters in history remains uncertain.
There is a general theory, though, about who this man could be, and in my opinion, it's the correct one as well.
Frans Hals (1582-1666) was one of the most notable portraitists of the 17th century. Apart from single portraits, he also painted large group portraits, marriage portraits, and genre paintings.
In this article, you'll discover some of the most interesting facts about the Laughing Cavalier, one of Hals' ultimate masterpieces.
1. It was painted when the artist was in his early forties
Frans Hals was born in Antwerp, modern-day Belgium, in 1582 but his family moved out of the city during the Siege of Antwerp in 1584.
The family settled in Haarlem, a city just west of Amsterdam, and the Dutch painter lived and worked there his entire life.
His incredible talent allowed him to make a name for himself and he started earning prestigious commissions in the early 1610s. Soon after, he became the most sought-after artist in Haarlem.
By the time he completed the Laughing Cavalier in 1624, he was already in his early forties. This was about 8 years after completed his first large militia group portrait that made him famous.
2. The painting presumably depicts a member of the local militia
The identity of the sitter remains unknown and he has generally been described as either a military man or a member of one of the 3 militia groups that were active in Haarlem at the time.
---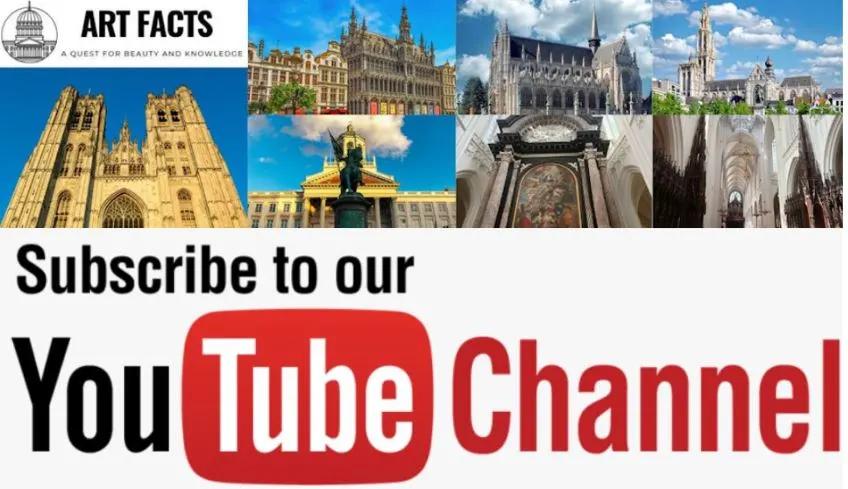 ---
The man turns his body toward the viewer and has a fascinating grin on his face, something that gave the painting its title.
He wears a typical 17th-century hat and an expensive silk costume that is heavily decorated. There's an enigmatic element to this painting, which is one of the reasons why this portrait has become so famous.
3. Hals mentioned the age of the man and the date he completed it
The other notable element in this work is the inscription in the top right corner. This reads:
Æ'TA SVÆ 26/A°1624 or aetatis suae 26, anno 1624.
This Latin phrase basically indicates that the man was 26 years old at the time and that the painting was completed in the year 1624.
4. It's likely that Hals painted the same man about a decade later as well
Dutch art historian Pieter Biesboer has come up with a theory as to who the man might be. He didn't have to look too far because he identified him as a man that was painted by Hals about a decade later.
Tieleman Roosterman (1598-1673) was a wealthy cloth merchant and he commissioned a portrait of himself in 1634.
This was likely for the occasion of his marriage in 1631 to Catharina Brugmans, a woman whom Hals painted around the same time.
The couple had 10 children together and lived during the Dutch Golden Age, the most fascinating era in Dutch history.
It's hard to deny the likeliness between both men, so I tend to agree with Biesboer's assessment.
5. Hals used his distinctive loose brushstrokes to paint the man's silk costume
Frans Hals was one of the most influential artists from the Dutch Golden Age, and that's mainly because of his distinctive painterly style.
his makes it all the more remarkable that he managed to add the incredible level of detail that decorates the silk costume that the Laughing Cavalier is wearing.
These decorations also have a deeper meaning, especially the bees, arrows, flaming cornucopias, lovers' knots, and tongues of fire.
The embroidered sleeve and lace cuff complete this remarkable depiction of 17th-century clothes worn by the upper class of Dutch society.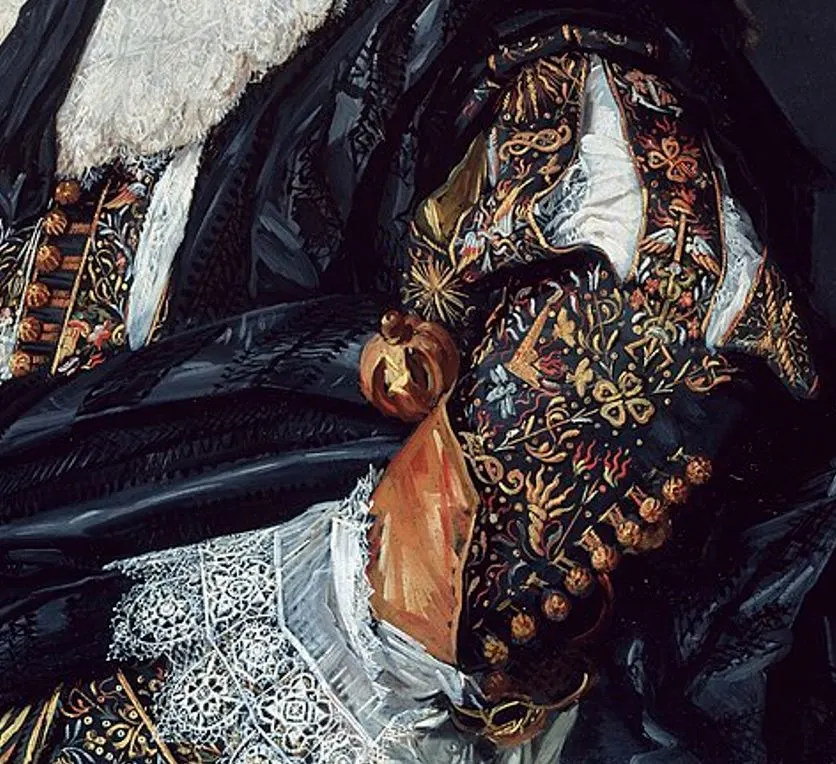 6. There's something special about how Hals painted this man
The low viewpoint, the remarkable pose, the delicate depiction of the man's clothes, and all other elements are quite fascinating.
The most remarkable element of this portrait is the man's smile, something that didn't really become popular until the late 18th century.
Granted, the genre paintings completed during this era also often depict smiling individuals, but these Dutch Golden Age paintings have a comical undertone.
Hals was a revolutionary painter, and not only because he refused to leave his native city Haarlem to serve patrons. He also produced revolutionary paintings, and this magnificent work of art is a great example.
7. How big is the Laughing Cavalier by Frans Hals?
The Dutch painter produced both small portraits and monumental group portraits that cover entire walls. Most of his portraits, however, are medium-sized, just like this one.
The Laughing Cavalier (1624) by Frans Hals is a medium-sized oil on canvas painting that has dimensions of 83 × 67.3 centimeters (33 × 26.5 inches).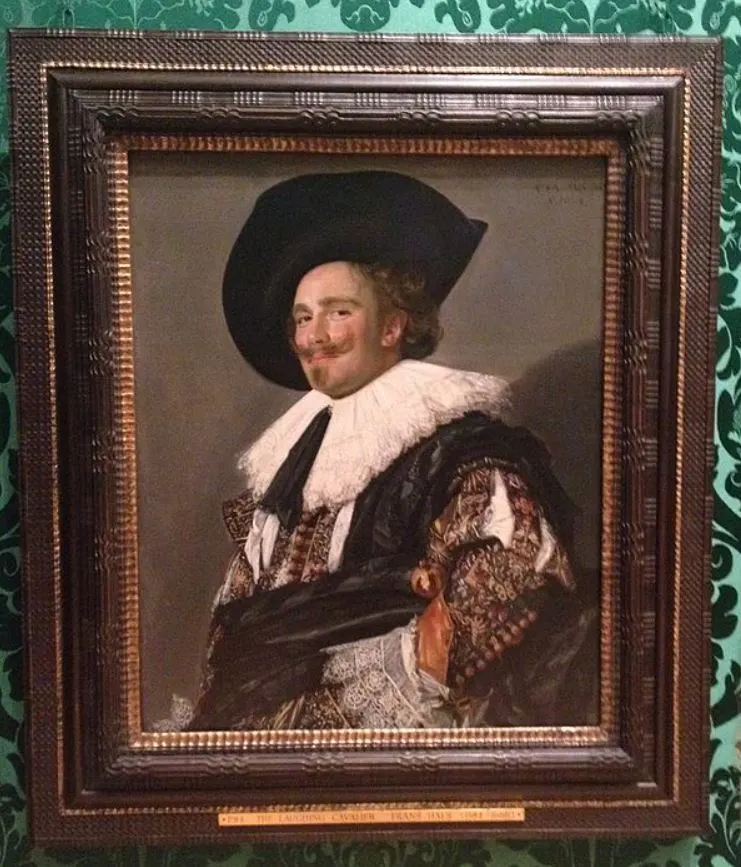 8. Where is Hals' famous portrait located today?
The painting's history only really starts when it was sold at an auction in The Hague. It was sold several more times before being bought by a Swiss banker named Comte de Pourtalès-Gorgier in 1822.
It was acquired from his collection in 1865 by Richard Seymour-Conway, 4th Marquess of Hertford.
He had to spend quite a bit of money to bring it from Paris to London because he had to outbid Baron James de Rothschild about 6 times.
It was only during its first exhibitions at the Bethnal Green Museum between 1872 and 1875 that the painting was given its current name.
It was reproduced countless times and became extremely popular in Britain during the late 19th century. It was even referred to as:
One of the most brilliant of all Baroque portraits.
Hertford's collection eventually passed on to his son Sir Richard Wallace, 1st Baronet, whose widow bequeathed it along with his London mansion to the nation.
Today, you can admire this remarkable work of art at the Wallace Collection, an art museum in London that is free to visit!