Some artists paint a wide range of topics throughout their careers while others decide to focus on a specific one.
Hendrick Avercamp (1585-1634), a Dutch Golden Age painter from the early 17th century, definitely falls into the latter category.
Not only was he one of the earliest landscape painters of his era, but he also decided to mainly focus on winter landscapes.
In this article, you'll discover some of the most interesting facts about Winter Landscape with Skaters by Hendrick Avercamp, one of the most famous Dutch Golden Age paintings.
1. It was completed when the painter was in his early twenties
Hendrick Avercamp was a Dutch painter who was born in Amsterdam and studied in his home city. He was probably trained by Pieter Isaacsz (1569-1625), a Danish artist who worked at the court.
He didn't stay in his home city because he moved to the much smaller city of Kampen in the province of Overijssel in 1608.
It's here that he started painting winter landscapes, a topic that defines the oeuvre of this renowned Dutch Golden Age painter.
He was mute and most likely also deaf and was nicknamed "De Stomme Van Kampen" or "The Mute of Kampen." He lived in Kampen for the rest of his life and was buried in the city's Bovenkerk.
He completed Winter Landscape with Skaters in 1608, shortly after arriving at his new home.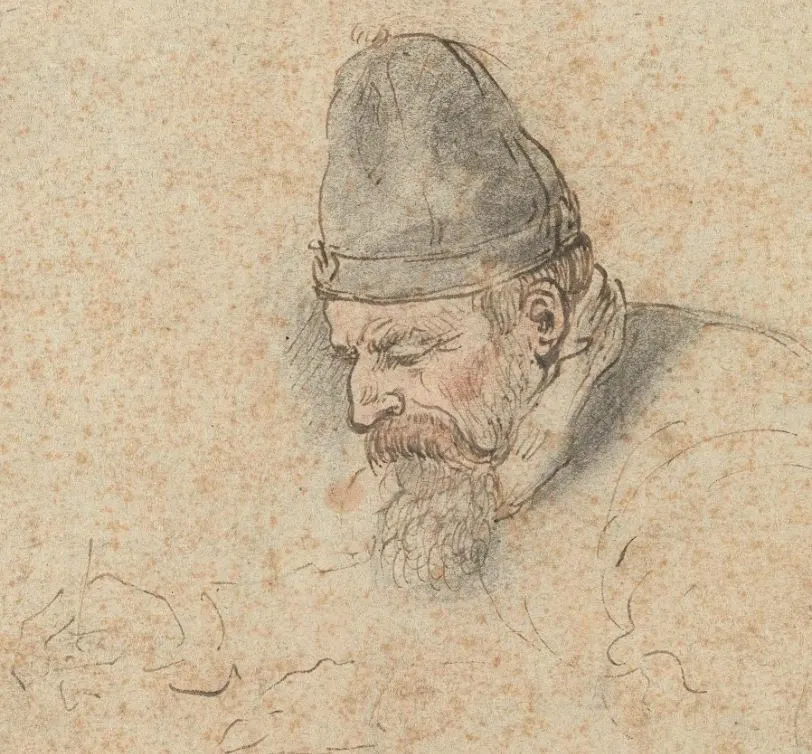 2. It depicts a large number of people having a good time on a frozen river
---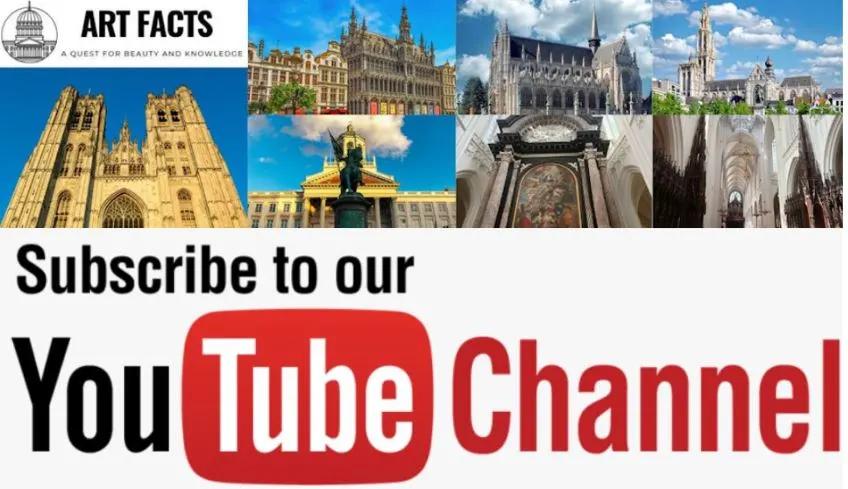 ---
Winter Landscape with Skaters was not only the first winter landscape he ever produced but also one of his largest and most ambiguous ones.
It depicts a typical village in the Dutch Golden Age with a church in the background and several buildings as well.
The right side of the composition is dominated by a frozen river that is full of skaters and people going about their daily business.
People can be seen trying to release a boat that is frozen in the river in the foreground and several horses are pulling sleds occupied by people.
3. The crowded scene doesn't merely depict skaters
What's fascinating about this painting is that it doesn't merely depict the frozen river and skaters. We can also learn a lot about daily life in the Dutch Republic in the early 17th century.
The entire left side of the painting is occupied by a church in the background and several buildings in the foreground. The reddish building features the coat of arms of the Flemish city of Antwerp.
This was probably either a brewery or an inn where people could lodge. The name of the building is "De Halve Maan" or "The Half Moon," as it's written on the sign above the entrance.
A dog can be seen chewing on a carcass in the bottom left corner, a person is using the lavatory next to the inn, and a couple is making love on a haystack.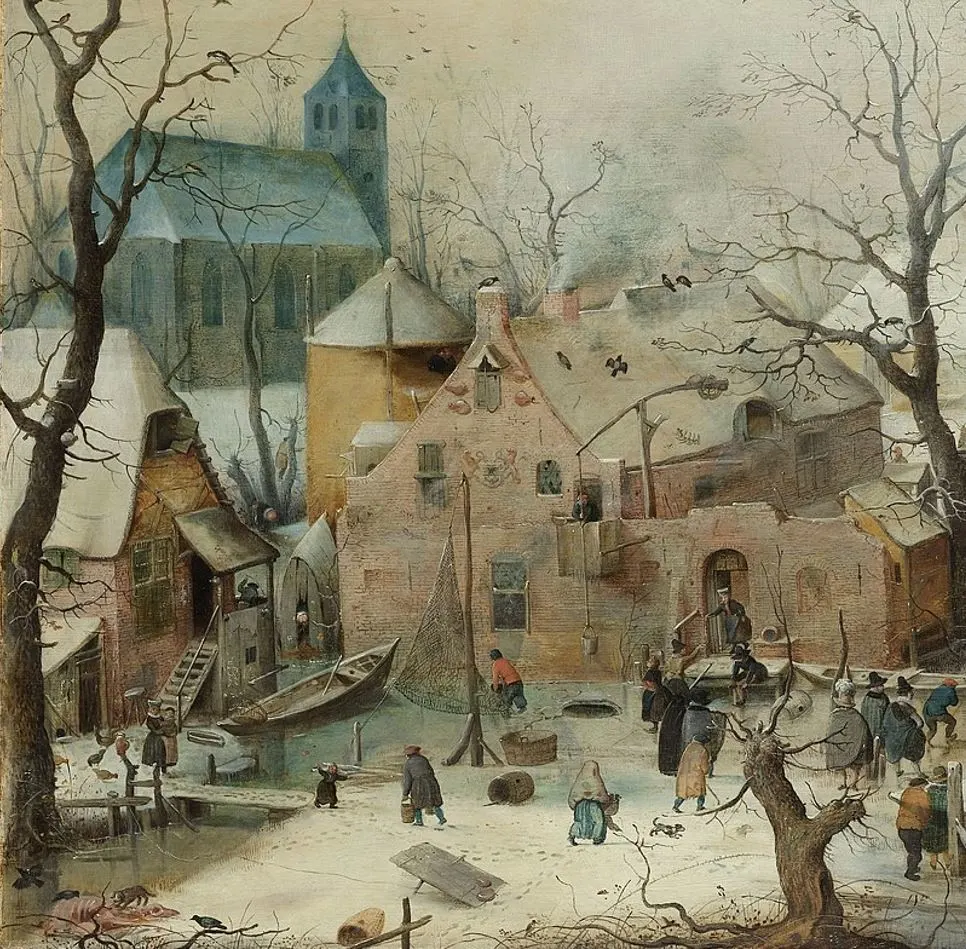 4. Avercamp chose a remarkable spot to add his signature
Several people can be seen wearing their finest clothes as they either socialize or go about their daily business, especially in the bottom right corner of the work.
Upon closer inspection, you can notice white graffiti that was painted on the wall of a fisherman's hut in this area.
This is Avercamp's signature and it reads "HAenricus / Av."
5. Avercamp was inspired by a similar painting from one of his colleagues
Pieter Isaacsz probably wasn't the only master that Avercamp had while studying art in Amsterdam. Some art historians have suggested that he also learned a lot from David Vinckboons (1576-1632).
He was a follower of Pieter Bruegel the Elder (1525-1569), a Dutch-born artist who moved to Antwerp and Brussels later in his career.
Although it's impossible to confirm this theory, Vinckboons was a follower of Bruegel and his paintings very much resemble those of his master.
It's likely that Avercamp was inspired by one of Bruegel's paintings titled "Winter Landscape with Ice Skaters and Bird Trap" (1565).
The bird trap in the bottom right corner of this painting also appears in the bottom left corner of Avercamps masterpiece. The style of the paintings is also very similar.
6. There's a particular reason why Avercamp chose to focus on winter landscapes
So why did Hendrick Avercamp decide to mainly focus on painting winter landscapes? After all, this limited his subject matter to only a few months a year, right?
The answer might lie in the fact that this part of Europe experienced a "Little Ice Age." The Winter of 1607-1608 was especially cold.
Although this period is sometimes extended to a period between 1300 and 1850, the early 17th century was deemed to be one of the coldest periods of this extended regional cooling era.
Because of this, he was probably able to have firsthand experience with frozen rivers and ponds every single year.
7. How big is Winter Landscape with Skaters by Hendrick Avercamp?
I already mentioned that this particular painting was his earliest and most ambitious work, and it's also the largest winter landscape he ever produced.
Winter Landscape with Skaters (1608) by Hendrick Avercamp is a medium-sized oil-on-oak painting that has dimensions of 77.3 × 131.9 centimeters (30.4 × 51.9 inches).
8. Where is Avercamp's famous painting located today?
The painting was sold thrice in its history. The first time was at an auction house in Rotterdam in 1748 for 25 florins.
The second sale happened in 1897 when it was sold to a dealer in Amsterdam named C.S. Roos for 345 florins.
With the help of the Vereniging Rembrandt, it was acquired by the Rijksmuseum for 550 florins in 1897. It remains one of the most popular paintings at the Rijksmuseum in Amsterdam today.