One of the oldest museums in Poland has a history that goes back to the personal collection of fine arts of a Polish princess in the late 18th century.
This collection was initially housed in Pulawy, a city in the eastern part of the country, but was moved to Kraków following the Franco-Prussian War in the early 1870s.
Prince Władysław was the man who initiated the move, and that's why the Czartoryski Museum is officially known as the "Princes Czartoryski Museum."
The museum opened its doors in 1878 and is housed in a beautiful Renaissance Revival building that was completely renovated for over 100 million euros between 2010 and 2019.
In return, Prince Adam Karol Czartoryski donated the museum to the Polish Nation which means that it's now a branch of the Polish National Museums.
Apart from tapestries and sculptures, the museum is home to an impressive collection of paintings, including one considered a national treasure of Poland.
Let's take a closer look at some of the highlights from the painting collection at this amazing museum in Kraków.
1. Lady with an Ermine – Leonardo da Vinci
Date created: 1489-1491
Dimensions: 54 × 39 centimeters (21 × 15 inches)
Lady with an Ermine is the title of a painting by Leonardo da Vinci (1453-1519) and is undoubtedly the most famous painting in the collection of the Czartoryski Museum. This delicate little work of art is the national treasure of Poland that I was referring to and it's one of only 4 portraits of women by the Renaissance master that has survived.
The painting depicts a woman named Cecilia Gallerani, the mistress of Duke Ludovico Sforza, da Vinci's patron at the time. The animal she is holding is an ermine, even though it was painted larger than this animal is in reality. Art historians interpret this creature as a symbol of modesty and purity.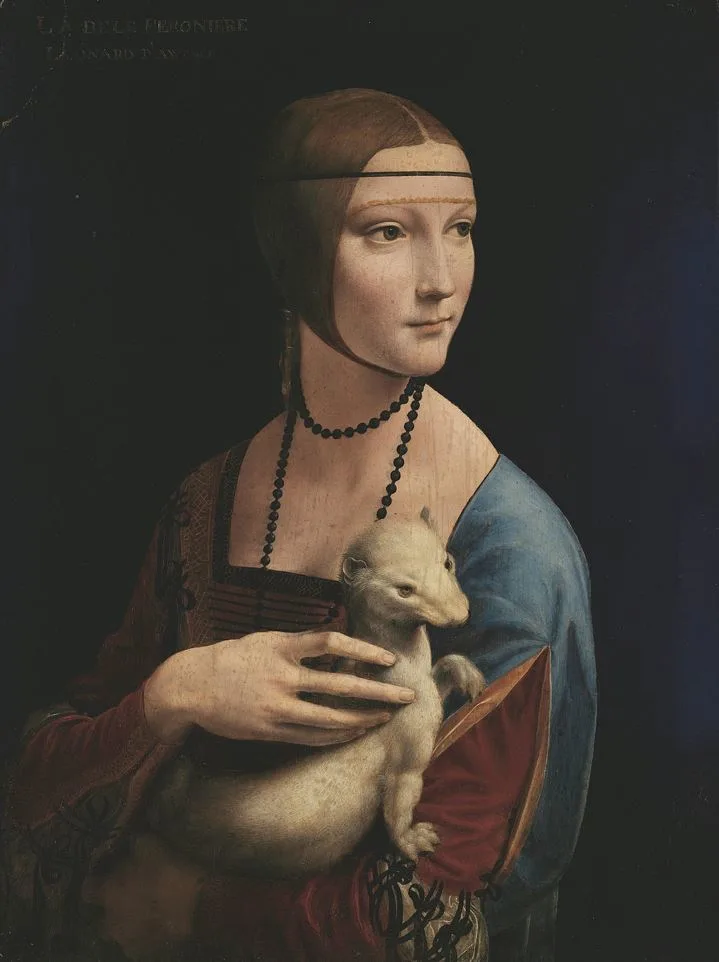 2. The Annunciation- Dieric Bouts
Date created: 1475-1487
Dimensions: 47.8 x 33 centimeters (18.8 x 12.9 inches)
---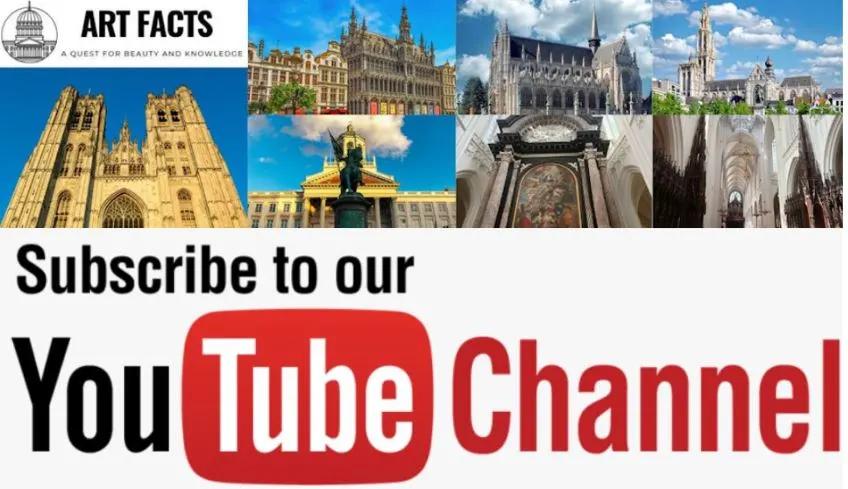 ---
The Annunciation is the title of a painting by Dieric Bouts (1415-1475), an Early Netherlandish painter who was born in Haarlem but who painted most of his masterpieces in the city of Leuven in modern-day Belgium.
He was an innovative artist who was heavily influenced by his predecessors Jan van Eyck and Rogier van der Weyden. He was one of the first artists in Northern Europe who mastered the technique of linear perspective, a notion emphasized in this beautiful little painting.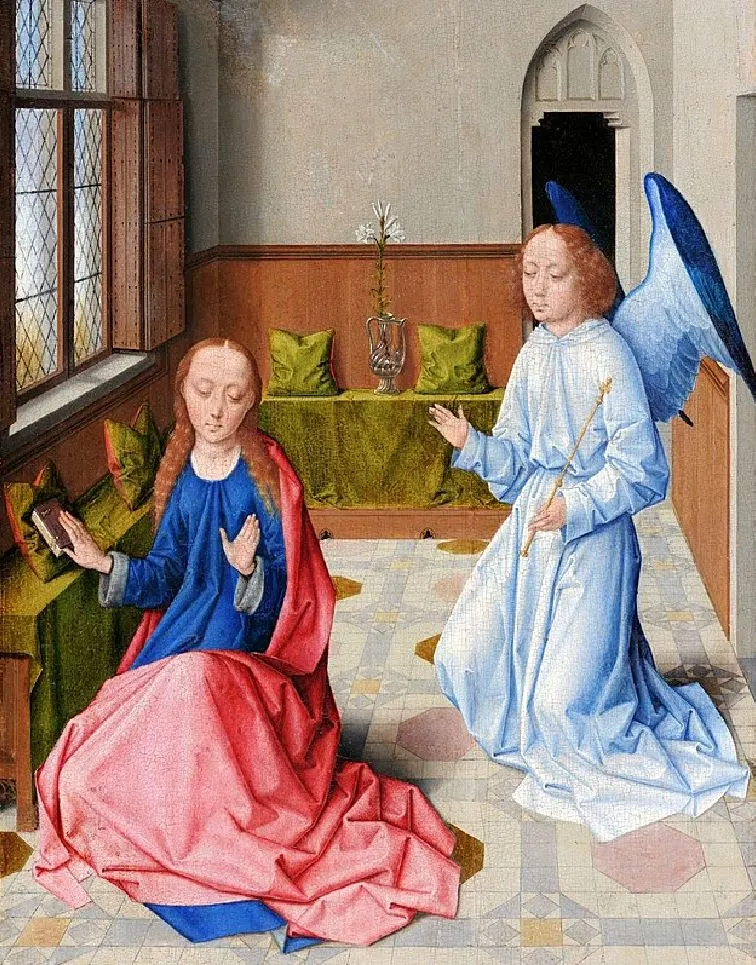 3. A Satyr Visiting a Peasant – Jacob Jordaens
Date created: 1620s
Dimensions: 125 x 96 centimeters (49.2 x 37.7 inches)
A Satyr Visiting a Peasant is the title of a painting by Jacob Jordaens (1593-1678), a Flemish artist who lived and worked his entire life in the city of Antwerp. He is best known for both his genre paintings and mythological works and this painting combines both of his specialties into one work of art.
Like many other works, this was a recurring subject for the painter throughout his career. Other versions can be found in museums all around the world, including the Royal Museum of Fine Arts of Brussels and the Dulwich Art Gallery in London, to name just a few.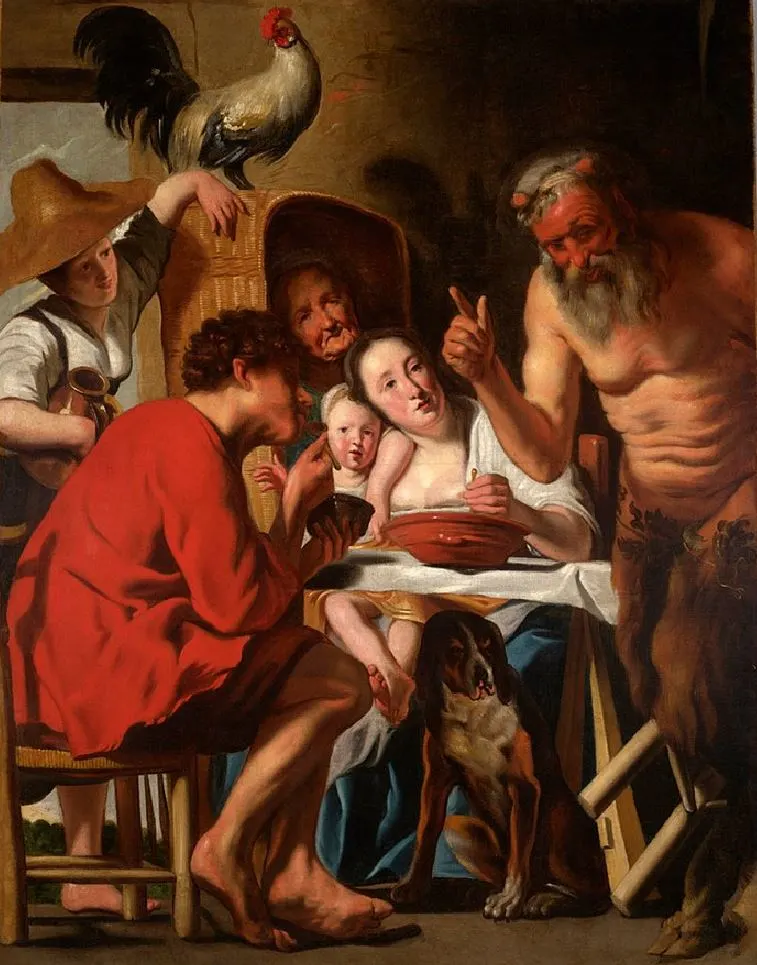 4. Portrait of Don Juan D'Austria – François Clouet
Date created: 1550s
Dimensions: 31 x 23 centimeters (12.2 x 9 inches)
The Portrait of Don Juan D'Austria is a small portrait by François Clouet (1510-1572) that is believed to depict John of Austria (1547-1578), an illegitimate son of Charles V, the Holy Roman Emperor at the time. He only met his son once but did recognize him in his will.
The French painter became one of the most renowned portraitists in his home country and his talent was recognized in other parts of Europe as well. This remarkable work of art highlights the fact that he was a favorite of the French royal family in the 16th century.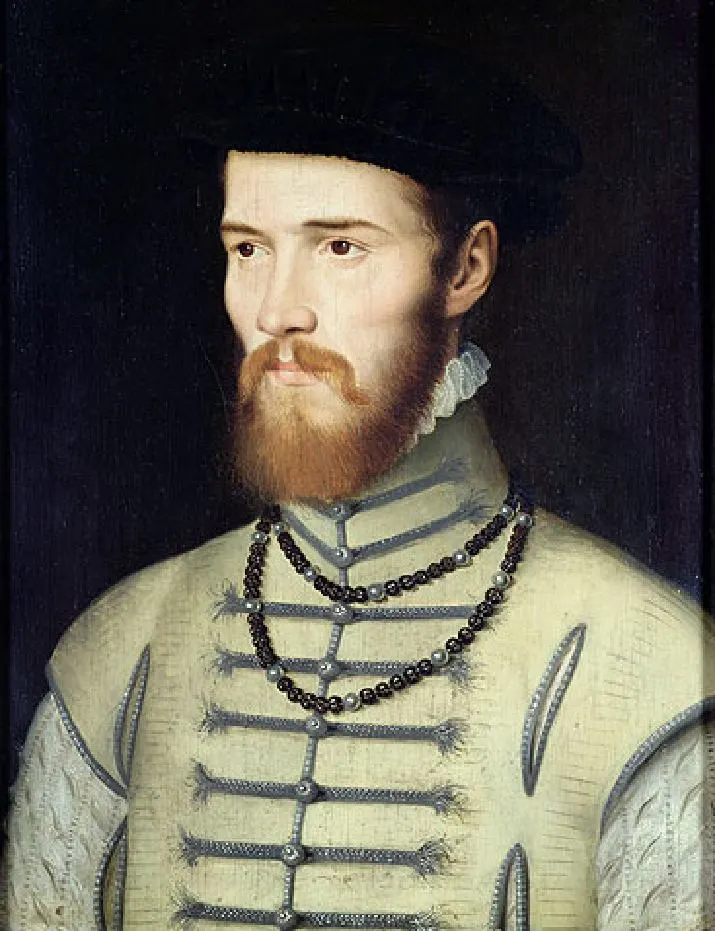 5. Landscape with the Good Samaritan – Rembrandt van Rijn
Date created: 1638
Dimensions: 46.2 × 65.5 centimeters (18.1 × 25.7 inches)
Landscape with the Good Samaritan is the title of a painting by Rembrandt van Rijn (1606-1669) and arguably one of the most fascinating paintings in the collection of the Czartoryski Museum in Kraków. As the title explains, it depicts a gloomy landscape featuring a depiction of the Parable of the Good Samaritan.
Although Rembrandt can easily be described as one of the most versatile artists in history, he only produced 6 landscapes in his entire career. It's also only one of three paintings by the Dutch master that are on display in Polish museums.
6. Portrait of a Courtier – Jan Mostaert
Date created: 1520
Dimensions: 40.9 x 32.5 centimeters (16.1 x 12.7 inches)
Portrait of a Courtier is the title of a painting by Jan Mostaert (1475-1553), an important Northern Renaissance painter in the 16th century. He left behind an impressive oeuvre of religious paintings and portraits, but little is known about the life of this mysterious painter.
There's only one account of his life that was written by his contemporary Karel van Mander, but many things mentioned in this so-called "Schilder Boeck" have been questioned. The life of Mostaert is as mysterious as the identity of the unknown courtier depicted in this work of art.
7. Alfonso d'Avalos – Antonis Mor
Date created: 1530s
Dimensions: 105 x 82 centimeters (41.3 x 32.2 inches)
The Portrait of Alfonso d'Avalos is a magnificent painting by Antonis Mor (1517-1577), a Dutch portrait painter who earned commissions from important people all across Europe. This work shows an Italian captain or "Condottieri" who worked in the service of Charles V.
He was both an ambassador for the Holy Roman Emperor and also commanded an army. When you look at this work, you certainly understand why Mor was in such high demand all across Europe during the 16th century. His style was influenced by the paintings of Titian.
8. Saints Anthony and Lucia – Carlo Crivelli
Date created: 1470
Dimensions: 34.4 x 47.8 centimeters (13.5 x 18.8 inches)
Saints Anthony and Lucia is the title of a painting by Carlo Crivelli (1430-1495), an Italian artist who lived and worked during the Renaissance period in the 15th century. Even though it's not that clear in this work, his style resembled the paintings of Sandro Botticelli.
This work resembles the style of Gothic artworks that were produced a century earlier. It was completed using tempera on a wood panel with a gold leaf background, a style that was already out of fashion at the time. That's why his art is often referred to as "Late Gothic."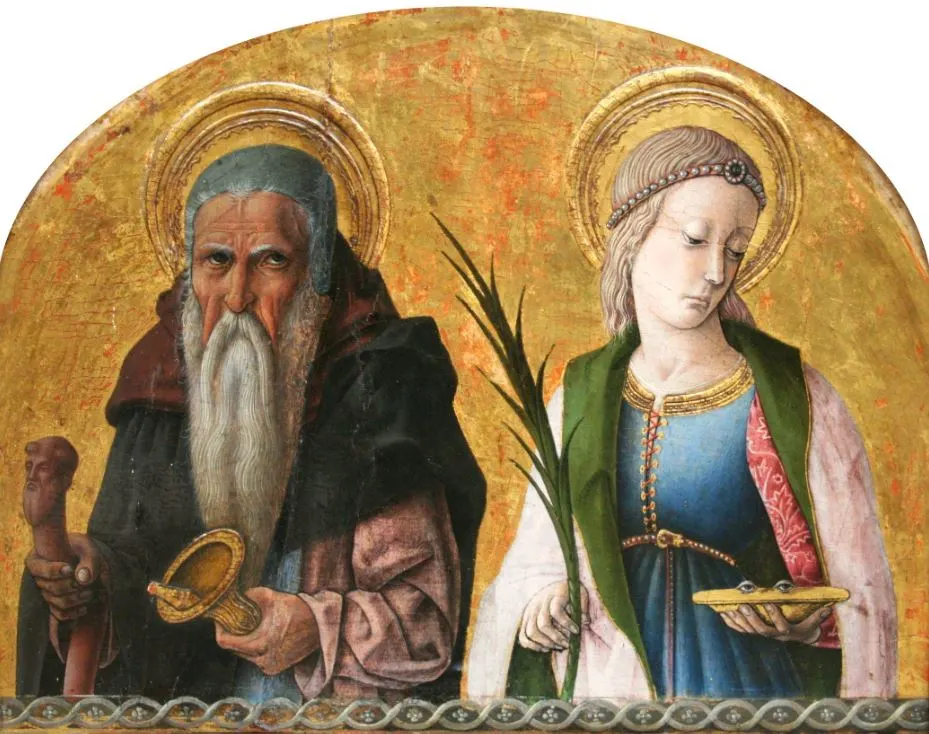 9. Mary Magdalene – Master of Female Half Lengths
Date created: 1520s
Dimensions: 54 x 40 centimeters (21.2 x 15.7 inches)
Mary Magdalene is the title of a painting by the Master of Female Half Lengths, an unknown painter who was active in the Low Countries. Despite the artistic name that was given to him, the 67 works that were identified as his also feature religious and mythological works.
It's also likely that the unknown artist was actually a group of artists or a workshop that produced similar paintings. Most of their output featured aristocratic ladies in half-length portraits that were commissioned by members of the upper classes.
10. The Family of Sigismund I – Lucas Cranach the Younger
Date created: 1555-1556
Dimensions: 19.5 x 17.5 centimeters (7.6 x 6.8 inches) (each portrait)
The Family of Sigismund I is a painting by Lucas Cranach the Younger (1515-1586) that is also known as "Portrait Miniatures of the Jagiellon Family." It depicts 10 members of the Jagiellonian dynasty who ruled the Grand Duchy of Lithuania at the time.
The man in the top left corner was Sigismund I the Old of Poland, a man who ruled as the King of Poland and the Grand Duke of Lithuania from 1506 until his death in 1548. Remarkably, the portrait also depicts the King's 3 wives and their daughters, as well as his son, Sigismund II Augustus of Poland (1520–1572), who succeeded him.