This famous painting by Leonardo da Vinci ended up becoming one of Poland's national treasures.
In this post, you'll discover the ultimate list of Lady With an Ermine facts, one of da Vinci's masterpieces.
1. Lady with an Ermine is a rather small painting
The painting depicts a woman holding a short-tailed weasel, also referred to as an ermine. It was painted with oil on a walnut panel and is relatively small in size.
It has dimensions of 54 × 39 centimeters (21 × 15 inches).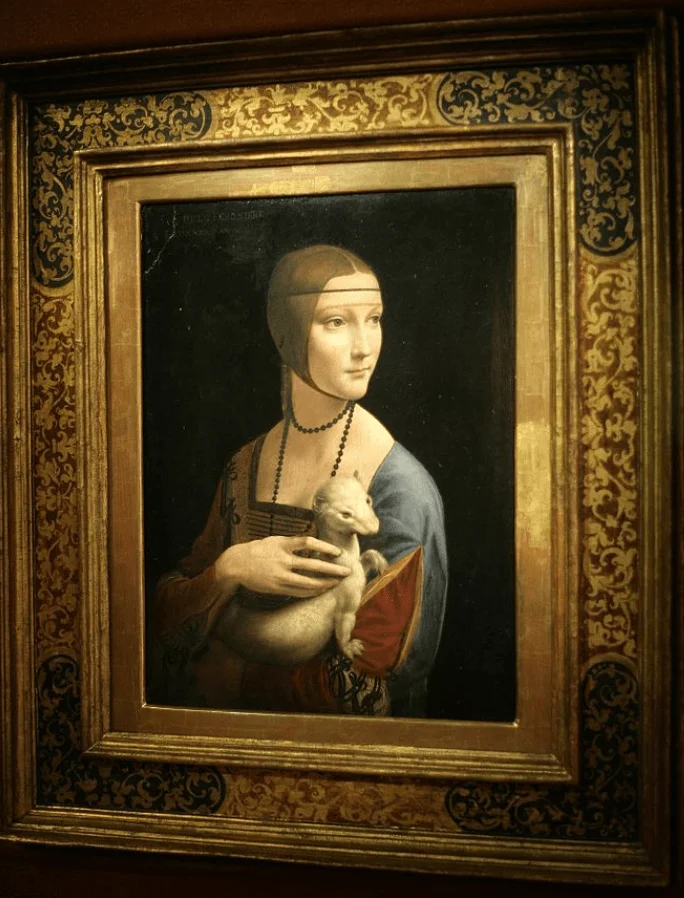 2. It was painted in the late 1480s
When you think of Leonardo da Vinci, the first image that comes to your mind is an old man with a beard, right?
Lady with an Ermine was painted between 1489 and 1490, which means that da Vinci was still relatively young at the time. He was born in 1452 which means he was in his late 30's at the age of 37-38.
3. It depicts the mistress of da Vinci's boss
The woman in the painting, or should we say, girl, was just 16 when she was painted by Leonardo. She wasn't rich or a noblewoman, something that can be judged by the fact that she wears relatively simple clothing.
The painting was created when Leonardo was working in Milan for the Duke named Ludovico Sforza. The girl was one of the many mistresses that Sforza had named Cecilia Gallerani (1473-1536).
Gallerani was one of his favorite mistresses as well. She was married at the age of 6 to a nobleman and annulled her marriage at the age of 14. She was very beautiful, extremely intelligent, spoke Latin fluently, and was very knowledgeable in poetry.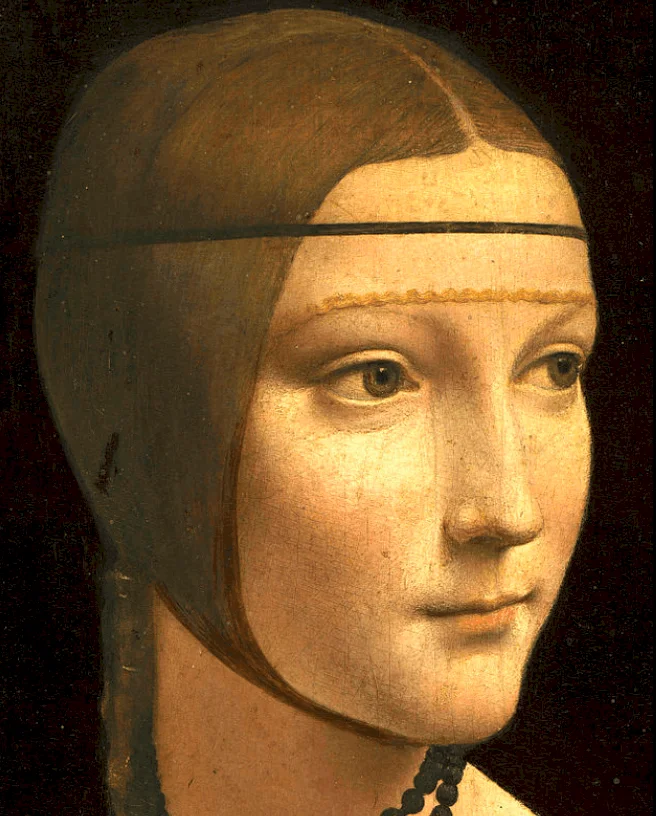 4. Da Vinci only painted 4 women in his life
---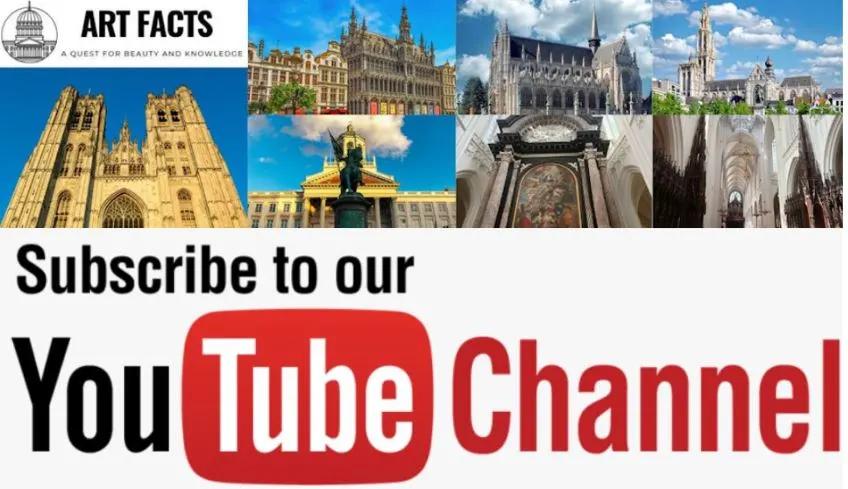 ---
One of the most fascinating Lady with an Ermine facts is that it's just 1 of 4 paintings of women that Leonardo ever painted. We tend to believe that this was just a coincidence because his favorite painting was definitely of a woman, the Mona Lisa painting, the most famous painting in the Louvre and in the world.
The other two women he painted were "Ginevra de' Benci" and "La Belle Ferronnière."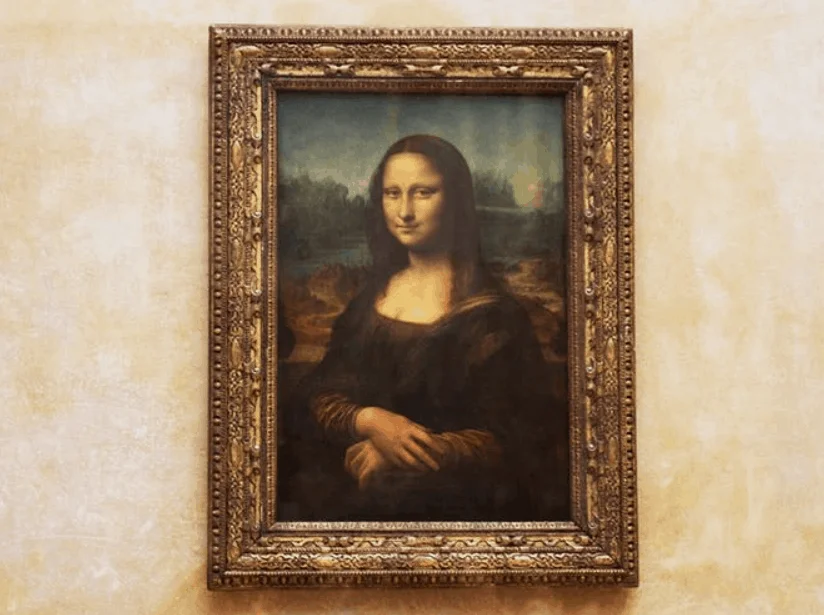 5. There might be something special about the wood panel it was painted on
Leonardo loved to experiment with different things. This didn't always work out the way he envisioned it though, think of the Last Supper painting which completely faded a few decades after he finished it.
For this painting, he used his favorite surface which was a walnut wood panel in combination with oil paint.
An art historian named Frank Zöllner believes that the wood used to create the panel for this painting came from the same tree as the panel used to paint "La Belle Ferronnière."
6. The ermine might reveal something about the woman
As with just about any other Leonardo da Vinci painting, this one is surrounded by mystery. The woman faces to her left while her body is turned to her right. We know da Vinci liked to capture motion so this is pretty clear in this work.
What the ermine represents is up for speculation. It could be that it represents a traditional symbol of purity and moderation. This theory is made strong by the fact that the ermine wasn't painted on a scale as it's much bigger than a real ermine but rather a mythical creature.
Another theory suggests that the ermine represents an animal that protects pregnant women, which was believed in traditional literature. Gallerani is known to have been pregnant at the time the painting was created.
7. Leonardo also made a drawing of the woman in the painting
Da Vinci also produced a drawing that is believed to depict the same woman as in this painting. He must have been pretty fascinated by this captivating young woman.
When he worked for Sforza in Milan she invited da Vinci to meetings to discuss philosophy with other intellectuals. She amazingly also presided over these meetings while still a teenager.
Below is the drawing that da Vinci made of her.
8. The painting was acquired by Polish aristocrats in 1798
Another one of those remarkable Lady with an Ermine facts is that it remained pretty much unknown until a Polish aristocratic family acquired it in 1798.
It was bought by Prince Adam George Czartoryski, the son of Izabela Czartoryska Flemming, and Prince Adam Kazimierz Czartoryski, known to have a huge collection of art located in Puławy in Poland, where the painting resided in 1800.
9. They thought the Lady was the same as in another da Vinci painting
This family must have surely known that they struck gold and were in the possession of a real Leonardo da Vinci painting. The reason is a marking in the top left corner that says "LA BELE FERONIERE. LEONARD DAWINCI."
This simply means that they identified the painting as a Leonardo because they believed the woman was the same as in his other famous painting, "La Belle Ferronnière."
Now we know that this woman was most probably (it could be Beatrice d'Este as well) another mistress of Sforza named Lucrezia Crivelli, something the Czartoryski's were unaware of at the time.
10. The painting was moved several times to keep it safe
Countless wars, numerous revolutions, and the fact that the painting was moved every single time make it a small miracle that it has remained in such good condition.
During the moves, it stayed in multiple locations in Poland, Paris, and Dresden, before returning to Krakow in 1920.
11. Lady with an Ermine was briefly Nazi property
The inevitable happened during World War II as there was no safe place to hide the painting from art lover Adolf Hitler. After the Nazis seized it in 1939 they sent it to the Kaiser Friedrich Museum in Berlin.
Remarkably, it was moved back to Poland and hung in the offices of the Wawel Castle until it was finally moved again to its current destination.
12. It's located at the Czartoryski Museum in Kraków
The painting, along with various other paintings in the Czartoryski collection, was bought by the Polish government for €100 million on December 29, 2016, from the last descendant of the family.
It is now located in the Czartoryski Museum in Kraków and officially became one of Poland's national treasures!