When it comes to painters from Antwerp, the first names that come to mind are Peter Paul Rubens (1577-1640) and Anthony van Dyck (1599-1641).
Both these Flemish artists made a name for themselves abroad. The same can't be said about Jacob Jordaens (1593-1678), a man who lived and worked in this city in modern-day Belgium his entire life.
He is, however, considered to be one of the most renowned Baroque painters in history, and the dazzling list of paintings you'll discover below surely will make you understand why.
He didn't have to travel abroad because he was blessed with copious amounts of talent and the city was full of art patrons in the 17th century.
He is best known for his large-scale genre paintings, which resemble many Dutch Golden Age paintings, but he also painted a large number of religious and mythological paintings.
Let's take a closer look at some of the most famous paintings by Jacob Jordaens, an extremely gifted and versatile artist.
1. The King Drinks
Date created: 1640-1645
Dimensions: 242 x 300 centimeters (95.27 x 118.11 inches)
Location: Kunsthistorisches Museum, Vienna, Austria
The King Drinks is the title of one of several paintings by Jacob Jordaens on the same subject. It shows a large crowd of people who are having a good time, including the Twelfth Night King, a character from William Shakespeare's romantic comedy "The Twelfth Night."
The play is believed to have been written around 1601 and 1602 and was, therefore, already very popular in the Low Countries at the time. Other versions of the painting, which differ significantly in composition, can be found at the Louvre Museum and the Royal Museums of Fine Arts of Belgium, to name just a few museums.
2. As the Old Sang, So the Young Pipe
Date created: 1638-1640
Dimensions: 155 × 180 centimeters (61.02 x 70.86 inches)
Location: Musée des Beaux-Arts, Valenciennes, France
As the Old Sang, So the Young Pipe is the title of another genre painting that made Jordaens such a popular artist in his native Antwerp. It depicts another party in which several toothless older men are accompanied by three children who play the flute.
---
Check it Out: The Latest Art-Facts Videos
---
The painting was inspired by the Dutch proverb "Soo d'oude song soo pepen de Jong," something that means that the new generations copy the behavior of the older ones. This proverb is written on top of the composition. Another less colorful version is part of the collection of the Royal Museum of Fine Arts Antwerp.
3. The Triumph of Frederick Henry, Prince of Orange
Date created: 1652
Dimensions: 728 x 755 centimeters (286.61 x 297.24 inches)
Location: Huis ten Bosch, The Hague, Netherlands
The Triumph of Frederick Henry, Prince of Orange is the title of a monumental painting by Jacob Jordaens that decorates the wall of the Huis ten Bosch, a royal residence in the Netherlands. It's located in the so-called "Oranjezaal" of this palace, a room that overflows with fine art.
Fredrick Henry, Prince of Orange (1584-1647) can be seen wearing dark red clothes as he is surrounded by a large number of figures. The golden statue of victory stands right behind him and is holding two crowns. The two other statues represent Henry's father William the Silent (or William of Orange) and his brother Maurice of Nassau.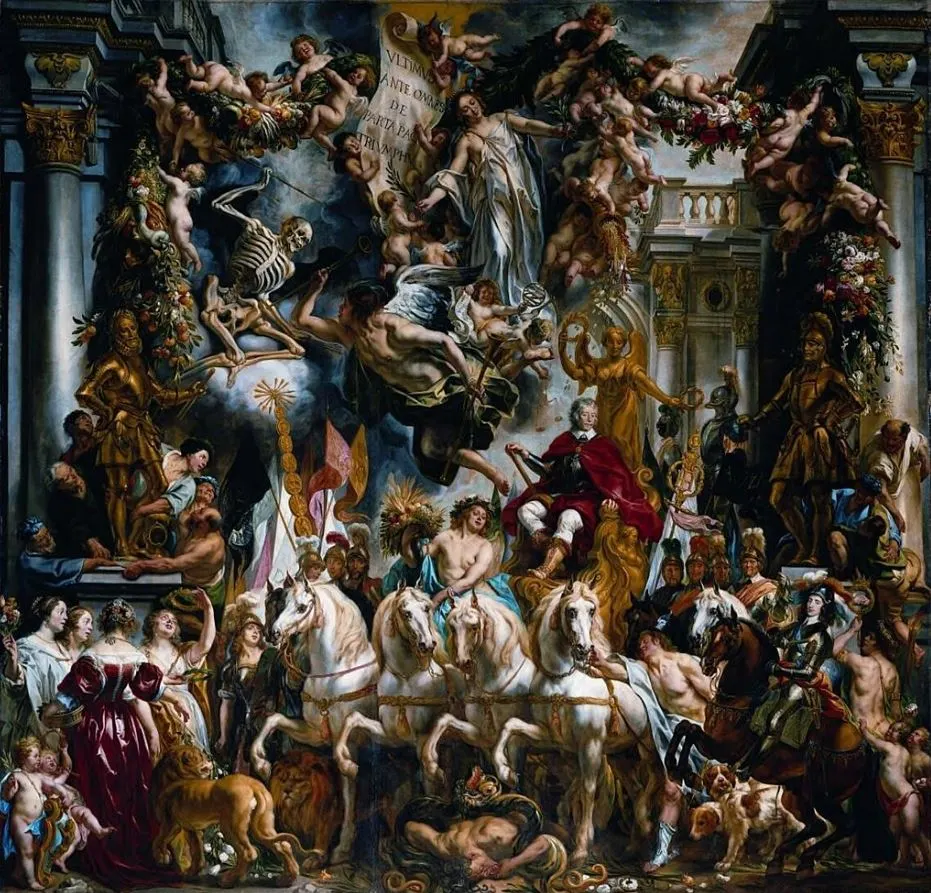 4. Allegorical Family Portrait
Date created: 1650-1652
Dimensions: 178 x 152 centimeters (70 x 59.8 inches)
Location: Hermitage Museum, Saint Petersburg, Russia
Allegorical Family Portrait is a painting that features a large number of symbols related to family and marriage. The seated woman has a yellow parrot sitting on her hand and she holds a floral crown. These were both symbols of marriage and love in the 17th century.
The arrow of the small Cupid figure touches the woman's breasts as she lovingly looks over her shoulder at the man behind her. The woman on the right stares directly at the viewer and has a floral crown running down her arm. It's one of 4 paintings by Jordaens that are part of the collection of the Hermitage in Saint Petersburg.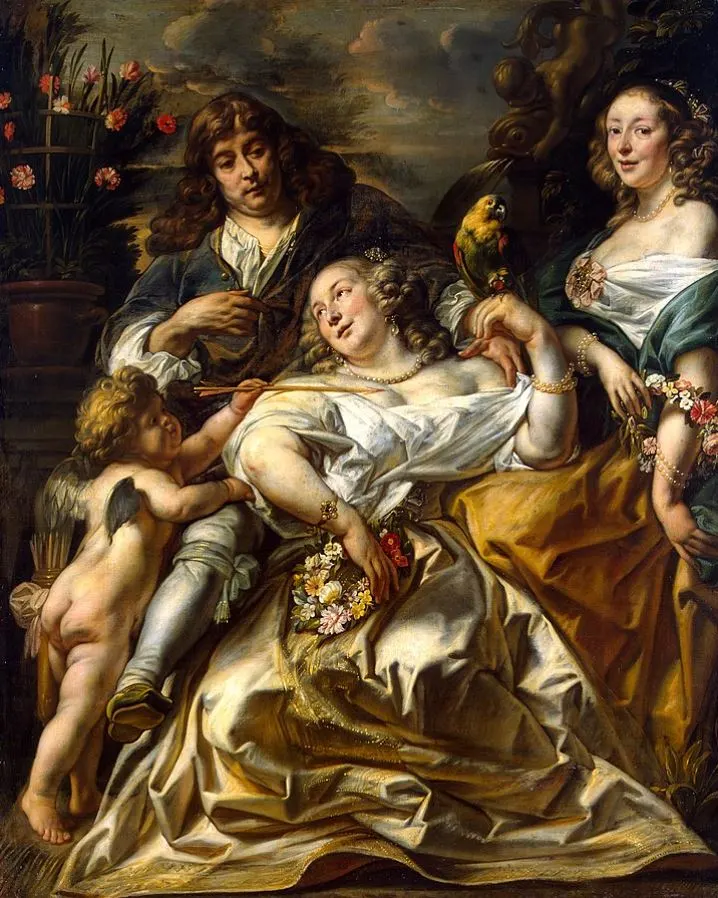 5. Candaules Showing His Wife to Gyges
Date created: 1646
Dimensions: 193 x 157 centimeters (75.9 x 61.8 inches)
Location: Nationalmuseum, Stockholm, Sweden
Candaules Showing His Wife to Gyges is a painting that depicts the story as written by the Greek author Herodotus. This story revolves around a discussion between Candaules, the King of Lydia in the early 7th century B.C., and one of his courtiers named Gyges.
Apparently, Gyges didn't believe Candaules' bragging about the beauty of his wife. To prove his point, he invited Gyges to see her shortly before she went to bed. This made her angry and she offered Gyges one way out, to be killed or to kill the king. He chose the latter and took the queen as his wife.
6. The Meeting of Odysseus and Nausicaa
Date created: 1640
Dimensions: 117.5 x 194 centimeters (46.2 x 76.3 inches)
Location: Rijksmuseum, Amsterdam, Netherlands
The Meeting of Odysseus and Nausicaa is another famous mythological painting by Jordaens that depicts a story taken from Homer's Odyssey. It shows Odysseus shortly after he was shipwrecked and in desperate need of help.
Princess Nausicaa was initially frightened of the man but she eventually convinced her father to help him out. With the help of the king, Odysseus made it safely back to his kingdom. This work is a great example of the versatility that the artist possessed.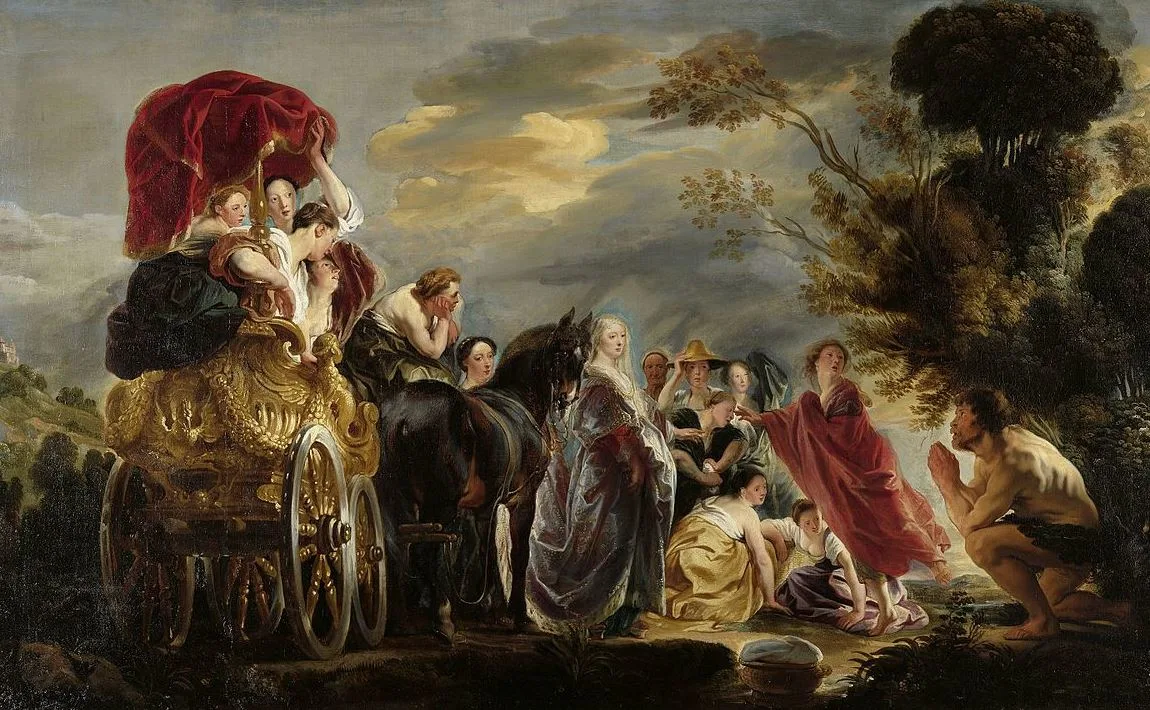 7. An Allegory of Fruitfulness
Date created: 1620-1629
Dimensions: 200.7 x 229 centimeters (79 x 90.1 inches)
Location: Wallace Collection, London, United Kingdom
An Allegory of Fruitfulness is yet another mythological painting by Jacob Jordaens that depicts an allegory of the goddess Pomona. She can be seen in the center of the composition wearing a red dress and holding a basket of fruits and vegetables.
Pomona was the goddess of gardens and orchards, as well as the ripening of fruit and vegetables. It's one of many similar paintings that were produced by Jordaens and his colleagues that hint at a celebration of the Twelve-Year Truce between the northern and southern Netherlands between 1609 and 1621.
8. Prometheus Bound
Date created: 1640
Dimensions: 245 x 178 centimeters (96.4 x 70 inches)
Location: Wallraf-Richartz-Museum, Cologne, Germany
Prometheus Bound is the title of an ancient Greek tragedy that presumably took place in the 5th century B.C. Prometheus was one of the Titans who defied Zeus by providing human beings with fire. In return, he is horribly punished for this act.
Perhaps you already heard about this, but the punishment revolved around Prometheus being bound to a rock so an eagle could nibble away at his liver. Unfortunately for him, his liver grows back every time so he needs to undergo this torment every single day.
9. The Satyr and the Peasant
Date created: 1620s
Dimensions: 125 x 96 centimeters (49.2 x 37.7 inches)
Location: Czartoryski Museum, Kraków, Poland
The Satyr and the Peasant is the title of another series of paintings on the same subject. In these works, he remarkably combines both genre paintings and mythological paintings. This was quite extraordinary because mythological figures such as satyrs usually weren't painted together with peasants.
This series is a great way to see the development of Jordaens' style throughout his career. That's because he painted versions between the 1610s and 1650s. The painting below is part of the Czartoryski Museum in Kraków, a museum in Poland where you can also find da Vinci's painting titled "Lady with an Ermine," one of Poland's national treasures.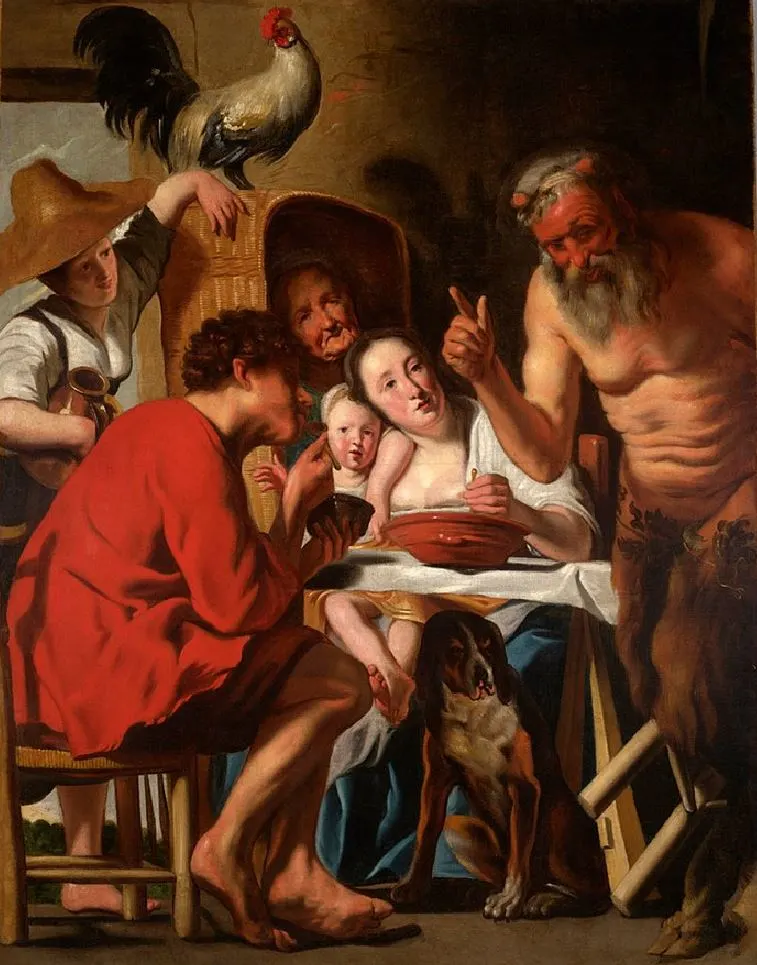 10. The Painter's Family
Date created: 1621
Dimensions: 181 x 187 centimeters (71.2 x 73.6 inches)
Location: Prado Museum, Madrid, Spain
The Painter's Family is the title of a self-portrait of the artist together with his wife and first daughter Elizabeth. His wife, Catharina van Noort, sits down and the woman wearing red in the background is likely a servant of this wealthy family.
He painted this work while he was still in his twenties but it wasn't his first self-portrait. He already completed a family portrait together with his parents several years earlier in 1615. His daughter was the subject of a later portrait when she was an adult and Jordaens painted several self-portraits at a later age as well.