Italian painter Tiziano Vecellio, better known as simply Titian, was one of the ultimate masters of the Renaissance and one of the most prominent members of the Venetian School in the 16th century.
His incredible talent didn't go unnoticed and he instantly became successful, earning commissions from famous people in Venice, all the way up to the highest circles, including the Habsburg court and the Popes.
Combined with his long life (even though we're not exactly sure how long he actually lived), his talent has resulted in an extremely rich oeuvre of over 400 paintings of which at least 300 survived.
In this post, we'll take a closer look at the top 15 famous paintings by Titian.
1. Assumption of the Virgin
Date Created: 1516-1518
Dimensions: 690 × 360 centimeters (270 × 140 inches)
Location: Santa Maria Gloriosa dei Frari, Venice, Italy
The Assumption of the Virgin is a large altarpiece that was commissioned for the location it still hangs today, the altarpiece of a famous church in Venice, Italy. This painting literally skyrocketed Titian's career and confirmed his status as the greatest master in Venice.
2. Venus of Urbino
Date Created: 1532-1534
Dimensions: 119 × 165 centimeters (47 × 65 inches)
Location: Uffizi Gallery, Florence, Italy
The Venus of Urbino depicts a naked woman representing the goddess Venus in a position that is very similar to the "Dresden Venus," a painting by Giorgione. What's remarkable is that it's believed that Titian also worked on the other painting before using the same position to create this masterpiece of the Renaissance.
3. Diana and Actaeon
Diana and Actaeon is a painting that depicts the scene in which Actaeon comes into the room where goddess Diana and her nymphs are bathing. It's one of the greatest paintings by Titian and it was sold in the 2000s to the National Gallery of London and Scotland for a whopping £50 million.
4. The Rape of Europa
The Rape of Europa depicts a scene in the mythical story of the abduction of Europa by Zeus which comes to her in the form of a bull. The story continues with the bull bringing Europa to Crete where he reveals his real identity. After this scene, which clearly depicts a rape scene, Europa becomes the first Queen of Crete.
5. Sacred and Profane Love
Date Created: 1514
Dimensions: 118 × 279 centimeters (46 × 110 inches)
Location: Borghese Gallery, Rome, Italy
Sacred and Profane Love is one of the first commissions of Titian and was probably created to celebrate the marriage of a Venetian secretary named Niccolò Aurelio to a young woman named Laura Bagarotto. The coat of arms of Venice can be seen on the fountain in the center of the painting.
6. A Man with a Quilted Sleeve
Date Created: 1510
Dimensions: 81.2 × 66.3 centimeters (32.0 × 26.1 inches)
Location: National Gallery, London, United Kingdom
---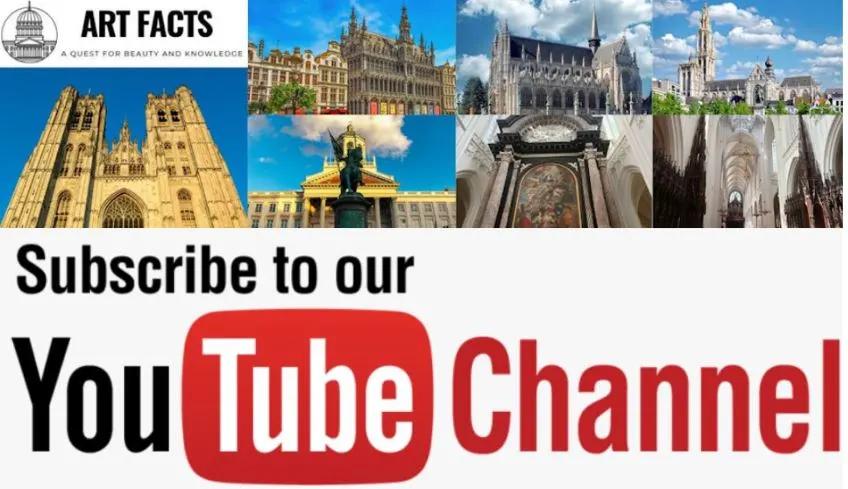 ---
A Man with a Quilted Sleeve is the first portrait ever created by Titian and depicts an unidentified man who sits in a position that would be used frequently by Titian later on in his career. It also influenced famous Baroque artist Rembrandt who created at least two self-portraits in this position.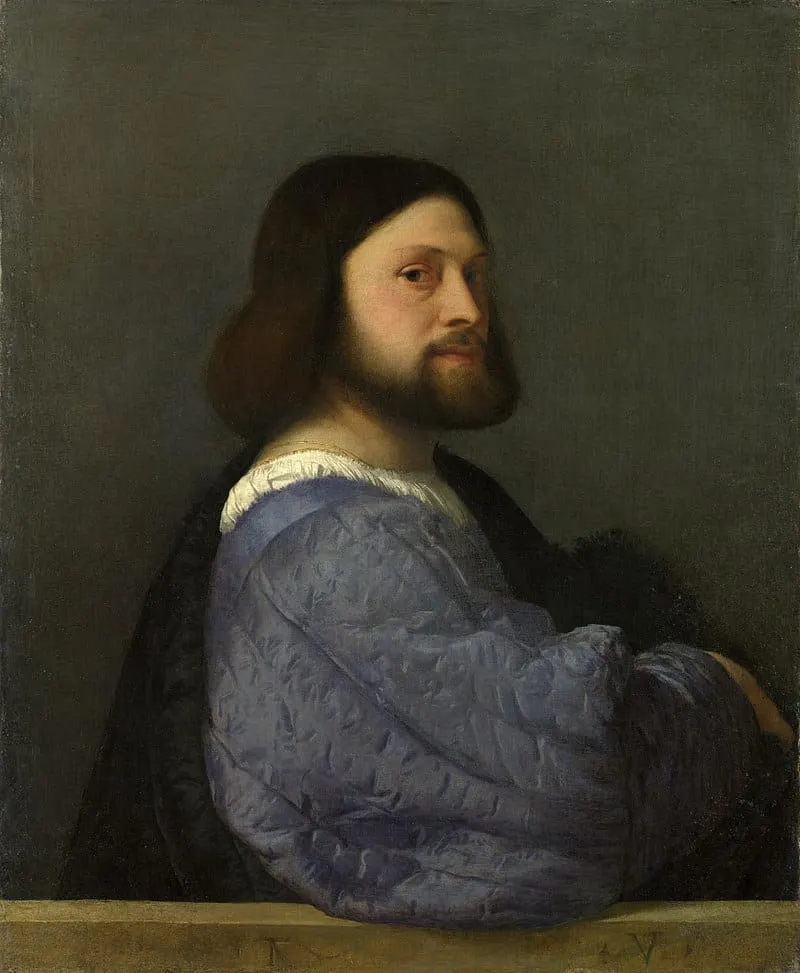 7. Diana and Callisto
Date Created: 1556-1559
Dimensions: 187 × 204.5 centimeters (74 × 80.5 inches)
Location: National Gallery, London / Scotland, United Kingdom
Diana and Callisto is another painting that was purchased by the National Gallery of London and Scotland. It depicts the moment that Diana realizes that her maid Callisto is pregnant by Jupiter and was sold in March 2012 for a price of £45 million.
8. Venus and Adonis
Date Created: 1553-1554
Dimensions: 160 x 200 centimeters (62 x 78 inches)
Location: Prado Museum, Madrid, Spain
Venus and Adonis is one of the many paintings of the same subject by Titian, and multiple copies of this exact painting are spread all across Europe. Equally remarkable is that nobody knows exactly which copy was the original and how much stake Titian had in each one of them.
9. Equestrian Portrait of Charles V
Date Created: 1548
Dimensions: 335 × 283 centimeters (132 × 111 inches)
Location: Prado Museum, Madrid, Spain
The Equestrian Portrait of Charles V was painted while Titian worked for the Habsburg court and while he was visiting the city of Augsburg. It was commissioned by Charles V to commemorate his victory in the Battle of Mühlberg against the Protestant armies. Charles is depicted in full shining armor and has a sense of glory about him as well.
10. Pesaro Madonna
Date Created: 1519-1526
Dimensions: 488 × 269 centimeters (192 x 105 inches)
Location: Santa Maria Gloriosa dei Frari, Venice, Italy
The Pesaro Madonna was commissioned by Jacopo Pesaro, a man whose family had purchased the chapel in the Basilica of Venice. The painting still hangs in the original location for which it was originally commissioned.
11. Bacchus and Ariadne
Date Created: 1520-1523
Dimensions: 176.5 × 191 centimeters (69.5 × 75 inches)
Location: National Gallery, London, United Kingdom
Bacchus and Ariadne is another painting that depicts a scene from mythology and was originally commissioned to another Renaissance master Raphael. After Raphael died in 1520, the commission was transferred to Titian with a subject derived from texts of Roman poets Catullus and Ovid.
12. Pastoral Concert
Date Created: 1509-1510
Dimensions: 105 x 136.5 centimeters (41 x 53 inches)
Location: Louvre Museum, Paris, France
The Pastoral Concert also referred to as "Le Concert Champêtre," is one of the finest examples of Venetian paintings and the reason why the pastoral genre emerged. Even though it's attributed to him by the Louvre Museum, it's uncertain whether or not this is indeed one of the famous paintings by Titian or whether or not he only had a minor role in it.
13. The Crowning with Thorns
Date Created: 1542-1543
Dimensions: 303 x 180 centimeters (119 x 70 inches)
Location: Louvre Museum, Paris, France
The Crowning with Thorns is another painting by Titian located at the Louvre in Paris. It depicts the moment that Jesus Christ is being put on his crown of thorns. It was originally commissioned by the Confraternity of Santa Maria delle Grazie in Milan, but after Napoleon conquered the city in 1797 it was brought to France.
14. Allegory of Prudence
Date Created: 1550-1565
Dimensions: 76.2 × 68.6 centimeters (30 × 27 inches)
Location: National Gallery, London, United Kingdom
The Allegory of Prudence is a peculiar painting depicting 3 human heads on top of 3 animal heads. The animals are a wolf, a lion, and a dog, and the humans are believed to be Titian himself (in his older days), his son Orazio, and his young nephew, Marco Vecellio.
15. Pietà
Date Created: 1575-1576
Dimensions: 389 × 351 centimeters (153 × 138 inches)
Location: Gallerie dell'Accademia, Venice, Italy
Pietà is a painting with the same subject as Michelangelo's masterpiece which can be found in Saint Peter's Basilica in Rome. It depicts the dead Jesus Christ who is comforted by his mother Mary. Titian intended the painting to hang above his own tomb and this was the final painting he created in his life as well!