When this French artist started experimenting with colors together with one of his colleagues, he radically changed the course of art history.
André Derain (1880-1954) was an Avant-Garde artist who worked together with other aspiring painters such as Henri Matisse (1869-1954) and Maurice de Vlaminck (1876-1958).
The three of them are considered to be the founders of "Les Fauves," an art movement that revolved around bold and unnatural colors.
He produced some of his most notable works during the first two decades of the 20th century. He radically changed his style towards a revival of classical art.
The 1920s marked his international breakthrough and Derain's works were exhibited in art galleries all around the world.
So what are some of the most famous paintings in the oeuvre of André Derain? In this article, you'll find out!
1. Charing Cross Bridge, London
Date created: 1906
Dimensions: 100.3 x 80.3 centimeters (39.48 x 31.61 inches)
Location: National Gallery of Art, Washington D.C., United States
Charing Cross Bridge, London is the title of one of the dozens of paintings that André Derain painted on a trip to London. he was sent there by the renowned art dealer Ambroise Vollard to capture the city.
He came back with a remarkable series of Fauvism paintings that are considered to be among his most celebrated works, including this one.
2. Portrait of Henri Matisse
Date created: 1905
Dimensions: 33 x 41 centimeters (12.99 x 16.14 inches)
Location: Philadelphia Museum of Art, Philadelphia, United States
The Portrait of Henri Matisse is one of several versions of Derain's depiction of his friend and colleague whom he worked with during the first decade of the 20th century.
---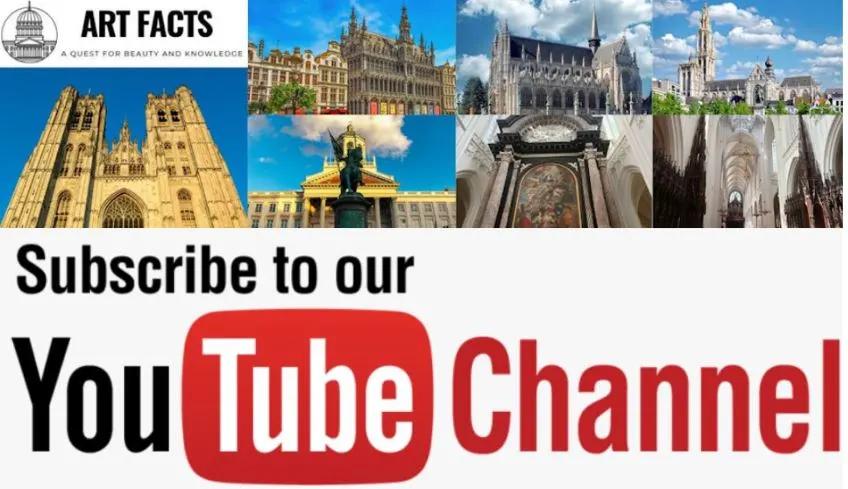 ---
This painting in Philadelphia renders Matisse almost recognizable because his face consists of nothing more than a few patches of green and orange paint.
3. Mountains at Collioure
Date created: 1905
Dimensions: 81.3 × 100.3 centimeters (32 × 39.5 inches)
Location: National Gallery of Art, Washington D.C., United States
Mountains at Collioure is a beautiful landscape painting by André Derain which depicts the mountains near the port town of Collioure in Southern France.
It was completed during the Summer of 1905 when Derain was working together with Matisse in this part of the country. It's another prime example of the color technique that defines the Fauvism art movement.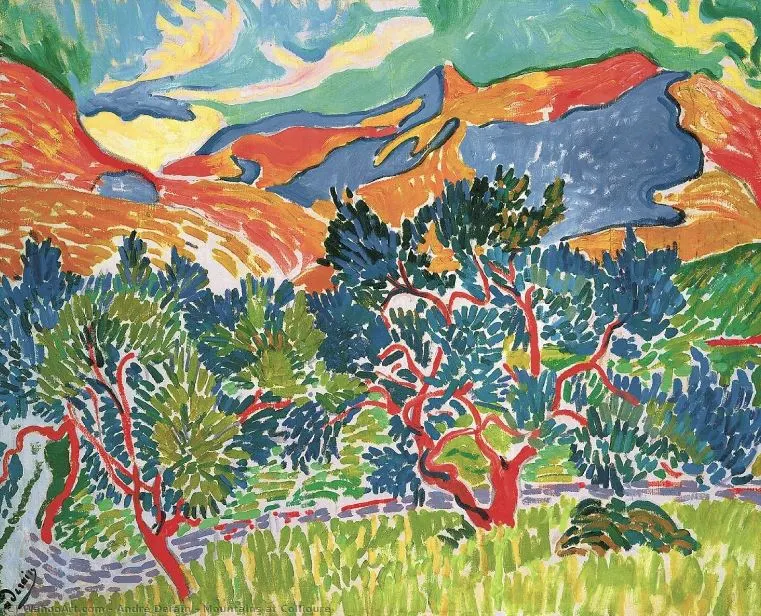 4. Landscape Near Chatou
Date created: 1904
Dimensions: 56.2 x 46.04 centimeters (22.12 x 18.12 inches)
Location: Private Collection
Landscape Near Chatou is another very colorful landscape that was produced the year before Derain's extended visit to Southern France.
It depicts the landscape near Chatou, his hometown in the Yvelines Department, and the place he grew up in. It was completed shortly after he completed 3 years of military service and clearly emphasizes his hunger for experimentation.
5. The Turning Road, Estaque
The Turning Road, Estaque is in my opinion the most beautiful painting by André Derain. It was completed at the height of the Fauvism movement which only lasted a couple of years and radiates the vibrant colors that made it so influential.
It depicts a scene in the southern French town of l'Estaque, a place that can be found in the oeuvre of Paul Cézanne (1839-1906) as well.
6. Baigneuses (Equisses)
Date created: 1908
Dimensions: 46 x 38 centimeters (18.11 x 14.96 inches)
Location: Musée d'Art Moderne de la Ville de Paris, Paris, France
Baigneuses (Equisses) is André Derain's version of this popular subject that emerged during the renaissance but which became increasingly more popular during the 19th century.
He painted several versions and the one that can be admired at the Palais de Tokyo in Paris is a rather small version of indistinguishable female bathers.
7. Big Ben
Date created: 1907
Dimensions: 98 x 79 centimeters (38.58 x 31.1 inches)
Location: Musée National d'Art Moderne (Centre Pompidou), Paris, France
Big Ben is the title of another painting in Derain's series of London cityscapes and arguably one of the most stunning paintings he produced there.
The French artist was heavily influenced by the paintings of Vincent van Gogh (1853-1890) during this phase in his career and this is very clear in this work. The vibrating sun in the top left corner is certainly something he had seen before.
8. The Table
Date created: 1911
Dimensions: 96.5 × 131.1 centimeters (38 × 51.62 inches)
Location: MET Museum, New York City, United States
The Table is a painting that was completed after the Fauvism artists dispersed and we can clearly see the paradigm shift of Derain's style.
He ditched the bright and vibrant colors and started experimenting with simple subject matter depicted in a more realistic style in this period. Instead of looking forward, he looked back and became inspired by the works of the Old Masters.
9. Nature Morte (Still Life)
Date created: 1912
Dimensions: 100.5 x 118 centimeters (39.56 x 46.45 inches)
Location: State Hermitage Museum, Saint Petersburg, Russia
Nature Morte (Still Life) is another still life that highlights the change in direction that André Derain took during the years before the outbreak of World War I.
This period in his career is referred to as his "Gothic Period" and his main goal was to create a new style of classical art. His quest was halted for several years when he was drafted for military service in 1914.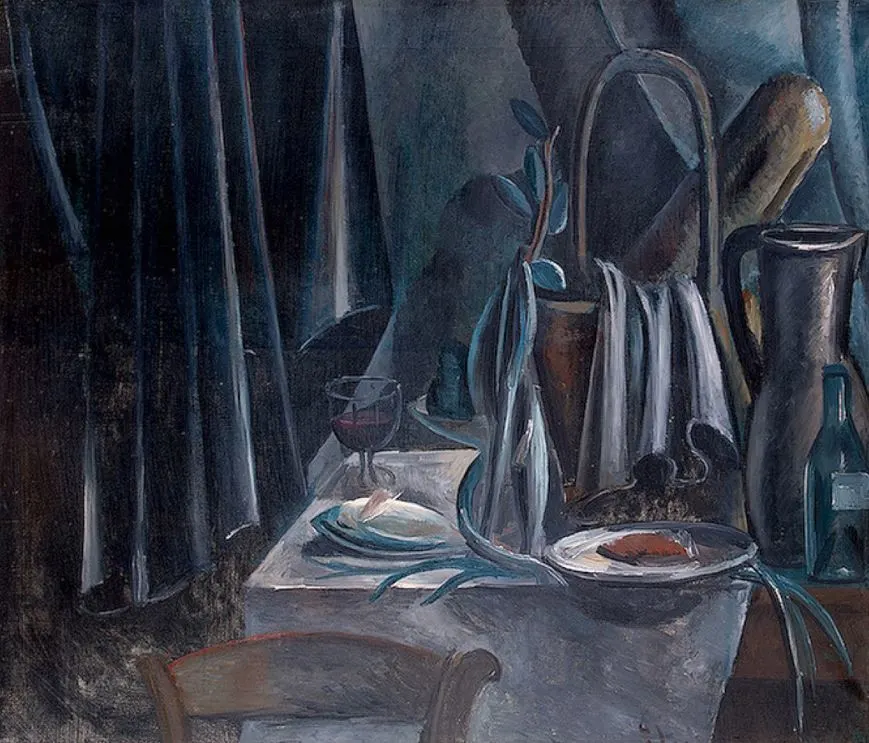 10. The Painter and his Family
Date created: 1939
Dimensions: 176.5 × 123.8 centimeters (69.48 x 48.74 inches)
Location: Tate Britain, London, United Kingdom
The Painter and his Family can be described as a symbolic painting that embodies the artist's philosophy related to art, especially during the final decades of his life.
Long gone were the days when he painted colorful landscapes in Southern France. Instead, he worked in his studio with his family nearby. The animals, the fruit, and the caring family members are symbolic representations of the idyllic life of an aging artist.