Even though Diego Velázquez (1599-1660) is best-known today for his work at the Spanish court in the 17th century, he started off painting scenes of the common people during his early years.
One of the ultimate masterpieces of his early period is a painting depicting a boy and an old woman who appears to be cooking eggs in a pan.
In this article, we'll take a closer look at some of the most interesting facts about a painting known as "Old Woman Frying Eggs," an extraordinary painting that defined the artists' early years.
1. Velázquez was still a teenager when he painted this work
The painting that is officially known as "Old Woman Frying Eggs," or "Vieja Friendo Huevos," in Spanish is one of the earliest works by Spanish Baroque artist Diego Velázquez and was painted during his period in Seville, his hometown.
Even though the exact date that this work was completed remains uncertain, it's estimated that it was completed by the year 1618.
This means that the artist was only 19 years old when he completed this masterpiece. This work is considered to be his greatest work during his early period which lasted until his permanent move to Madrid in 1623.
2. It's one of multiple Velázquez paintings known as "Bodegones"
The particular type of painting is known in Spanish as "Bodegónes," a type of still life painting that depicts an ordinary scene in a kitchen or tavern.
This name was derived from the Spanish word "bodega" which means a tavern or similar type of establishment, but could also mean or wine cellar.
These works often portray one or more figures in combination with everyday utensils such as plates, cutlery, pans, pestles, jugs, or glasses.
---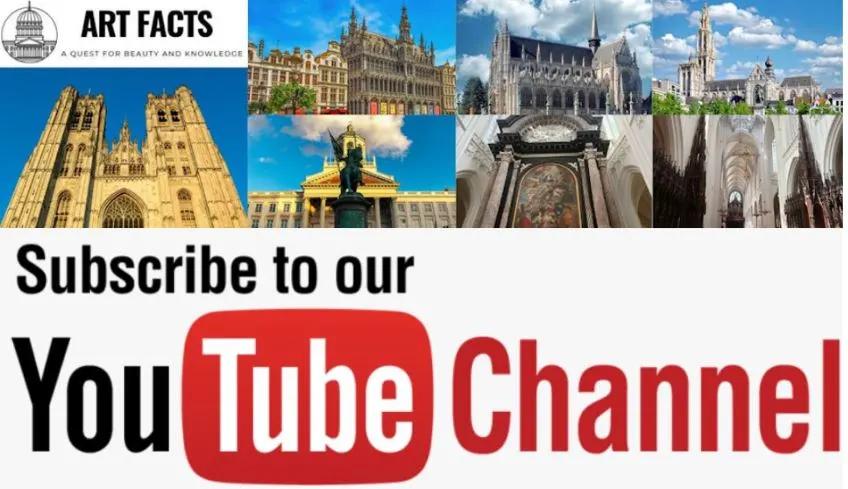 ---
When it comes to this painting we can see a boy and an old woman as she is preparing eggs in a terracotta pot. While the identity of the figures is uncertain, it's known that Velázquez often used family members as models during his early years.
3. It's uncertain whether or not the official name of the painting is correct
Even though the title of the work refers to the fact that the woman is frying eggs, it's not exactly sure whether or not this is what's happening.
Some sources state that the cooking process may involve poaching rather than frying. Upon closer inspection, it does appear that the eggs are submerged in a certain liquid while cooking, which is the definition of poaching.
This also means that there are some alternative names for this painting such as "Old Woman Cooking Eggs" or "Old Woman Poaching Eggs."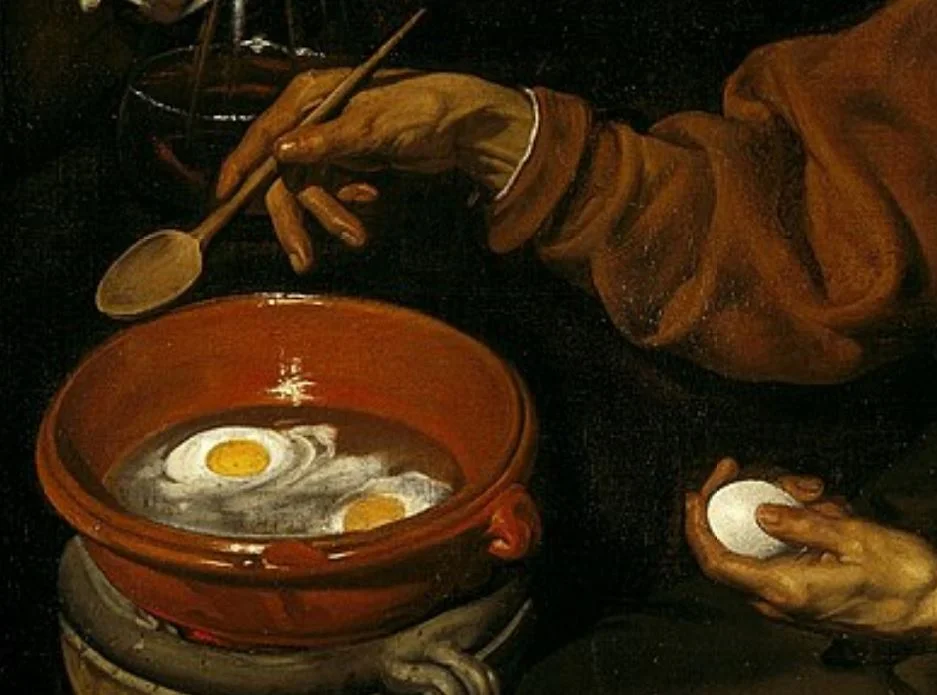 4. The painting is defined by an extreme contrast of darkness and light
Chiaroscuro is a painting technique that revolves around the contrast of light and dark. This technique emerged during the Renaissance and is the literal translation of the Italian words "light-dark."
The extreme contrast used by Velázquez between light and dark allowed him to portray the everyday items in the painting, as well as the physical characteristics of the two figures, in an almost photographic manner.
Every object appears to be illuminated in a particular way by the light source coming from the left.
This contrast becomes very clear in the background as well as it's nearly impossible to see the wall on which the basket is hanging.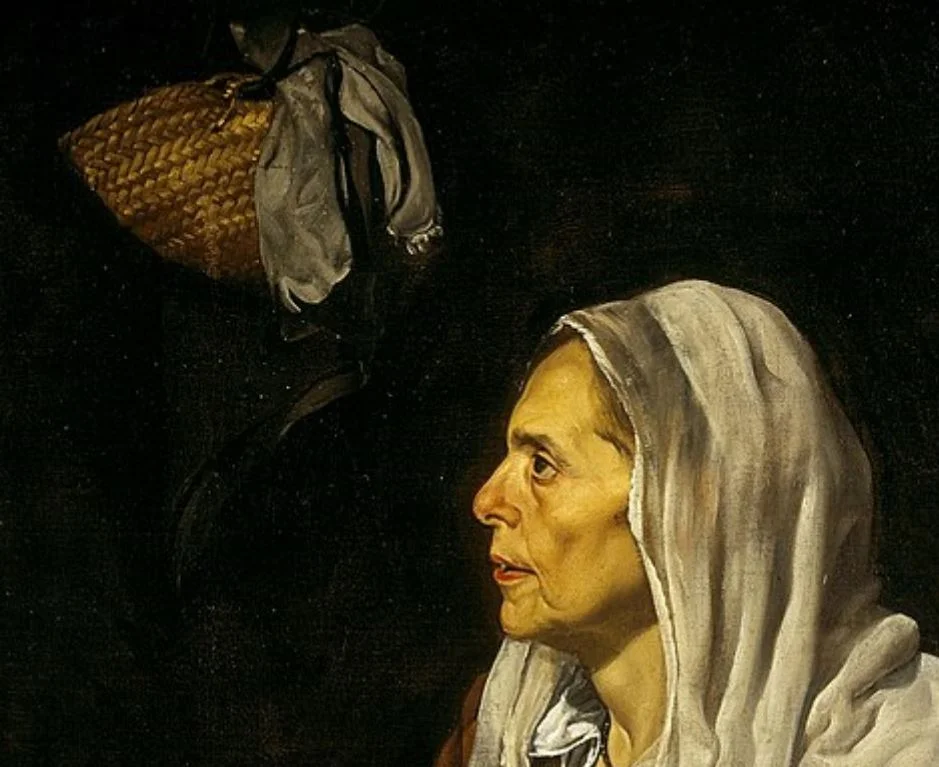 5. It has been part of a Scottish museum's collection since the 1950s
After changing hands a couple of times in the 19th century between UK art collectors, the painting ended up being acquired by the National Gallery of Scotland in Edinburgh.
It was bought from Sir Francis Cook and the Trustees of Cook Collection with the help of the Art Fund and a Treasury Grant in the year 1955.
This means that this extraordinary work of art can still be admired in The Scottish National Gallery, along with countless other priceless masterpieces from a wide variety of art movements.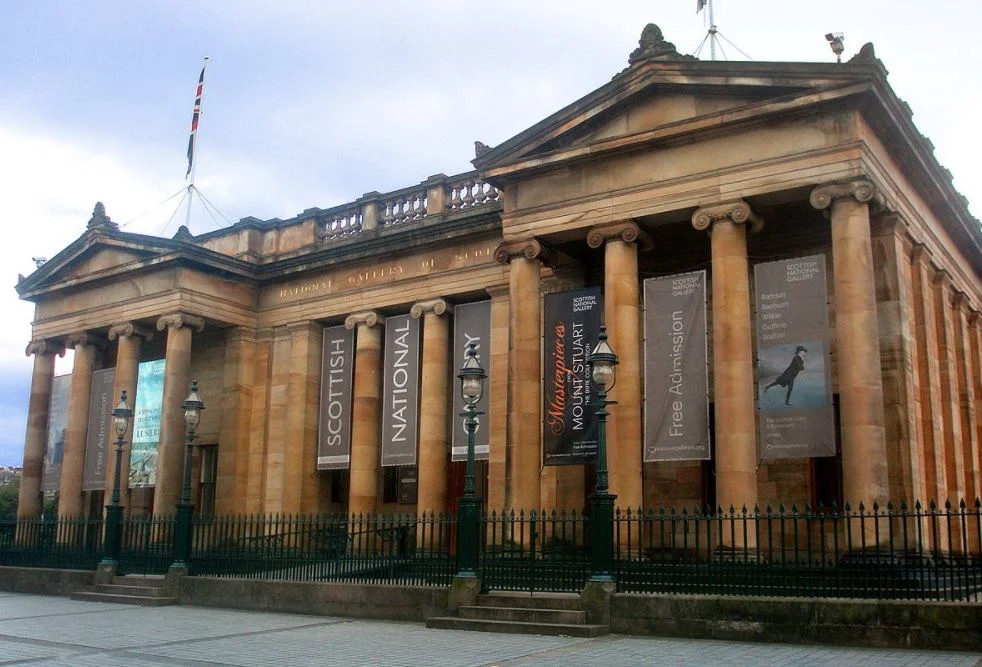 More interesting facts about Old Woman Frying Eggs by Diego Velázquez
6. The level of details can be admired perfectly as this isn't a small painting. It has dimensions of 100.5 × 119.5 centimeters (39.6 × 47.0 inches).
7. While it's uncertain whether or not the depicted old woman is a family member of the artist, she does appear once more in one of his works.
She can be seen standing to the left of the young woman in the painting "Christ in the House of Martha and Mary." This work was painted around the same time as well around 1618 and is now part of the collection of the National Gallery in London.
8. Even though these types of paintings became increasingly popular in the following centuries, Velázquez was one of the first Spanish painters to paint ordinary scenes known as "Bodegones."
9. His early works were also in sheer contrast with the types of painting created by his teacher during this period, Francisco Pacheco (1564-1644). He was not only his father-in-law but also an uninspired Mannerist artist who was quickly overshadowed by his pupil.
Old Woman Frying Eggs is considered to be a statement by Velázquez of his talent. He once said, "I would rather be the first painter of common objects than the second in higher things."
10. Diego Velázquez eventually ended up becoming the source of inspiration for multiple other painters, especially Realism artists and Impressionist artists in the 19th century.
His influence didn't stop there because, in the 20th century, he became the inspiration of artists such as Pablo Picasso, Salvador Dalí, and Francis Bacon as well.
Together with Las Meninas (1656), his Magnum Opus, this painting was one of the main reasons.