The life of Jackson Pollock (1912-1956) was plagued by chronic alcoholism, but this didn't stop him from becoming one of the greatest American artists in history.
He achieved fame because he developed a radical new painting method now referred to as the "drip technique." It's also known as action painting and revolved around splashing paint onto a horizontal surface.
The paintings of this Abstract Expressionist artist aren't just on display in the most famous museums in the world, some of them sold for millions of dollars as well.
In this article, you'll discover some of the most famous Jackson Pollock paintings, artworks that define the revolutionary style developed by the artist.
1. No. 5, 1948
Date created: 1948
Dimensions: 2.4 × 1.2 meters (8 × 4 feet)
Location: Private collection
No. 5, 1948, is one of the paintings that sold for an incredible figure back in 2006. It fetched $140 million, the highest price ever paid for a painting at that time, and held this record until April 2011.
It was produced on fibreboard and the artist splashed liquid paint onto it. Just like most of his early works, the painting wasn't appreciated by art critics initially, a notion that makes the same price even more remarkable.
2. Convergence
Date created: 1952
Dimensions: 237 × 390 centimeters (93.5 × 155 inches)
Location: Buffalo AKG Art Museum, Buffalo, United States
Convergence was produced several years later but using the same drip painting technique he developed earlier. This work was created on canvas.
One of the most remarkable facts about the painting is that it was turned into a jigsaw puzzle in the 1960s. It was referred to as the most difficult puzzle in the world, and it's not hard to understand why.
3. Blue Poles
Blue Poles is an enormous work of art that Pollock originally named "Number 11," a name it went by for 2 years. This was not unusual because the artist refused to assign a proper name to his works.
Because of the distinctive blue paint which appears to take on the shape of poles, the painting was referred to as "Blue Poles" by 1954. It was purchased by the National Gallery of Australia (NGA) for the large sum of A$1.3 million in 1973, a controversial acquisition at the time.
4. The She-Wolf
Date created: 1943
Dimensions: 106.4 x 170.2 centimeters
Location: MoMA, New York City, United States
The She-Wolf is a remarkable work of art in the oeuvre of Jackson Pollock because it was produced before he invented drip painting. This means we can distinguish the figure of a wolf in this composition.
IN the early phase of his career, Pollock experimented with mythological subjects. It's assumed that this painting is his version of the wolf that suckled Romelus and Remus, the two legendary founders of Rome according to Roman mythology.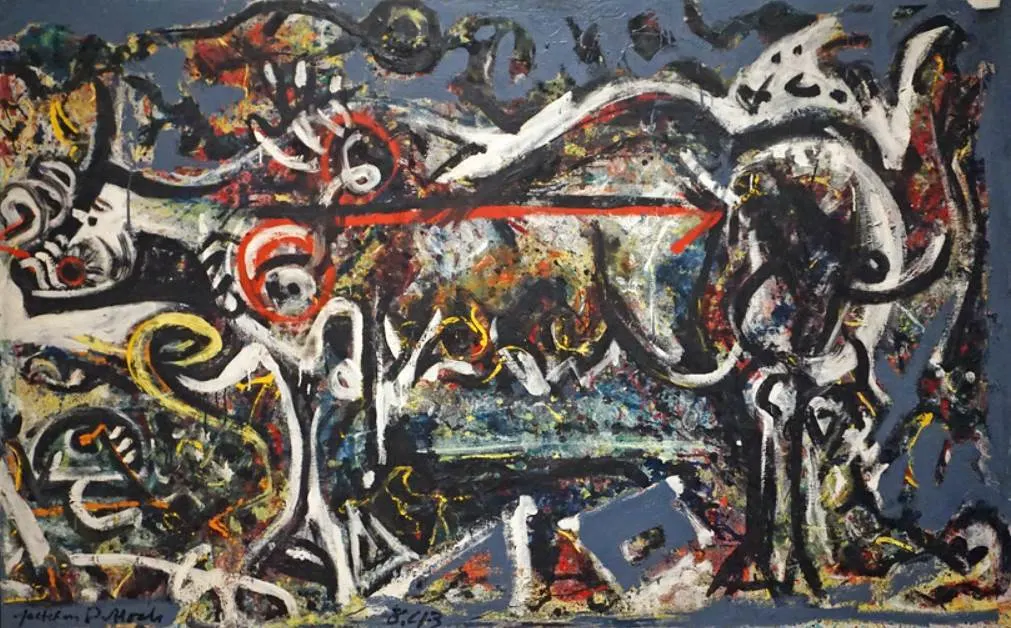 5. Mural
Date created: 1943
Dimensions: 2.43 x 6.04 meters (8 feet × 19 feet 10 inches)
Location: University of Iowa Museum of Art, Iowa City, United States
Mural is another work that was produced during the early phase of Pollock's career. It was probably produced around 1943 although the artist didn't add his signature to the work until the year 1947.
It's a remarkable Jackson Pollock painting because it's the largest canvas painting he ever produced. It's considered to be a pivotal work in his oeuvre as well as it marked the transition from the Surrealist abstract paintings he produced to the action painting that made him world-famous.
6. Number 1, 1950 (Lavender Mist)
Date created: 1950
Dimensions: 221 x 299.7 centimeters (87 x 118 inches)
Location: National Gallery of Art, Washington D.C., United States
While Mural was important in the transition of the painting technique Pollock developed, Number 1, 1950 (Lavender Mist) was important in his recognition as an artist to the general public.
The initial reactions to his works were mixed, to say the least, but when this particular work went on public display, the overall opinion about his art had already shifted. It's therefore, one of the first works that were received well by critics.
7. Autumn Rhythm (Number 30)
Date created: 1950
Dimensions: 266.7 × 525.8 cm (105 x 207 inches)
Location: MET Museum, New York City, United States
Autumn Rhythm (Number 30) is another painting that was produced around the same time in the fall of the year 1950. He produced it in his studio in Springs, New York, and features a similar color palette as Number 1.
Because he referred to it as "Number 30" doesn't mean that there were 28 other paintings in between these two works. These numbers were randomly attributed to paintings instead of an exact numbered sequence.
8. Full Fathom Five
Date created: 1947
Dimensions: 129.2 x 76.5 centimeters (50 7/8 x 30 1/8″)
Location: MoMA, New York City, United States
Full Fathom Five was one of the first experimental paintings in which Pollock used his distinctive drip-feeding technique. This is emphasized by the notion that he first prepared the canvas with a brush to produce an underlayer.
Another remarkable fact about this painting is that several elements are included on the surface. Some of these are cigarette butts, thumbtacks, buttons, coins, and a key. They are completely covered in paint and indistinguishable by the naked eye.
9. The Deep
Date created: 1953
Dimensions: 150.7 × 220.4 centimeters (59.3 × 86.8 inches)
Location: Centre Georges Pompidou, Paris, France
The Deep is considered to be one of the most mysterious Jackson Pollock paintings. It was produced shortly after he reached the peak of his career and a moment that he suddenly abandoned his drip-feeding technique for unexplained reasons.
His paintings after 1951 were a lot darker in nature and are referred to as "Dark Pourings." This wasn't a success because none of these paintings sold. This particular work of art was produced at a time when he attempted to integrate figures into his work, but what the dark paint in this work means remains unclear.
10. Number 17A
Date created: 1948
Dimensions: 112 x 86.5 centimeters (44.1 x 34.1 inches)
Location: Private collection
Number 17A was produced in 1948, a year after he started experimenting with his drip technique. It's clear by the appearance of this work that he already got a hang of it at this time as it's one of the most beautiful of all his works.
That's exactly what hedge fund manager Kenneth C. Griffin must have thought when the painting was for sale in 2015. He paid $200 million for this work, a figure that still makes it one of the most expensive paintings in history today.