Did you know that you can enjoy Renaissance Revival architecture in England that was inspired by the copious amounts of French châteaux that were constructed in the 16th century?
This country house is located just northwest of London and its stunning architectural features aren't the only elements that make it a popular tourist attraction.
Let's take a closer look at some of the most interesting facts about Waddesdon Manor, a Victorian mansion with some remarkable stories to tell.
1. It's located in Waddesdon, Buckinghamshire in South East England
Waddesdon Manot was named after the small town it's located in. This village is located in Buckinghamshire, a ceremonial county in South East England.
Aylesbury is the county town and is situated about 10 kilometers (6 miles) to the southeast. London is less than an hour's drive away in the same direction.
This incredible country house was constructed on a little hill that was completely leveled before construction started.
This huge endeavor lasted between 1874 and 1877 and the construction of the châteaux-like building was completed between 1877 and 1883.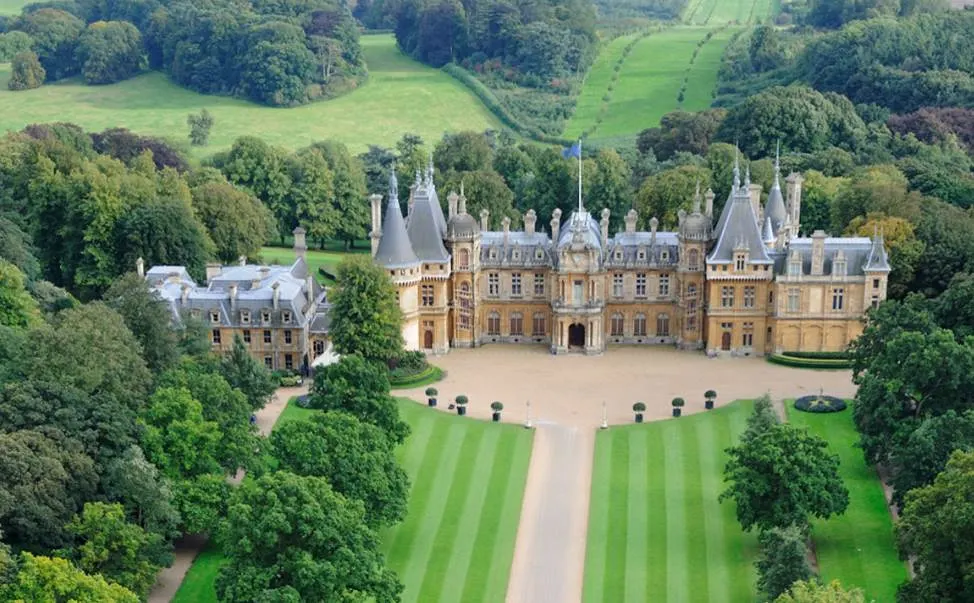 2. It was constructed by a rich Jewish banker in the late 19th century
The building was commissioned by Baron Ferdinand de Rothschild (1839–1898), a rich Jewish banker who was a member of the Rothschild banking family.
Ferdinand's father Anselm Salomon was from Austria and he was born in Paris. His mother Charlotte Nathan Rothschild (1807–1859), however, was English.
---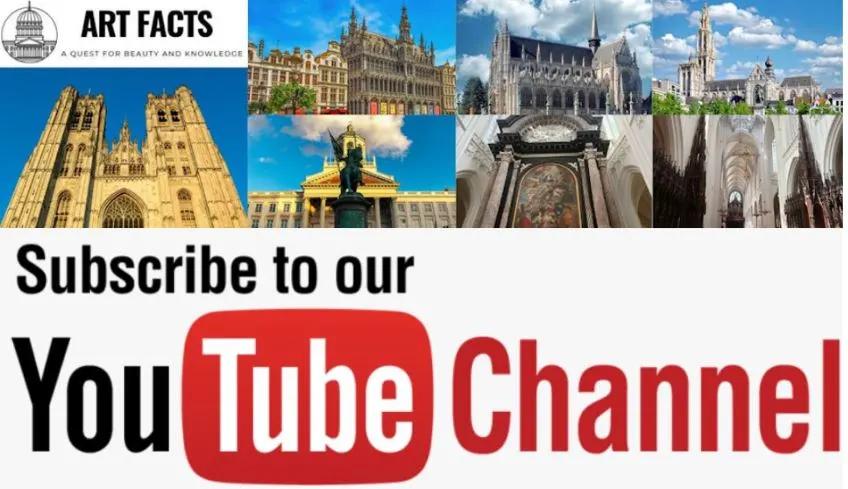 ---
Apart from being the rich heir of a banking family, he also became a politician. He was a Member of Parliament in the House of Commons between 1885 and 1898 and he had Liberal views.
Ferdinand was fluent in three languages, English, French, and German, and he didn't exclusively consider himself to be British. He once said that he was "just as much at home in Paris as in London."
3. It has a Neo-Renaissance design that was inspired by the Châteaux of the Loire
Renaissance Revival architecture emerged in the mid-19th century. It encompassed a lot more than merely reviving the architectural style that emerged in Florence in the 14th and 15th centuries.
Renaissance architecture is characterized by a harmonious and symmetrical design. Waddesdon Manor incorporates multiple elements that are characteristic of the châteaux of the Loire.
One of the prime examples of French renaissance architecture is the Château de Chambord which was completed between 1517 and 1549.
It's not a surprise that the building was designed by a French architect named Hippolyte Destailleur (1822-1893) he produced an eclectic design.
Many French châteaux were damaged during the French Revolution and Destailleur was a major figure in their reconstruction.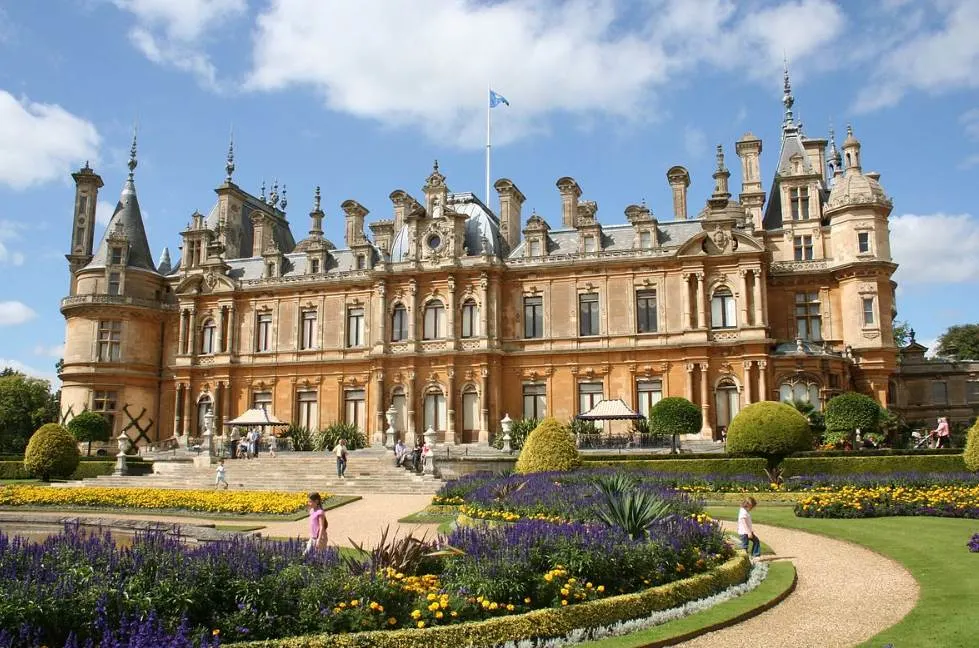 4. The mansion was used to store an incredible art collection and entertain guests
Baron Ferdinand de Rothschild was motivated by two main reasons for building this incredible country house. First of all, he needed a place to store his amazing collection of fine art.
He owned a collection that encompassed a lot of different types of art, including:
18th-century British portraits by Thomas Gainsborough and Joshua Reynolds.
Savonnerie carpets and Beauvais tapestries.
Furniture of all sorts.
Sèvres ceramics.
Dutch and Flemish paintings.
Renaissance masterpieces.
His collection of fine art was greatly extended by family members of Ferdinand, including his sister Alice de Rothschild (1847–1922), their cousin Edmond James de Rothschild (1845–1934), and the present Lord Jacob Rothschild (born in 1936.
5. It's owned by the National Trust but still managed by the Rothschild Foundation
Waddesdon Manor was bequeathed to the National Trust by James de Rothschild in 1957 and has since been open to the public to visit.
The building has since become one of the most popular tourist attractions in the region with about half a million visitors every year.
It's a Grade I Listed building and although it's owned by the National Trust, it's still managed by the Rothschild Family through the Rothschild Foundation.
Jacob Rothschild, 4th Baron Rothschild, is the chairman of this foundation which means that his investments still expand the collection of fine art today.
More interesting facts about Waddesdon Manor
6. The land on which the building was constructed was once a piece of agricultural land owned by the Duke of Malborough. Ferdinand de Rothschild bought the land in 1874 as he was aware of it from former fox hunting trips.
7. The Duke of Malborough was short in cash at the time and already cleared the land of its timber at the time that he sold it. This made it much easier to start leveling the hilltop on which the mansion was constructed.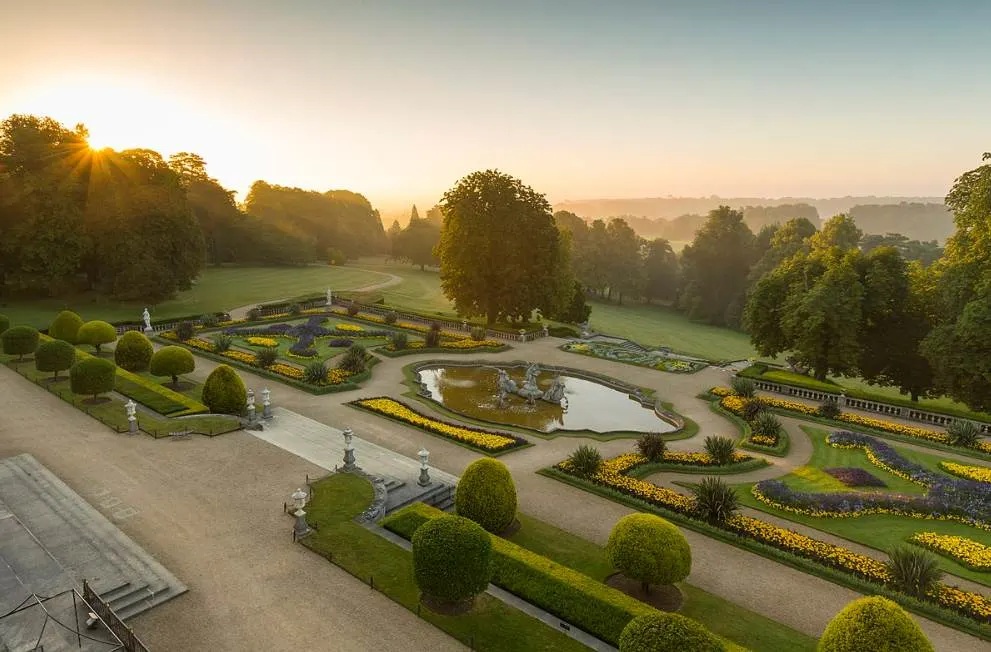 8. Although the building wasn't completed until 1883, Ferdinand couldn't hold his excitement and invited 7 of his friends to a home warming party in 1880. The company enjoyed a fireworks display in the unfinished manor in May of that year.
9. Ferdinand wanted to show off his collection of art to important people. He always invited 14 to 20 people who were served by up to 24 employees. Some of his most notable guests were the future King Edward VII and Queen Victoria in 1890.
10. Waddesdon Manor had some fascinating modern features in the late 19th century, including electric lights that were installed to make them appear like candles in the chandeliers. Queen Victoria was so impressed that she asked for the lights to be dimmed during dinner to maximize their effect.
11. One of the most amazing features of the manor's interior apart from the art collection is the wine cellar. It was modeled on the famous wine cellar at Château Lafite Rothschild in the Bordeaux Region of France. It houses over 15,000 bottles of wine of which some are over 150 years old.
12. The top of the hill was leveled to construct the manor, but it was also done to construct an amazing landscape garden After all, Ferdinand wanted to entertain his guest outdoors as well during the Summer months. The garden alone cost £153,000 to build which is the equivalent of almost £70 million today.
13. The manor was completed in 1883 but one addition wasn't completed until 1889. The aviary was modeled on that of the Palace of Versailles and is home to exotic birds. It's located just west of the main building and operates as a registered zoo.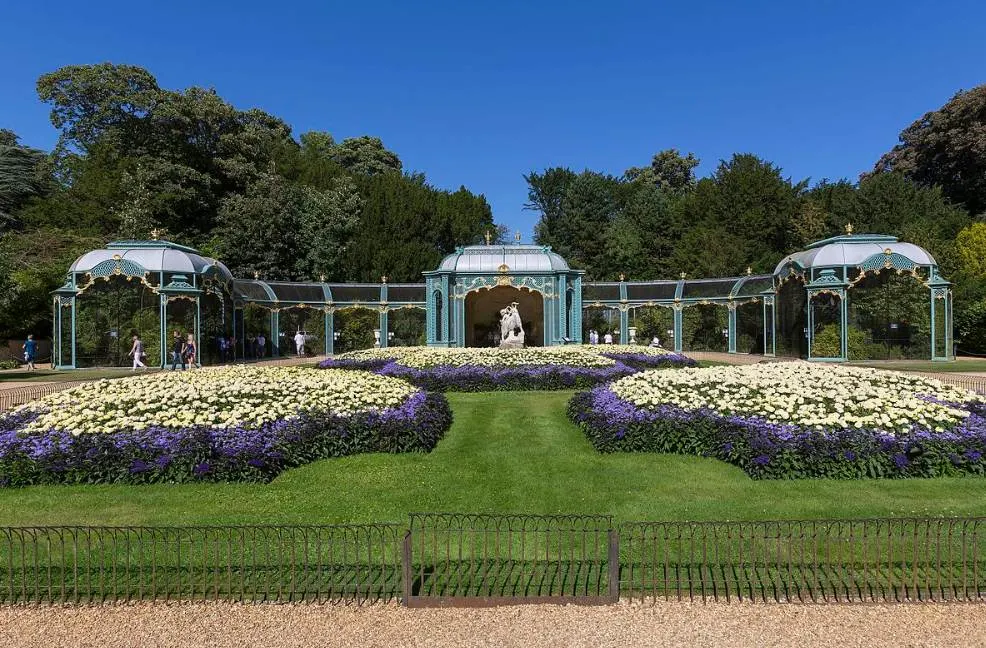 14. The collection of art inside the manor is considered to be one of the rarest in the world. That's mainly because of the eclectic entire of the more than 25,000 antiques and artworks that are housed here.
15. Some of the sculptures inside the garden of Waddesdon Manor are authentic 17th and 18th-century sculptures produced in France and Italy. The fountains feature sculptures that were completed in the 1720s and that were commissioned to decorate the Ducal Palace of Colorno in Italy.