This incredible Neo-Futurism building is nicknamed "The Spaceship," and while this might sound a bit corny, it's certainly no exaggeration.
Apple is a multinational technology company that was formed in 1976 as the Apple Computer Company. It was renamed Apple Computer, Inc. in 1977 and has gone by the name Apple Inc. since 2007.
It's the largest company of its kind by revenue, totaling over $8 billion per year. This makes it no surprise that their corporate headquarters could cost quite a bit of money.
In this article, you'll discover some of the most interesting facts about Apple Park, one of the most amazing buildings in California.
1. It's located in the city of Cupertino in California
The largest technology company in the world is located in the most important center of technology and innovation, an area known as "Silicon Valley."
Apple Park is located in Cupertino, a city in the southern part of the San Francisco Bay Area in Northern California. The city is part of Santa Clara County and is situated just west of San Jose.
The city only has a population of fewer than 60,000 inhabitants but is part of the huge metropolitan area of San Francisco Bay.
The campus is also known as Apple Campus 2 or by its location at One Apple Park Way.
2. It replaced the former campus as the corporate headquarters of Apple Inc.
Apple grew exponentially from its foundation in the late 1970s. The company was founded by Steve Jobs and Steve Wozniak and it created the first mass-produced personal computers.
---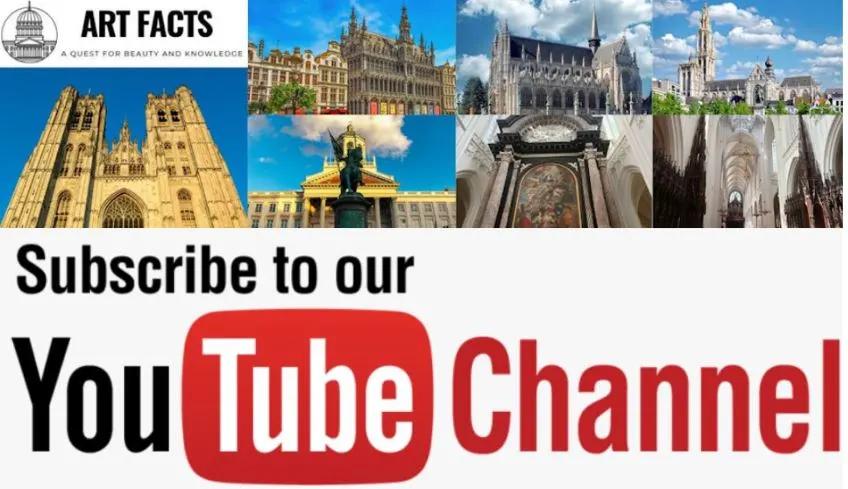 ---
This growth resulted in a campus being constructed to house its corporate headquarters at One Infinity Loop in Cupertino.
This campus was constructed in 1993 and served its purpose until it was replaced by the huge Apple Park in 2017. It's still used as office and lab space for the company today.
It's located just a few hundred meters west of the new campus and features several buildings that are surrounded by green space, the standard today of a modern business park.
3. This groundscraper building was designed by a renowned British architect
The idea to build a new campus came about in the early 21st century and was a joint idea of Apple's CEO Steve Jobs and Apple's British chief designer Sir Jonathan Paul Ive.
Ive was the driving force behind the plan and he worked together with British architect Sir Norman Foster, one of the most renowned architects in history.
Both men worked together for five years before they finalized the plan for the perfectly circular groundscraper building.
Steve Jobs bought 9 properties near the old campus in 2006 and the building was completed 11 years later between 2013 and 2017.
4. This enormous structure cost approximately $5 billion to complete
A groundscraper is a building with relatively few stories but that greatly extends horizontally. Apple Park only features 4 stories above the ground and 3 below but has a circumference of 1.46 kilometers (0.91 miles).
The land cost about $160 million, which isn't cheap by any means, but it pales against the $5 billion price tag of the building itself.
The building has a diameter of 461 meters (1,512 feet) and the interior features a park that covers an area of 12 hectares (30 acres). It has a pond and paths that wind through the California fruit orchards.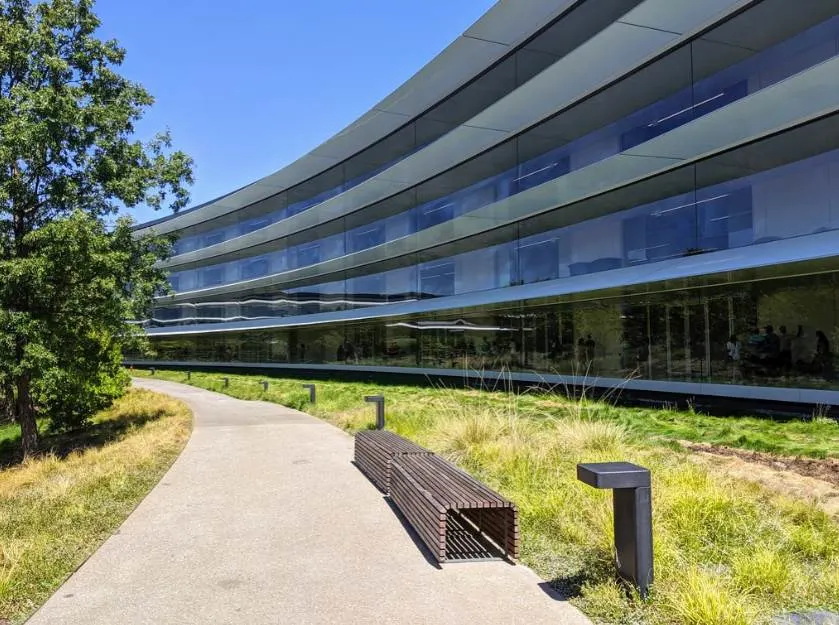 5. It's a green building and 80% of the campus consists of green space
Every single detail was worked out during the five-year planning phase, and this included the fact that the building had to become one of the greenest on the planet.
The entire roof of the building is covered with solar panels that can produce 17 megawatts of power. This alone can support 75% of the energy consumption during the peak.
It's one of the largest solar roofs on the planet and is accompanied by Bloom Energy Server fuel cells that provide the additional energy needed.
The central part of the campus consists of 80% green space that features apricot, olive, and apple orchards. There's a herb garden and a large artificial pond as well.
The entire campus is home to over 9,000 tresses and 309 different indigenous tree species.
More interesting facts about Apple Park
6. One Infinity Loop features 6 buildings with a floor space of 79,000 square meters (850,000 square feet). Apple Park has a floor space of 260,000 square meters (2.79 million square feet). These are not the only offices of Apple Inc. as the company owns about 30 more office buildings in Cupertino.
7. One of the most remarkable structures at Apple Park is the so-called Steve Jobs Theater. This auditorium is located on top of a little hill and is an underground facility.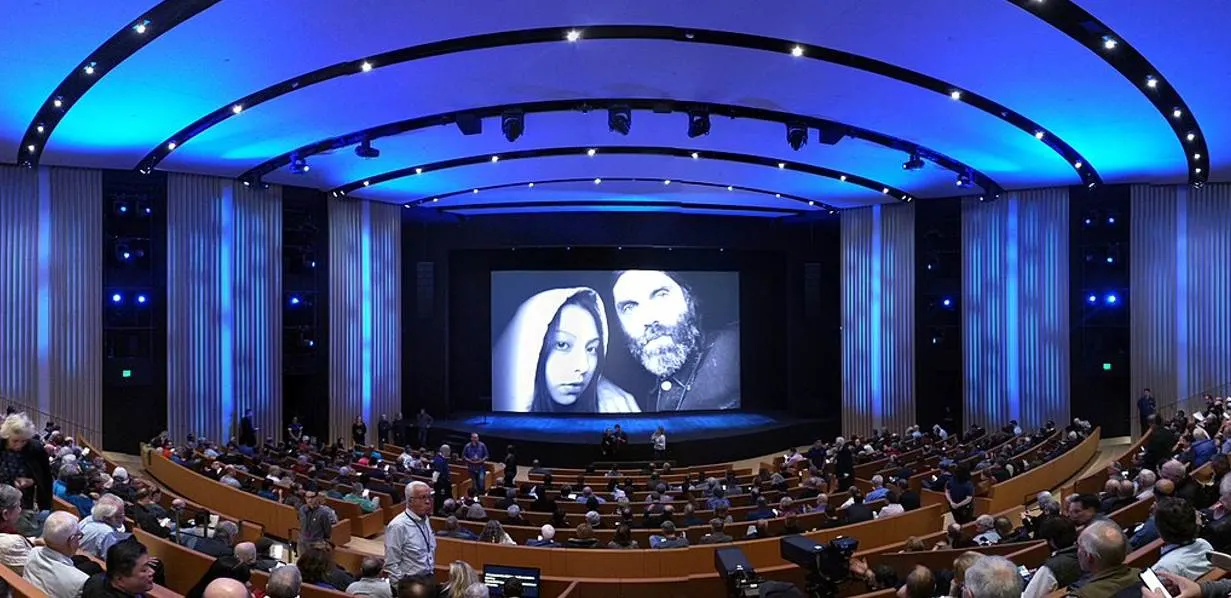 It has a seating capacity of 1,000 people and is topped with the largest carbon-fiber roof in the world. It also holds the record of being the largest glass-supported building in the world.
8. More than 12,000 employees work at Apple Park and this means that the campus needs a lot of additional facilities. It features 7 cafés with one of them featuring 3 floors and a sitting space of 3,000 people.
9. Another remarkable structure on the campus is the visitor center, a building that cost approximately $80 million to build.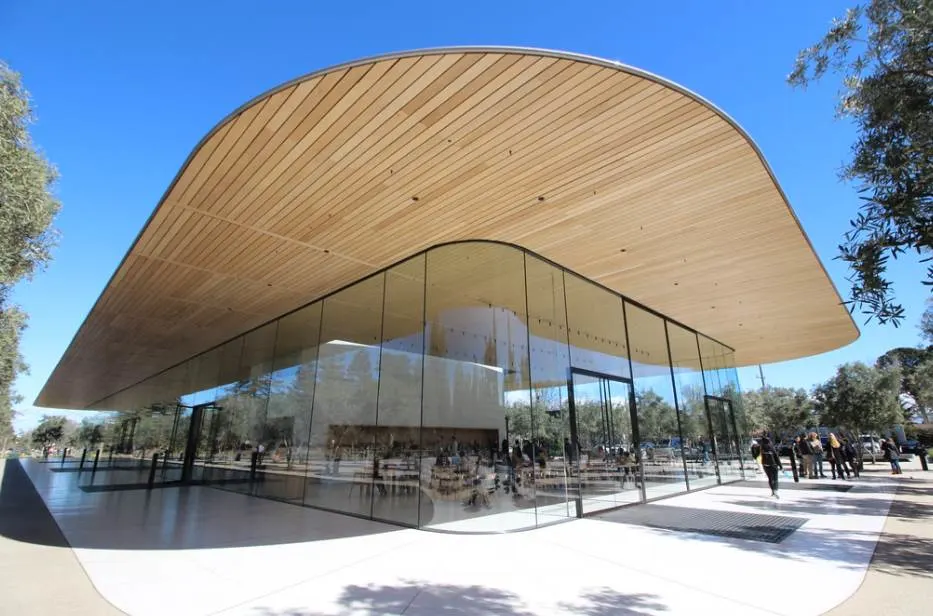 It covers an area of 1,870.6 square meters (20,135 square feet) and features 4 different areas, including an Apple Store with Apple merchandise you can't find anywhere else and an exhibition space that provides a 3D model of Apple Park with augmented reality.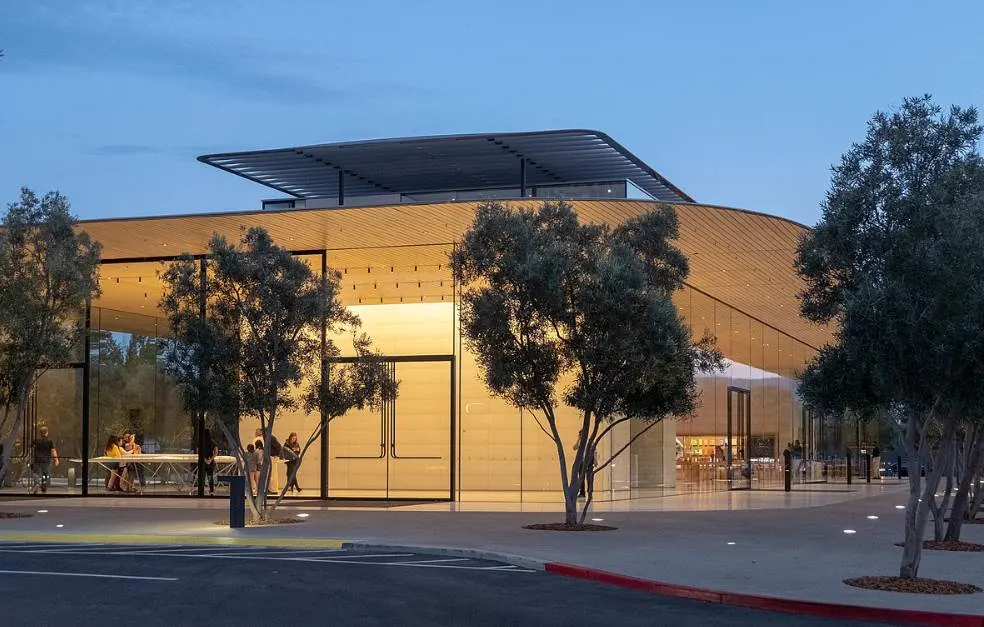 10. The entire campus covers an area of 71 hectares (175 acres) and there's quite some distance between the buildings. That's why 1,000 bicycles are available for employees to move around the campus.
If this doesn't keep them fit, then the fitness center with an area of 9,300 square meters (100,000 square feet) certainly will.
Want to learn more about Apple Park? Then check out this informative video about the amazing headquarters of Apple Inc.