One of the greatest works of art created by one of the most famous Post-Impressionist painters in history holds a special place in the artist's oeuvre for a variety of reasons.
In this article, we'll take a closer look at some of the most interesting facts about The Red Vineyard by Vincent van Gogh, a work considered to be one of his greatest masterpieces.
1. It was painted during van Gogh's period in Arles
Vincent van Gogh lived in Paris, together with his brother Theo, between 1886 and 1888. The relationship between the two brothers wasn't exactly good at this time as Theo found it unbearable to live together with Vincent.
The solution was a move to southern France in a city called Arles, a place where the artist ended up painting many of his most famous works. Some of these included "The Yellow House" (which depicts the house stayed in at the time), "Café Terrace at Night," and "Starry Night Over the Rhône."
Another famous work from his period in Arles is called "The Red Vineyard" or "The Red Vineyards near Arles," a painting depicting workers in a vineyard near the city of Arles.
This particular work was painted in November 1888, shortly after the arrival of Paul Gauguin on October 23, 1888.
2. It was one of 6 paintings displayed at a popular annual exhibition
The two artists painted together during this month in 1888 but the tensions gradually increased. The plan of van Gogh to establish an art colony so to speak never happened and Gauguin's visit culminated in Vincent having a mental breakdown.
This is the infamous episode in which he cut off part of his left ear during a state of delusion on Christmas Eve of that year.
Regardless, he partially recovered (even though he committed suicide in July 1890) and was able to display 6 of his works at the annual exhibit of Les XX in 1890.
This was a group of 20 Belgian artists based in Brussels and the annual exhibits featured works of what would become some of the most renowned artists in history.
Some of them included Camille Pissarro (1887, 1889, 1891), Claude Monet (1886, 1889), Georges Seurat (1887, 1889, 1891, 1892), Paul Gauguin (1889, 1891), Paul Cézanne (1890), and Vincent van Gogh.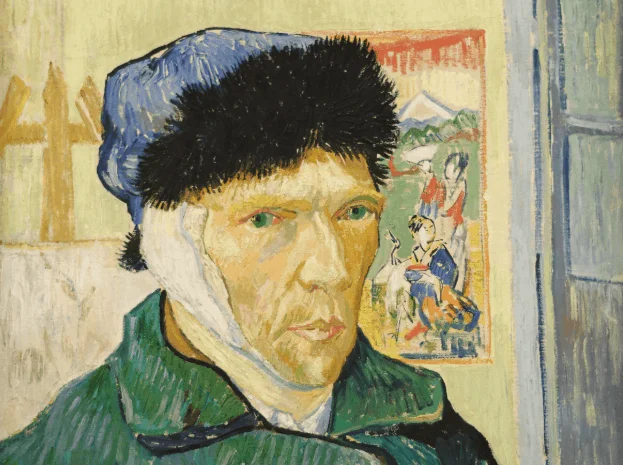 3. It's presumed to be the only painting van Gogh sold during his lifetime
The 6 paintings by van Gogh displayed at the exhibit included 2 "Sunflower paintings," "Flowering Orchard," "Wheat Field, Sunrise," and work called "Ivy." The latter has been lost since World War II.
The 6th painting was "The Red Vineyard" and was remarkably the only painting by van Gogh that was sold during this event.
And not just that, the 400 francs he received (the equivalent of about USD 2,000 today) ended up being the only money he got for his work during his lifetime!
4. The buyer of the painting was the sister of one of van Gogh's friends
The woman who bought the painting was an artist herself, Impressionist artist Anna Boch (1848-1936) from Belgium. She was also one of the members of the Les XX ensemble in Brussels and a patroness of the arts and art collector.
Her brother was actually a friend of Vincent van Gogh named Eugène Boch (1855-1941) who was an Impressionist artist as well. The two met just before he created The Red Vineyard and Vincent even created his portrait in the first couple of days of September 1888.
A fun fact about this portrait is that it can be seen hanging in Vincent's "Bedroom in Arles", a work he created in mid-October.
5. It's located in a famous museum in Moscow today
The Red Vineyard is considered to be one of Vincent van Gogh's ultimate masterpieces. It eventually ended up being bought from a French art gallery by a Russian businessman named Ivan Abramovich Morozov (1871-1921).
He was an avid art collector, especially works from the French Avant-Garde. He bought this painting along with many others in a French art gallery.
The painting was initially housed together with the collection of Sergei Shchukin at Trubetskoy House in Moscow. It became nationalized following the Russian Revolution after World War I.
This means that the painting ended up in the collection of the Pushkin Museum of Fine Arts in Moscow, the largest museum of European art in Russia's capital.
More interesting facts about The Red Vineyard by Vincent van Gogh
6. The painting was created on a French standard piece of burlap referred to as "Toile de 30." The oil on canvas painting has dimensions of 75 × 93 centimeters (29.5 x 36.6 inches).
7. The fact that this particular painting was included in the list of 6 paintings means that it meant quite much to the artist. The exhibit of Les XX was an exclusive event and was only reserved for members of the group or by invitation.
He also had a clear arrangement in mind as to how the paintings in the list were to be hung. This pretty much shows his evolution as a painter during his time in Provence. According to Vincent, The Red Vinyard was to be hung above or below the 5 other paintings on the list.
8. Anna Boch, the woman who bought the painting, made quite a bit of money from her purchase. She bought it for 400 francs back in 1890 and ended up selling it for 10,000 francs at an art gallery in Paris named "Galerie Bernheim Jeune."
9. Equally remarkable is that she didn't sell the painting because she needed the money because her father was a rich industrialist who distributed his shares to her. This made her extremely wealthy as well.
The main reason why she sold it was to buy other paintings, mainly of Paul Signac (1863-1935). These paintings eventually ended up being donated to the Royal Museums of Fine Arts in Brussels.
10. The painting became state property of the Soviet Union after Lenin signed a law that allowed them to confiscate all paintings. It was housed between 1918 and 1948 at the "State Museum of Western Art."
It was Joseph Stalin who closed this museum in 1948, the main reason why it was transported to the Pushkin Museum that year. Other works of this collection are located at the hermitage Museum in Saint Petersburg.