When Peter Paul Rubens (1577-1640) returned to Antwerp from a long trip in Italy (1600-1609), he got married and bought a house in his home city.
This townhouse didn't suffice because his architectural taste had changed quite a bit during his nearly decade-long Italian adventure.
He completely renovated the Flemish house to resemble a Renaissance building, more specifically, the Renaissance palaces that he came across in various Italian cities.
He lived and worked here for the most part of his adult life. Although he moved to a castle called "Het Steen" during the final decade of his life, he continued to use the Rubenshuis as his studio.
The house was purchased by the City of Antwerp in 1937 and first opened to the public in 1946. Here you can see where the artist lived and worked and where he produced most of his famous masterpieces.
Today, it serves as a museum and has multiple famous paintings by Rubens and his contemporaries on display. In this article, you'll discover some of the highlights.
1. Self-Portrait – Peter Paul Rubens
Date created: 1630
Dimensions: 64.2 x 48 centimeters (25.2 x 18.8 inches)
Peter Paul Rubens got married to his second wife, Helena Fourment, in 1630. This was about 4 years after his first wife, Isabella Brandt, passed away during a plague epidemic. He probably painted this self-portrait to commemorate the wedding.
The artist was about 53 years old at the time and was one of the most famous Baroque artists in Europe. He moved out of the Rubenshuis shortly after as he purchased a castle called Het Steen in the rural area between his native Antwerp and Brussels.
2. The Picture Gallery of Cornelis van der Geest – Willem van Haeght
Date created: 1628
Dimensions: 99 x 129.5 centimeters (38.9 x 50.9 inches)
The Picture Gallery of Cornelis van der Geest is a stunning painting by Willem van Haeght (1593-1637), another famous Flemish artist who was slightly younger than Rubens. It depicts a huge room that served as the art gallery of Cornelis van der Geest (1555-1638), a friend of Rubens.
---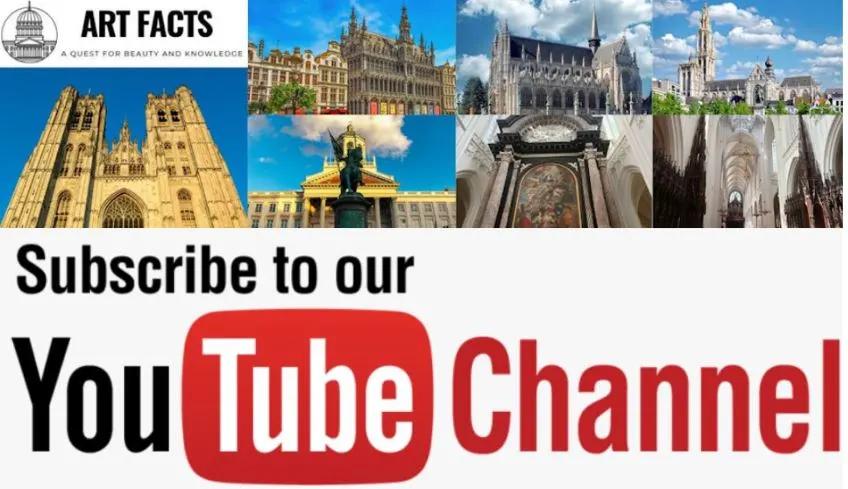 ---
This was a relatively new type of genre painting that emerged in Antwerp in the early 17th century. This work depicts Archdukes Albert and Isabella, the rulers of the Spanish Netherlands at the time, who visited the art collection of Van der Geest.
3. Adam and Eve – Peter Paul Rubens
Date created: 1597-1600
Dimensions: 182.5 x 140.7 centimeters (71.8 x 55.3 inches)
Adam and Eve is the title of another famous painting by Peter Paul Rubens which depicts the Fall of Man. It's one of the early works by the artist as he completed it before he departed on an extended journey to Italy, a trip that lasted until 1609.
It's remarkably one of the few paintings from this period that have survived. He became an independent master at the Guild of Saint Luke in 1598 but didn't stay long in Antwerp following this event. His style radically changed from this static work to the dramatic compositions of the following decades.
4. Drinking Peasant – Adriaen Brouwer
Date created: 1630s
Dimensions: 20.5 x 19.7 centimeters (8 x 7.7 inches)
Drinking Peasant or "Peasant Drinking" is the title of one of the distinctive paintings by Adriaen Brouwer (1605-1637), a very talented artist from Flanders who died young in the 1630s. He was one of Rubens' favorite artists and he actively collected his works.
Rubens owned 17 paintings by Brouwer which emphasizes how much he liked his subject matter and style. Peasants drinking and smoking and people brawling in taverns were common subjects for him. These paintings were deemed to be examples of how not to behave, and that's why they became so popular in the early 17th century.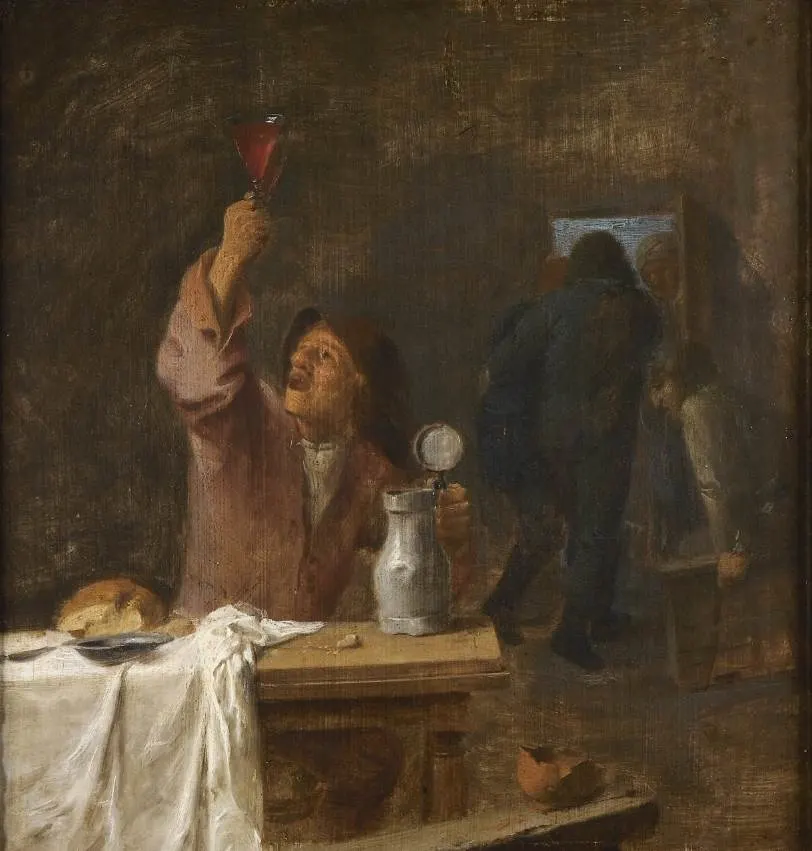 5. Annunciation – Peter Paul Rubens
Date created: 1608-1628
Dimensions: 304 x 188 centimeters (119.6 x 74 inches)
Annunciation is a painting by Rubens that he started working on while he was still in Italy but which he did not complete several years later. He already completed the overall composition which clearly shows the influence of his period in Italy.
The bright colors and free brushstrokes became his trademark in the following decades and it marked the typical Baroque style he developed. This work depicts an exaggerated version of the Angel Gabriel who visits the Virgin Mary to tell her that she will bear the son of God.
6. Self-Portrait – Anthony van Dyck
Date created: 1617-1618
Dimensions: 36.5 x 25.8 centimeters (14.3 x 10.1 inches)
Anthony van Dyck (1599-1641) was a student of Peter Paul Rubens and at the very least matched the talent of his master. He became successful in his native Flanders, Italy, and was later knighted by King Charles I in England because of the outstanding portraits he produced there.
This self-portrait was completed when van Dyck was still a teenager and it shows exactly why he carved such a great career for himself. This work was often thought to be a work by Rubens but a research project completed fairly recently made it clear that this is indeed a self-portrait by the young artist.
7. Neptune and Amphitrite in the Storm – Jacob Jordaens
Date created: 1644
Dimensions: 215.5 x 303 centimeters (84.8 x 119.2 inches)
Neptune and Amphitrite in the Storm is a monumental work of art by another contemporary of Peter Paul Rubens, Flemish painter Jacob Jordaens (1593-1678). It depicts Neptune with his wife Amphitrite along in a storm accompanied by several tritons.
This is one of the paintings at the Rubenshuis that was completely restored, a project that took 12 months to complete. One of the most notable discoveries was that Jordaens used two separate canvases which were put together to complete this huge work. It was also extended on both sides after he had started painting it.
8. Peasants on the Way to the Market – Jan Boeckhorst and Frans Snyders
Date created: 1630-1640
Dimensions: 217.5 x 272.5 centimeters (85.6 x 107.2 inches)
Peasants on the Way to the Market is another large work of art that occupies a prominent spot at the Rubenshuis. It was a collaborative effort of Jan Boeckhorst (1604-1668), an assistant of Rubens, and another renowned Flemish painter called Frans Snyders (1579-1657).
It's always hard to determine which parts of the painting were painted by which artist, but the fact that Snyders specialized in hunting scenes and still lives makes it pretty easy to draw conclusions. It's fairly certain that he completed the animals and the baskets of fruit in this painting.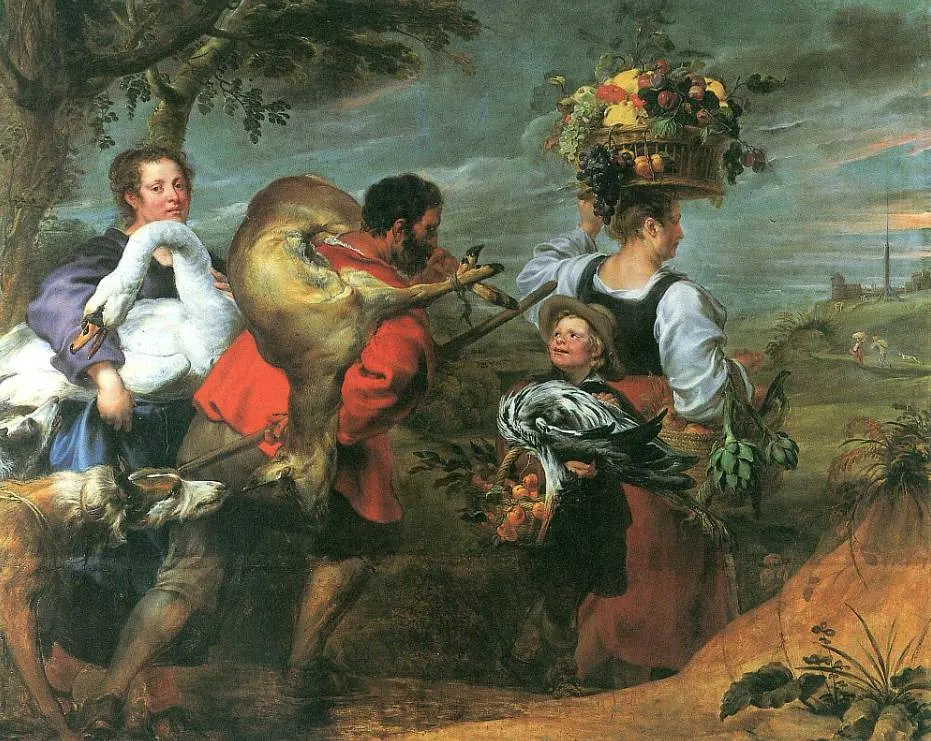 9. Moses and his Ethiopian wife Zipporah – Jacob Jordaens
Date created: 1645-1650
Dimensions: 116.3 × 104 centimeters (45.8 × 41 inches)
Moses and his Ethiopian wife Zipporah is the title of another famous painting by Jacob Jordaens. It depicts the Biblical figure together with his African wife in a half-length portrait. He holds his left hand on the Tablets that feature the Ten Commandments according to the Hebrew Bible.
There's a reference to the wife of Moses in the Hebrew Bible where it states that his older siblings didn't like the fact that he had married a "Cushite woman." The true meaning remains clear but it could either mean that Moses either married multiple times or that his wife Zipporah was black.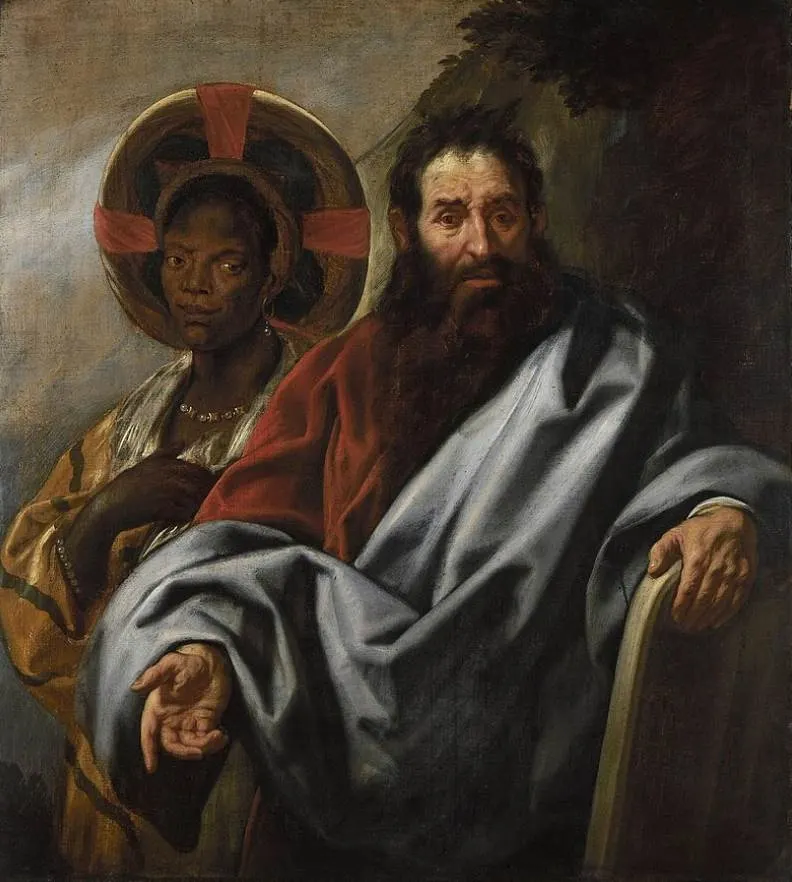 10. Monkeys Feasting – Jan Brueghel the Elder
Date created: 1620
Dimensions: 101 x 76 centimeters (39.7 x 29.9 inches)
Monkeys Feasting is the title of one of the most famous paintings by Brueghel (1568-1625), a close friend of Rubens with whom he often collaborated. As the name suggests, it depicts a large number of monkeys who indulge in fruits on a table.
Jan Brueghel the Elder (1568-1625) was an extremely versatile artist who mastered several genres. He often depicted animals and collaborated with Rubens on the famous work titled "Paradise with the Fall of Man" (1615) for which he painted the landscape and the abundance of animals.