To say that Vincent van Gogh (1853-1890) wasn't mentally stable is an understatement. His life was plagued by mental issues which culminated in his suicide at the age of 37.
Before this tragic event, many of his amazing paintings featured a bright and vivid color palette, transforming the canvas into mesmerizing art.
One of these was completed less than a year before he died and not many elements hint at the dark feeling that was in the back of his mind.
In this article, we'll take a closer look at some of the most interesting facts about The Mulberry Tree by van Gogh, one of his most enthralling works.
1. It was completed while he was staying at the mental hospital in Southern France
Vincent van Gogh lived with his brother Theo for a while in Paris, but this turned out to be impossible to continue. He decided to leave the crowded Paris for the quiet city of Arles.
He moved to Arles in February 1888 and instantly enjoyed the place. he even had an idea to set up an art colony here and invited his colleague Paul Gauguin (1848-1903).
Gauguin eventually visited Arles in October 1888 but the visit ended in drama when Vincent van Gogh had a mental breakdown around Christmas.
This is when the incident in which Vincent cut off part of his left ear happened. Things didn't go so well with the Dutch artist afterward and he decided to check himself into a mental asylum in Saint-Rémy.
He entered the Saint-Paul-de-Mausole asylum in May 1889 and completed The Mulberry Tree several months later in October 1889.
2. It depicts a mulberry tree in the garden of the asylum where he lived
Vincent wasn't allowed to go outside of the asylum's compound for several months but this gradually changed. Regardless, an orderly had to accompany him whenever he went outside.
One of the main problems he faced was that he was running out of subject matter. He already painted all the Lilacs, Irises, and Cypresses in the area when he started working on this painting.
When autumn arrived, he found renowned energy and inspiration because of the changing landscape. This included the magnificent yellow mulberry tree that he depicted against a blue background.
3. It's the epitome of van Gogh's style during the final years of his life
Vincent van Gogh's style dramatically changed throughout his career. This wasn't merely based on his moods, although that also played a major part.
During his final years, his style became a lot more vibrant and his brushstrokes a lot more expressive. The Mulberry Tree is a great example of a painting that was completed during the final years of life.
Completed in October 1889, he passed away in July 1890 from the complications of a self-inflicted gunshot wound to the chest.
4. The Dutch artist applied the paint so thickly that it appears to be a bas-relief
Expressive brushstrokes ad vivid colors that transform the canvas into a vibrating work of art weren't the only elements that defined his work during the final phase of his life.
Another key element was the thickly applied paint he used to produce the Post-Impressionist painting that made him so famous.
This particular work features brushstrokes that are so thick that it transformed the painting into a bas-relief work of art. It's quite astonishing to see up close.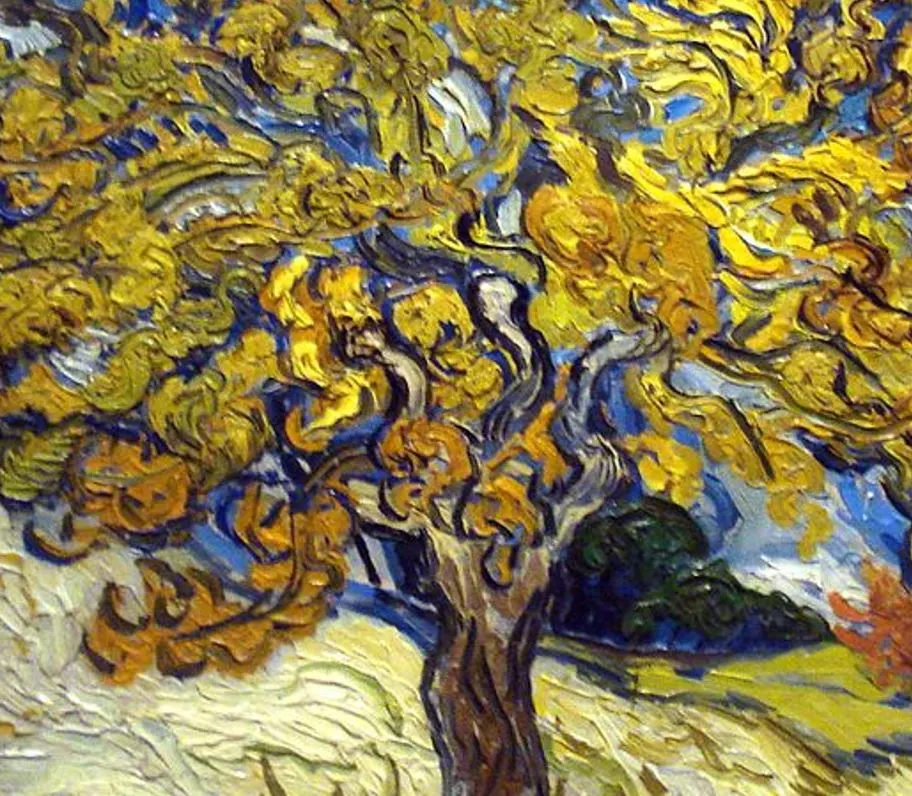 5. Vincent described it as one of his favorite paintings
Vincent and his brother Theo write hundreds of letters to each other. Vincent kept none, but Theo collected all the letters of the older brother he admired (and sponsored) so much.
The painter also mentioned The Mulberry Tree to his brother as he stated:
I'll tell you that we're having some superb autumn days and that I'm taking advantage of them. I painted a completely yellow mulberry tree which stands out against the blue of the sky.
In another letter, he mentioned that he considered this to be the painting he loved the most during this particular period of his career.
It is an enthralling painting and I can easily understand why he felt this way.
6. The artist produced one of his most famous works just a few months earlier
Van Gogh completed a series of flowers and cypresses during his stay in Saint-Rémy, but none of these are so famous as the work titled "The Starry Night."
This painting was completed in June 1889, the month after he had arrived at the asylum, and depicts the view from outside of his bedroom window.
Today, this masterpiece at the MoMA in New York City is considered to be one of his most famous works and one of the best-recognized paintings ever created.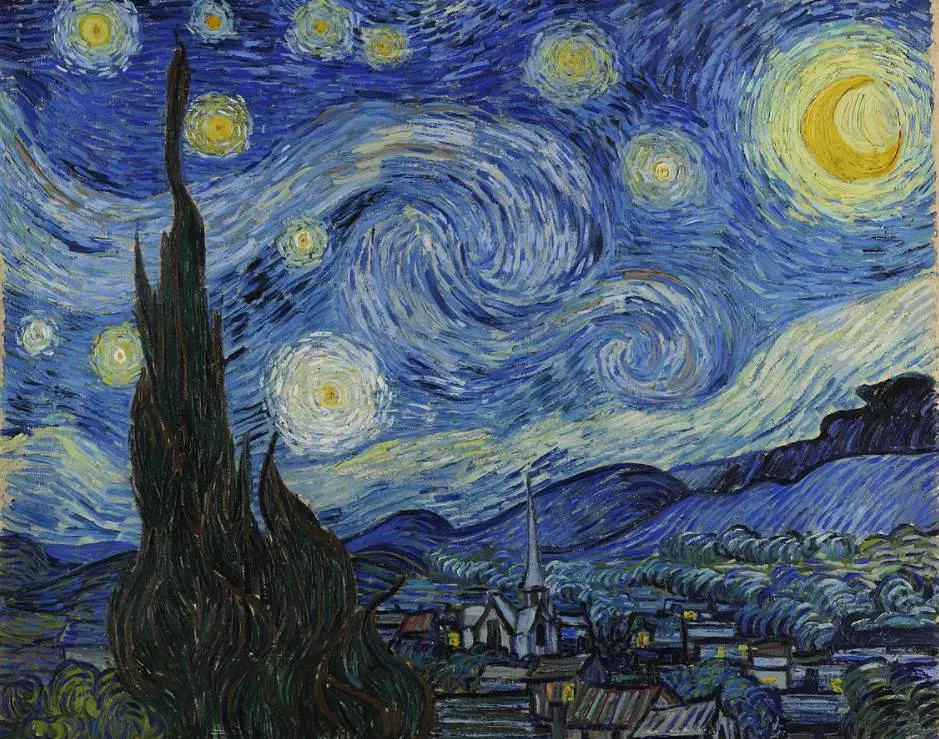 7. How big is The Mulberry Tree by van Gogh?
The Dutch painter produced over 900 paintings in a career that lasted about a decade.
Yes, he was a very prolific artist, especially considering there were many periods he didn't do a thing because of mental issues.
He didn't produce monumental works of art, though. The Mulberry Tree by Vincent van Gogh is a relatively small oil on canvas painting that has dimensions of 54 x 65 centimeters (21.25 x 25.5 inches).
8. Where is van Gogh's masterpiece located today?
The painting has an interesting history because it was first owned by Camille Pissarro (1830-1903), an Impressionist artist who admired van Gogh's work.
Pissarro passed it on to his wife following his death and she sold it to French art dealer Ambroise Vollard in Paris.
The painting switched hands several more times before being donated to the Norton Simon Museum in Pasadena, California, where it has resided since 1976.