Walking around in the Belgian city of Bruges is always a great experience. This medieval city is full of exciting buildings and picturesque spots.
It's also here that one of the most famous Early Netherlandish artists in history produced some of his ultimate masterpieces.
Jan van Eyck (1390-1441) was hired by Philip the Good, Duke of Burgundy as his official court painter and he became one of the most influential painters in history.
The collection of the Groeningemuseum in Bruges features some of van Eyck's paintings, as well as paintings produced during the Renaissance and Baroque eras.
Some earlier works date back to the Neoclassical and modern eras, including paintings by renowned Belgian artists.
In this article, you'll discover some of the ultimate highlights at the Groeningemuseum in Bruges.
1. Virgin and Child with Canon van der Paele – Jan van Eyck
Date created: 1434-1436
Dimensions: 124.5 x 160 centimeters (49 x 62.9 inches)
Virgin and Child with Canon van der Paele is one of several magnificent paintings by Jan van Eyck. It depicts the Virgin Mary and her child Jesus Christ along with Saint George to her left and Saint Donatian of Reims to her right.
The patron of this painting, Joris van der Paele, is seen kneeling on the right. The incredible level of detail, the magnificent interior, and the complex composition make this one of van Eyck's most ambiguous paintings. In my opinion, it's the absolute highlight at the Groenignemuseum in Bruges.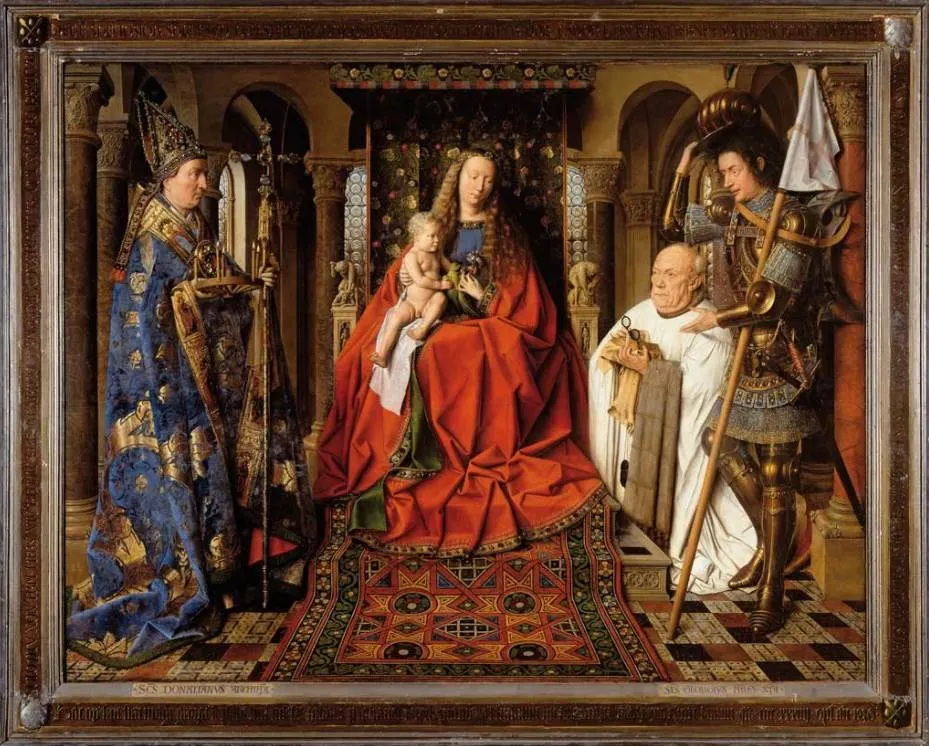 2. The Last Judgement – Hieronymus Bosch
Date created: After 1486
Dimensions: 99 × 117.5 centimeters (39 × 46.3 inches)
The Last Judgement is a painting by Hieronymus Bosch (1450-1516), another Early Netherlandish painter who became famous for his peculiar triptych paintings depicting Heaven and Hell. This work follows the narrative of the Last Judgement as described in the Bible.
---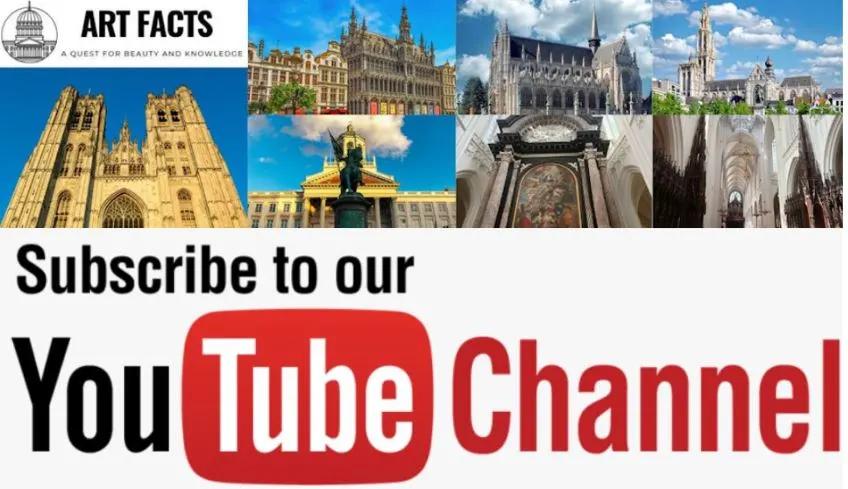 ---
This particular work is the third with the same subject and it's possible that some members of his workshop had a hand in it. The other complete triptych painting was probably finished earlier and resides at the Academy of Fine Arts in Vienna. Another one of which only one panel exists is part of the collection of the Alte Pinakothek in Munich.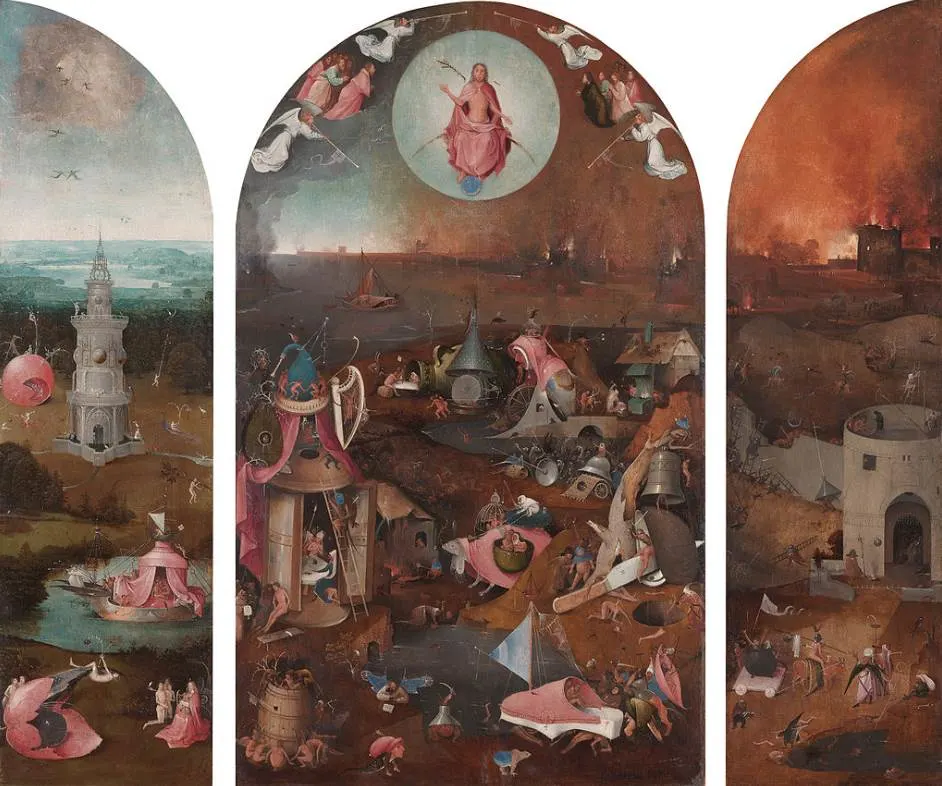 3. The Judgement of Cambyses – Gerard David
Date created: 1488
Dimensions: 202 × 349.5 centimeters (80 × 137.6 inches)
The Judgement of Cambyses is a huge diptych oil painting by Gerard David (1460-1523), a Dutch artist who worked most of his life in Antwerp and Bruges. The painting depicts the arrest of a corrupt judge named Sisamnes on the orders of Cambyses II, the King of the Achaemenid Empire in the 6th century B.C.
The painting was commissioned in the late 1480s by the local authorities in Bruges and was intended to decorate the deputy burgomaster's room in the town hall. The graphic painting was intended to scare local authorities so they would remain honest. This probably worked out well.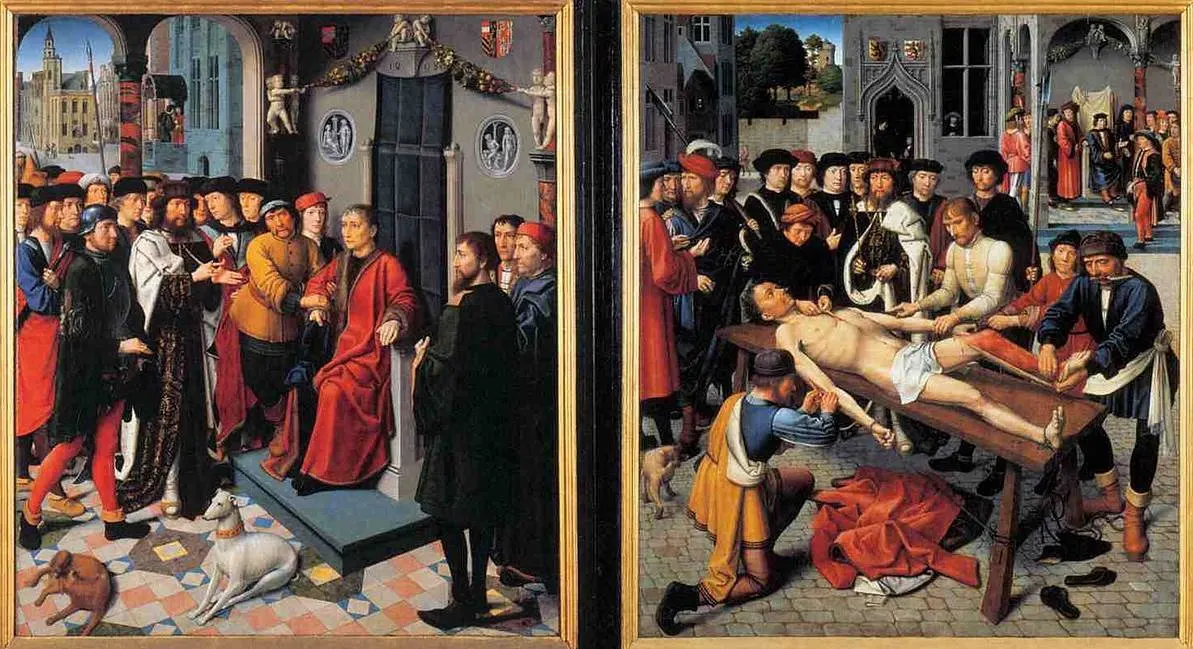 4. Death of the Virgin – Hugo van der Goes
Date created: 1472-1480
Dimensions: 147.8 x 122.5 centimeters (58.1 x 48.2 inches)
The Death of the Virgin is a painting by Hugo van der Goes (1430-1482), one of the most renowned Flemish artists of his generation. It depicts the death of Mary according to the 13th-century legend of "Legenda Aurea."
The 12 Apostles of Jesus Christ were presumably brought to a house on Mount Zion on clouds by several angels to spend the final days of Mary's life with her. This painting depicts the moment that Jesus Christ appears to accept Mary's soul.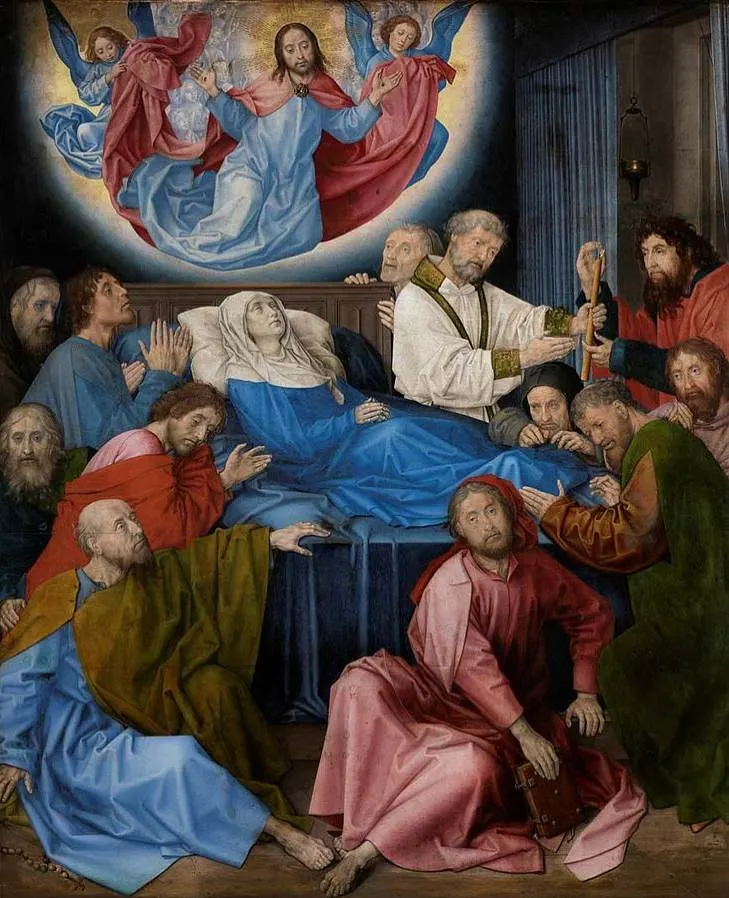 5. Portrait of Margareta van Eyck – Jan van Eyck
Date created: 1439
Dimensions: 32.6 cm (12.8 in); width: 25.8 cm (12.8 x 10.1 inches)
The Portrait of Margareta van Eyck was one of the final paintings by Jan van Eyck and is believed to depict the artist's wife. It was one of the first of its kind in European art and was accompanied by another work titled "Portrait of a Man" (1433) which is presumably a self-portrait.
Little is known about this painting's background except for the presumption that it was painted for private viewing. The woman was 34 years old at the time and is depicted in an unidealized manner. It hung inside a small chapel of the painter's guild in Bruges until the 18th century.
6. Moreel Triptych – Hans Memling
Date created: 1484
Dimensions: 291 x 121.1 centimeters (114.56 x 47.67 inches)
The Moreel Triptych is the title of a painting by Hans Memling, a man who spent his childhood in Mainz, Germany, but who was taught in the workshop of renowned artist Rogier van der Weyden (1399-1464) in Brussels. It was commissioned by the rich merchant, banker, and politician in Bruges, Willem Moreel.
Moreel wanted to have a painting to decorate his chapel in St. James's Church in Bruges. The work is centered around a panel that depicts Saint Christopher who is holding the infant Jesus Christ and who is flanked by Saint Maurus and Saint Gills.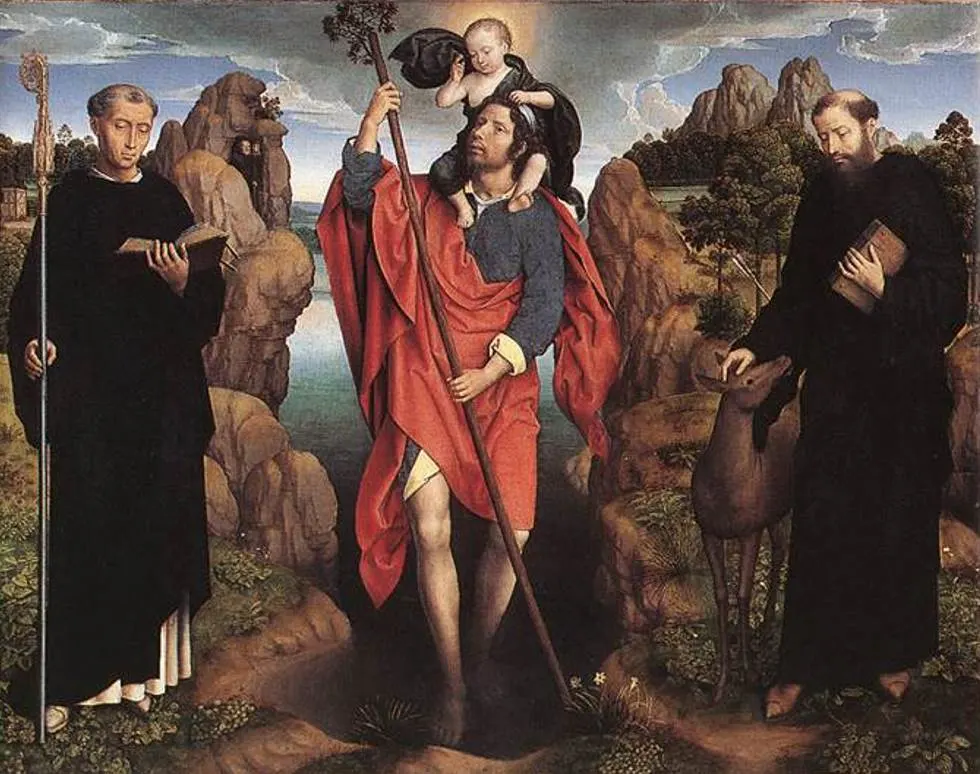 7. Last Judgement – Jan Provoost
Date created: 1525
Dimensions: 169 x 145 centimeters (66.5 x 57 inches)
The Last Judgement is another painting that was commissioned by the local authorities as it was intended to decorate the town hall of Bruges. More specifically, it was hung in the justice hall of this civic building and intended to remind the magistrate of his duties.
It was completed by Jan Provoost (1462-1529), a man who ran several workshops, including one in Bruges. He was made a "burgher" in the city and combined his successful workshop in Bruges with one in Antwerp. His style was very similar to that of Gerard David and Hans Memling.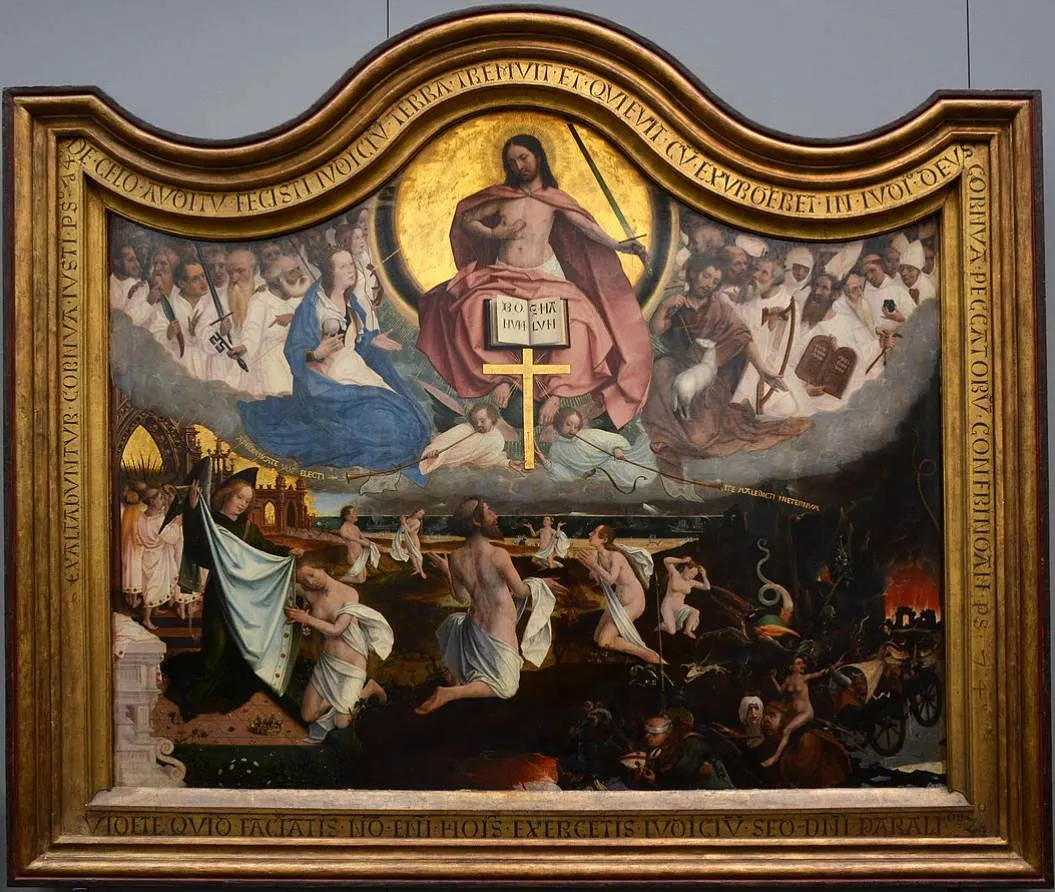 8. Lord Byron on his deathbed – Joseph-Denis Odevaere
Date created: 1826
Dimensions: 166 x 234.5 centimeters (65.3 x 92.3 inches)
Lord Byron on his deathbed is a painting by Joseph-Denis Odevaere (1775-1830), a Neoclassical artist from the Southern Netherlands who passed away the year that Belgium was established. He painted several works related to the Greek War of Independence during the 1820s, including this one.
This painting depicts Lord Byron, an English poet who passed away during this bloody period in European history. He died in 1824 after contracting a fever during the First and Second Sieges of Missolonghi. Odevaere was deeply interested in these events and even referred to himself as "Joseph Dionysius Odevaere."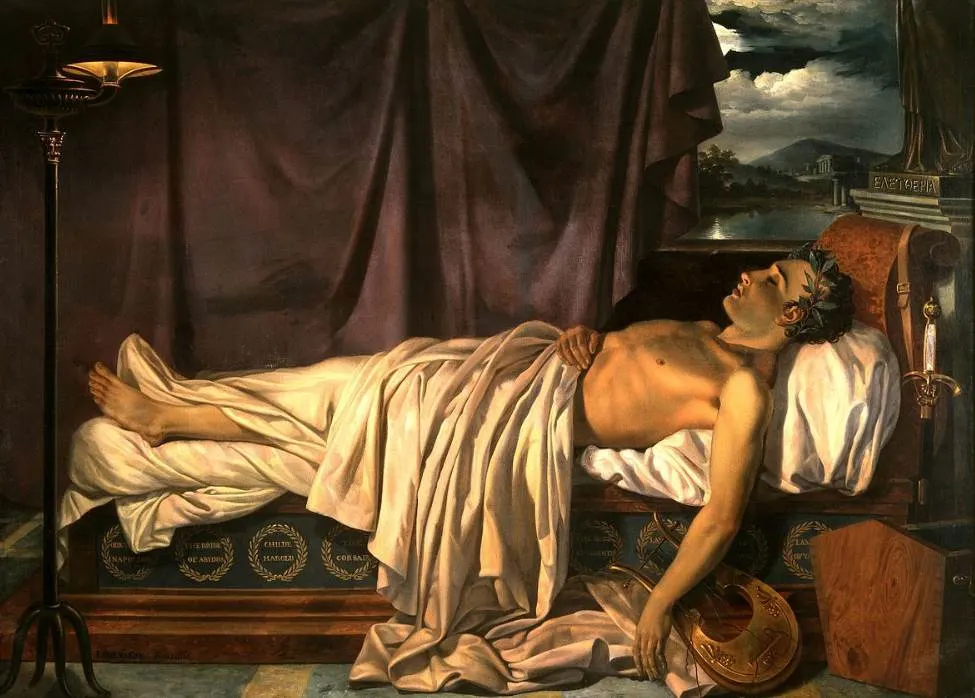 9. Secret-Reflet – Fernand Khnopff
Date created: 1902
Dimensions: 49.5 x 27.8 centimeters (19.48 x 10.94 inches)
Secret-Reflet is one of the most fascinating paintings by the Belgian artist Fernand Khnopff (1858-1921). The Symbolist artist produced some of the most intriguing Symbolist paintings in history and this work definitely qualifies to be added to this list.
The upper section of the pastel painting depicts a woman who is secretly communicating with a mask. The lower section depicts the reflection in the canals of Bruges of the Gothic Sint-Janshospitaal. The essence of the work is to depict the secret nature of mirrors.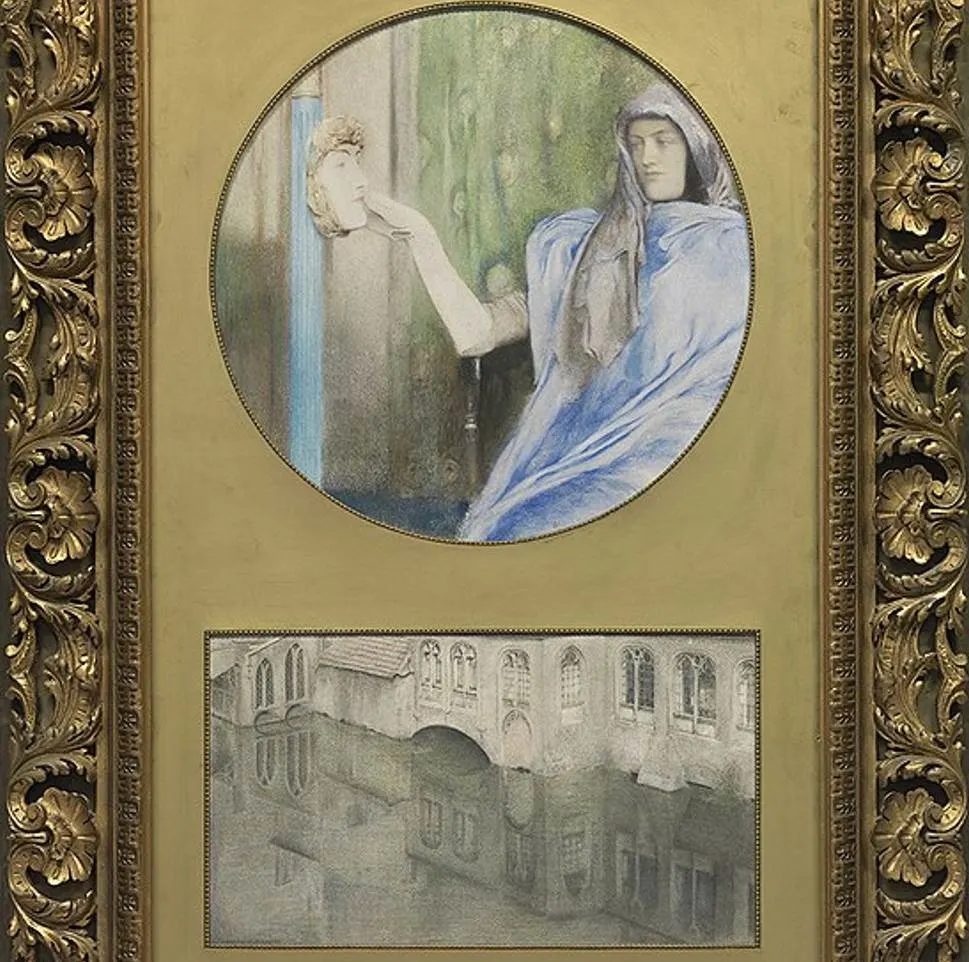 10. L'Attentat – René Magritte
Date created: 1932
Dimensions: 70 x 100 centimeters
L'Attentat is a painting by the Belgian Surrealist artist René Magritte (1898-1967), a man who continuously tried to define logic with his Surrealist artworks. This work is one of the most stunning examples of Magritte trying to test the boundaries of the real world.
The left side features a beautiful blue sky with white clouds that appears to be trapped in a rectangular block. The silver bell is an item that is linked to mass production and the body of a naked woman is depicted within a frame. Each section of this work defies logic and that's exactly what Magritte wanted to achieve.