A little man from Parma was born Girolamo Francesco Maria Mazzola (1503-1540) but is better known by his nickname Parmigianino.
This Mannerist artist is one of the first artists whose career completely fell within this 16th-century art movement also known as the Late Renaissance.
The Mannerist paintings he produced are defined by an exaggeration of proportions to meet his artistic ideals.
This remarkable quality and his incredible talent turned him into a highly sought-after Italian artist in his native Parma, Bologna, and Rome.
In this article, you'll discover some of the most famous Parmigianino paintings, a man whose artworks define the spirit of the 1500s.
1. Madonna with the Long Neck
Date created: 1535-1540
Dimensions: 216 × 132 centimeters (85 × 52 inches)
Location: Uffizi Gallery, Florence, Italy
Madonna with the Long Neck isn't just one of the most famous Parmigianino paintings, it's also a defining painting of the Mannerist era. Here we can see that the artist purposely distorted the Madonna figure to enhance her sense of sensuality. The baby on her lap is near twice the size it should be.
The painting was commissioned to serve as a decoration inside the funerary chapel of a man in Parma. The artist started working n it in 1535 but never managed to complete it, leaving it unfinished when he passed away from a fever in the year 1540.
2. Vision of Saint Jerome
Date created: 1526-1527
Dimensions: 343 × 149 centimeters (135 × 59 inches)
Location: National Gallery, London, United Kingdom
The Vision of Saint Jerome is a monumental painting that was commissioned for the same reason as the Madonna with the Long Neck. It was intended to decorate the family chapel of a Roman aristocratic family in the church of San Salvatore in Lauro in the city.
The painting was intended to become a triptych painting, hence the elongated shape of the work. Because Parmigianino was working on it during the Sack of Rome in 1527, he had to abandon his initial plans and he never managed to complete the two adjoining panels.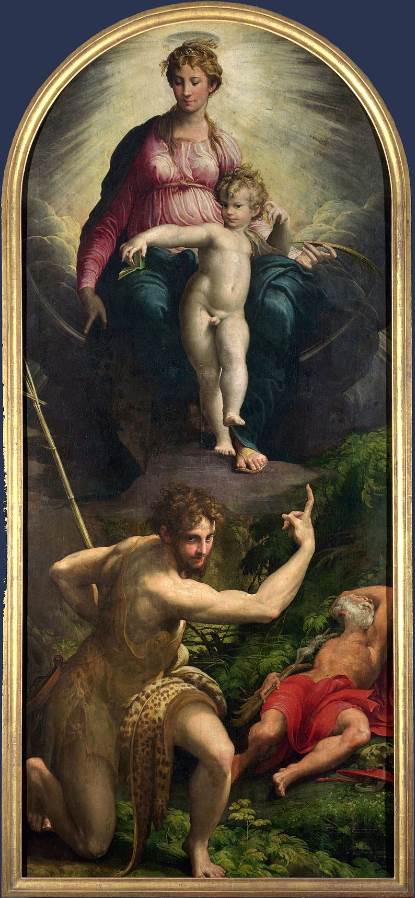 3. Self-portrait in a Convex Mirror
Date created: 1524
Dimensions: 24.4 centimeters diameter (9.6 inches)
Location: Kunsthistorisches Museum, Vienna, Austria
Self-portrait in a Convex Mirror is a small painting with a self-explanatory title because here we can see the appearance of the artist. He painted himself while staring into a mirror. He kept the painting relatively small because he brought it with him to Rome in the year 1525.
The main reason why he brought several small paintings is to showcase his talent to potential patrons. This marketing strategy helped because the painting was initially donated to Pope Clement VII, a man who instantly recognized his talent. He was briefly referred to as the new Raphael, quite an honor for the young aspiring artist.
4. Bardi Altarpiece
Date created: 1521
Dimensions: 203 × 130 centimeters (80 × 51 inches)
Location: Church of Santa Maria, Bardi, Italy
The Bardi Altarpiece is a painting that depicts the mystical marriage of Saint Catherine of Alexandria. It was one of the earliest commissions for the artist who was still a teenager when he completed the work.
He painted it shortly after he fled his native Parma during one of the many Italian Wars during this period. The painting has had a remarkable history and nobody knows how it ended up in the church of the Italian town of Bardi near Parma.
5. Baptism of Christ
Date created: 1519
Dimensions: 197 x 137 centimeters (77.5 x 53.9 inches)
Location: Gemäldegalerie, Berlin, Germany
The Baptism of Christ is the earliest surviving painting of Parmigianino. He completed this remarkable work when he was only sixteen years old. This just shows the incredible talent that the artist was blessed with and why he was compared to Raphael shortly after he arrived in Rome.
He started his career by drawing as a child and finally decided to produce a panel painting that he had invented himself. Contemporary art historian Giorgio Vasari once referred to the painting by saying that "he painted it in such a way that those who see it wonder that so fine a thing was made by a child."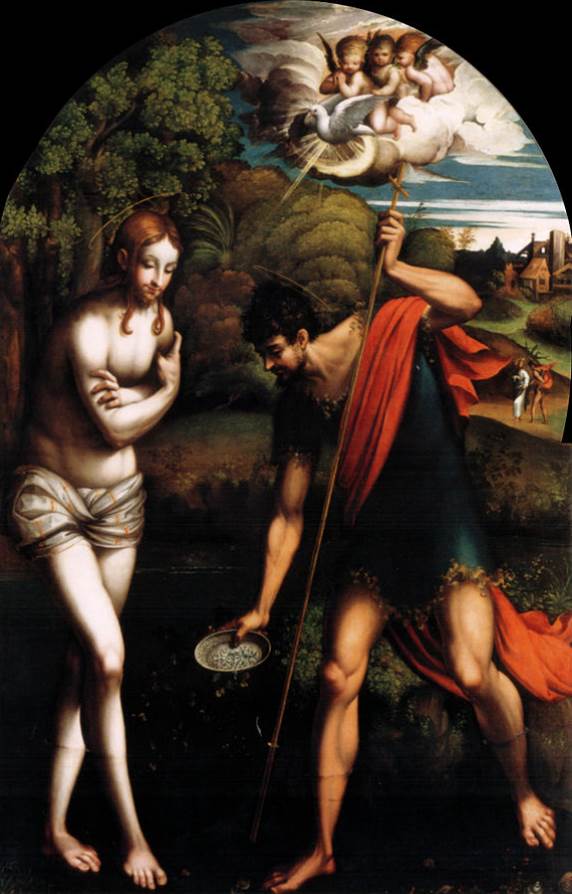 6. Circumcision of Jesus
Date created: 1523
Dimensions: 42 × 31.4 centimeters (17 × 12.4 inches)
Location: Detroit Institute of Art, Detroit, United States
The Circumcision of Jesus describes the event as mentioned in the Gospel of Luke. Parmigianino painted the illuminated child Jesus Christ as he is surrounded by a large number of figures. His mother is the very young blonde girl in the bottom right corner of the painting.
Vasari also described this painting as being by the hand of Parmigianino, but his description doesn't match the elements in the painting. It was therefore long thought to be by another unknown artist. It was donated to the Detroit Institute of Art in 1936 but it took until 1991 until it was universally agreed to be by the hand of the Mannerist master.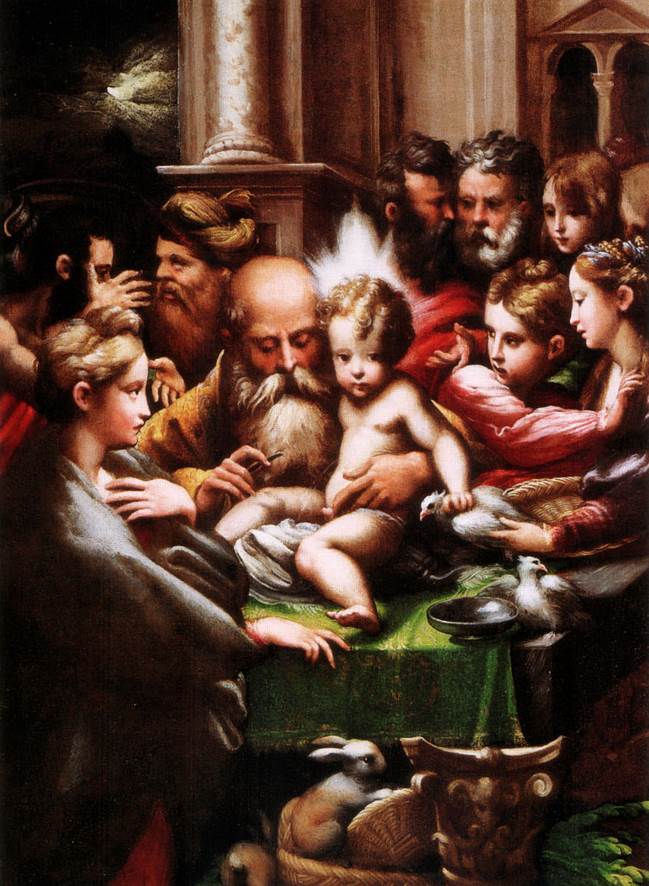 7. Portrait of Galeazzo Sanvitale
Date created: 1524
Dimensions: 109 × 81 centimeters (43 × 32 inches)
Location: National Museum of Capodimonte, Naples, Italy
The Portrait of Galeazzo Sanvitale is one for e multiple stunning portraits completed by Parmigianino. He is credited with starting a trend in the 16th century of painting three-quarters or full-length portraits of wealthy people. This painting is a great example of the masterpieces he produced for his patrons.
The painting depicts Galeazzo Sanvitale who was a member of the aristocratic Sanvitale family. Their residence was in the province of Parma in a fortress known as the "Rocca Sanvitale." Parmigianino briefly worked here and this is where he produced this magnificent portrait.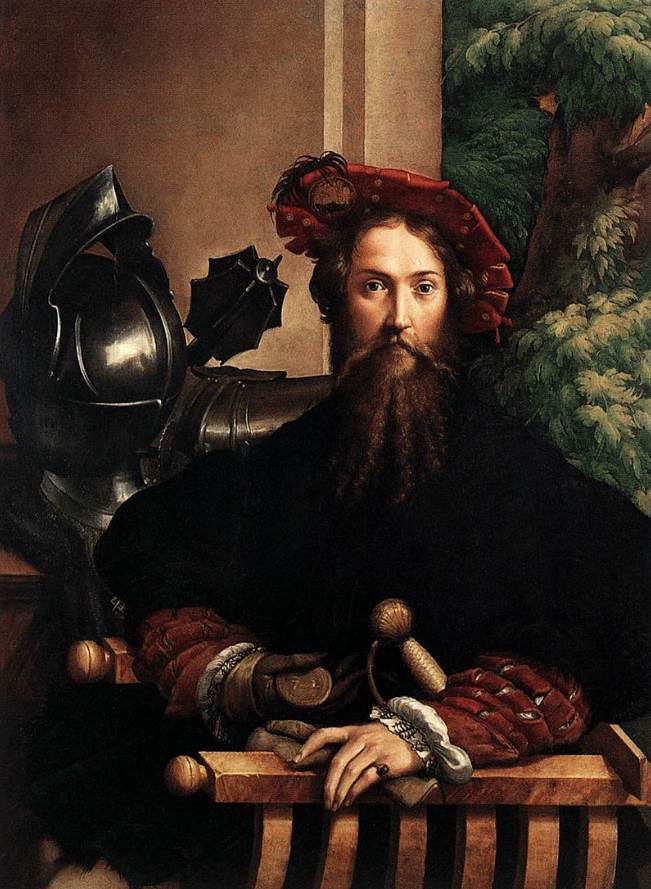 8. Conversion of Saint Paul
Date created: 1527
Dimensions: 177.5 × 128.5 centimeters (69.9 × 50.6 inches)
Location: Kunsthistorisches Museum, Vienna, Austria
The Conversion of Saint Paul is a painting that depicts a popular Biblical event. Parmigianino somehow included an enormous white horse, a figure that dominated the entire composition. He also included a remarkable landscape in the background.
The painting was possibly commissioned by an important man in Parma named Giovanni Andrea. Giorgio Vasari saw the painting in his mansion with his own eyes later in the 16th century. After staying in Madrid for several centuries, it was moved to Vienna in the 19th and went on public display in the city's Kunsthistorisches Museum in 1912.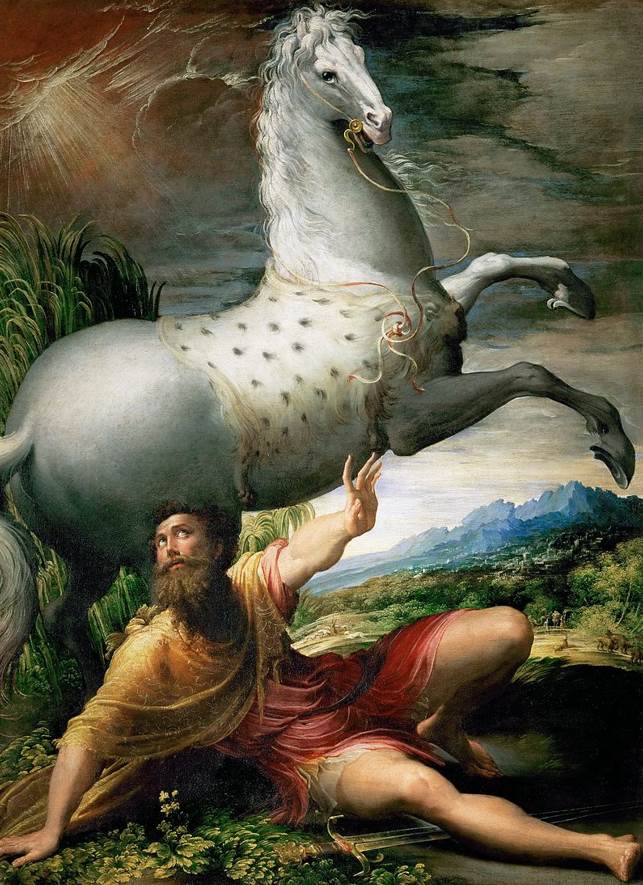 9. Turkish Slave
Turkish Slave is also known as "Portrait of a Young Woman" and is another intriguing portrait by Parmigianino. The title of the painting, which is a reference to the perceived turban worn by the woman, is incorrect. That's for the simple fact that the woman isn't wearing a Turkish turban at all.
This type of headdress was a popular fashion item worn by aristocratic women in the 16th century. It's known as a "balzo" and was featured in numerous works of art around the time this painting was completed. It was popularized by the important Italian woman of the Renaissance named Isabella d'Este (1474-1539).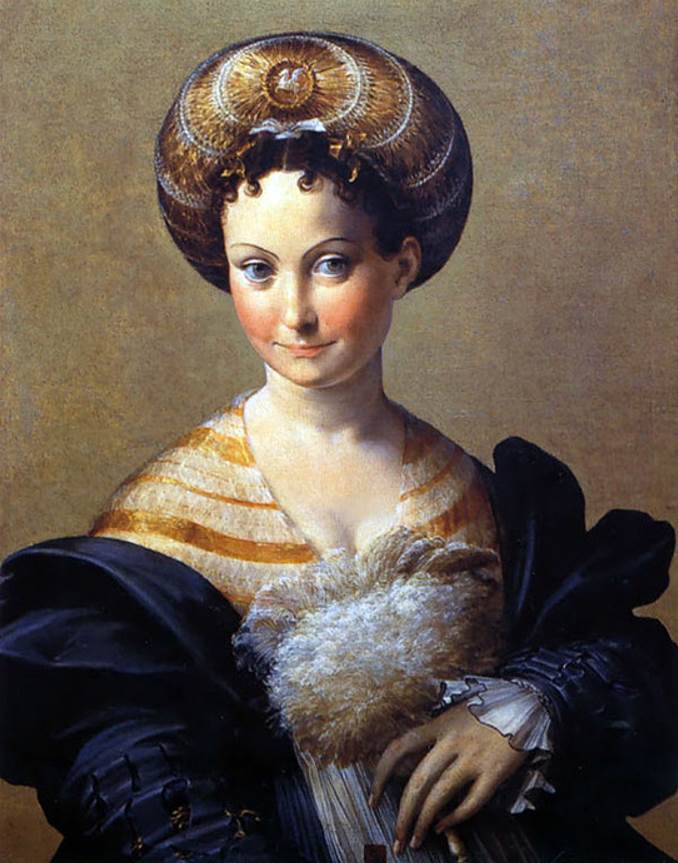 10. Mystic Marriage of Saint Catherine
Date created: 1529
Dimensions: 74,2 × 57,2 centimeters (292 × 225 inches)
Location: National Gallery, London, United Kingdom
The Mystic Marriage of Saint Catherine is a painting that features the same subject as the Bardi Altarpiece. Although the painting has been dated to 1529, some art historians have suggested that it was completed during the artist's time in Rome which ended with the Sack of Rome in 1527.
Vasari wrote that Parmigianino completed this painting for one of his friends in Bologna. It was briefly part of the collection of the Galleria Borghese in Rome between 1693 and 1750. It was later moved to England where it became part of Earl of Normanton's collection at Somerley House. It can be admired at the National Gallery in London today.