The High Renaissance ended in 1520 with the death of two of the most renowned Renaissance artists, Leonardo da Vinci (1452-1519) and Raphael (1483-1520).
The period that followed it has been defined as Mannerism, also known as the Late Renaissance. This style emerged in the 1520s, spread all across Europe in the 1530s, and pretty much lasted until the end of the 16th century.
Mannerist artists exaggerated the harmonious ideals of the Renaissance to serve their artistic objectives. This pretty much defines Parmigianino's paintings.
In this article, you'll discover some of the most interesting facts about Parmigianino, an Italian artist whose works embody the Mannerist philosophy.
1. His nickname refers to the place where he was born
Girolamo Francesco Maria Mazzola (1503-1540) or "Francesco Mazzola" was the real name of an artist commonly referred to as Parmigianino.
His nickname translates to "The Little One From Parma," a reference to both his small stature and the place where he was born and raised.
Parma is a major city in the Emilia-Romagna region in northern Italy. It's the second-most populous city in this region after Bologna.
At the time of his birth, Parma was part of the Duchy of Milan which was centered around the second-largest city in Italy.
2. The young artist was raised by his artistic uncles
Parmigianino was the eighth child of an Italian Renaissance painter named Filippo Mazzola (1460-1505).
His mother was named Donatella Abbati and was unable to support her children when his father died when he was just two years old in 1505.
He was subsequently raised by his uncles named Michele and Pier Ilario. They were humble painters themselves and quickly noticed the talent of the young artist.
3. His father left behind a remarkable polyptych painting
Even though his uncles were his first mentors, they didn't have to do much to unleash the enormous talent of their nephew.
He inherited the talent of his father, Filippo Mazzola, who earned a few commissions along the way himself before passing away at the age of 45 due to a plague epidemic.
His most notable work is a polyptych painting at the Basilica of Cortemaggiore, a small town in the Province of Piacenza, not too far northwest of Parma.
4. He completed his first major altarpiece by the age of 18
One of the most amazing facts about Parmigianino is that he completed a commission of one of his uncles at the chapel in San Giovanni Evangelista, a church in Parma.
He was still an early teenager in 1515 and his talent already exceeded that of his modesty-talented uncles.
He soon started earning commissions himself and completed his first major altarpiece when he was just 18 years old.
This painting is known as the "Bardi Altarpiece" (1521) and is located at the church of Santa Maria in Bardi, another small town just southwest of Parma.
5. He was a renowned portrait painter and draughtsman
His drawings had caught the attention of art collectors from a very young age. His works are defined by abnormal proportions to accentuate certain features.
He also produced several portraits which started a trend in Italy for three-quarters portraits and even full portraits. Only kings and queens commissioned these before.
6. He was incredibly successful when he arrived in Rome in the 1520s
Parmigianino was forced to travel to a small town called Viadana to avoid the war between the French, Imperial, and Papal armies.
Just a few years later he traveled to Rome to try and earn commissions from the Medici pope, Clement VII.
He brought 5 paintings along with him to convince rich patrons in Rome. This worked because he earned a prestigious commission to decorate the church of San Salvatore in Lauro in the heart of the city.
It was during this period that he completed "The Vision of Saint Jerome" (1526-1527), a Mannerist painting now part of the collection of the National Gallery in London.
His career was plagued by war because he had to flee once again in 1527 during the Sack of Rome that year.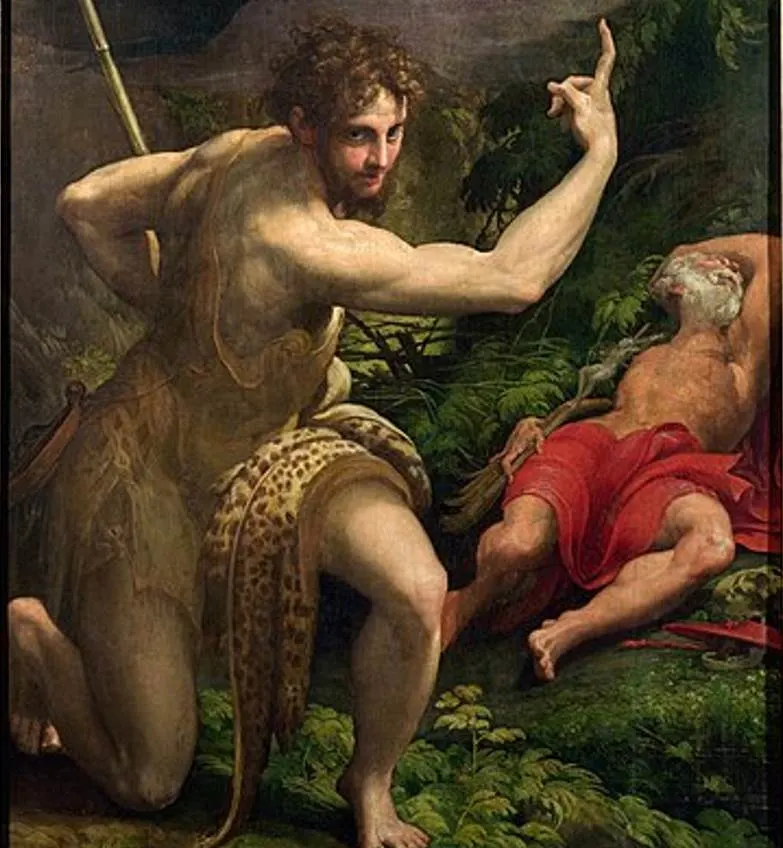 7. He never completed his most famous painting
He moved from Rome to Bologna and spent 3 years in the largest city in the Emilia-Romagna region of Italy.
Some of his most notable works from this period were two Madonna paintings called "Madonna con la Rosa" (1528) and "Madonna with Saint Zachariah" (1530).
He moved back to his native Parma in 1530 and continued to earn prestigious commissions. This culminated in his most famous painting called "Madonna with the Long Neck" (1534).
This elongated Madonna with an immense baby Jesus on her lap defines the mannerist style that made Parmigianino famous in the 16th century.
8. He was distracted by alchemy and emprisoned because of it
He never completed the Madonna with the Long Neck and it remained in its unfinished state in the artist's studio when he passed away in 1540.
He was also commissioned to paint two altarpieces in 1531 that were intended to decorate the newly constructed Santa Maria della Steccata church in Parma.
Just like his Madonna with the Long Neck, they were still unfinished by 1535. Because of this breach of contract, he was imprisoned for two months.
It's believed that his delays were caused by his increased interest in alchemy and fascination with magic.
9. His paintings and etchings were highly influential to other artists
Although Giorgio Vasari described his interest in alchemy as a fascination with magic, it's much more likely that it had a completely different reason.
He was one of the earliest Italian etchers and was intrigued by the process of printmaking. Acid was substituted for ink which managed to print his drawings onto copper plates.
He collaborated with a famous engraver named Giovanni Jacopo Caraglio (1500-1565) and the two became very influential printmakers for future generations in Italy.
10. He passed away at the young age of 37 and left behind an impressive legacy
Parmigianino only left behind two large frescoes. He did, however, complete several oil paintings that can now be admired in museums all around the world.
Madonna with the Long Neck (1534–40) is part of the collection of the Uffizi Gallery in Florence.
Other works of the artist are part of the collection of the National Gallery in London, The Prado Museum in Madrid, and the Kunsthistorisches Museum in Vienna, to name just a few.