One of the final masterpieces of a renowned Spanish artist of the 17th century was misunderstood for hundreds of years.
What appears to be a common scene of female workers is now generally accepted to depict a mythological story written by the Roman poet Ovid.
In this article, you'll discover some of the most interesting facts about Las Hilanderas, a remarkable painting by Diego Velázquez.
1. It was probably completed a year after he finished his most enigmatic painting
Las Hilanderas is a painting by Spanish master of the Baroque era Diego Velázquez (1599-1660). He moved from his native Seville to Madrid to pursue a career as the court painter of King Philip IV of Spain.
His immense talent didn't go unnoticed and he worked for the Spanish king from the early 1620s until he passed away in 1660.
During this period, he mainly painted portraits and large historical and mythological scenes. He continued to develop his style, partially influenced by two trips to Italy.
This culminated in his Magnum Opus, a world-famous painting known as "Las Meninas," which he completed in 1656.
Although this painting isn't dated, it's assumed that he completed Las Hilanderas around 1657 during the final years of his life.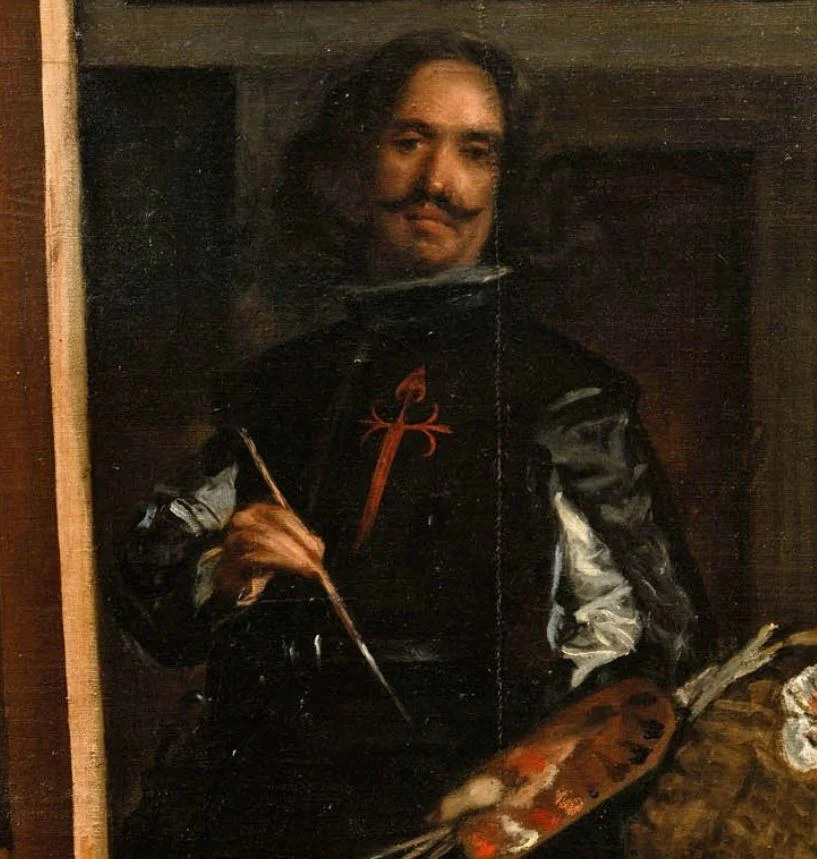 2. It depicts a group of female workers in a tapestry workshop
Upon first glance, the painting appears to depict a group of female workers who are doing their jobs at a tapestry workshop.
---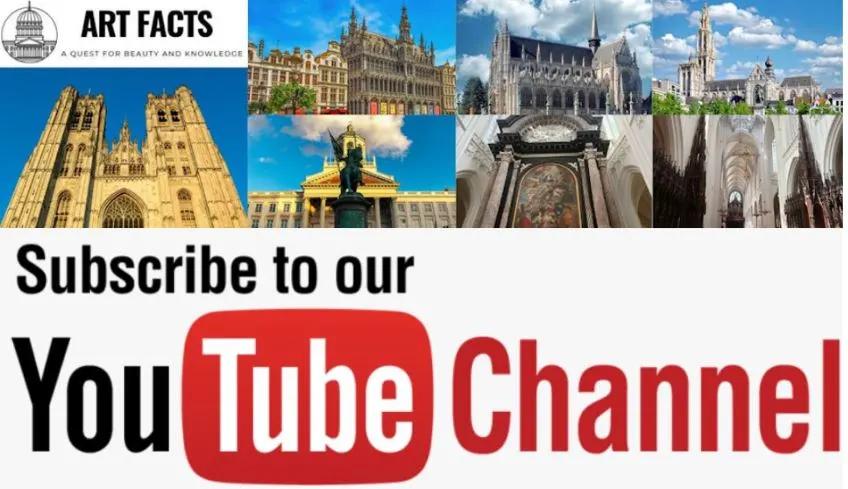 ---
Las Hilanderas translates to "The Spinners" and we can see the women setting up and using a spinning wheel. Completed tapestries can be seen hanging on the wall in the background.
The location where Velázque got his inspiration for this painting was the tapestry factory of Santa Isabel in Madrid.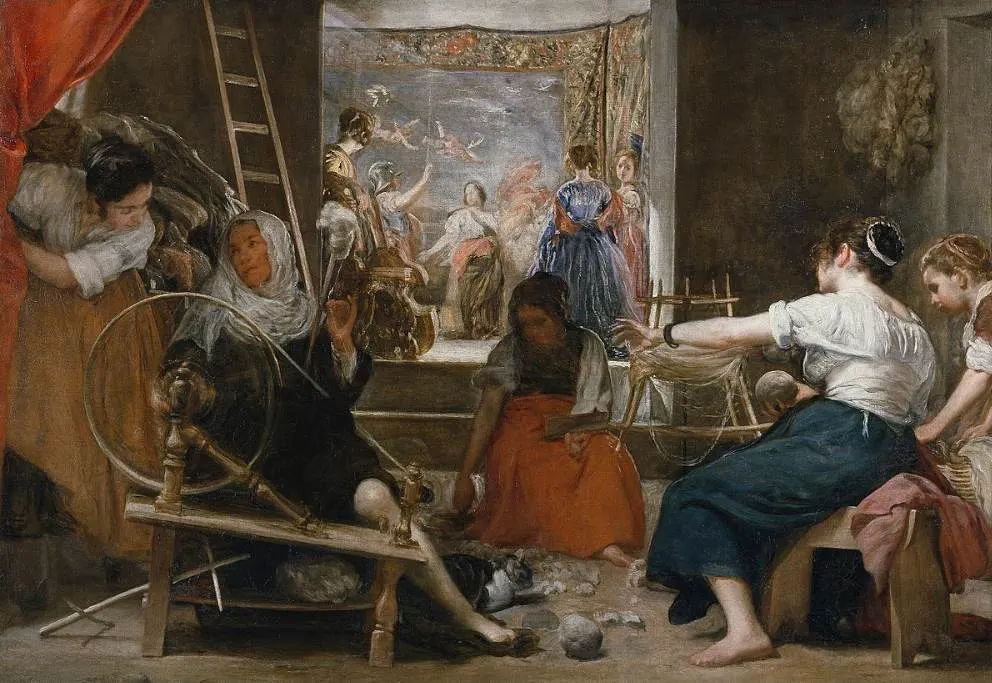 3. The correct meaning was only recognized in the mid-20th century
Although we can see female workers at a tapestry factory, the painting is a lot more complex than it initially appears to be.
Diego Velázquez started his career as a painter of Bodegones in his native Seville and often included still life in his works. He had long outgrown this simplistic subject matter during the final years of his life.
Diego Angulo Íñiguez (1901-1986), an art historian who became the director of the Prado Museum between 1968 and 1970, did notice there was more going on.
In 1948, he suggested that the painting depicts the story of Athene and Arachne. The mortal Arachne challenged the goddess Athena to a spinning duel. Arachne won the contest and Athena transformed her into a spider.
This story was written by Ovid (43 B.C.-18 A.D.), a Roman poet who lived during the reign of the first Roman Emperor Augustus.
Today, this explanation is accepted and the painting is therefore also known as "The Fable of Arachne." The old woman on the left represents Athena while the young girl on the right facing away from the viewer represents Arachne.
4. The artist included a layered composition reminiscent of his earlier works
The Spanish master continuously developed his style throughout his career. This started in his early years in Seville when he was still an apprentice with his father-in-law Francisco Pacheco.
H reproduced extremely realistic paintings during this period and also experimented with a technique referred to as a layered composition.
This is also known as including a painting within a painting and he continued to use this for the rest of his life.
He included it in his masterpieces Las Meninas (1656) and Las Hilanderas (1657). He first experimented with this nearly 4 decades earlier in a painting titled "Christ in the House of Martha and Mary" (1618).
5. The tapestry in the back depicts one of Titan's masterpieces
A tapestry factory produces tapestries and Velázquez, therefore, included some in the background. One of them is visible as well.
This tapestry depicts a painting by Titian titled "The Rape of Europe" (1560-1562). This depicts another Greek myth in which Europa is being abducted by Zeus who disguised himself as a bull.
The Renaissance master was commissioned to paint several paintings for the Spanish King in the 16th century and this work was part of the Spanish Royal collection.
6. The painting was enlarged significantly in the 18th century
The painting was not commissioned by King Philip IV but rather by a man named Don Pedro de Arce who was the king's huntsman.
It did, however, end up in the Spanish Royal collection and was most probably destroyed when the Royal Alcazar of Madrid burned to the ground on Christmas Eve of 1734.
Although several paintings managed to be saved by being thrown out of the window, several were badly damaged, including Las Hilanderas.
Not much is known about the extent of the damage but the painting was significantly enlarged on both sides (37 centimeters / 14.56 inches) and the top (50 centimeters / 19.68 inches) during this restoration project.
Today, the painting is displayed with these additions covered so only the version painted by Velázquez in the 1650s is visible.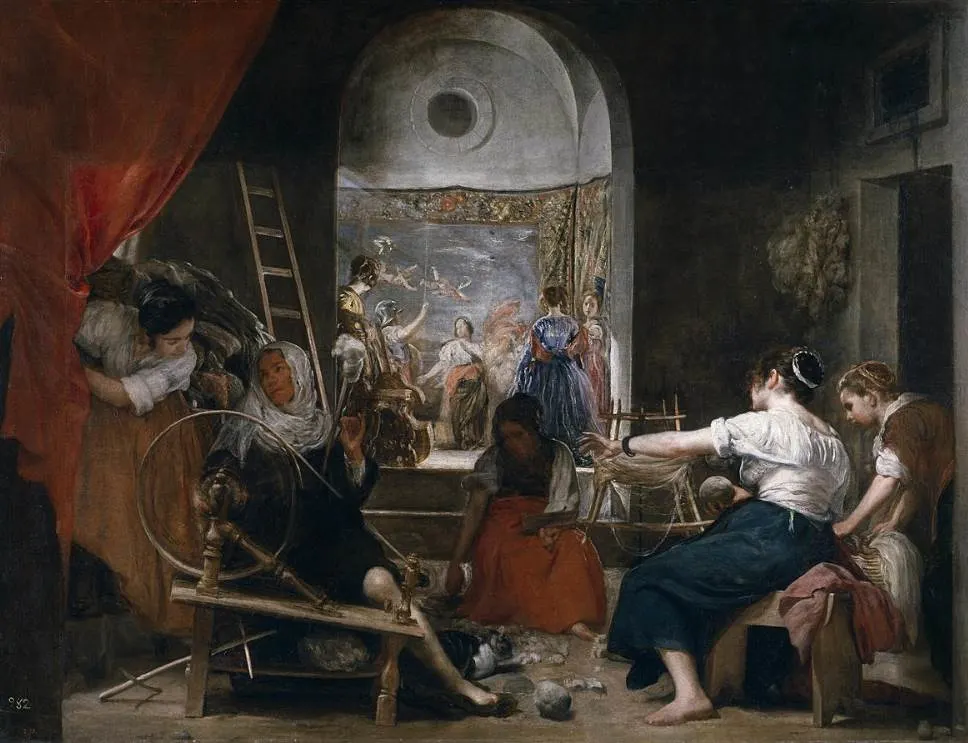 7. How big is Las Hilanderas by Diego Velázquez?
As the Spanish court painter, Velázquez had all the resources he needed to produce monumental works of art, and he did just that.
Las Hilanderas by Diego Velázquez is a large oil on canvas painting that has dimensions of 220 × 289 centimeters (87 × 114 inches).
8. Where is the painting located today?
Like most paintings that entered the Spanish Royal collection in the 16th, 17th, and 18th centuries, they were first hung at the newly constructed Royal Palace of Madrid.
From here, they were moved to the most popular museum in Madrid that was established to house this extensive collection.
Today, Las Hilanderas is still part of the collection of the Prado Museum in the heart of the Spanish capital.