Many of the most famous artists in history have museums dedicated to them. This is also the case with this renowned Dutch Golden Age Painter.
Frans Hals (1582-1666) was born in Antwerp but lived and worked nearly his entire life in Haarlem, a city in what was then the Dutch Republic.
He is best known for his portraits and genre paintings, as well as marriage paintings and large group portraits depicting members of local organizations.
His painterly technique with visible brushstrokes was quite extraordinary during the Dutch Golden Age and it served as the inspiration for many modern artists in the 19th century.
A museum in his honor was established in his native city in 1862 and it's currently housed in two locations in the city. These are the former "Old Men's Almshouse" and the "Museum De Hallen."
Apart from paintings by Frans Hals, the museum also houses an impressive collection of artworks by other Dutch painters and objects related to Haarlem's history.
In this article, you'll discover some of the highlights at the Frans Hals Museum in Haarlem, a city just west of Amsterdam.
1. The Officers of the St Adrian Militia Company in 1633 – Frans Hals
Date created: 1633
Dimensions: 207 x 337 centimeters (81.4 x 132.67 inches)
The Officers of the St Adrian Militia Company in 1633 is the title of one of many Frans Hals paintings that depict a group of civil guards in his home city of Haarlem. There were 3 of this kind active during Hals' lifetime and he painted all of them on several occasions.
The members of this group were depicted while sitting outside in a courtyard. The painting has become much darker over the centuries than it originally was upon completion, so this makes it a bit hard to judge where they actually are. Along with his other group portraits, it's one of the greatest attractions at the Frans Hals Museum.
2. Ecce Homo Triptych – Maarten van Heemskerck
Date created: 1559-1560
Dimensions: 219 x 150 centimeters (86.2 x 59 inches)
---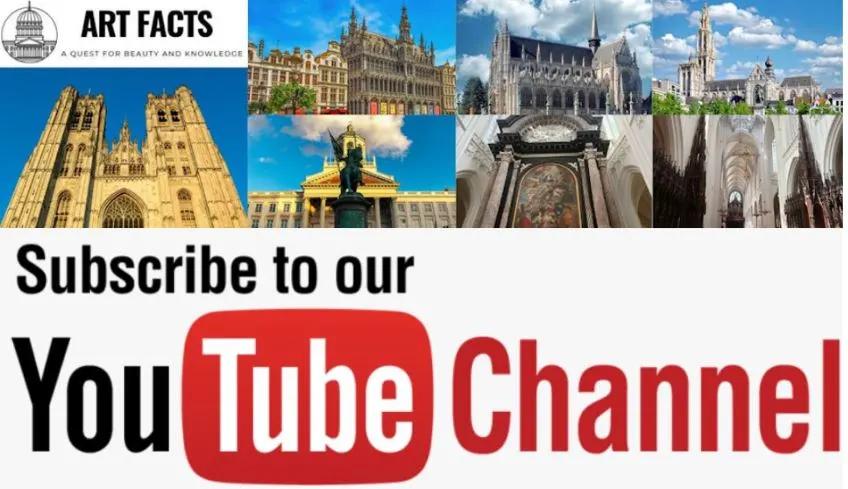 ---
The Ecce Homo Triptych is a large 16th-century painting by Maarten van Heemskerck (1498-1574), a Dutch artist who lived before the Dutch Golden Age began. Just like Hals, Heemskerck lived in Haarlem and is best known for his portraits and religious paintings.
He was highly influenced by Renaissance artists and that's because he spent 4 years in Italy between 1532 and 1536. This work depicts Jesus Christ in the central panel as he faces Pontius Pilate and two executioners. Ecce Homo translates to "Here is the man," a reference to the fact that it was left up to the people to decide Jesus' fate.
3. Regents of St Elisabeth's Hospital in Haarlem – Frans Hals
Date created: 1641
Dimensions: 153 x 252 centimeters (60.2 x 99.2 inches)
Regents of St Elisabeth's Hospital in Haarlem is the title of another group painting by Frans Hals that depicts 5 regents of the local Elisabeth's Hospital. The items on the table are references to the administrative duties of these men at the hospital.
The regents are dressed in black and white clothes, which was common for people who worked at a charitable institution like this in the 17th century. Remarkably, the 4 female regents at the hospital were also painted, but not by Frans Hals but by his colleague Johannes Verspronck.
4. Vanitas Still Life – Pieter Claesz
Date created: 1625
Dimensions: 29.5 x 34.4 centimeters (11.61 x 13.54 inches)
Vanitas Still Life is the title of a painting by Pieter Claesz (1597-1660), another notable Golden Age Painter who is best known for his still lives. As you can see in this work, Claesz was a master in depicting common objects with an incredible sense of realism.
Even though these might appear to be common items (except for the human skull on the table), these are all objects that reference the transient experience of human life. The flame of the candle is about to die and the windflower only blooms for a very short time. Everything in this delicate little work references time slipping by.
5. Dune Landscape with Rabbit Hunt – Jacob van Ruisdael
Date created: 1650
Dimensions: 33.5 x 38 centimeters (13.18 x 14.96 inches)
Dune Landscape with Rabbit Hunt is the title of a distinctive painting by Jacob van Ruisdael (1629-1682), a man who is credited as being the most innovative landscape painter of the Dutch Golden Age. Ruisdael was very prolific and often painted landscapes in which the sky takes up large parts of the canvas.
Born and raised n Haarlem, Ruisdael eventually moved to Amsterdam in 1657, the city that had become the economic heart of the Dutch Republic. He did, however, continuously painted landscapes of the surrounding area, including this remarkable work of art that shows a landscape near his home city.
6. The Banquet of the Officers of the St George Militia Company in 1627 – Frans Hals
Date created: 1627
Dimensions: 179 x 257.5 centimeters (70.4 x 101.3 inches)
The Banquet of the Officers of the St George Militia Company in 1627 is the title of another major militia group portrait by Frans Hals. Unlike the later painting, this one depicts the group while they sit inside their headquarters and while they have dinner.
The reason why this portrait was commissioned was to commemorate the end of the three-year duty of this group as civic guards. This festivity was the celebration at the end of their tenure. Like in most other similar paintings, all these men have been identified by name.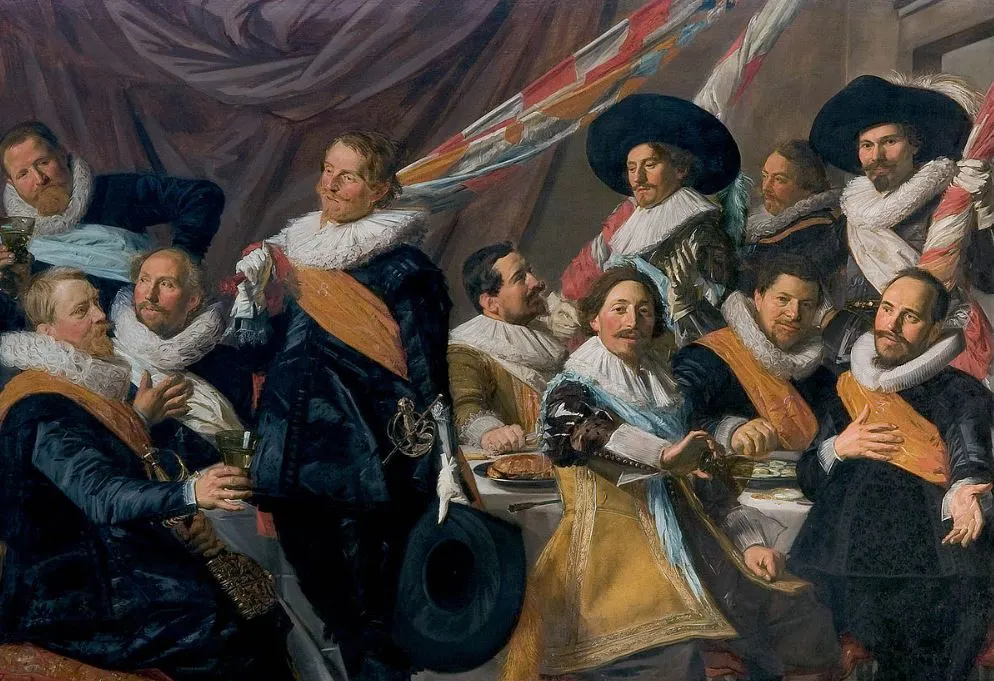 7. The Tobacco Inn – Adriaen Brouwer
Date created: 1630s
Dimensions: 61 x 48.5 centimeters (24 x 19 inches)
The Tobacco Inn is a painting by Adriaen Brouwer (1605-1638), a Flemish painter who was born in Oudenaarde. He was active in both Flanders and the Dutch Republic and his work became one of the most important influences for Dutch Golden Age genre paintings.
He mainly focused on individuals from the lower classes such as peasants and soldiers who were living it up in local taverns. He often painted them while drinking, smoking, and sometimes even brawling. His early death has been attributed to the lifestyle he loved to paint, but it's likely he died during a plague epidemic in Antwerp.
8. The Wedding of Peleus and Thetis – Cornelis van Haarlem
Date created: 1592-1593
Dimensions: 246 x 419 centimeters (96.8 x 164.96 inches)
The Wedding of Peleus and Thetis is a huge painting by Cornelis van Haarlem (1562-1638), another important Dutch artist who was active in Haarlem. He was one of the main inspirations of Frans Hals who based his group portraits on similar works painted by Cornelis several decades earlier.
This particular work depicts a popular myth from classical antiquity. It depicts the lavish wedding of Peleus and Thetis to which all the gods were invited, except for Eris, the goddess of discord. She ruined the party by throwing a golden apple among the guests with the inscription "for the fairest." Paris, a Trojan Prince, eventually has to make this impossible choice.
9. Regentesses of the Old Men's Almshouse – Frans Hals
Date created: 1664
Dimensions: 170.5 x 249.5 centimeters (67.1 x 98.2 inches)
The Regentesses of the Old Men's Almshouse was one of the final paintings in the oeuvre of Frans Hals, a man who already painted hundreds of works at the time. It depicts the Regentesses of the Oude Mannenhuis, the place where the Frans Hals Museum is housed today.
What's remarkable is that this work became highly influential among Impressionist artists in the 19th century. The painting was reproduced multiple times and especially Édouard Manet's painting of 1872 is a fascinating copy of Hals's masterpiece.
10. Regents of the Old Men's Almshouse – Frans Hals
Date created: 1664
Dimensions: 172.5 x 256 centimeters (67.9 x 100.7 inches)
Regents of the Old Men's Almshouse is a painting by Frans Hals that depicts the male administrators of the Oude Mannenhuis in Haarlem, along with several of their servants. We know the names of all 5 of these men, but it's unknown today to which figure these names belong.
Unlike the paintings produced for the members of St. Elisabeth hospital, a building located right across the street, these two works didn't hang together as pendants. Remarkably, Frans Hals was already in his early 80s when he completed this painting, quite an achievement of the influential painter.