A new artistic period known as Early Netherlandish painting emerged in the early 15th century in multiple cities in modern-day Belgium.
Several painters, known today as the Flemish Primitives, worked in cities such as Bruges, Ghent, Mechelen, Leuven, Tournai, and Brussels, and radically changed the course of art history.
What's remarkable is that several painters from this era were the first to master oil painting in the modern era. As they visited Italy in the 15th century, this technique spread there as well.
Even though they are sometimes referred to as Northern Renaissance artists, they are distinctive from Renaissance artists who emerged in Italy around the same time.
In this article, you'll discover some of the most famous Early Netherlandish paintings completed by the most renowned artists of this art movement.
1. Seilern Triptych – Robert Campin
Date created: 1415
Dimensions: 65.2 x 107.2 centimeters (25.6 x 42.2 inches)
Location: Courtauld Gallery, London, United Kingdom
The Seilern Triptych is a painting by Robert Campin (1375-1444), one of the first major Early Netherlandish artists in history. Because he lived about 600 years ago, some parts of his life are a bit obscure, including his paintings which he never signed, something that makes attribution complicated.
This particular painting, which is also known as the "Entombment Triptych," is one of the two surviving triptychs that are attributed to him. It's the earlier of the two and even though it was executed using oil, it still features the gold leaf background that was popular during the Gothic era.
2. Ghent Altarpiece – Jan and Hubert van Eyck
Date created: 1420s-1432
Dimensions: 340 x 520 centimeters (133.85 x 204.72 inches)
Location: St Bavo's Cathedral, Ghent, Belgium
The Ghent Altarpiece is a painting that was likely prepared by Hubert van Eyck (1385-1426) and completed by his younger brother Jan van Eyck (1390-1441). It consists of a large number of panels that are centered around a painting depicting the adoration of the Lamb of God.
It's considered to be one of the most accomplished paintings of the Northern Renaissance and one of the first major oil paintings in history. It's an enormous work of art that exceeds 5 meters in width and despite its large size, features an incredible level of detail, a trademark of the Flemish painter.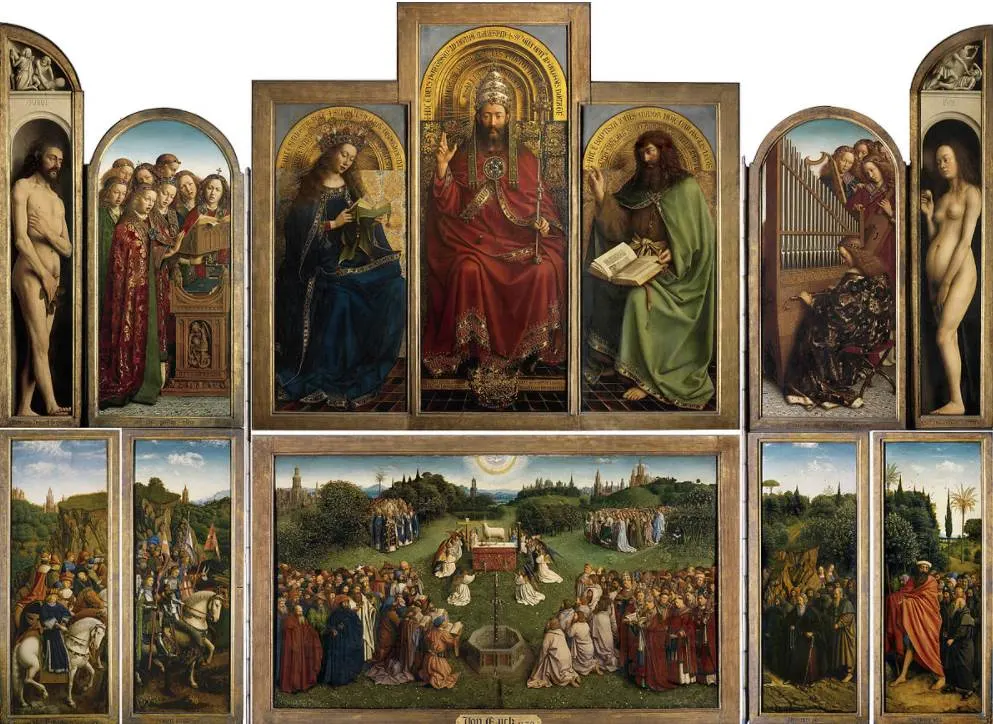 3. The Descent from the Cross – Rogier van der Weyden
Date created: 1435
Dimensions: 220 x 262 centimeters (86.6 x 103.1 inches)
Location: Prado Museum, Madrid, Spain
---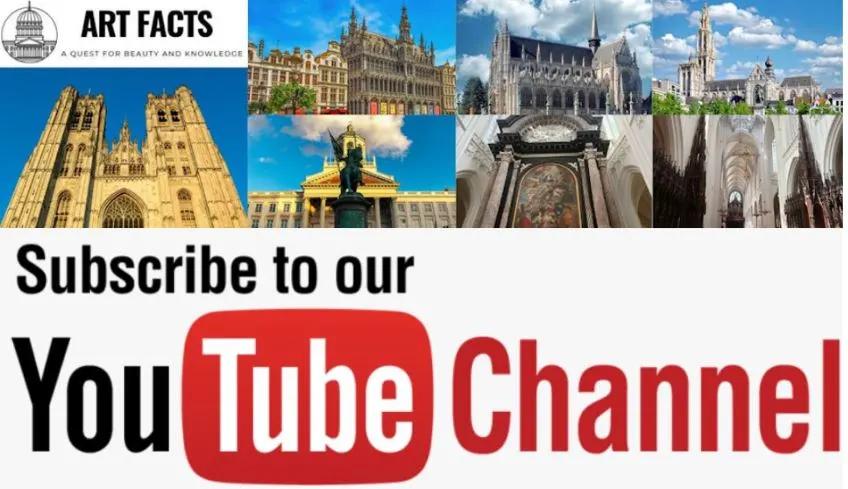 ---
The Descent from the Cross is a painting by Rogier van der Weyden (1399-1464), a painter who was heavily influenced by Jan van Eyck. He even became more famous during the successive centuries and remains to be held in high regard by art historians today.
The painter was trained in the workshop of Robert Campin and the influence of his master can clearly be seen in this work. It depicts Jesus Christ as his dead body is being lowered from the cross by Joseph of Arimathea and Nicodemus, the men who presumably buried him.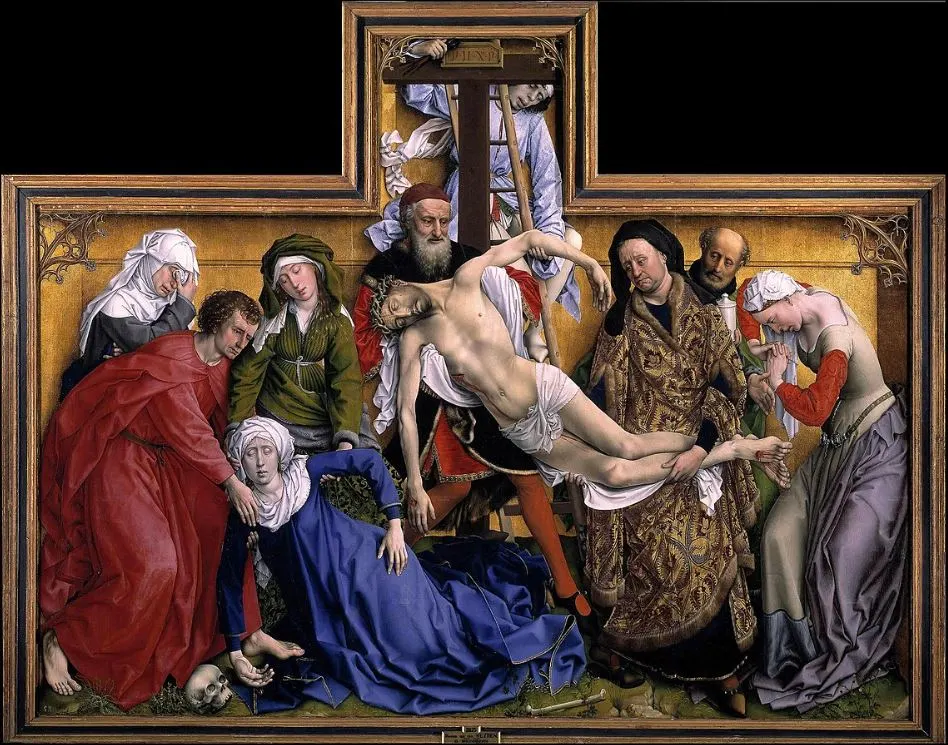 4. Altarpiece of the Holy Sacrament – Dieric Bouts
Date created: 1464-1468
Dimensions: 88 × 71 centimeters (35 x 28 inches)
Location: St. Peter's Church, Leuven, Belgium
The Altarpiece of the Holy Sacrament is a triptych painting by Dieric Bouts (1415-1475), a man who possibly moved from Haarlem to Leuven during the 1450s. In this city in modern-day Belgium, he earned many prestigious commissions, including this work which he painted for a local Confraternity.
The central panel features a Last Supper painting which is a remarkable work of art for several reasons. First of all, it's considered to be the first Flemish painting of its kind in history. Secondly, it incorporates linear perspective, a technique that was devised in Italy around this time.
5. The Garden of Earthly Delights – Hieronymus Bosch
Date created: 1490-1510
Dimensions: 205.5 × 384.9 centimeters (81 × 152 inches)
Location: Prado Museum, Madrid, Spain
The Garden of Earthly Delights is one of the many peculiar paintings by Hieronymus Bosch (1450-1516), one of the most inventive Early Netherlandish painters in history. Like several of his other triptychs, it depicts a scene featuring the Garden of Eden on the left, people on earth in the center, and a hellscape on the right.
Little is known about the true motivation of the artist to paint such strange details in his works, it's likely that they served as a warning sign for indulging in earthly pleasures. The terrifying hellscape on the right would surely have accomplished this goal in the 15th and 16th centuries.
6. The Last Judgment – Hans Memling
Date created: 1466-1473
Dimensions: 223.5 x 306 centimeters (87.9 x 120.47 inches)
Location: National Museum, Gdańsk, Poland
The Last Judgment is a large triptych painting by Hans Memling (1430-1494), another renowned Flemish painter from the 15th century. He was probably born in modern-day Germany and moved to Brussels where he studied under Rogier van der Weyden.
Memling later moved to Bruges where he became the leading painter in the city. Bruges was still one of the most important cities in Northern Europe at the time. This painting was commissioned by an Italian named Angelo Tani, a representative of the Medici family from Tuscany.
7. Monforte Altarpiece – Hugo van der Goes
Date created: 1470
Dimensions: 147 × 242 centimeters (58 × 95 inches)
Location: Gemäldegalerie, Berlin, Germany
The Monforte Altarpiece is a wonderful painting by Hugo van der Goes (1430-1482), a man who is considered to be one of the most inventive Early Netherlandish painters of the second half of the 15th century. This work was originally a triptych but the side panels have been lost.
The painting depicts the Adoration of the Magi, a popular subject in Christian art. The name of the painting was derived from the convent in Monforte de Lemos in northern Spain where it probably hung in the early 16th century. The wide-angle perspective of the scene in the foreground was very unusual in Early Netherlandish paintings at the time.
8. A Goldsmith in His Shop – Petrus Christus
Date created: 1449
Dimensions: 98 × 85.2 centimeters (39 x 33.5 inches)
Location: MET Museum, New York City, United States
A Goldsmith in His Shop is the title of a painting by Petrus Christus (1410-1476), another Flemish painter who was mainly active in Bruges during his career. Together with Hans Memling, he became the leading painter in the city following the death of Jan van Eyck in the early 1440s.
This work is believed to have been commissioned by the goldsmith guild in Bruges for advertising purposes. As you can see, Petrus Christus didn't hold back on including shiny gold works in this magnificent work of art. Other sources state that it might be a wedding gift. In my opinion, it might as well be a combination of the two.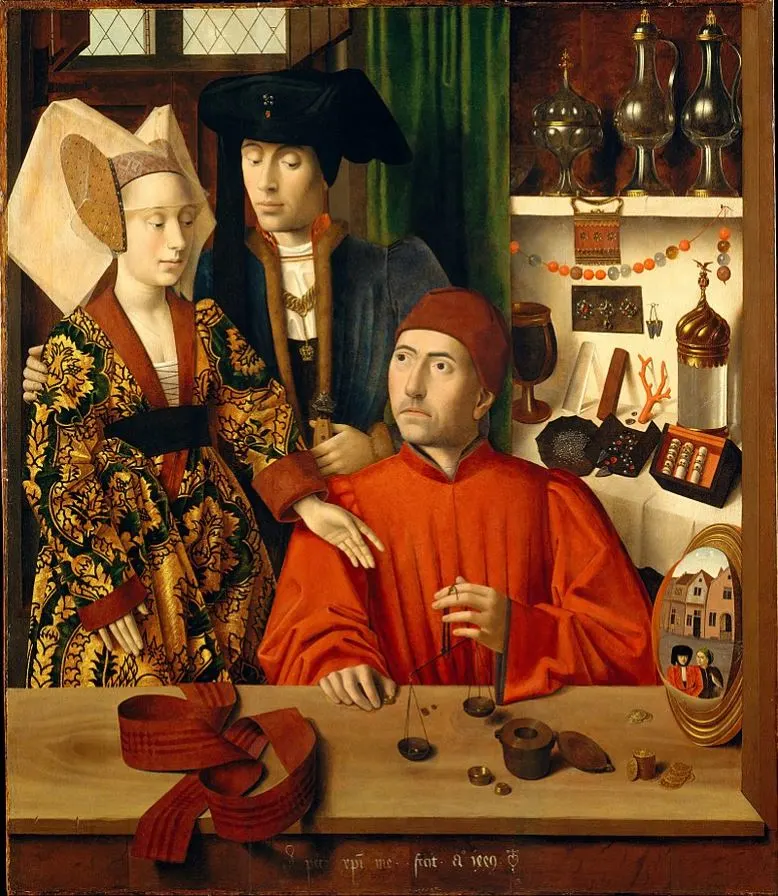 9. The Judgement of Cambyses – Gerard David
Date created: 1488
Dimensions: 202 × 349.5 centimeters (80 × 137.6 inches)
Location: Groeningemuseum, Bruges, Belgium
The Judgement of Cambyses is a rather frightening painting by Gerard David (1460-1523), a man sometimes referred to as the final Early Netherlandish painter in history. Little is known about his life except that he ran two successful workshops in both Antwerp and Bruges.
The left painting depicts the arrest of Persian judge Sisamnes on the orders of Cambyses II, the second King of Kings of the Achaemenid Empire in the 6th century B.C. The right painting depicts his subsequent flaying. It was commissioned by the municipal authorities of Bruges for the city's town hall as a warning for local magistrates to remain honest.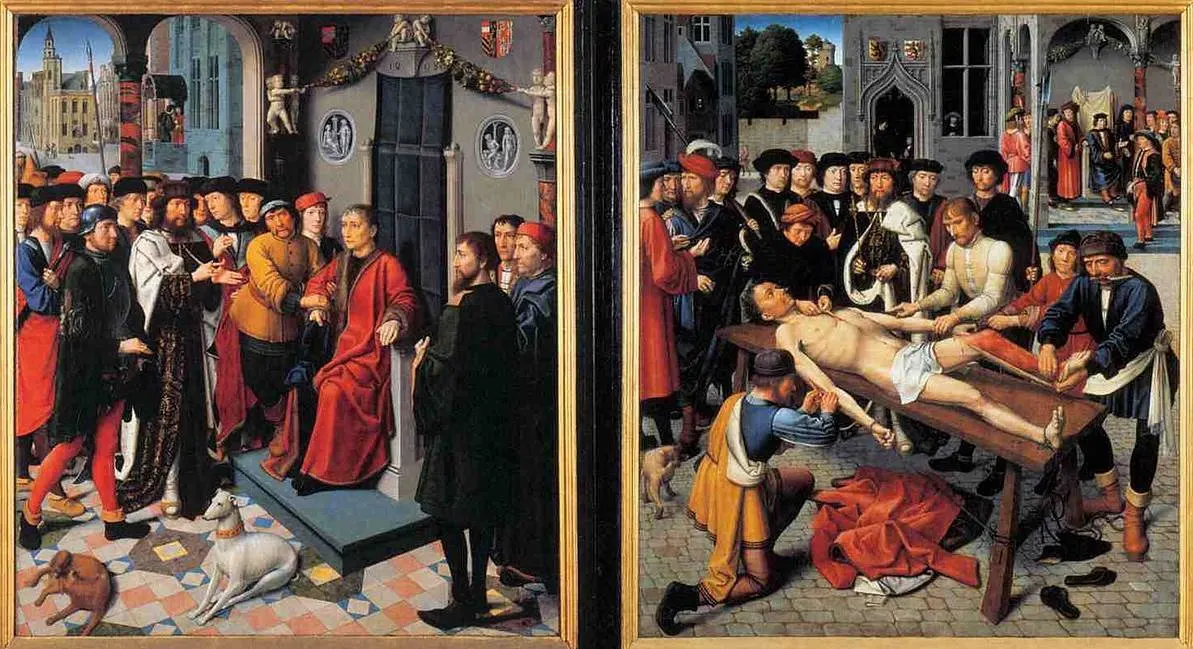 10. Arnolfini Portrait – Jan van Eyck
Date created: 1434
Dimensions: 82.2 × 60 centimeters (32.4 × 23.6 inches)
Location: National Gallery, London, United Kingdom
The Arnolfini Portrait is one of the ultimate masterpieces by Jan van Eyck and one of the most debated paintings in art history. The depicted people are believed to be the Italian merchant Giovanni di Nicolao Arnolfini and his wife, probably in their residence in Bruges where van Eyck was active.
The painting is full of symbols which have made art historians believe that there is a gloomy backstory attached to this painting. The rather desperate stare of the man probably reveals that his wife died in childbirth (she appears to be pregnant) shortly before this painting was completed.