Did you know that the second-largest art museum in New York City isn't located in Manhattan?
Opened in 1897, the Brooklyn Museum was established as a division of the Brooklyn Institute of Arts and Sciences. It was an ambitious project with an incredible goal.
The plan was to turn this museum into the largest art museum in the world. Although this goal wasn't reached, it still became one of the United States' largest museums.
The collection is housed in a beautiful Beaux-Arts building that is located at the northeastern tip of Prospect Park in the heart of Brooklyn.
The museum features a total floor space of 52,000 square meters (560,000 square feet) and holds a collection of over 1.5 million items ranging from ancient Egyptian artifacts to modern works of art.
In this article, you'll discover some of the highlights of the collection of paintings at the Brooklyn Museum.
1. Painting of Lady Tjepu – Ancient Egypt
Date created: 1390–1353 B.C.
Dimensions: 36.7 x 24 centimeters (14.4 x 9.4 inches)
The Painting of Lady Tjepu is one of the ultimate highlights of the extensive ancient Egyptian collection at the Brooklyn Museum, especially when it comes to paintings. This work is a fragment of a much larger fresco that was extracted from tomb 181 in Thebes, modern-day Luxor in southern Egypt.
The painting is believed to date back to the reign of Pharaoh Amenhotep III of the 18th Dynasty of the New Kingdom of Egypt and has been remarkably well-preserved. The complete fresco depicts this highly decorated woman together with her son Nebamun.
2. A Ride for Liberty – The Fugitive Slaves – Jonathan Eastman Johnson
Date created: 1862-1864
Dimensions: 55.8 cm (21.9 in); width: 66.4 cm (21.9 x 26.1 inches)
A Ride for Liberty – The Fugitive Slaves is the title of a remarkable painting by the American artist Jonathan Eastman Johnson (1824-1906). It depicts a family of slaves who fled during the American Civil War (1861-1865) near the town of Manassas, Virginia.
---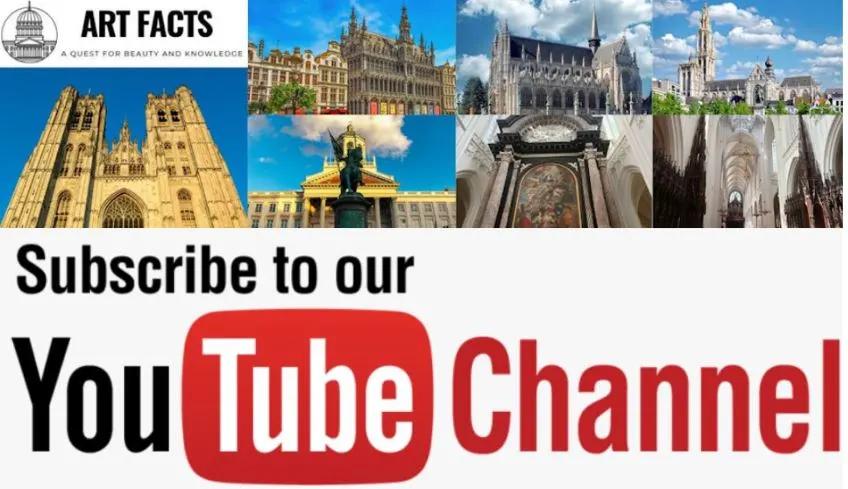 ---
What's remarkable about this work is that its inspiration was derived from a real event that was witnessed by Eastman Johnson on March 2, 1862. He painted another similar version which is part of the collection of the Virginia Museum of Fine Arts.
3. A Storm in the Rocky Mountains, Mt. Rosalie – Albert Bierstadt
Date created: 1866
Dimensions: 210.8 × 361.3 centimeters (83 × 142.25 inches)
A Storm in the Rocky Mountains, Mt. Rosalie is the title of a huge painting by German-born American artist Albert Bierstadt (1830-1902). He was one of the greatest landscape artists in American history and is especially famous for his depictions of the beautiful scenery in the American West.
This work depicts the view of the Colorado Rocky Mountains with a storm approaching in the distance. What's remarkable is that he named this painting in honor of his mistress Rosalie Osborne Ludlow who was the wife of one of his friends at the time.
4. Fin du travail (The End of the Working Day) – Jules Breton
Date created: 1886-1887
Dimensions: 84 x 120 centimeters (33 x 47.2 inches)
Fin du travail (The End of the Working Day) is a painting by the French artist Jules Breton (1827-1906), a man who often painted common laborers. He grew up at the height of the Realism art movement and extended this by adding a sense of naturalism to his works.
This painting is one of his most notable works. It depicts a group of female workers who are struggling, yet they are working in a field of flowers with a beautiful sunset in the background. Breton perceived hard work as the means to a better life and majestically captured this in his paintings.
5. The Edge of the Pool – Gustave Courbet
Date created: 1867
Dimensions: 80.6 x 100 centimeters (31.7 x 39.3 in)
The Edge of the Pool or "Au Bord de l'Etang" is a painting by the leading Realism artist of the 19th century, Gustave Courbet (1818-1877). It was painted during the final decade of his life, a time when he was already a very successful artist in Paris.
This rather mysterious painting was commissioned by the Marquis de Pomereu, a man whom he befriended in his hometown of Ornans in Eastern France. It's hard to notice but there's a woman on the bank of the pond and a man in a boat on the water.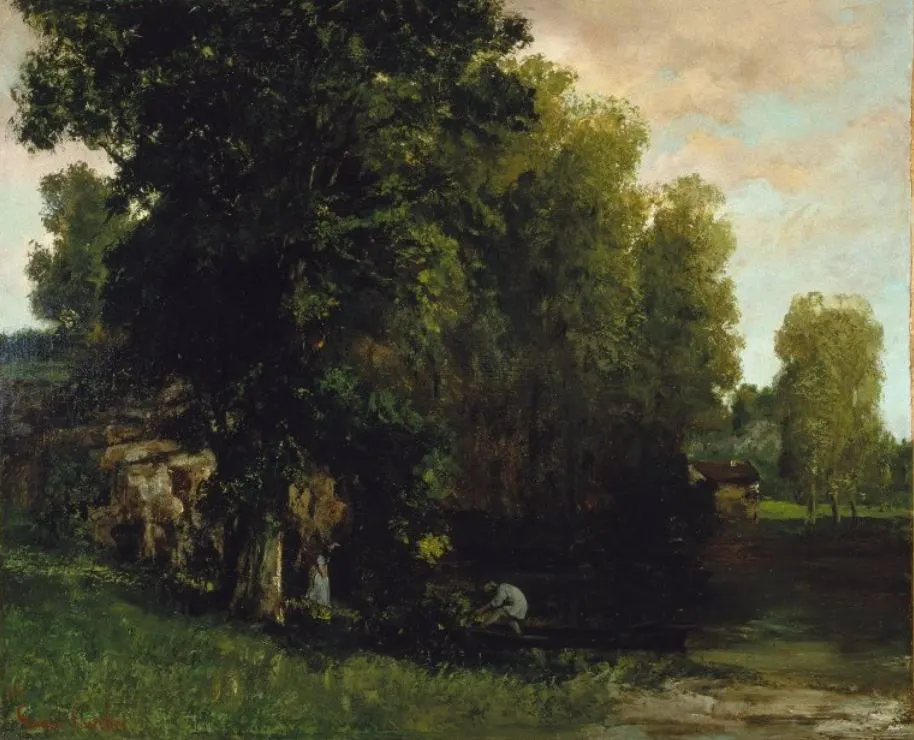 6. A Morning Snow – Hudson River – George Bellows
Date created: 1910
Dimensions: 114.5 x 160.5 centimeters (45.06 x 63.19 inches)
A Morning Snow – Hudson River is a painting by American painter George Bellows (1882-1925) and is, in my opinion, one of the most beautiful paintings at the Brooklyn Museum. Bellows was a Realism artist who mainly painted urban scenes in New York City.
This painting was produced using heavy strokes that magnificently capture the morning light on a snowy day in Manhattan. Bellows captured the view of the Hudson River from the Upper West Side of Manhattan with New Jersey in the background.
7. Paul César Helleu Sketching with His Wife – John Singer Sargeant
Date created: 1889
Dimensions: 65.9 x 80.7 centimeters (25.9 x 31.7 inches)
Paul César Helleu Sketching with His Wife is a painting by the American painter John Singer Sargeant (1856-1925) that is also known as "An Out-of-Doors Study." As the title suggests, it depicts the French artist Paul Helleu and his wife Alice in the English countryside near Fladbury.
Sargeant mainly focused on portraits and this painting was heavily influenced by the Impressionist paintings of his colleagues at the time. The scene is engulfed with natural light which highlights the sitters and natural elements on a sunny day.
8. The Doge's Palace – Claude Monet
Date created: 1908
Dimensions: 81.3 x 99.1 centimeters (32 x 39 inches)
The Doge's Palace or "Le Palais Ducal" is the title of a painting by Claude Monet (1840-1926), one of the leading figures of the Impressionist art movement. It depicts the famous landmark in Venice as viewed from the nearby canal.
Monet painted this work during one of his visits to Venice in the early 20th century. He produced 3 similar versions of which one hangs at the Brooklyn Museum. The other two versions are part of private collections, one of his which sold for £27.5 million at Sotheby's in London in 2019.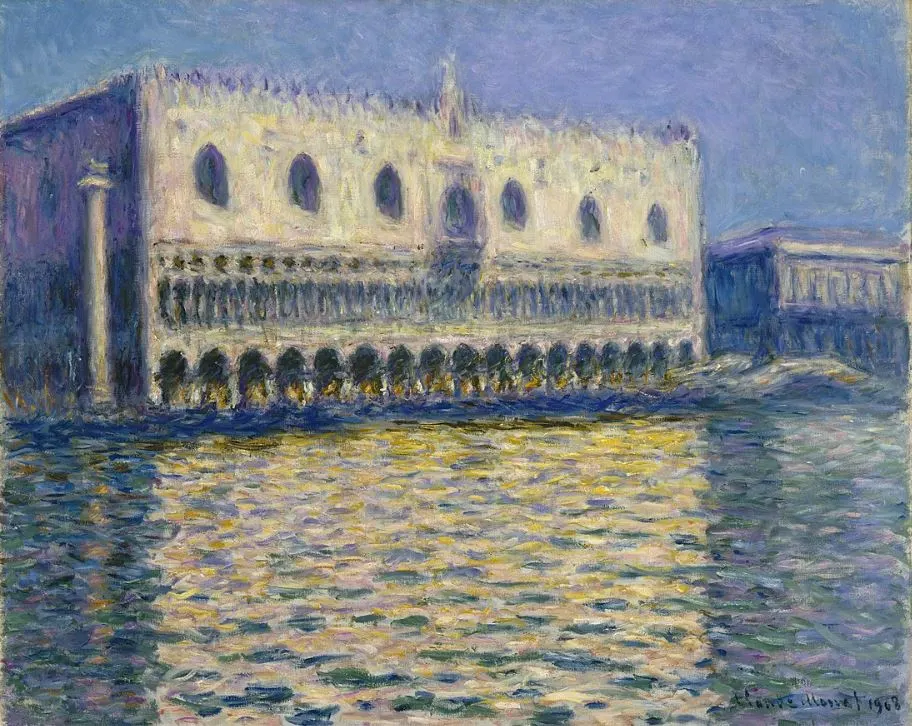 9. Les Vignes à Cagnes – Pierre-Auguste Renoir
Date created: 1908
Dimensions: 46.4 x 55.2 centimeters (18.2 x 21.7 inches)
The Vineyards at Cagnes or "Les Vignes à Cagnes" is a beautiful painting by Pierre-Auguste Renoir (1841-1919), another important Impressionist artist. It depicts a woman who is reading a book beneath an olive tree near Cagnes in Southern France.
It's one of several paintings that Renoir produced of this region which offers panoramic views of the Mediterranean scenery and vegetation. It highlights the bold and expressive brushstrokes that the French painter used during this phase of his career.
10. George Washington – Charles Willson Peale
Date created: 1776
Dimensions: 111.7 × 97.3 centimeters (43.9 × 38.3 inches)
George Washington is the title of a portrait by Charles Willson Peale (1741-1827) that depicts the First American president. Unlike many other portraits of the man which depict him at an older age, this one shows him shortly before he issued the Declaration of Independence.
The touchy element of this painting, the fact that Washington had 300 slaves working on his Virginia plantation, was left out of this portrait. It is, however, a celebrated portrait of this important man in American history.