The career of this famous American artist is defined by the magnificent landscapes he painted and especially his marine paintings.
Winslow Homer (1836-1910) can easily be described as one of the most notable artists in the United States in the 19th century.
He started his career as an illustrator but gradually moved to oil paintings which became his favorite medium after the American Civil War (1861-1865).
In this article, you'll discover some of the most interesting facts about The Fog Warning, one of Homer's best-known paintings.
1. It was completed shortly after Homer settled in Maine
Winslow Homer started working as a commercial lithographer for local newspapers and magazines in Boston when he was still a teenager.
He didn't really enjoy his time here and really aspired to become a professional painter in his early twenties. He opened up his own place at the Tenth Street Studio Building in New York City in 1859.
The outbreak of the American Civil War in 1861 didn't halt his career as he was commissioned to paint soldiers at the front.
The period following this tragic event in American history was defined by a sense of nostalgia. This was a result of the fast-paced urbanization that took place during the 1870s.
Homer traveled frequently and eventually settled down in 1883 in Prouts Neck, Maine, a peninsula near the coast. It's here that he completed several of his most famous works.
---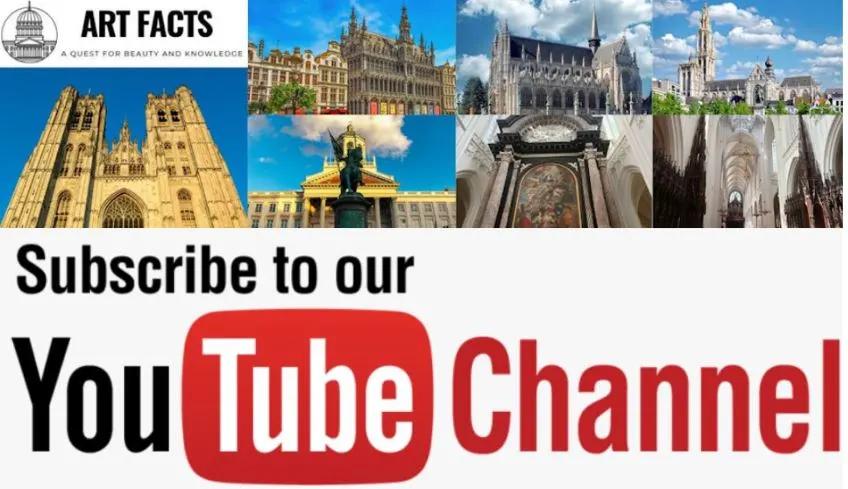 ---
He completed The Fog Warning in 1885, about 2 years after he set up his studio in its fisherman's village in Maine.
2. It's a painting that depicts the hard life of local fishermen
His studio in Prout's Neck, southern Maine, was completed in 1884, and he didn't have to look very far to find inspiration.
Prout's Neck was full of fishermen who went out of their daily business to catch fish. This provided Homer with a subject that intrigued him tremendously which was:
Humankind's life-and-death struggles against the sea and the elemental power of nature.
This painting depicts a fisherman in a dory, a small fishing boat, while he tries to get back to his main ship. Even though his trip was successful, a dangerous fog bank is looming in the distance.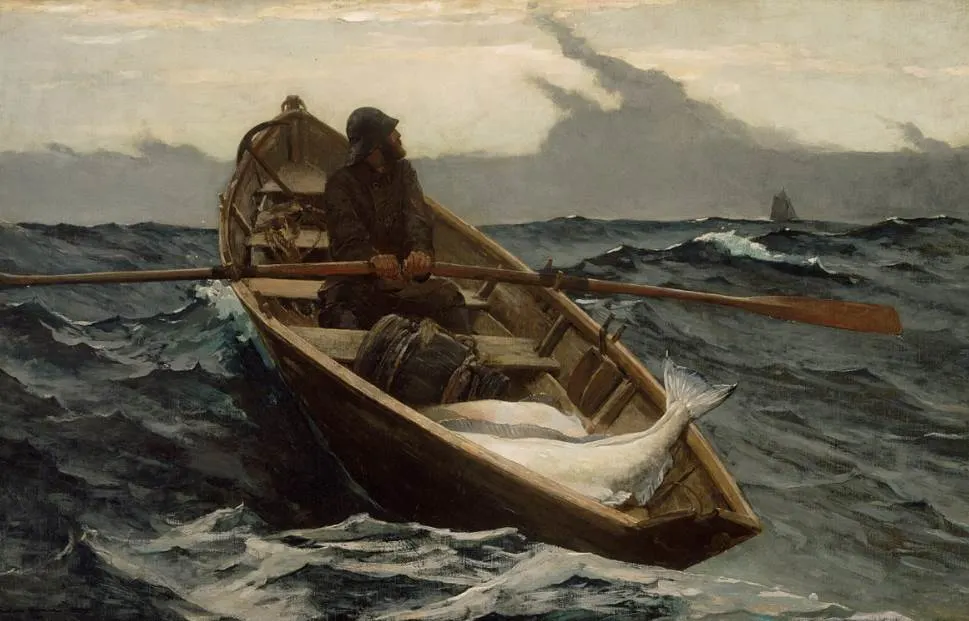 3. The artist was inspired to paint fishermen on a trip to England
Homer already painted marine subjects in the 1870s but an extended trip to the coastal village of Cullercoats, Northumberland, England in 1881 and 1882 radically changed his style.
He became aware of the incredible dangers of fishermen out on the big ocean and his paintings became a lot more dense and serious.
The innocence of most of his paintings during the 1860s and 1870s made way for often dark and gloomy paintings of fishermen risking their lives to catch fish.
Art critics noticed this change and referred to it as follows:
He is a very different Homer from the one we knew in days gone by. Now his pictures touch a far higher plane. They are works of High Art.
4. It was one of the three famous marine paintings he completed in 1885
Homer completed this painting in 1885 and he was on a roll because he completed two more masterpieces that same year.
The subject matter of both "Lost on the Grand Banks" and "The Herring Net" is very similar to that of The Fog Warning as it depicts fishermen in a small boat doing their job.
Both Lost on the Grand Banks (part of a private collection) and The Herring Net (on display at the Art Institute of Chicago) show two men struggling to conquer the wild sea.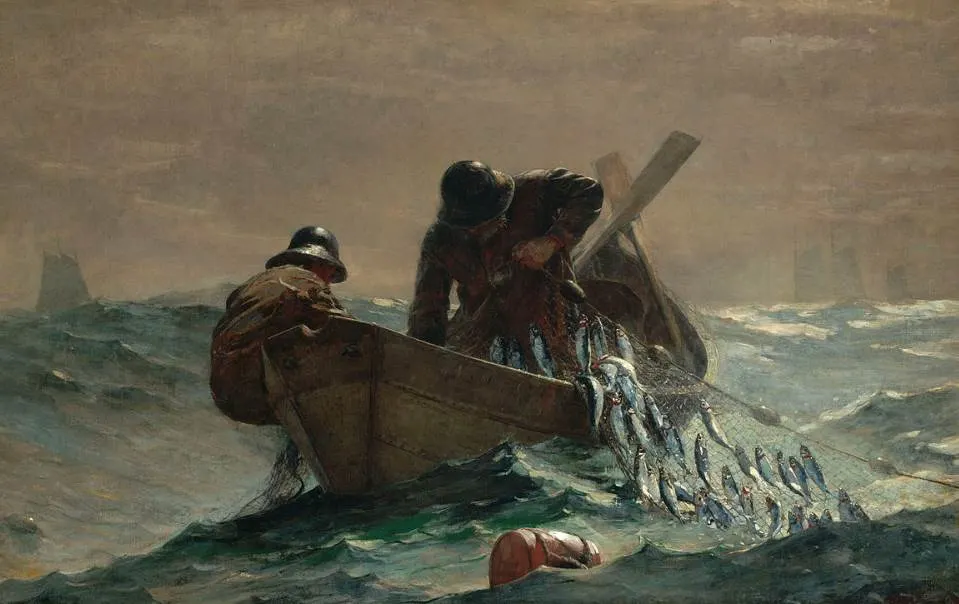 5. Homer painted several studies with his handyman as the model
The problem with marine paintings is obvious. A painter can't set up his easel inside a small boat on the wild sea.
Homer had to be creative to come up with a solution. He installed a dory on top of a pile of sand on the Prout's Neck beach.
Homer's handyman Henry Lee was put inside this boat to serve as the model for the fisherman and Homer produced several preparatory studies before he started working on the main painting.
His sketch titled "Halibut Fishing" depicts the fisherman with his face towards the viewer instead of glancing over his shoulder to spot the fog bank.
6. Not all Homer's marine paintings were this psychologically tense
The main difference between the marine paintings he had produced before was the serious nature and psychological tension of this painting.
His earlier sections of people in about were usually lighthearted and incorporated bright colors, such as "Breezing Up (A Fair Wind)" (1873-1876).
This painting depicts a type of sailboat known as a "catboat" and is one of the most iconic pictures in American history.
It symbolizes the sense of hope that Americans were feeling in the decade following the American Civil War.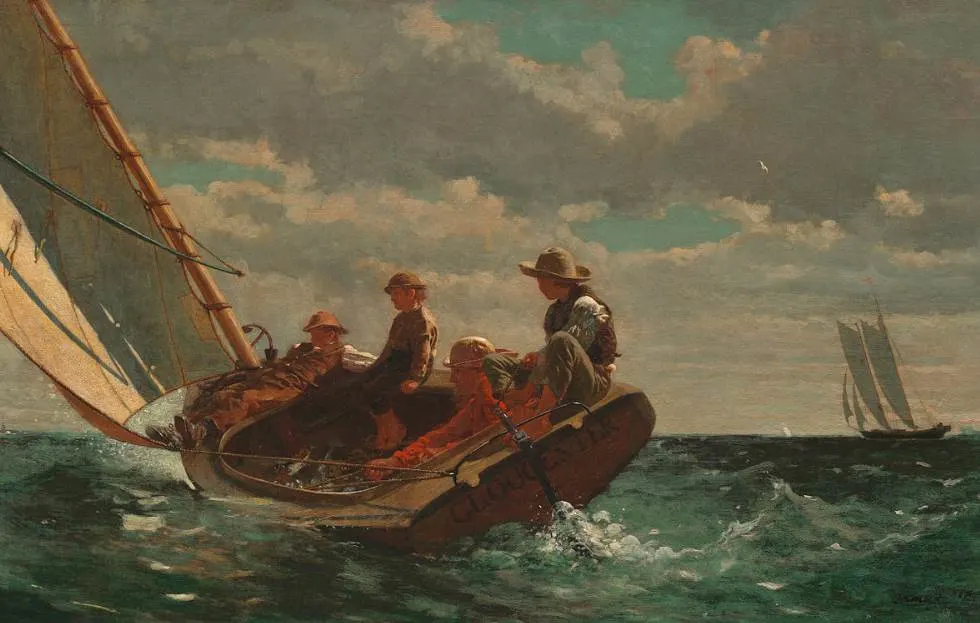 7. How Big is the Fog Warning by Winslow Homer?
Although his paintings became gradually larger following his return to the United States in the early 1880s, he never really painted monumental works of art.
The Fog Warning by Winslow Homer is an oil on canvas painting that has dimensions of 76 × 122 centimeters (30 × 48 inches).
8. Where is Homer's masterpiece located today?
The painting was displayed at the Doll and Richards Gallery in Boston in 1886 and remained there for a couple of years.
It was purchased by an anonymous art collector in 1893 who almost instantly donated it to the most popular museum in Boston in 1894.
Today, you can still admire The Fog Warning by Winslow Homer at the Museum of Fine Arts, Boston.