The Baroque era was a fascinating period in art history because it produced a wide range of different types of artists.
This French artist spent most of his life living and working in Rome. He loved this place so much that he only briefly returned once to France.
Nicolas Poussin (1594-1665) embraced classical antiquity and often painted landscapes that featured religious and mythological subjects.
In this article, you'll discover some of the most interesting facts about Landscape with Saint John on Patmos, one of Nicolas Poussin's most famous works.
1. It was completed in the year before Poussin returned to France
Little is known about the training of Nicolas Poussin, a Baroque artist who revived their interest in classical antiquity and developed the so-called French Classical Baroque style.
He was born near the village of Les Andelys in the Normandy region of France but moved to Paris as a teenager.
He studied under various masters in the French capital and became intrigued with the paintings produced by Italian painters.
His passion for Italian art became so poignant that he decided to travel to Italy in 1617. He didn't manage to settle in Rome until 1624 after several unsuccessful attempts.
His reputation gradually increased and he became one of the leading artists in the city. He completed Landscape with Saint John on Patmos in 1640, the year before he briefly returned to France between 1641 and 1642.
2. It depicts Saint John after he was exiled to a remote Greek island
---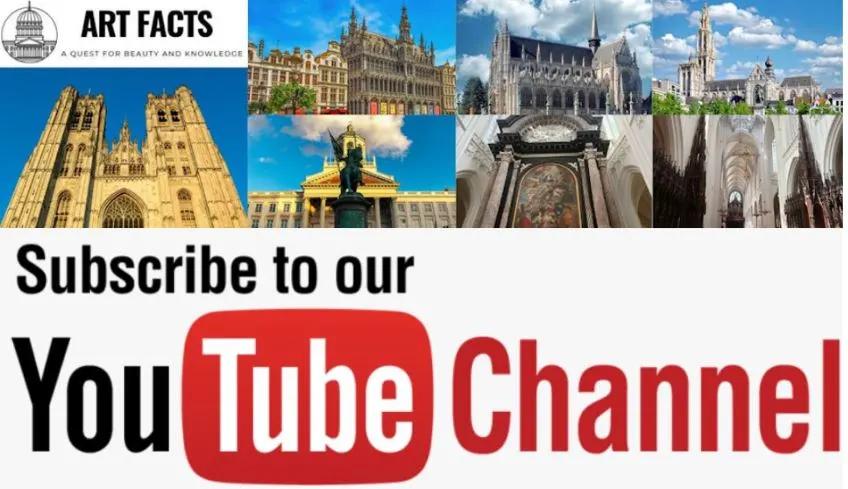 ---
Poussin settled in Rome in 1624, the year after Pope Urban VIII was elected. The Pope was determined to ensure that Rome remained the artistic capital of the world.
This didn't mean that his career skyrocketed, though. He painted rather slowly and commissions came slowly as well.
His luck changed when he painted "The Death of Germanicus" in 1627 for Cardinal Barberini. This work established him as a master and it solidified his reputation.
The painting described in this article depicts Saint John of Patmos, a man who was banished to Patmos during the persecution of Christians under Roman Emperor Domitian in the late 1st century A.D.
He is placed in the foreground, lying down while writing in an idyllic landscape on the Greek island, and he is surrounded by ancient Greek ruins.
Patmos is an island in the Aegean Sea, not too far from the Turkish mainland. The John who Poussin depicted is also known as John the Revelator, John the Divine, or John the Theologian.
Modern scholars generally agree that he is the author of the Book of Revelation, the final chapter of the New Testament.
The writer simply identified himself as "John" which means that he was long believed to be John the Apostle, one of the 12 apostles of Jesus Christ.
Regardless of which John actually wrote the Book of Revelation, it's pretty certain that he did so on Patmos. He mentioned the following in Revelation 1:9:
I, John, both your brother and companion in tribulation … was on the island that is called Patmos for the word of God and for the testimony of Jesus Christ.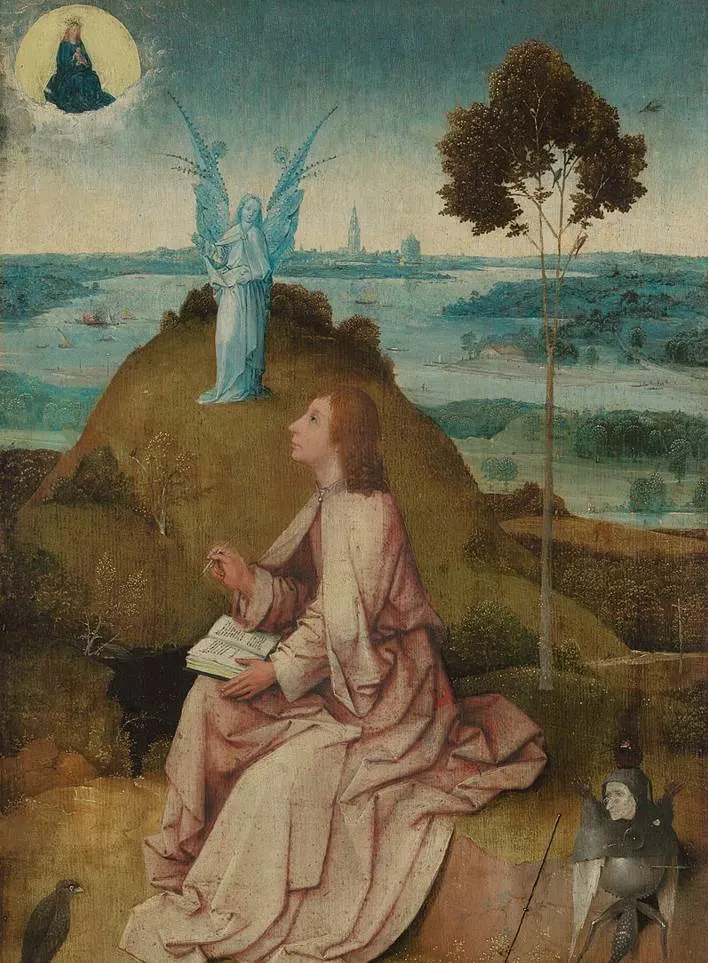 4. The ancient Greek ruins symbolize the transition to a new world
John of Patmos can be seen writing the Book of Revelation among the ruins of ancient Greek buildings. There's also an obelisk in the distance, a typical ancient Egyptian structure.
Nicolas Poussin used these architectural elements to depict the decay of ancient civilization. He portrayed John as a powerful man who laid the foundation of the new Christan world.
The bird next to him is an eagle, the traditional symbol of John of Patmos.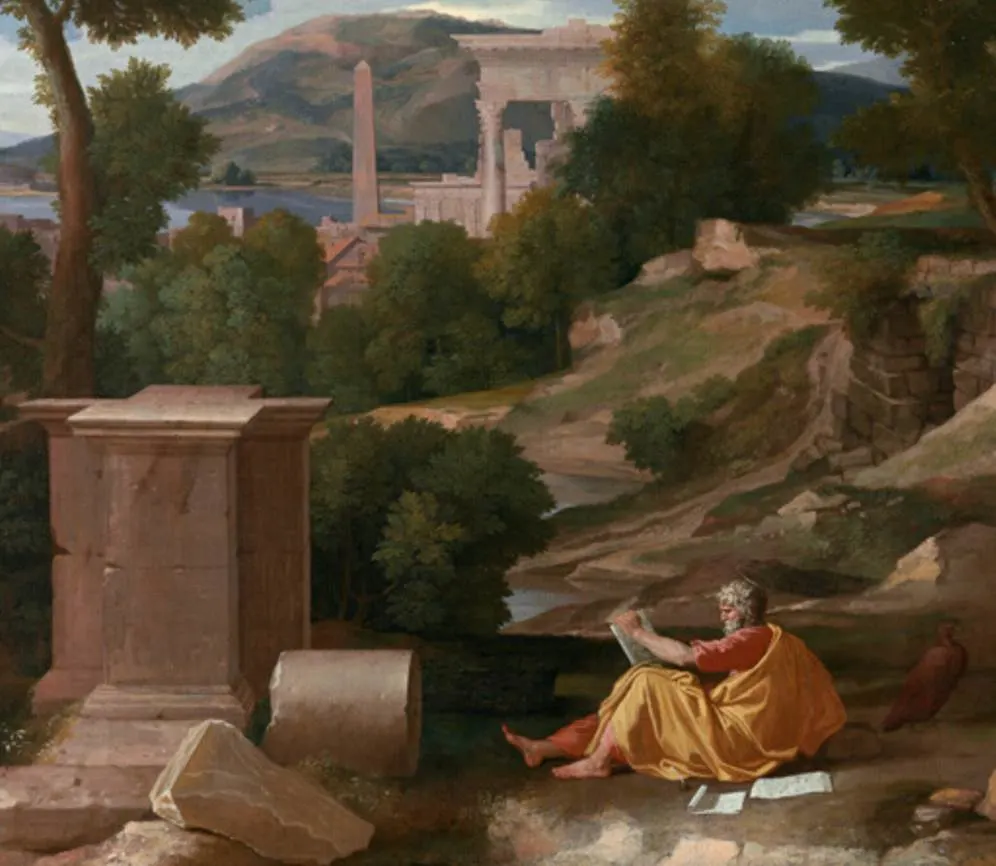 5. Poussin accurately depicted the imaginary landscape in the background
The oak trees and ruins in the background and the hill in the distant landscape were accurately depicted by the French artist.
There's no reason to assume that Poussin had any knowledge of what Patmos looked like because he never visited this island.
He used his tremendous talent and logic to depict this imaginary landscape as realistically as possible. It's fair to conclude that he succeeded in this effort.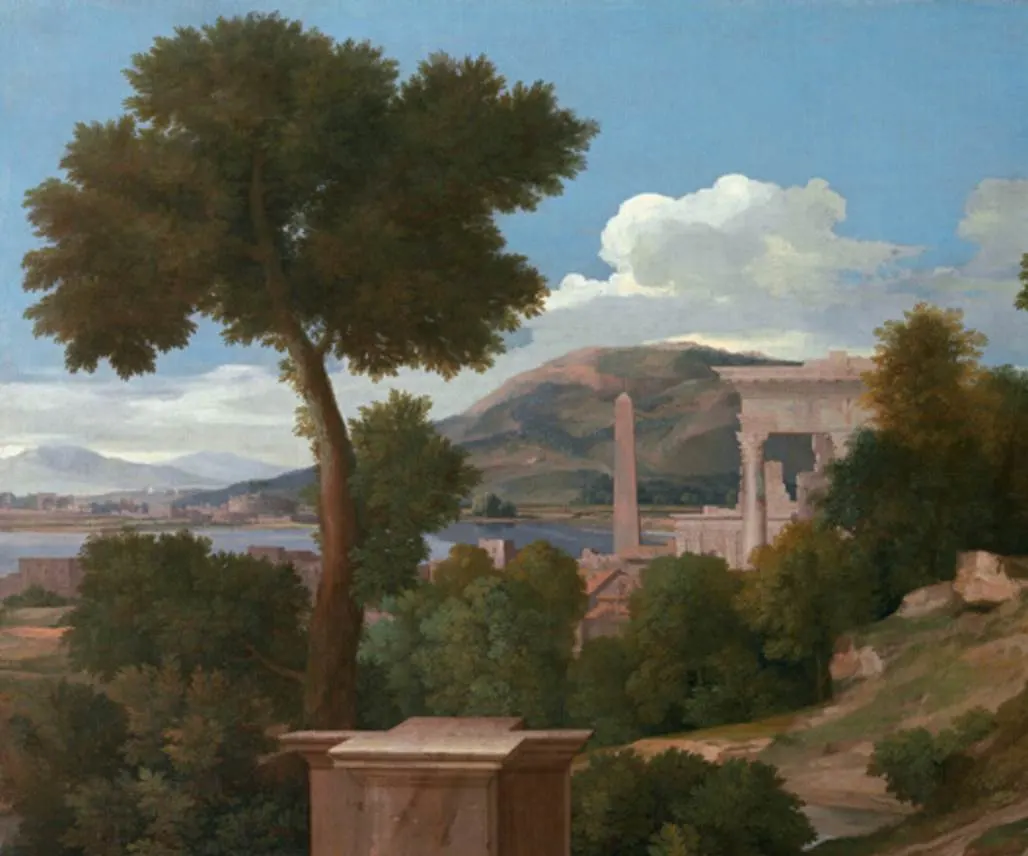 6. It was probably part of a larger commission of which another work exists
Poussin often produced variations of his paintings but this one has an accompanying work titled "Landscape with Saint Matthew and the Angel" (1645).
The composition is fairly similar as it features Saint Matthew, another of the 4 Evangelists, while he was visited by an Angel.
There's also a distant landscape with ruined ancient structures and fragments of destroyed columns lying beside Saint Matthew.
It's likely that this was part of a larger commission for Pope Urban VIII (1568-1644) but it was left unfinished (only 2 of the 4 paintings were completed) after the pope passed away.
The painting below is part of the collection of Gemäldgalerie in Berlin, a Museum which is part of the Berlin State Museums in Germany's capital city.
7. How big is Landscape with Saint John on Patmos by Nicolas Poussin?
Both paintings in this uncompleted series are about the same size, a notion that further strengthens the theory that they were commissioned together.
Landscape with Saint John on Patmos by Nicolas Poussin is an oil on canvas painting that has dimensions of 100.3 × 136.4 centimeters (39.5 × 53.7 inches).
8. Where is the painting located today?
The painting has an extended history of different owners, starting in the 17th century when it entered an unidentified art collection in France.
It moved to England in the 19th century and was sold multiple times in auctions at Christie's in London.
By 1930, it was part of the E. A. Fleischmann Gallery in Munich, Germany, from which it was purchased by the Art Institute of Chicago.
Today, you can still admire Poussin's masterpiece at this popular museum in Chicago.