The life story of this renowned English artist reads as a tragedy but his incredible talent was undeniable.
John William Godward (1861-1922) had a family who didn't accept his choice to become a full-time artist and even completely abandoned him in the early 20th century.
On top of that, he was a Neoclassical artist who produced Neoclassical paintings during a period in which modern art was on the rise.
He did start exhibiting his paintings at the Royal Academy in 1887 and became associated with Dutch artist Sir Lawrence Alma-Tadema (1836-1912), a Denizen in the United Kingdom at the time.
He moved to Rome in 1912 but returned to England in 1921. He committed suicide a year later and his family burned every document and image related to him except for one surviving picture.
His oeuvre is defined by ancient architecture and female beauty in idyllic ancient settings. Yes, it's quite lovely for the eye if you're a fan of Neoclassicism.
Let's take a closer look at some of the most famous paintings by John William Godward so you can see exactly why he was such a talented painter.
1. Dolce Far Niente
Date created: 1904
Dimensions: 50.8 x 76.2 centimeters (20 x 30 inches)
Location: Private Collection
Dolce Far Niente is one of the most famous paintings by John William Godward and one of three versions that he made. The title translates to "Sweet Idleness" to literally "Beauty doing Nothing." An alternative title for the work is "A Pompeian Fishpond."
The painting entered the collection of Andrew Lloyd Webber in 1995 after it was sold at the auction house Sotheby's that year for an estimated price of between $400,000 and $600,000. Yes, Godward's paintings became extremely valuable after about a century.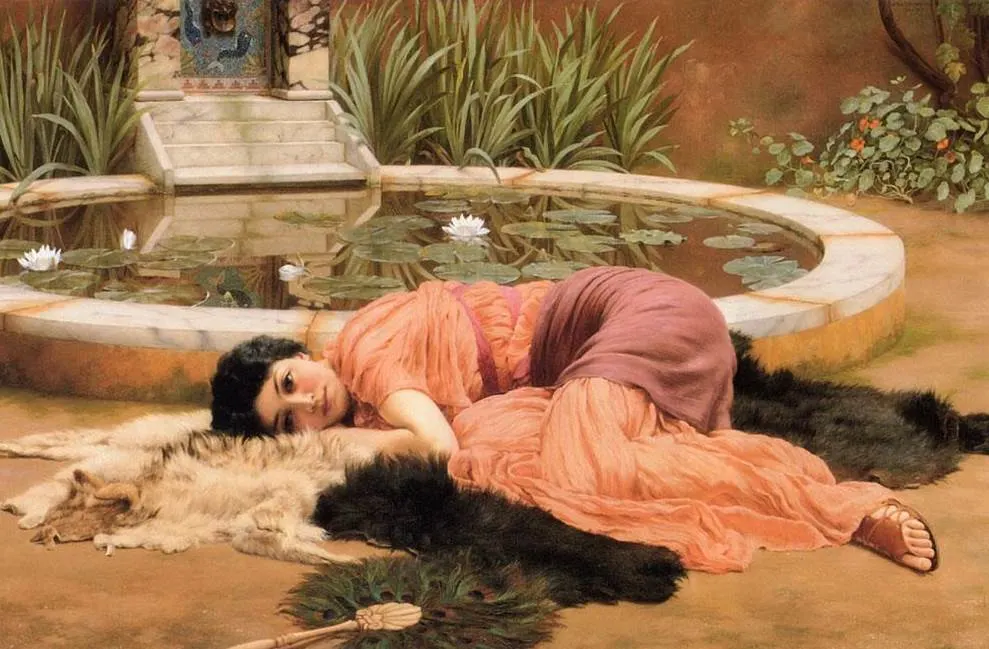 2. Mischief and Repose
Date created: 1909
Dimensions: 60.6 × 133 centimeters (23.9 × 52.4 inches)
Location: Getty Museum, Los Angeles, United States
---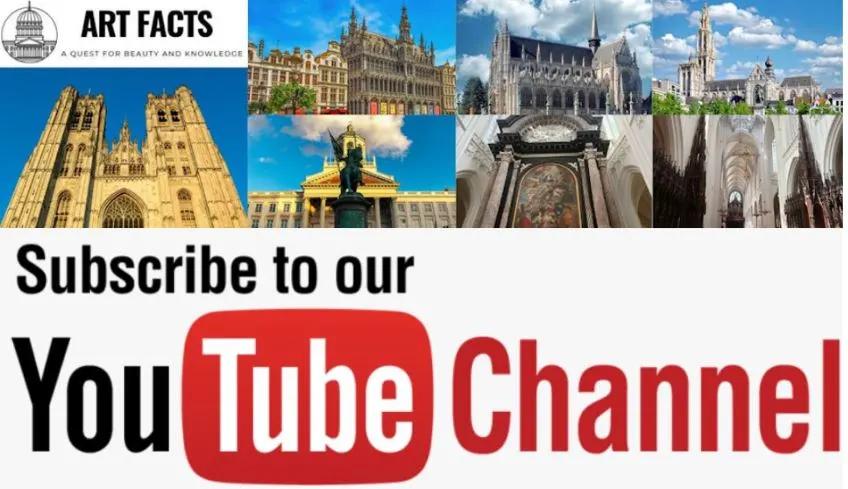 ---
Mischief and Repose is one of the few paintings by Godward that can be admired in a popular museum, the Getty Museum in Los Angeles. It depicts two young women who represent mischief and repose in a classical setting.
Mischief is the woman on the left as she can be seen trying to disturb repose who is resting with a dress pin. The women wear typical clothes worn by women in ancient Greece. The resting woman lies on a marble ledge that is covered by tiger skin.
3. In the Days of Sappho (Reverie)
Date created: 1904
Dimensions: 58.5 x 73.5 centimeters (23 x 28.9 inches)
Location: Getty Museum, Los Angeles, United States
In the Days of Sappho is a painting commonly referred to as "Reverie," another work in the collection of The Getty in Los Angeles. The Name of the painting is a reference to the woman who appears to be dreaming as she gazes straight at the viewer.
She sits on a marble bench that is covered with spotted animal fur. This is the only element in the painting that doesn't have a direct link to antiquity. The sculpture that is part of the bench might resemble the ancient poet Homer.
4. The Jewel Casket
Date created: 1900
Dimensions: 80.5 x 60.5 centimeters (31.6 x 23.8 inches)
Location: Private Collection
The Jewel Casket is one of many paintings by Godward that combines his love for female beauty and classical architecture. The two massive pillars dominate this composition and emphasize his admiration for marble architectural features.
This work also makes it clear that Godward had a keen eye for adding details to his works. The open jewelry box in front of the young woman is just one of the dozens of elements that make this painting a Neoclassical masterpiece.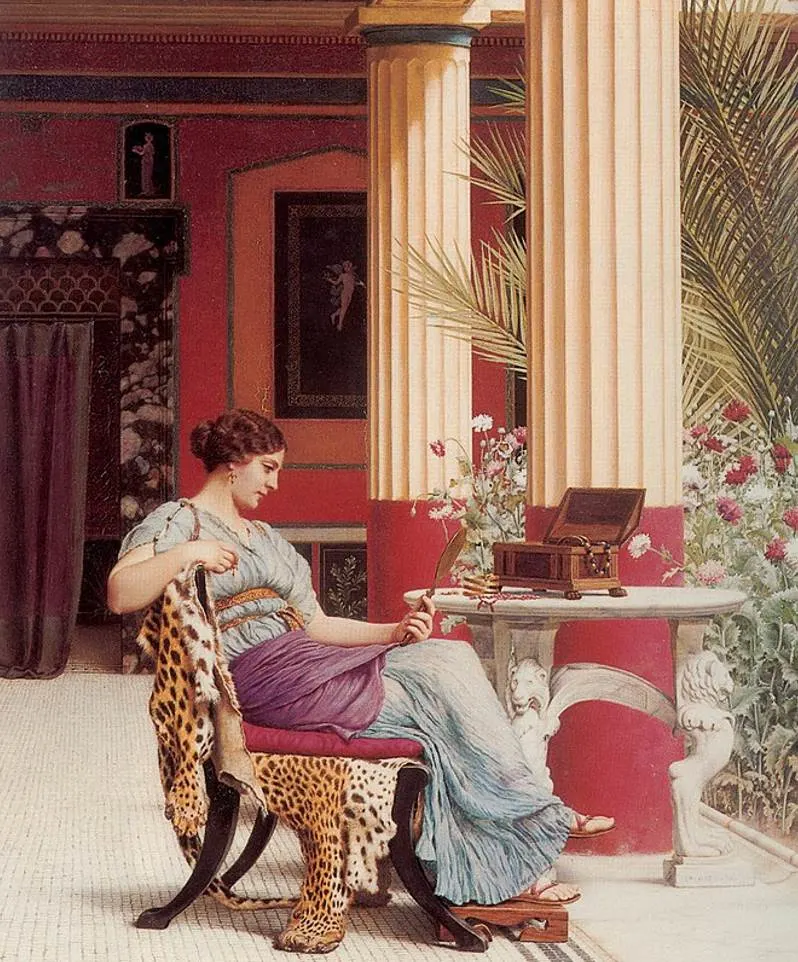 5. Violets, Sweet Violets
Date created: 1906
Dimensions: 92 centimeters (36.25 inches)
Location: Private Collection
Violets, Sweet Violets is a painting that highlights the remarkable skills that John William Godward possessed. The smooth skin of the young woman is magnificent as she appears to be sleeping while holding violets.
The painting is set against a plain background of Italian marble, another remarkable element because Godard often included idyllic Mediterranean landscapes in his works. This tondo was sold for £364,000 at the Bonhams auction house in 2005.
6. In The Tepidarium
Date created: 1913
Dimensions: 98.5 x 48.5 centimeters (38.7 x 19 inches)
Location: Private Collection
In The Tepidarium is a painting that depicts a scene in the hot room of a Roman Bathhouse, a popular entertainment complex in ancient Rome. This is why the female in this work is depicted nude, one of several nudes that Godward painted.
The painting was completed shortly after Godward moved to Rome with one of his models. This was the time that his family completely abandoned him, even though he produced artworks of the highest quality.
7. Sweet Dreams
Date created: 1904
Dimensions: 56 x 42.5 centimeters (22 x 16.7 inches)
Sweet Dreams is the title of one of several paintings by Godward that depicts a beautiful young woman set against an idyllic landscape. The Mediterranean Sea can be seen in the background as the girl dreams under a blossoming tree.
The girl is wearing a pink "stola," the name of the clothes worn by women in ancient Rome. This is held together at her waist by a "Pala," the Roman version of a shawl. This painting was sold at the world's oldest auction house, the Dortoheum in Vienna, in 2018 for €259,000.
8. Waiting for an Answer
Date created: 1899
Dimensions: 61 x 35.5 centimeters (24 x 13.9 inches)
Location: Private Collection
Waiting for an Answer is one of the few paintings by John William Godward that features more than one character. The woman stands in front of the marble architectural elements while a man is sitting behind it while leaning on it.
What's remarkable about this painting is that it's possibly the only self-portrait by the artist. If that's the case, he depicted himself while waiting for the young woman's answer shortly after he proclaimed his love for her.