The 15th century was an important period in the history of art in Europe, and this applies to both the Northern and Southern parts of the continent.
Oil painting developed in northern Europe and this allowed for a much more detailed approach to art. This is reflected in the oeuvre of Early Netherlandish painters.
One of the most notable members of the so-called Flemish Primitives was one of the first painters to develop a remarkable painting technique in Northern Europe.
In this article, you'll discover some of the most interesting facts about the life and works of Dieric Bouts, a Flemish painter who played an important role during the Northern Renaissance.
1. He was born in a city in the modern-day Netherlands
Dieric Bouts (1415-1475), whose first name is also sometimes spelled as Dierick, Dirk, or Dirck, was essentially a Dutch artist who moved to the Southern Netherlands later in his career.
He was born in Haarlem, a city just west of Amsterdam in the Netherlands. Although he was born here, nothing is known about his time in his home city.
It's likely that he moved to the southern part of the Netherlands early on in his career but nothing about his movement can be verified.
2. Bouts probably studied under another master in Brussels
One thing about Bout's early career is certain, he was heavily influenced by both Jan van Eyck (1390-1441) and Rogier van Weyden (1399-1464).
These were some of the most renowned artists in Northern Europe at the time and he certainly learned his skills from their magnificent paintings.
---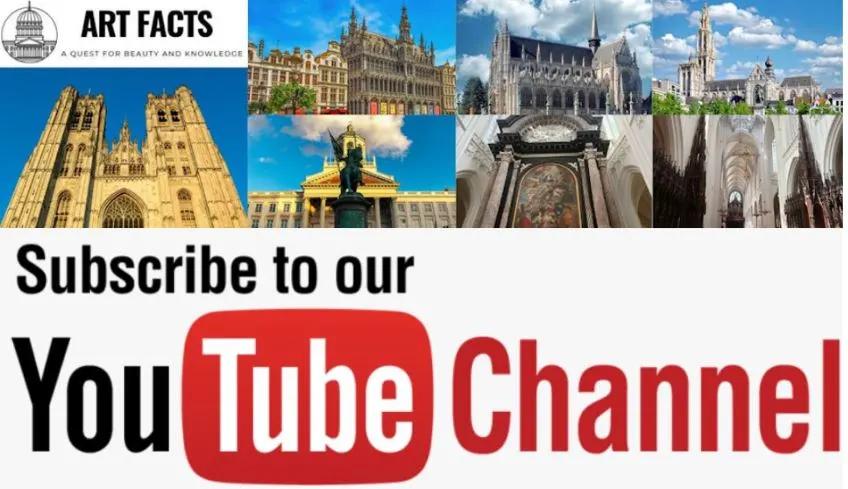 ---
Art historians have suggested that he studied in the workshop of Rogier van der Weyden because his works were heavily influenced by the Flemish master.
Again, this is merely speculation and can't be confirmed based on contemporary documents.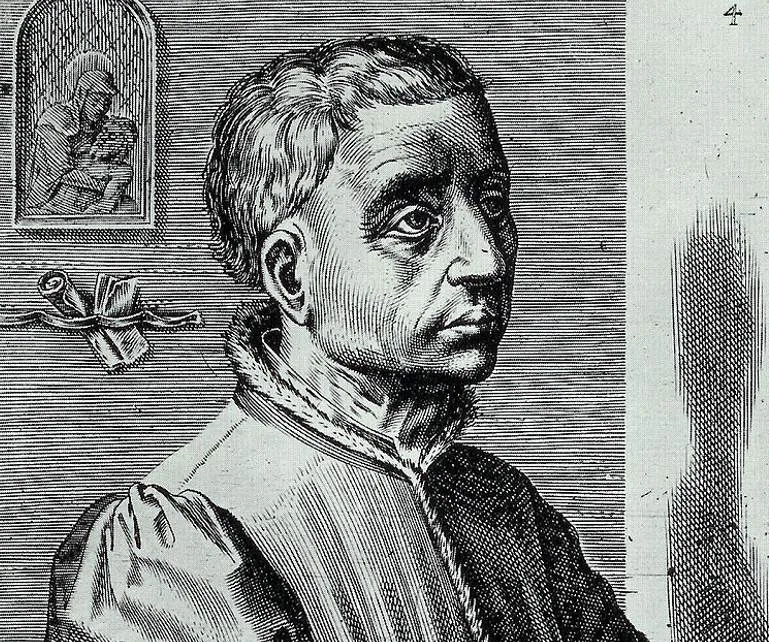 3. He completed his first major painting in the mid-1440s
Dieric Bouts produced his first major work as an independent master in 1445. Back then, when he was about 30 years old.
This work is titled the "Triptych of the Virgin's Life" and consists of 4 panels that are attached to each other. It's a fairly large work as well with dimensions of 80 × 217 centimeters (31 × 85 inches).
All scenes are set within sculpted portals. These were influenced by Rogier van der Weyden's Miraflores Altarpiece (1442-1445), a masterpiece at the Gemäldegalerie in Berlin.
Bouts' first confirmed painting can be admired at the Prado Museum in Madrid.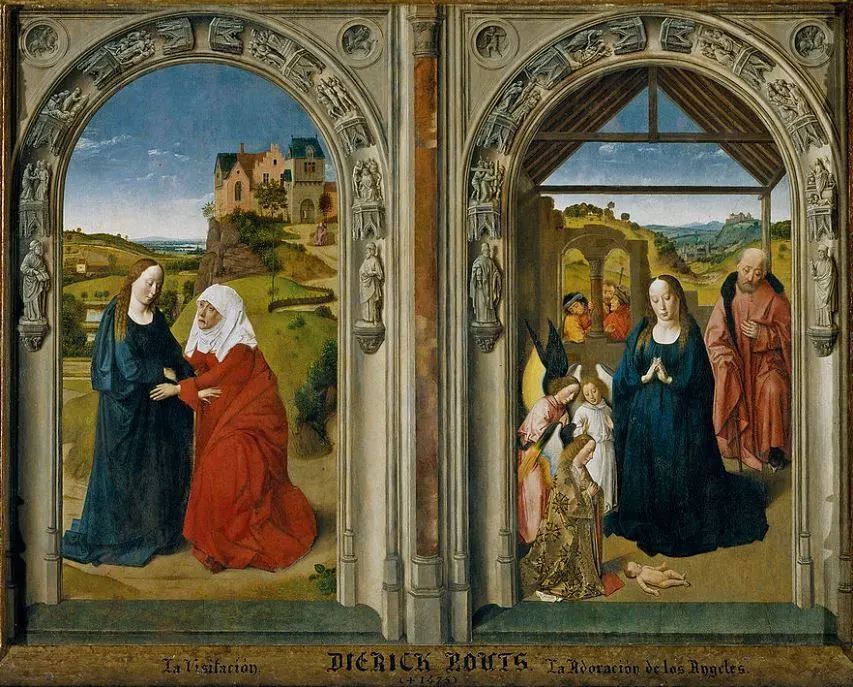 4. It's likely that he settled in the city of Leuven in the late 1440s
If he indeed became a pupil in the workshop of Rogier van der Weyden in Brussels, then he surely didn't move far in the late 1440s.
He married a woman named Catharina Van der Brugghen in 1448 who was the daughter of a wealthy merchant from Leuven.
Leuven, a city known for its incredible Gothic Town Hall, is located just east of Brussels and Dieric Bouts lived here for the rest of his life.
5. He married twice and had 4 children of whom 2 became painters as well
Bouts got married twice and had 4 children, two daughters, and two sons. His daughters lived in obscurity as they joined a convent.
His sons followed in their father's footsteps as they became renowned painters in their own right. Dieric Bouts the Younger (1448-1491) pretty much copied the style of his father.
Aelbrecht Bouts (1452-1549), on the other hand, lived much longer, and he developed a unique style focusing on rich colors and an incredible level of detail.
6. He became the official painter of the city of Leuven in 1468
From 1457, Dieric Bouts appeared in the yearly records of the city of Leuven. This makes it hard to judge whether or not he lived here permanently earlier.
He did take over the role of his master Rogier van der Weyden as one of the leading painters in the region.
This notion is strengthened by the fact that he became the official painter of the city of Leuven in 1468, a rank he held until he died in 1475.
He painted a work titled "The Last Judgment" (1468–1470) for the Town Hall but only two fragments survive today.
These are titled "Road to Paradise" and "The Fall of the Damned" and are part of the collection of the Palais des Beaux-Arts de Lille in northern France.
7. He developed the technique of a single vanishing point in Northern Europe
Dieric Bouts isn't placed on the same level as his predecessors Jan van Eyck and Rogier van der Weyden, and that's mainly because his works lack realism and look rather stiff.
This might have been a reflection of the dogmatic approach to life in Northern Europe when he lived, enforced by the Catholic Church.
Just look at the Fall of the Damned and you instantly understand why people lived a life of fear during this rather gloomy period in history.
He is, however, credited with developing the technique of a single vanishing point. This had been invented by Renaissance artists in Italy and spread to the north throughout the 15th century.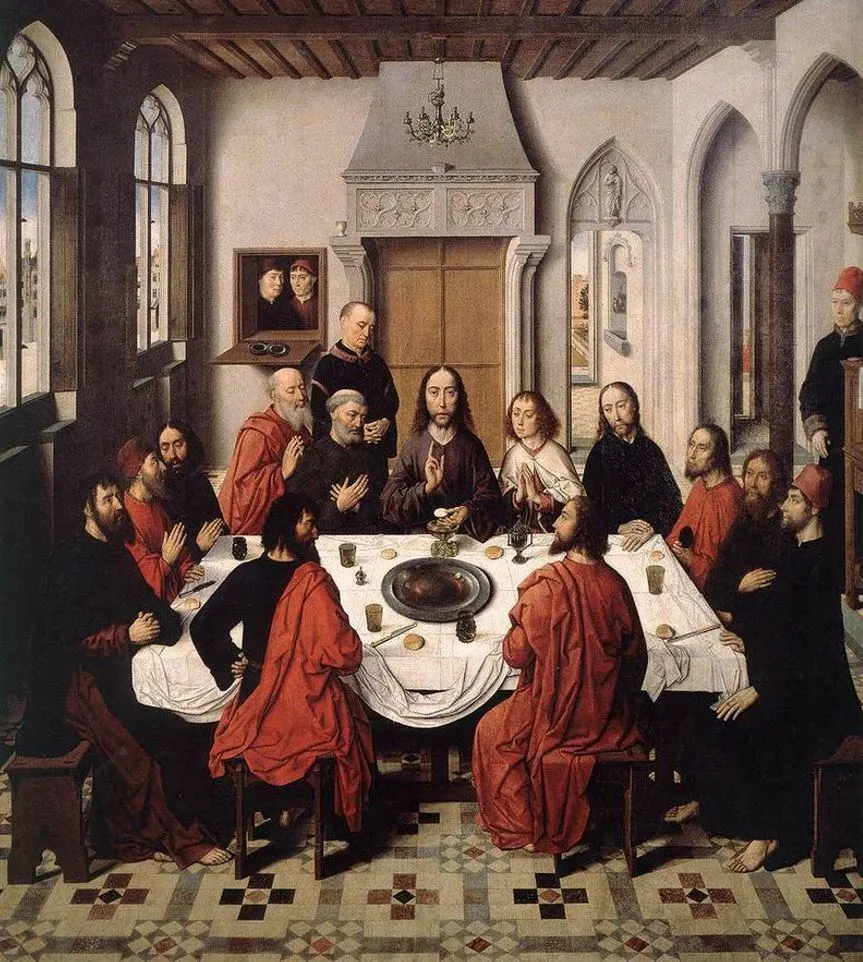 8. There's something special about Dieric Bout's Last Supper painting
The Last Supper is the central part of a larger altarpiece known as the "Altarpiece of the Holy Sacrament" (1464-1468).
This work is on display at St. Peter's Church in Leuven and is likely the reason why his rank was elevated to the official painter of the city the year it was completed.
Not only is his Last Supper painting the perfect example of the technique of linear perspective that he integrated, but it's also one of the few works that are positively attributed to him.
It's also believed to be the first painting on this subject that was ever produced by a Flemish artist.
His approach of focusing on Jesus in the role of a priest performing the consecration of the Eucharist was quite unique as well.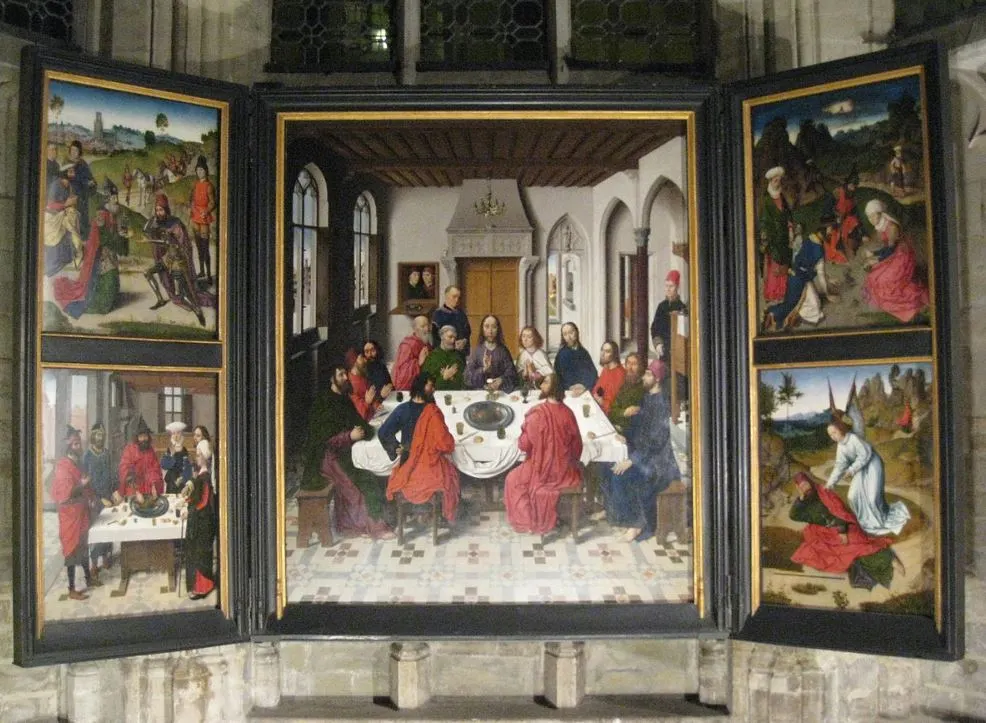 9. Many of his commissions were small devotional paintings
Devotional paintings were very popular in the 15th century and most of Bouts' works were rather small paintings that could easily be carried.
These often featured the Virgin and Child, usually in the same composition. He was a master of Marian paintings and produced several during his career.
The most famous is part of the collection of the National Gallery in London and depicts the Virgin as she is about to breastfeed her infant Jesus Christ.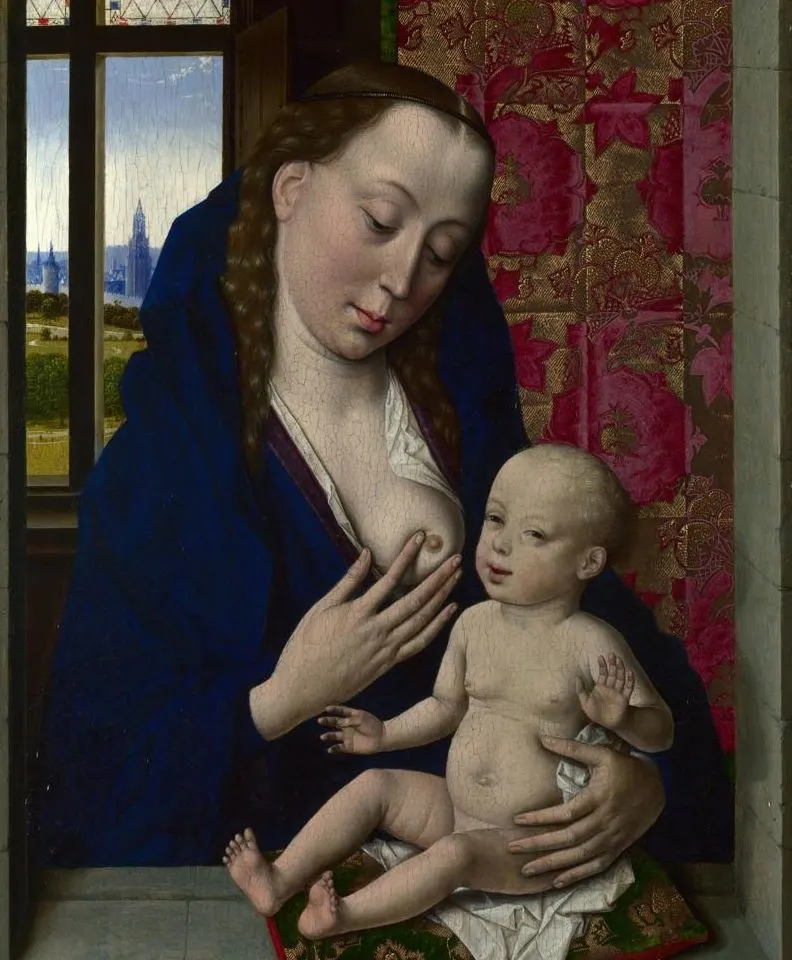 10. He left behind a relatively small oeuvre that is divided into 2 distinct periods
The career is Dieric Bouts is divided into 2 periods, one before he moved to Leuven and one after he had settled in the city.
When this happened remains unclear but he permanently lived there from at least 1457. All paintings after this date fall into his mature period.
His early works were heavily influenced by Rogier van der Weyden, a man who probably trained Bouts for several years.
Bouts left behind an oeuvre of fewer than 50 paintings, and the attribution of several of these is still disputed.
Regardless of this notion, he was definitely a very influential painter of the Northern Renaissance in the 15th century.