A public arts institution known as the Fine Arts Museums of San Francisco comprises two amazing museums in the city.
One of these is called the de Young Museum and is located in one of the most amazing urban parks in the United States, the Golden Gate Park.
The Legion of Honor is the other museum and is located in Lincoln Park in the northwestern corner of San Francisco. It features a stunning collection of European art as well as sculptures and ancient artifacts.
The de Young Museum has one of the most extensive collections of American art in the United States. Its American collection features 1,000 paintings, 800 sculptures, and 3,000 decorative objects.
The museum opened its doors in 1895, a year after the California Midwinter International Exposition of 1894. It was housed in an Egyptian-style building that served as the art pavilion during this exposition.
This structure was destroyed during the 1906 Earthquake and local businessman and journalist Michael de Young (1849-1925) was the main figure in reopening the art museum.
It was housed in a Spanish-style building which was in turn replaced with the current structure in 2005. It was officially named in his honor as the M. H. de Young Memorial Museum.
Below, you'll find a list of some of the most famous paintings at the de Young Museum so you can get a glimpse of the museum's impressive art collection.
1. Rainy Season in the Tropics – Frederic Edwin Church
Date created: 1886
Dimensions: 142.9 x 214 centimeters (56.25 x 84.25 inches)
Rainy Season in the Tropics is a magnificent painting by Frederic Edwin Church (1826-1900), one of the most prominent members of the Hudson River School of painting in the United States. Members of this art movement were landscape painters and Church often included amazing natural phenomena in his works.
---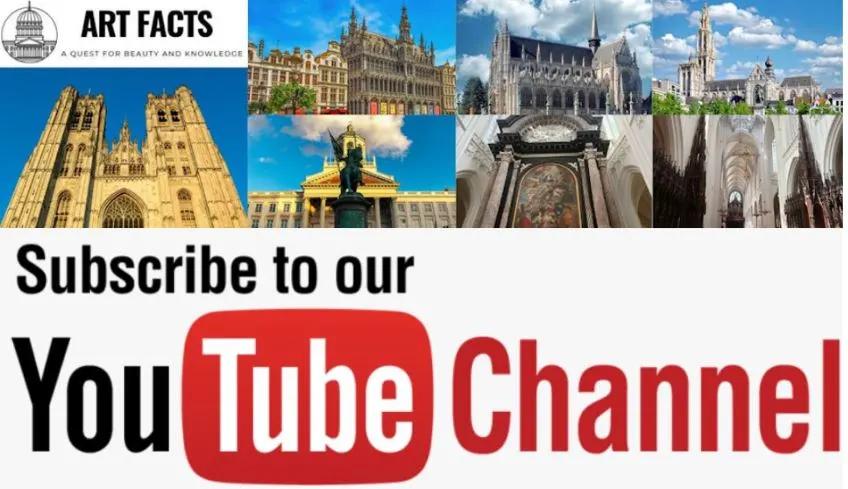 ---
The American artist produced a fantastical landscape in this work with this work. What's remarkable is that many elements are scientifically justified, including the double rainbow. This optical effect is known as "Alexander's Band." The natural elements in the bottom right corner were derived from sketches he made while he lived in Jamaica.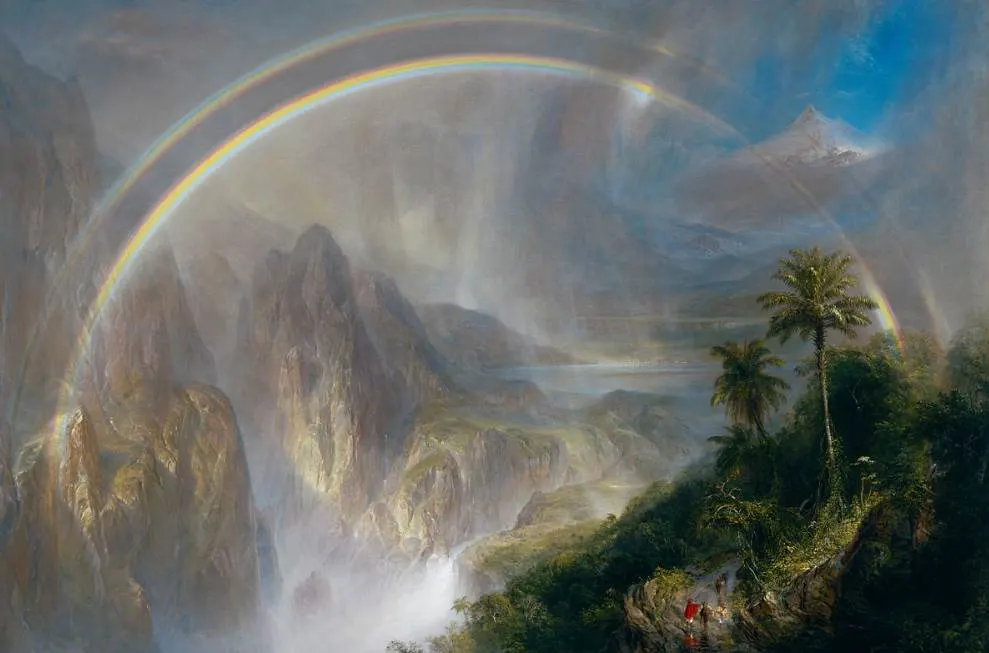 2. A Dinner Table at Night – John Singer Sargent
Date created: 1884
Dimensions: 51.43 x 66.67 centimeters (20.25 x 26.25 inches)
A Dinner Table at Night is a painting by American Impressionist artist John Singer Sargent (1856-1925), a painter who spent most of his career in Europe. This painting was originally titled The Glass of Port or "Le Verre de Porto" and depicts Edith Vickers with her husband Albert at their dining table in the English countryside.
The work depicts the moment shortly after the couple had finished their dinner and a glass of port was brought to the table. This fascinating work of art magnificently captures the atmosphere in this room. The reflection of the silverwork on the table only amplifies this.
3. Prometheus Bound – Thomas Cole
Date created: 1847
Dimensions: 162.56 x 243.84 centimeters (64 x 96 inches)
Prometheus Bound is a huge painting by Thomas Cole (1801-1848), another American artist who was a member of the Hudson River School. It was completed the year before he passed away and it's one of his largest paintings.
What's remarkable is that this immense work of art wasn't commissioned and Cole never explained what he intended to convey. This means that the true meaning of the painting remains up for debate. A common explanation is that it's an allegorical painting derived from the Ancient Greek tragedy with the same name and links to the abolitionist movement of the 19th century.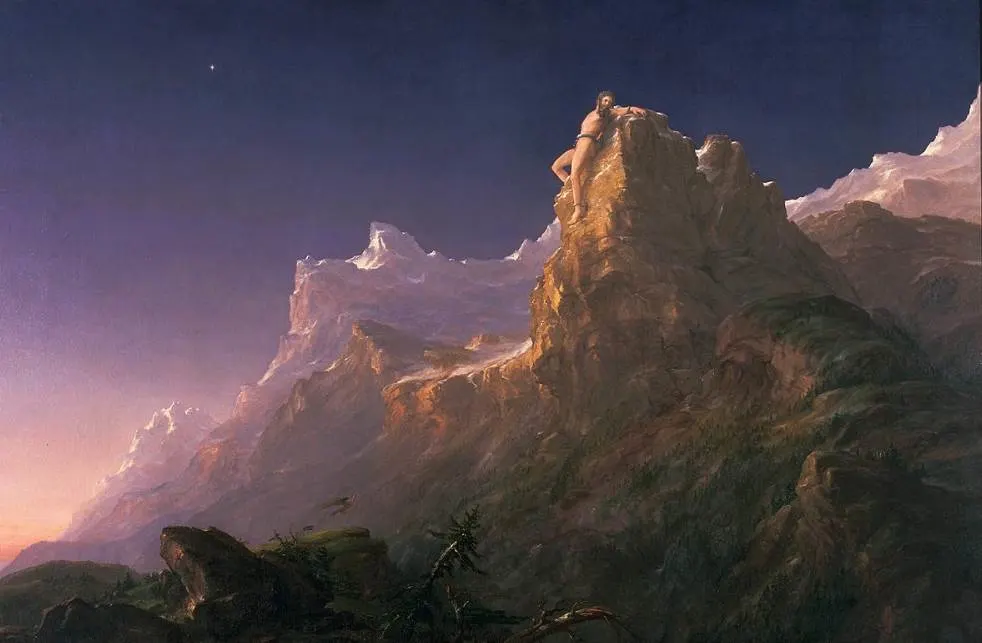 4. The Sphinx of the Seashore – Elihu Vedder
Date created: 1879
Dimensions: 40.6 x 70.8 centimeters (16 x 27.87 inches)
The Sphinx of the Seashore is a remarkable work of art by American Symbolist artist Elihu Vedder (1836-1923). Vedder often traveled to Europe and was influenced by members of the Pre-Raphaelite Brotherhood with whom he often socialized.
Although he often returned to the United States, Vedder lived and worked most of his career in Italy. Although he produced several famous oil paintings, he is best known for his murals and illustrations. This fantastical painting is one of many peculiar works in the artist's oeuvre.
5. California Spring – Albert Bierstadt
Date created: 1875
Dimensions: 137.8 x 214 centimeters (54.25 x 84.25 inches)
California Spring is one of the most beautiful paintings by Albert Bierstadt (1830-1902), yet another prominent member of the Hudson River School of landscape painters. While most artists of this art movement depicted scenes from the Hudson River Valley, Bierstadt mainly focused on the American West.
The landscapes in his oeuvre often include a great sky that dominates the composition. His works were instantly admired and he earned a lot of money during his career. One of his works titled "The Ricky Mountains, Lander's Peak" was acquired for $25,000 in 1865, the equivalent of nearly half a million dollars today.
6. Caius Marius Amid the Ruins of Carthage – John Vanderlyn
Date created: 1807
Dimensions: 221 x 174 centimeters (87 x 68.5 inches)
Caius Marius Amid the Ruins of Carthage is a painting by the American Neoclassical artist John Vanderlyn (1775-1852). He received his formal education in France and often drew inspiration from classical themes. He produced this painting while living in Rome in the early 19th century.
The painting depicts a Roman Consul named Caius Marius who failed to capture Rome in an attempt to seize power in the 2nd century B.C. He exiled himself to Carthage and can be seen among the city's ruins. This work was exhibited at the Paris Salon of 1808 and Napoleon Bonaparte himself awarded it with a gold medal, quite an honor for the American artist.
7. The Blue Veil – Edmund C. Tarbell
Date created: 1898
Dimensions: 73.7 x 61 centimeters (29 x 24 inches)
The Blue Veil is a painting by Edmund C. Tarbell (1862-1938), an American artist who produced numerous amazing Impressionist paintings. he was a member of the "Ten American Artists," a group of artists who exhibited works together after being disgruntled by the conservative American art establishment.
Tarbell was heavily influenced by Claude Monet (1840-1926), the founding father of Impressionism. He adopted the same style as the French master and this work resembles many of Monet's paintings. Especially "Woman with a Parasol," which depicts Monet's wife on a stroll in the countryside, seems to have been a great inspiration for this work.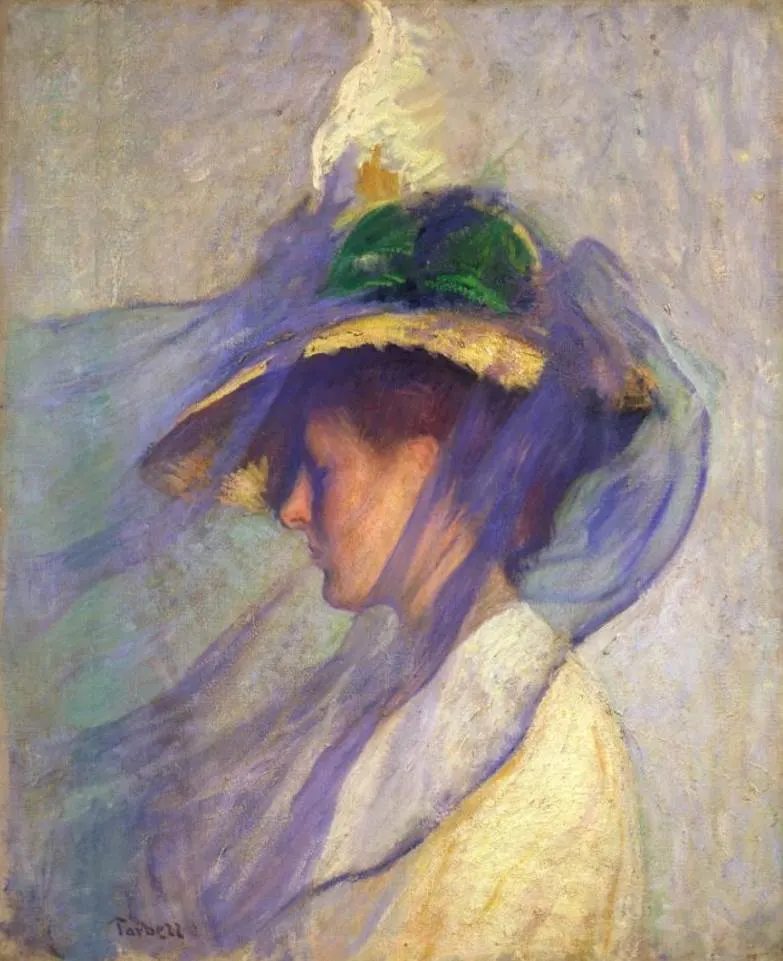 8. Study of a Pipe and Other Objects – William Michael Harnett
Date created: 1874
Dimensions: 30.2 x 21.9 centimeters (11.87 x 8.62 inches)
Study of a Pipe and Other Objects is a painting by Irish-born artist William Michael Harnett (1848-1892). He moved with his family to the United States shortly after he was born and he became a U.S. citizen in the year 1868.
Harnett became famous for depicting paintings of common objects. These paintings integrated a trompe-l'œil which transformed the canvas into a three-dimensional space. This painting is a remarkable work in the artist's oeuvre because he was sharpening his technique which he perfected later in his career.
9. Windsor Castle – Sanford Robinson Gifford
Date created: 1860
Dimensions: 45.1 x 75.9 centimeters (17.75 x 29.87 inches)
Windsor Castle is the title of a painting at the de Young Museum by Sanford Robinson Gifford (1823-1880). He was one of the most prominent members of the second generation of the Hudson River School and is renowned for his use of light which creates fascinating atmospheres.
He was one of the leading artists in the development of "Luminsinsm," a painting technique that emerged in the United States between the 1850s and 1870s. The landscape paintings produced using this technique often appear to be tranquil and calm. This is certainly the case in this work which depicts Windsor Castle in Berkshire in a dark shadow.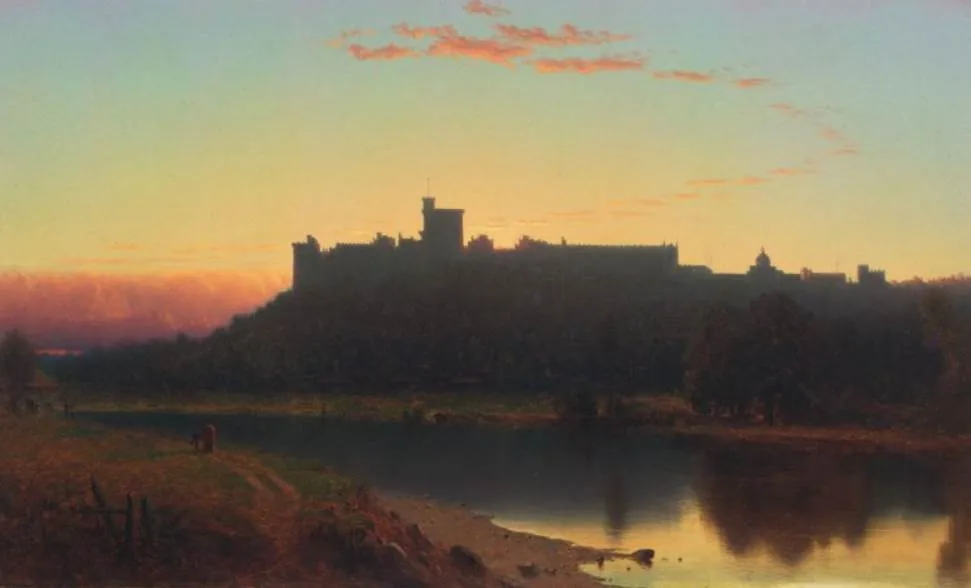 10. The Narrows, New York Bay – Thomas Birch
Date created: 1812
Dimensions: 50.8 x 67.9 centimeters (20 x 26.7 inches)
The Narrows, New York Bay is a painting by Thomas Birch (1779-1851), an Engish artist who came to the United States at the age of 15. He is considered to be one of the most renowned painters of marine subjects of his time and often included landscapes as well.
This particular painting provides a remarkable view of what appears to be Staten Island as seen from the meadows of Brooklyn in the early 19th century. This was just before the area exploded and transformed into the urban landscape we can see in this area today.