The largest painting on display in a museum in a South East Asian country is also one of the ultimate masterpieces of a Filipino painter.
Juan Luna (1857-1899) wasn't merely a renowned painter in the Philippines but is often considered the first internationally-recognized Filipino artist.
This colossal work of art eventually inspired a national hero to write a book that could hold a candle to Luna's painting.
In this article, you'll discover some of the most interesting facts about Spoliarium by Juan Luna, a painting with a fascinating history.
1. It was painted in the 1880s by a renowned Filipino painter and political activist
Juan Luna was a Filipino painter who was born in the small town of Badoc in the utmost northwestern part of the Philippines.
The country was colonized by the Spanish in 1565 and remained colonized until the end of American colonization in 1946.
Luna wasn't just a Filipino painter but also an important member of the Propaganda Movement.
As one of the so-called "Illustrados," he used his art to paint allegorical representations of life during Spanish colonial times.
He started working on Spoliarium in 1883 and completed the huge work of art in May 1884, approximately 8 months later.
2. It depicts a gladiator being dragged out of an ancient Roman arena
---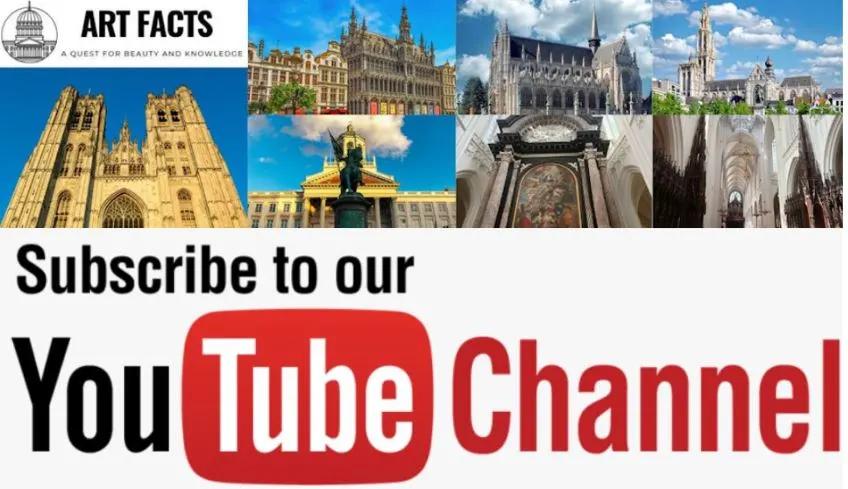 ---
The painting depicts a hectic scene of the aftermath of a bloody form of entertainment during ancient Roman times.
This was a period in history when gladiators, who were armed to the teeth, fought in battles for the sake of public amusement.
Even though gladiators weren't as often killed as modern media would make you assume, these idols of their time were sometimes fatally wounded.
When this happened, they were dragged to an area where they were "despoiled," something that means being stripped of their valuables.
Luna's painting depicts the dramatic moment when deceased gladiators are being dragged out of the arena where they just "performed."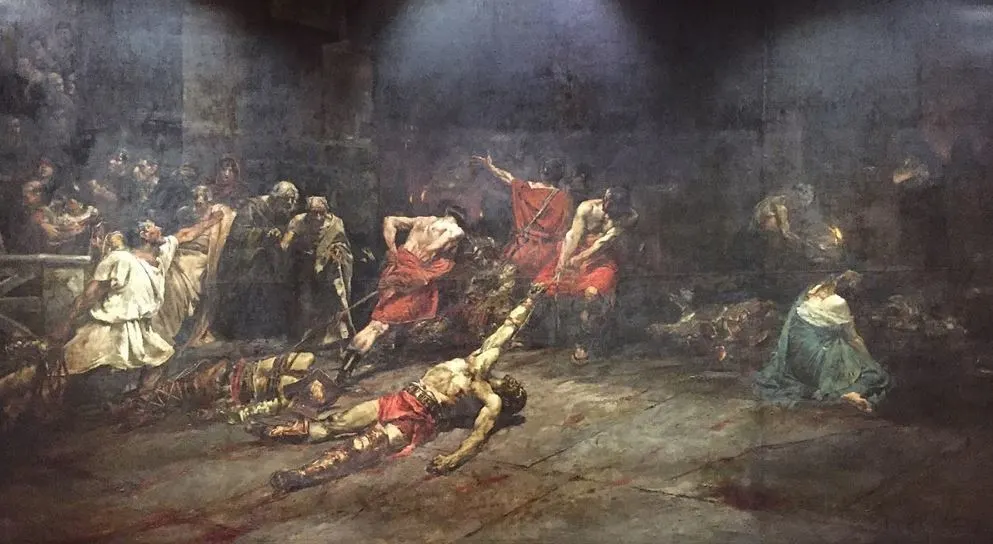 3. The painting won a gold medal at a prestigious event in Madrid
Juan Luna earned his Bachelor of Arts at the academy in Manila before traveling to Europe to study art in the late 1870s.
Upon his return, the Ayuntamiento of Manila, the name of the local government during Spanish times, asked him to paint a large canvas.
The work was to become one of his ultimate masterpieces and he decided to ship it to Madrid in May 1884 so it could be submitted to the Exposición Nacional de Bellas Artes that year.
Spoliarium won the Gold Medal during this event, a great success for the Filipino painter who instantly made a name for himself with this triumph.
4. It was an important painting in the decade leading up to the Philippine Revolution
The gold medal for Juna Luna was adjoined by a silver medal for Félix Resurrección Hidalgo (1855-1913) with his painting titled "Las Virgenes Cristianas Expuestas al Populacho."
This made Luna's triumph not merely that of an individual painter but also for Filipino painters in general.
The painting was considered to be an allegory of the Spanish colonization and José Rizal referred to this notion as follows:
Luna's Spoliarium with its bloody carcasses of slave gladiators being dragged away from the arena where they had entertained their Roman oppressors with their lives… stripped to satisfy the lewd contempt of their Roman persecutors with their honor.
5. It inspired José Rizal to write the most important novel in Philippine history
José Rizal is a national hero for the Philippines because he was one of the leaders of the Philippine Propaganda Movement.
The polymath claimed that he was inspired by Juan Luna's Spoliarium to write his novel "Noli me Tangere," the most famous Philippine novel ever written.
His work focuses on the inequality between Spanish rulers and local residents during Spanish colonial times and Rizal saw similarities between his novel and the painting.
He once referred to Luna's painting in reference to this as:
The tumult of the crowd, the shouts of slaves, the metallic clatter of dead men's armor, the sobs of orphans, the murmured prayers…
6. A boceto discovered in 2018 sold for over P73 million
It's assumed that Juan Luna painted at least 4 different versions of the work, of which only one is on public display.
One is part of the private collection of an unknown Russian nobleman (so it's location is unknown as well), and two others are privately owned.
A "boceto" or "sketch" that is believed to predate the large version completed in 1884 resurfaced in 2018 and was auctioned that year.
It ended up being sold for P73.584 million, the equivalent of nearly $1.4 million.
7. How big is Juan Luna's Spoliarium?
One of the things that makes this such a fascinating work of art is the sheer size of this monumental painting.
Spoliarium by Juna Luna is a huge oil on canvas painting that has dimensions of 4.22 × 7.675 meters (13.8 × 25.18 feet).
8. Where is Luna's large painting located today?
Following the painting's success in Madrid, it was displayed in both Rome and Paris. It was bought by the provincial government of Barcelona for 20,000 pesetas following the exhibition in the French capital.
It was displayed at the Museo del Arte Moderno in Barcelona in 1887 and stayed there until 1937. It was badly damaged during the Spanish Civil War but was restored in Madrid.
The restoration work was completed in 1957 and it was eventually donated to the Philippines that year.
Today, you can still admire this amazing painting at the National Museum of Fine Arts in Manila where it's the first painting that welcomes you upon entry.