This Italian painter is considered to be one of the greatest Mannerist Masters in history.
In this post, you'll discover the ultimate list of interesting Paolo Veronese facts, a man who produced numerous monumental paintings.
1. His name refers to his place of birth but he had other names as well
Paolo Veronese (1528-1588) was an Italian Mannerist painter, a period also referred to as the "Late renaissance." He was born in Verona and his father was a stonecutter named Gabriele. His mother was named Caterina.
In the Venetian Republic, it was quite common to use the profession of the father as a surname, so he was initially known as "Paolo Spezapreda," referring to the stonecutter.
He later took on the name "Paolo Caliari" in reference to his mother's father who was a nobleman. He also signed his first painting as "P. Caliari F." It wasn't until he moved to Venice in the 1470s that he first used the name he is remembered by which is "Paolo Veronese."
2. He was trained in Mannerism but developed his own style
as with most famous artists, his talent was recognized early on. That's why he started his training with fellow painter Antonio Badile at the age of 13 in the year 1541. Just 3 years later he transferred to the studio of Giovanni Francesco Caroto, an equally renowned Renaissance painter in Verona.
His training was based on the ideals of Mannerism, an art movement that basically exaggerated the balance and ideal beauty of the Renaissance period and which lasted until it was replaced by Baroque in the 17th century.
He did, however, quickly develop his own version of Mannerism which is characterized by a fascinating use of color to create a dramatic effect, often depicted in a setting full of architectural marvels.
3. He's one of the 3 great Venetian painters of the 1500s
Paolo Veronese is added to a magnificent list of the 3 great Venetian painters of the 16th century. Along with him, this list includes Tiziano Vecelli, best known as Titian, and Tintoretto, both of whom were older.
---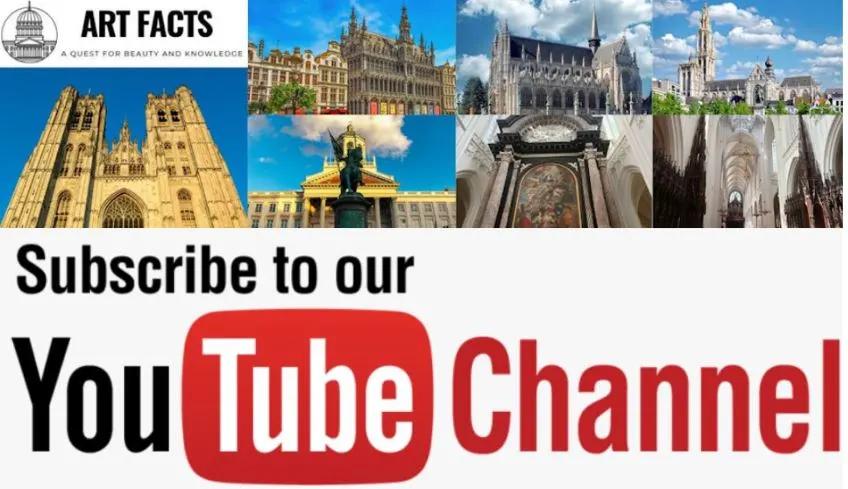 ---
His biggest influence was the works of Titian. He clearly idolized this famous Renaissance artist and it shaped his naturalist style of painting which he exaggerated with his wonderful use of color.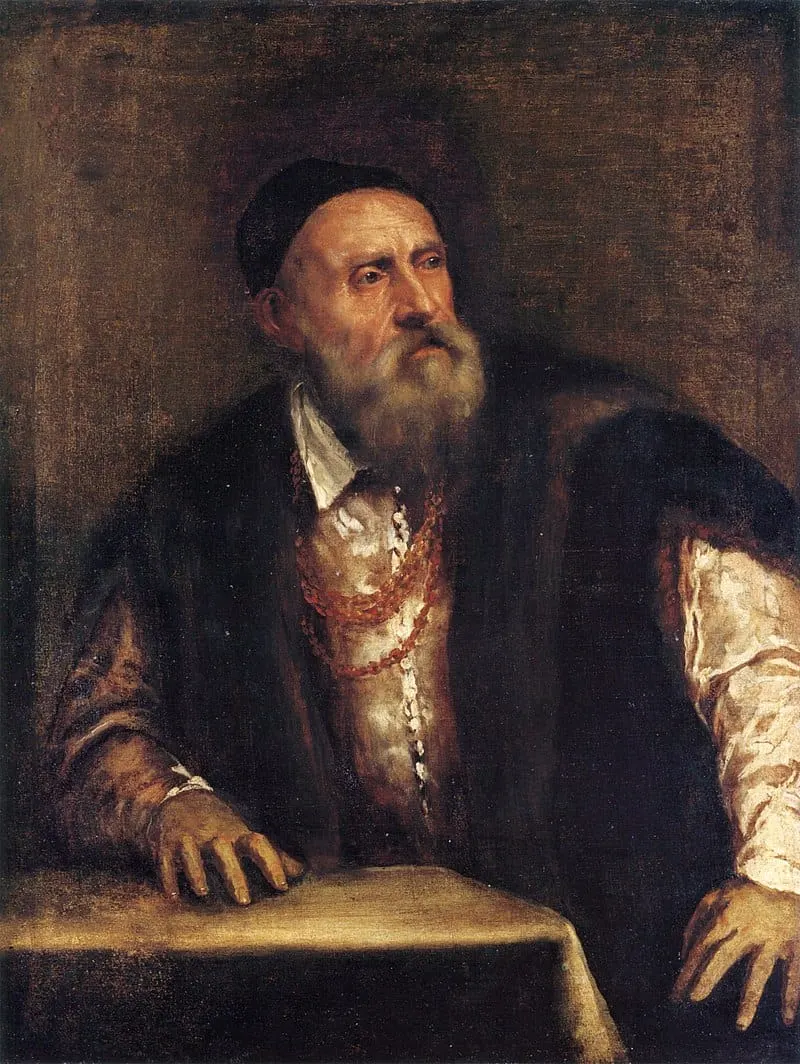 4. His most famous works depict lavish banquets and feasts
Even though he created altarpieces and portraits as well, Veronese is best known for his extremely large history paintings of religion and mythology. Some of his most famous paintings are of lavish banquets of monumental proportions.
Even though it's considered to be his least successful banquet painting, he was commissioned a painting called "Feast in the House of Simon" in 1556 and only completed it in the year 1570.
The enormous frescoes were commissioned to decorate the refectories of monasteries in both Venice and Verona.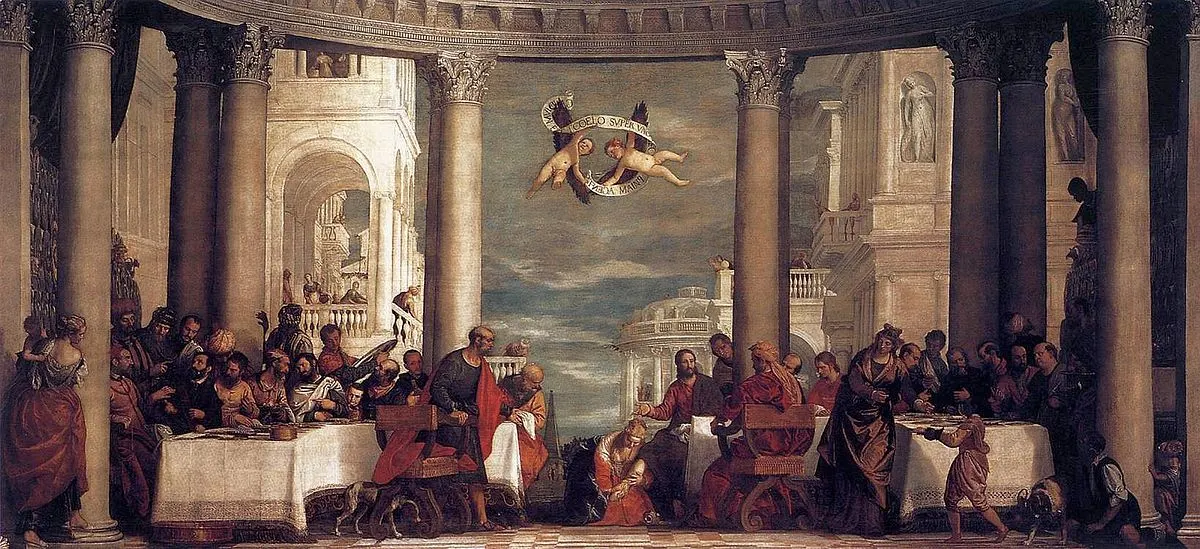 5. He created the largest canvas painting of the 16th century
One of the most amazing Paolo Veronese facts is that the monumental size of his paintings earned him a remarkable record. A painting that he completed in 1573 is considered to be the largest oil on canvas painting created in the 16th century!
This painting is called "The Feast in the House of Levi" and has dimensions of 560 × 1,309 centimeters (18.37 × 42.95 feet) and was commissioned for the refectory of the "Basilica di Santi Giovanni e Paolo" in Venice.
This massive painting can now be admired in the Gallerie dell'Accademia in Venice.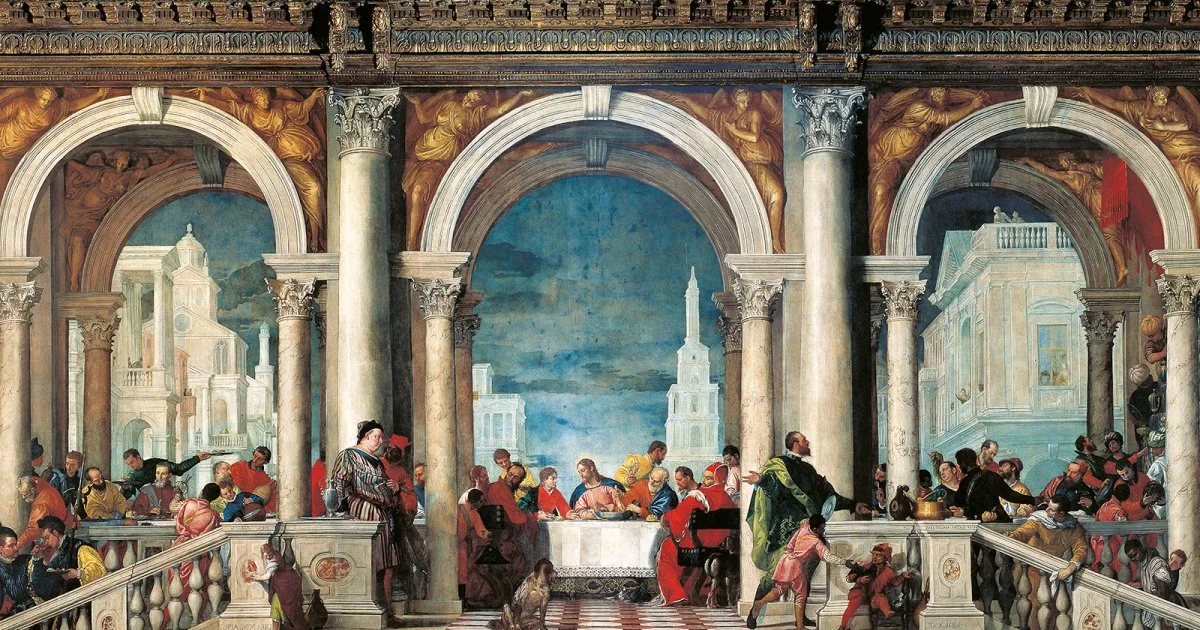 6. One of his most famous banquets almost got him into serious trouble
One of the most intriguing Paolo Veronese facts is that "The Feast in the House of Levi" was originally a painting called "The Last Supper." Instead of creating a traditional scene of Jesus and the Twelve Apostles as, for example, da Vinci's Last Supper Painting, he went completely overboard and included all sorts of people, dwarves, and even wild animals.
This wasn't to the liking of the newly established Inquisition in Venice in the 1570s and he had some explaining to do regarding his irreligiosity. After all, they were installed to enforce the theology of the Counter-Reformation, a response by the Roman Catholic Church to the Protestant Reformation.
Luckily for Veronese, his reputation was already established and the tribunal's interrogation was one of respect for the opinion of Paolo who simply stated that artists "have the same liberties as poets and madmen."
That's why the name of the painting was changed to "The Feast in the House of Levi" and he managed to get off without punishment, most probably because of the political support he received.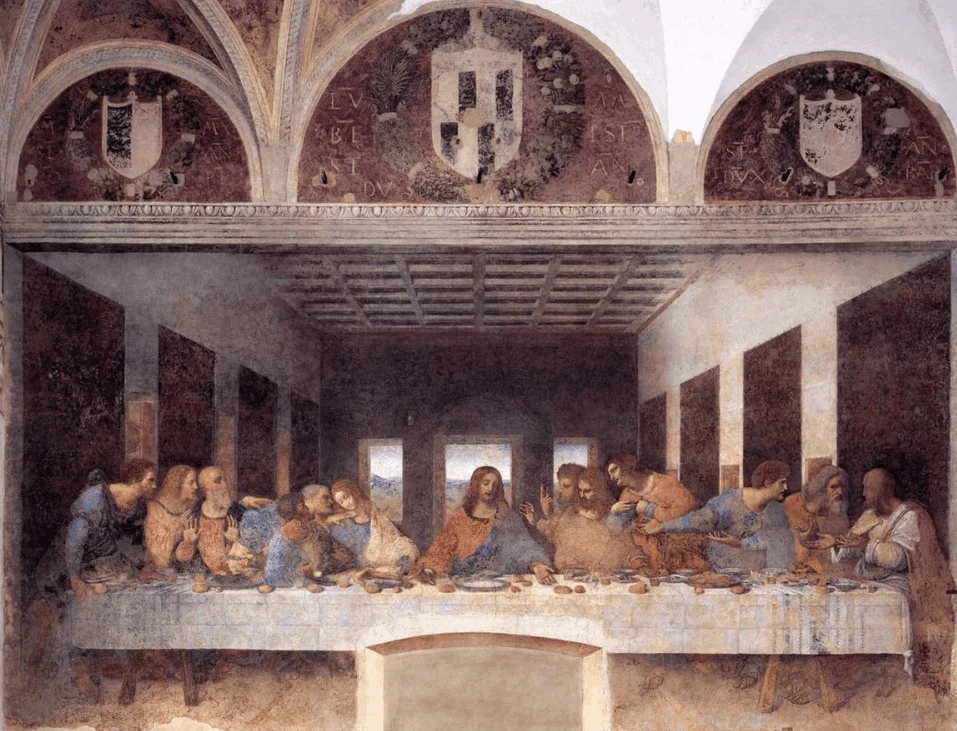 7. He was the most famous painter of ceilings in Venice
Veronese moved to Venice in the year 1553 and he immediately received his first major commissions. These were two frescoes on the ceilings of the "Sala dei Consiglio dei Dieci" and the "Sala dei Tre Capi del Consiglio."
Both of these frescoes are located in the Doge's Palace in Venice, one of the most famous landmarks in the city.
This work pretty much established his reputation as one of the greatest painters of the Venetian School and resulted in multiple more commissions for ceilings all across Venice, including in the church of San Sebastiano and the Marciana Library.
8. He was the leader of his popular family workshop
One of the most interesting Paolo Veronese facts is that multiple members of his family looked up to him and became successful artists as well. This included his younger brother Benedetto (1538–1598), his sons Carlo (1570-1596) and Gabriele (1568-1631), and his nephew Luigi Benfatto (1551-1611).
They all worked together in the workshop that Paolo had set up for himself in Venice. This workshop was operational for at least a decade after his death in 1588 as well and their work was signed "Haeredes Pauli" ("Heirs of Paolo") during this period.
It's assumed that few of the paintings created after 1580 were solely completed by Paolo alone.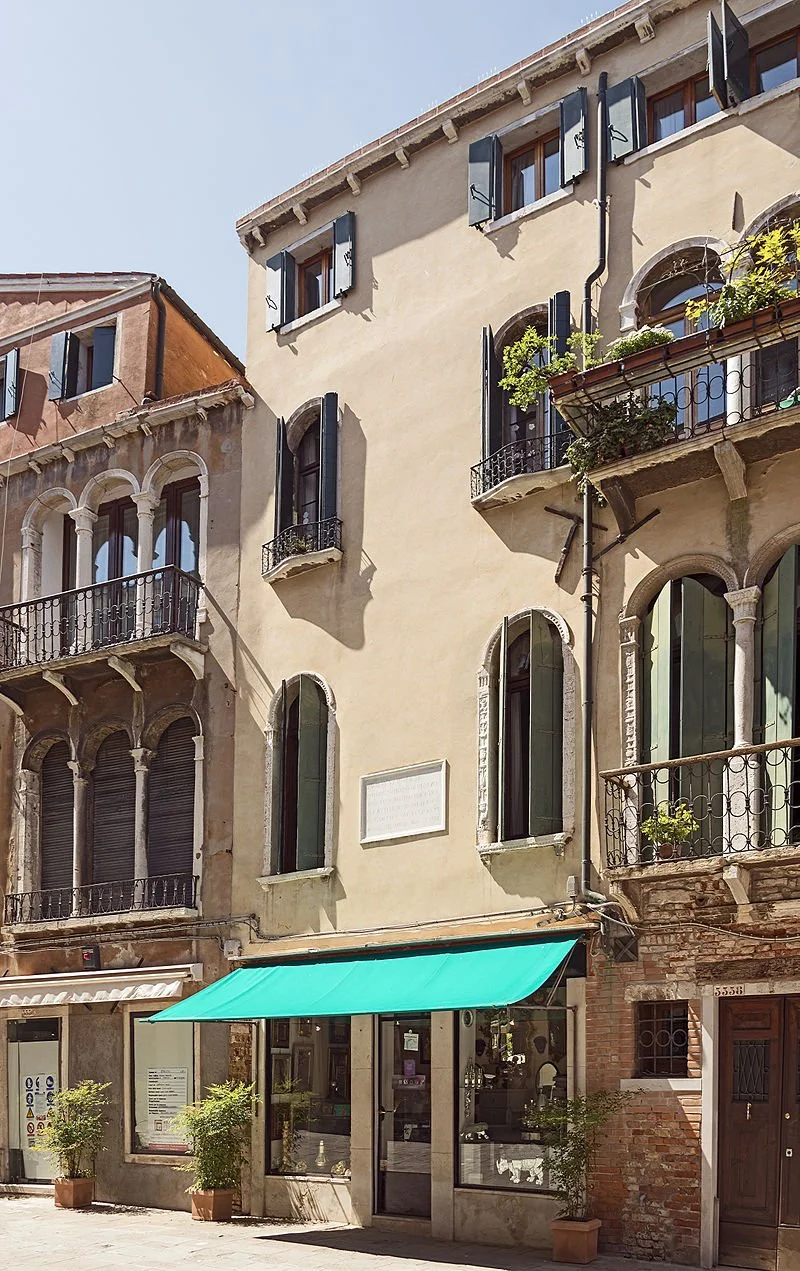 9. Modern art historians aren't convinced about his real qualities
Not everybody is able to appreciate the work of Paolo Veronese. Most art historians put him at the bottom of the list of 3 great Masters of the Venetian School in the 16th century, which is obviously not something to be ashamed of considering Titian and Tintoretto, both his seniors, are the other 2.
The main criticism his work receives is the fact that it focuses too much on the use of color to create a harmonious effect, hence failing to convey a clear message.
When we look at perhaps his most famous work, "The Wedding at Cana" (1562-1563), another one of his enormous banquet paintings, this becomes quite clear.
10. Many of the greatest artists in history were among his admirers
Despite the lack of an ultimate narrative in his work, he is still appreciated as one of the greatest colorists in history, if not the best. He was able to maintain natural tones and create light without a darker contrast, which was assumed to be impossible.
This earned him the respect of a lot of his colleagues, including some of the most famous Baroque artists such as Peter Paul Rubens and Jean Antoine Watteau, as well as various Romantic artists and Impressionist artists of the 19th century.
They saw Veronese's work as an example which means he helped to lay the foundation of modern painting!