If you take a closer look at the oeuvre of Johannes Vermeer (1632-1675), you'll notice that many of his paintings depict a similar scene.
Several people make returning appearances and the renowned Dutch artist also included the same objects in multiple works.
Let's take a closer look at some of the most interesting facts about Officer and Laughing Girl by Vermeer, a delicate work of art by the Baroque master that exemplifies the artist's style.
1. It was painted shortly after Vermeer got married in the 1650s
Johannes Vermeer is a rather mysterious character in the world of art. That's mainly because most of his paintings have only been rediscovered in the 19th century.
Nothing is known about his training as an artist. It appears that he did nothing else in his life than produce delicate little paintings.
He got married to a wealthier woman than himself. He moved into his mother-in-law's house in Delft after getting married in 1653.
This was also the year that he joined the local painter's guild in Delft known as the Guild of Saint Luke. Times were hard in the early 1650s and he was unable to pay the admission fee.
Because this painting titled Officer and Laughing Girl or "De Soldaat en het Lachende Meisje" in Dutch, isn't dated, it's hard to figure out exactly when he completed this work.
Based on stylistic elements, it's generally agreed that it was completed between 1655 and 1660, shortly after he got married.
2. The artist's wife possibly served as a model for the painting
---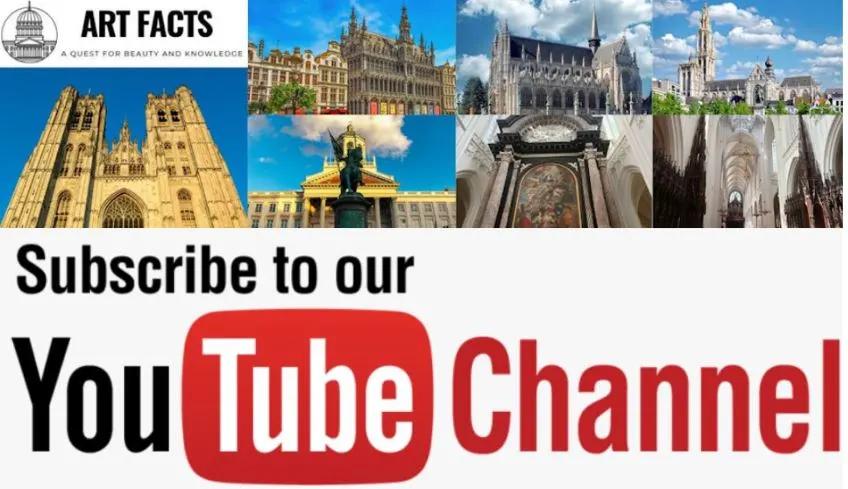 ---
Johannes Reijniersz Vermeer got married to a Catholic woman named Catharina Bolenes (1631-1687) in April 1653. She was a year older than the artist and he converted to Catholicism before the event took place.
There has been no reference whatsoever as to who the people in Vermeer's paintings were. Art historians do agree that it's very likely that he included his daughters and wife in his work.
The young girl in his famous Girl with a Pearl Earring might have been his daughter, while Girl Reading a Letter at an Open Window has been suggested as being a portrait of his wife.
The distinctive yellow dress worn by the young woman in this painting was used by the artist in several other works. She wears a cap over her head but her facial expression suggests that his wife might have posed for this work.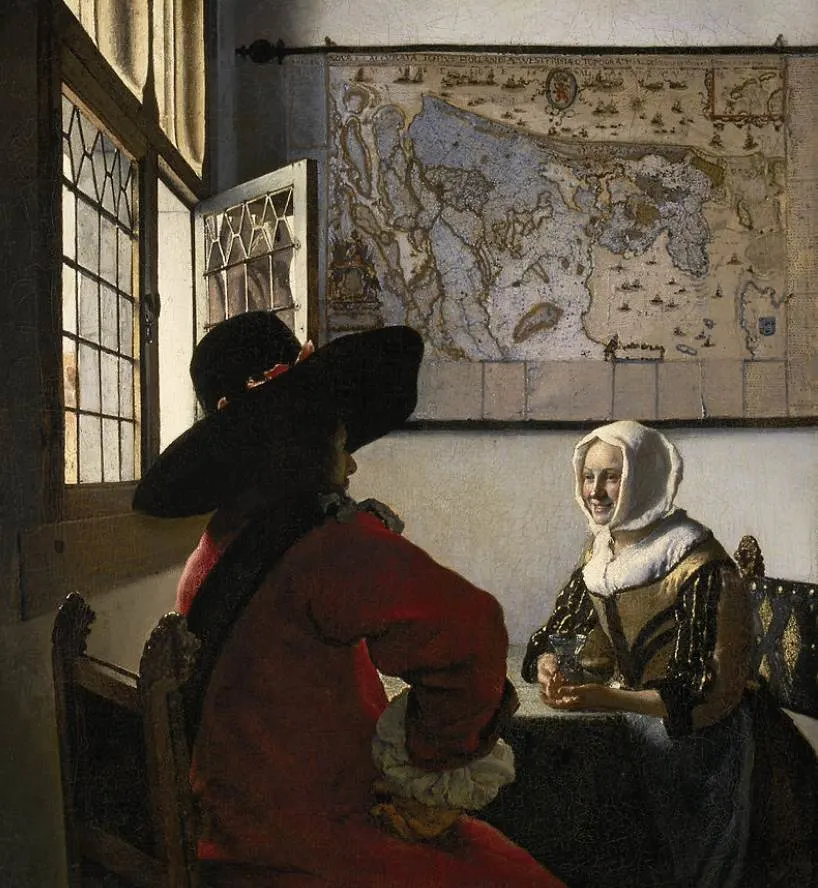 3. The hat worn by the man in the foreground reveals his high rank
The smiling woman is the main figure and the man in the foreground is a mysterious cavalier who is accompanying her.
His red coat and expensive fur hat reveal that he was a high-ranking officer, probably from New Netherlands. This was the colony of the Dutch Republic on the East Coast of the United States.
The red color of his coat emphasizes his power and wealth as an officer in the Dutch West India Company.
This was a company of Dutch merchants who focused on foreign investments during the Dutch Golden Age. This included the horrible business of the Atlantic slave trade.
The map has been identified as Blaeu's 1621 map of Holland and West Friesland and is incredibly accurate as well.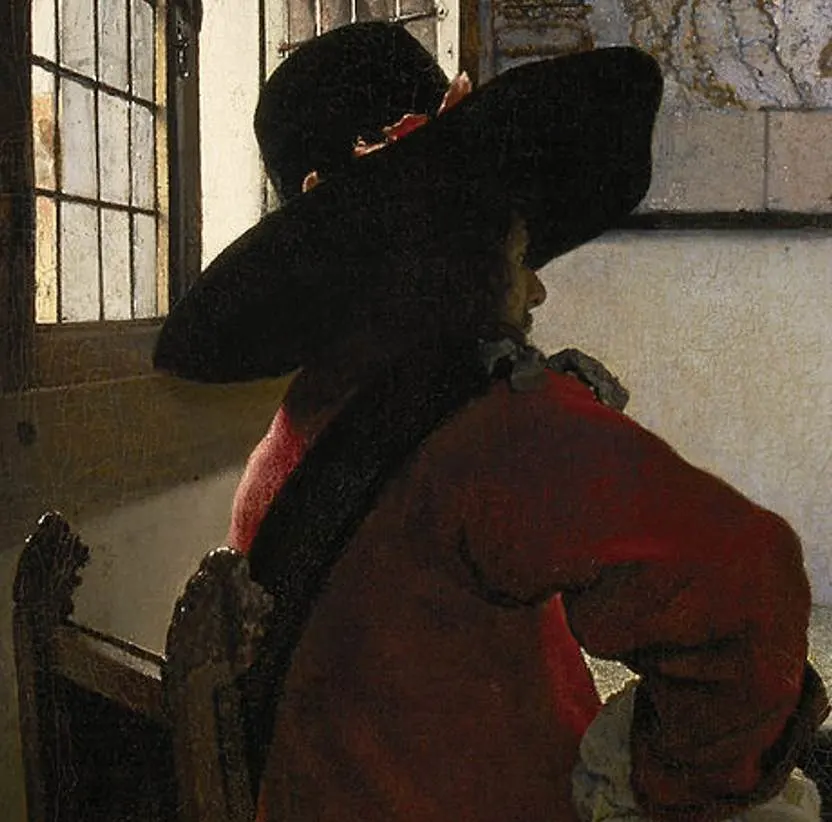 4. The artist didn't intend to paint the woman the way he did initially
Vermeer was an extremely slow painter who put a lot of effort into the details in his works. He also often made changes to the composition.
The same applies to this painting because x-ray studies have released that the white collar of the girl was initially much larger. He made it smaller so it wouldn't cover most of her yellow dress.
The cap on her head was initially much smaller as well but the artist enlarged it so it would cover all of her hair. He probably did this to put a higher emphasis on her facial expressions.
The girl is holding a glass of wine, an element that stresses her wealth because white wine was quite expensive at the time.
5. Vermeer used a specific technique that was popular in the Baroque era
The officer in the foreground leads the viewer toward the smiling girl who is sitting at the table. Vermeer didn't include the man here without reason.
He integrated a technique referred to as "repoussoir," a feature in which a figure in the bottom left or right corner directs the viewer towards elements in the background.
Mannerist artists experiment with this technique and it was frequently integrated into Baroque paintings in the 17th century.
Impressionist artist Gustave Caillebotte integrate the repoussoir technique into one of his most famous works titled "Paris Street, Rainy Day" (the figure with an umbrella in the bottom right corner).
6. The artist might have used a special device to complete this work
The main source of light some from the left through the open window. This is often the case in paintings by Johannes Vermeer who produced many of his works inside the same room.
Some art historians have suggested that he might have used a mechanical aid known as a "Camera Obscura." This device projected an image onto a wall inside a dark room through a small hole.
There has been no conclusive evidence that he used such a device, but the remarkable composition, use of perspective, and the fact that most of his paintings were produced in the same room might point towards this.
7. How big is Officer and Laughing Girl by Johannes Vermeer?
Just like most of his other paintings, this is a delicate little work of art that he produced using the common pigments of his time such as ochres, lead-tin-yellow, natural ultramarine, and azurite.
Officer and Laughing Girl by Johannes Vermeer is an oil on canvas painting with dimensions of 50.48 cm × 46.04 centimeters (19.87 × 18.13 inches).
8. Where is the painting located today?
The painting has a remarkable history and has changed hands several times.
It was sold together with multiple other Vermeer paintings in Amsterdam on May 16, 1696, for 44.5 florins.
The painting was sold once more in the 19th century to a French collector named Léopold Double (1812-1881). He bought it for 235 guineas in London while assuming it was a work by Pieter de Hooch.
It was sold for 8,800 francs following the death of Double to Prince Demidoff di San Donato, Villa di Pratolino, near Florence.
It was acquired by American industrialist Henry Clay Frick (1849–1919) in 1911.
Today, the painting is on public display at the Frick Collection in New York City.