You don't get overwhelmed by joy when staring at this remarkable Impressionist painting, but it's a masterpiece in its own right.
Edgar Degas (1834-1917) was a very versatile French artist who was one of the founders of the Impressionist art movement. He was a prolific Impressionist artist too.
In this article, you'll discover some of the most interesting facts about L'Absinthe by Edgar Degas, one of the artist's most notable paintings.
1. It was completed shortly after Degas had sold everything he owned
Edgar Degas was an important French artist who produced both paintings and sculptures and who has been described as an excellent draughtsman.
His artistic talent became clear from a very young age and he completed his formal education at the prestigious École des Beaux-Arts in his native Paris.
He had family in Naples, Italy, and traveled to Italy in the late 1850s. His mother was from New Orleans and he stayed there several years after the Franco-Prussian War in 1872.
Upon returning to France, he discover that his brother was in serious debt and his father passed away around the same time. He sold his house and art collection to save his brother's financial woes.
Because he was just about broke, he had to paint for a living and he produced some of his most famous works during the late 1870s and early 1880s.
He completed "L'Absinthe" between 1875 and 1876, around the time that he had to mass-produce artworks to make a living.
2. It depicts a man and woman who don't seem to have a great time
---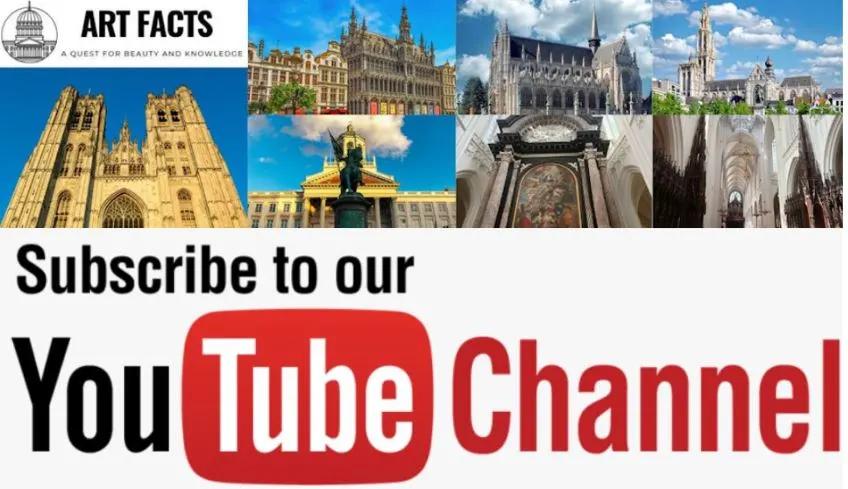 ---
The painting that goes by the painting "L'Absinthe" today has had several different names throughout its history.
Degas originally referred to it as both "A sketch of a French Café" and "Figures at Café." Other alternative titles of the work are "The Absinthe Drinker" and "Glass of Absinthe."
The painting depicts a lethargic woman with a glass of absinthe in front of her. She is accompanied by a smoking man who looks at something outside of the painting.
The general feeling about this painting is one of sadness and loneliness, and that's putting it nicely.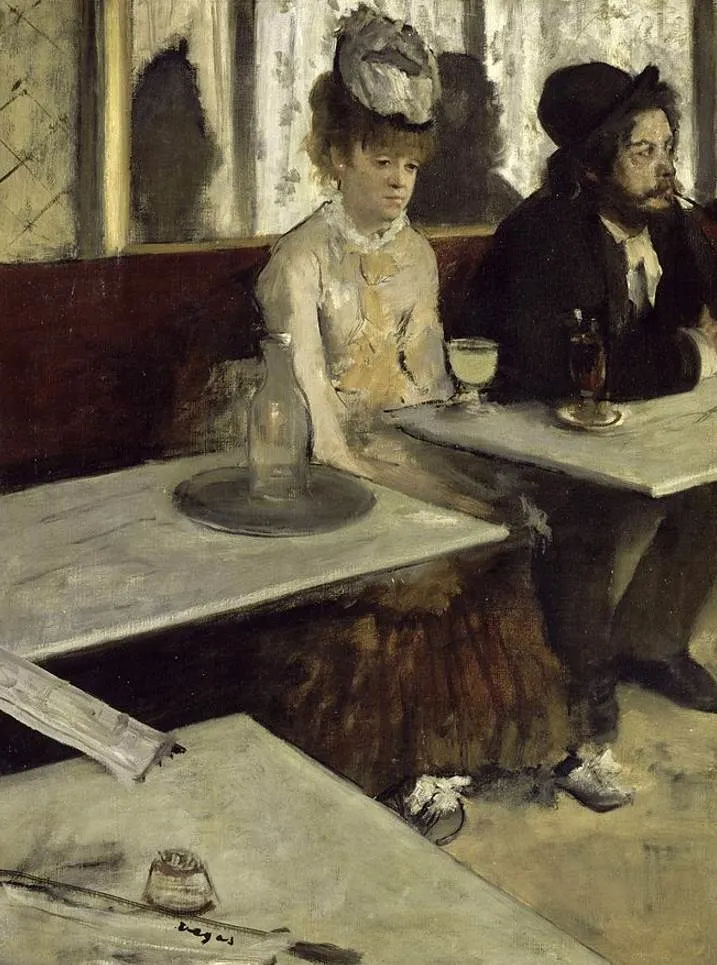 3. Both the man and woman have been positively identified
The models in this painting are two acquaintances of the artist. The man has been identified as Marcellin Desboutin (1823-1902), a colleague of Degas who was a painter, printmaker, and writer.
He was a well-known figure among ht Impressionists and even exhibited 6 paintings at the second Impressionist exhibition in 1876. This was around the time that this painting was completed.
The woman was a French model named Ellen Andrée (1856-1933). She modeled for several paintings by both Edgar Degas and other Impressionists, including Édouard Manet and Pierre-Auguste Renoir.
One of her most notable appearances was in Renoir's masterpiece Luncheon of the Boating Party (1881). This painting is on display at the Phillips Collection in Washington D.C.
4. The bar in which the scene takes place was located near Montmartre in Paris
We not only know who the people in the painting were, but we also know where the scene took place. The bar was called the Café de la Nouvelle-Athènes in Paris.
This was a common meeting place for the Impressionists and not surprisingly, it was located near Montmartre Hill, the art district of the city.
This establishment was rebranded several times and served as a striptease club called "The Sphynx" and a rock venue called "New Moon" until the 1990s.
Unfortunately, the building was destroyed by a fire in 2004.
5. The painting received devastating reviews in both French and English exhibitions
Although the quality of L'Absinthe by Edgar Degas is magnificent, the subject matter was generally disliked and even ridiculed by art critics.
We do need to understand the negative connotation that absinthe, a very strong anise-flavored type of liquor, had in the 19th century. Some referred to it as the cocaine of its era because of the impact it had on its consumers.
The painting was first displayed in 1876 and destroyed by critics who referred to it as a scandalous painting. For this reason, it was kept in storage until 1892.
It was displayed once again at Grafton Gallery in England in 1893 and here it became an even more controversial work.
6. The idea that it presents a moral lesson has been refuted in recent times
So why were critics so shocked about this particular work of art?
Most people who saw it at the exhibitions considered it to be a work that didn't pass the morality standard of the time. Seeing two drunks like this certainly wasn't appreciated in Victorian England.
The woman was considered to be a prostitute and the painting, in general, was regarded as a general warning of the use of absinthe.
Today, the painting is merely considered to be an accurate representation of 19th-century drinkers in Paris, nothing more.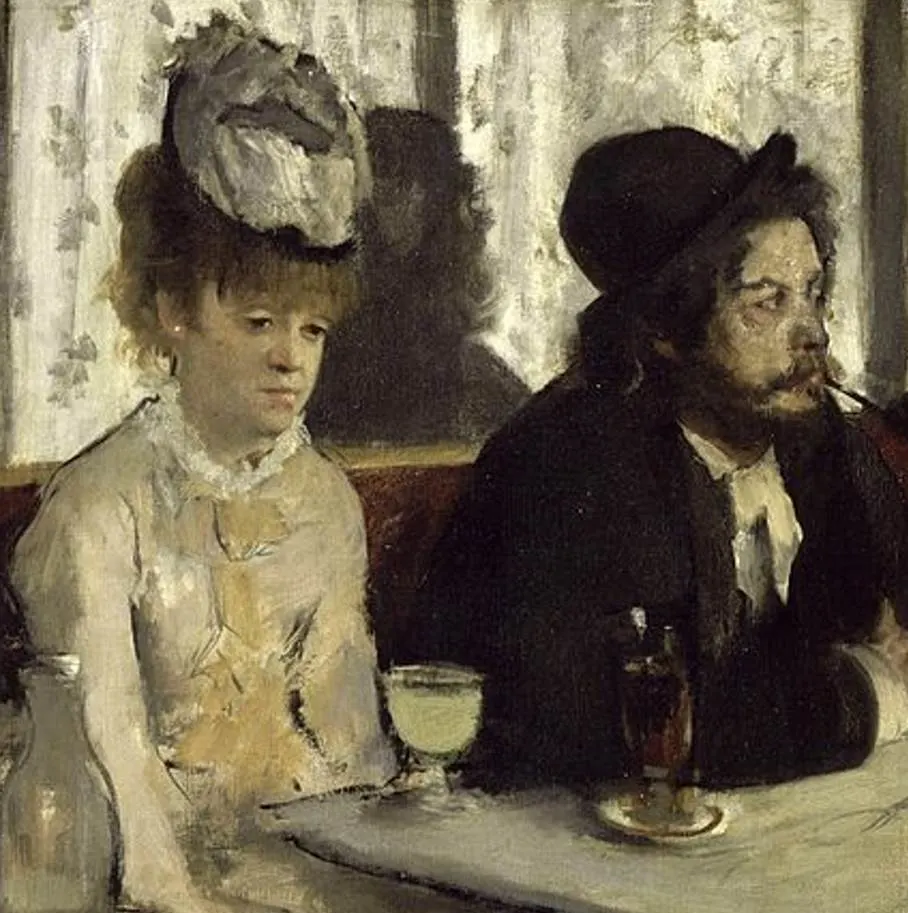 7. How big is L'Absinthe by Edgard Degas?
The French artist was short on cash in the 1870s which means that he never really produced large paintings during this phase of his career.
L'Absinthe by Edgar Degas is a small to medium-sized oil on canvas painting with dimensions of 92 × 68 centimeters (36.2 × 26.8 inches).
8. Where is the painting located today?
The painting was owned by a large number of art collectors in the late 19th and early 20th centuries. It ended up in the collection of Isaac de Camondo (1851-1911) in 1893.
After the rich member of the House of Camondo passed away, his collection including Edgar Dagas' masterpiece was bequeathed to the French state.
It became part of the collection of the Louvre in 1911 and stayed there until 1986. Today, it's on display at the Musée d'Orsay in Paris.