It took over 4 centuries before the paintings of this famous Italian artist were valued for what they are worth, and there's a very simple reason for that.
Sandro Botticelli (1445-1510) was at the height of his career when the High Renaissance started but he never developed the same style as his contemporaries.
Regardless of this notion, he is considered to be one of the greatest Renaissance artists in history who produced some of the ultimate treasures in art history.
In this article, you'll discover some of the most interesting facts about Sandro Botticelli so you can learn all about this influential painter.
1. He was born and raised in Florence but his date of birth is unknown
Sandro Botticelli was born Alessandro di Mariano di Vanni Filipepi in Florence, the capital city of the Tuscany region in central Italy.
Although he traveled a couple of times, he lived and worked his entire life in the city. He was the youngest surviving son of a tanner who later became a gold-beater.
His date of birth is unknown but based on contemporary documents, he must have been born between 1444 and 1446.
He grew up in the Via Borgo Ognissanti in the heart of the city and moved to a new house at the Via Nuova in 1464.
Remarkably, he never left the house his parents lived in and never got married. He was buried in the Ognissanti Church which was remodeled into a Baroque building long after his death in 1510.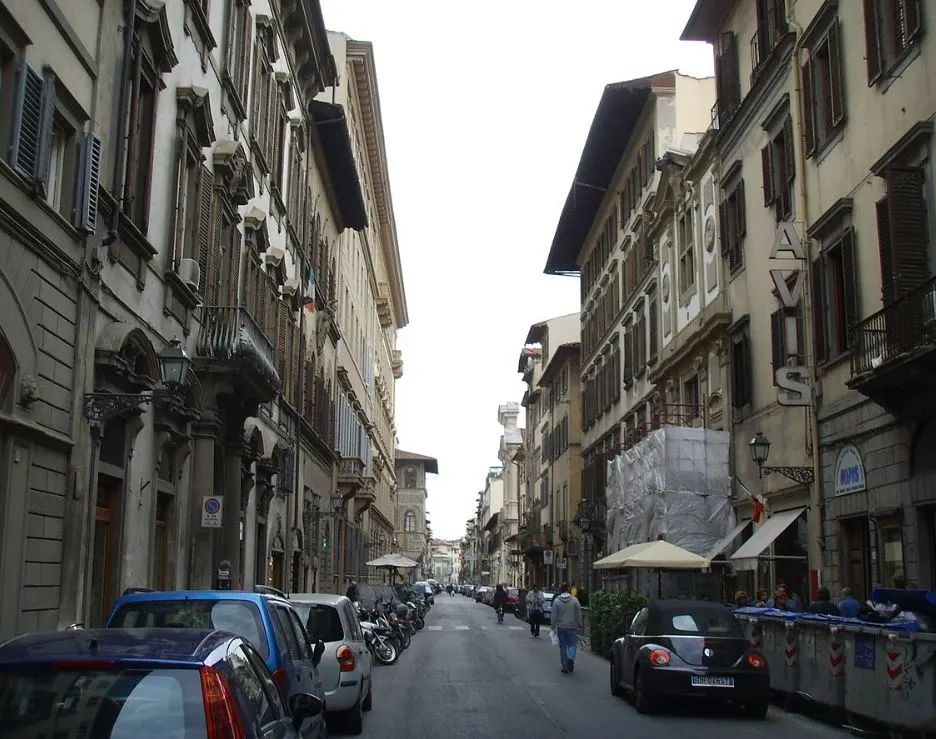 2. Botticelli was a nickname from his brother which he adopted later in life
There's no reference to Botticelli in his real name which means that it was a nickname he adopted later on in life.
It's a reference to a round body shape that resembles a barrel, but initially not his. This was the nickname originally given to his older brother Giovanni.
We can therefore conclude that both brothers had a body that resembled a little barrel. Sandro started using this nickname before the 1470s.
3. The young Sandro was trained by a renowned local artist in the early 1460s
Because he came from a humble family, little is known about the early life of Sandro Botticelli apart from some official documents.
He was clearly talented because he was accepted as a student in the workshop of Filippo Lippi (1406-1469) between 1461 and 1462, one of the leading artists in Florence at the time.
Lippo Lippi, as he was also known, formed the main source of inspiration for the rest of Botticelli's career. The styles of both men were very similar, especially when it came to depicting figures.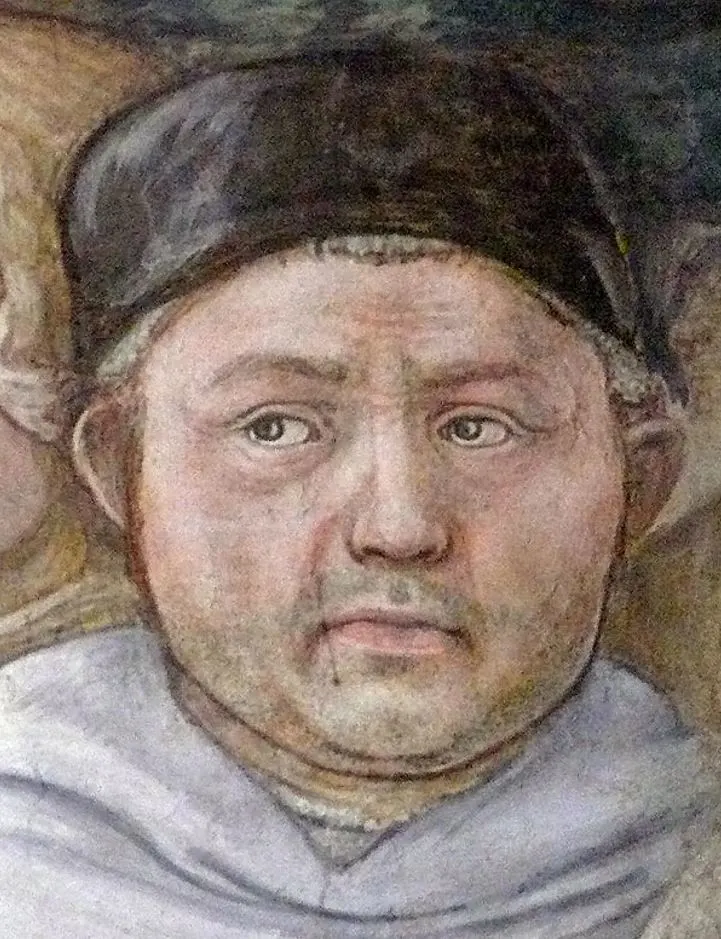 4. He completed his first major altarpiece in the early 1470s
Lippi died in 1469 and it's fairly certain that Botticelli was already at the level of an independent master at the time.
He started earning commissioned in the early 1470s and completed his earliest surviving altarpiece between 1470 and 1472.
This large work of art depicts the Sacra Conversazione and is titled "Madonna and Child with Six Saints" but is also known as the Sant'Ambrogio Altarpiece.
It was a key work in the early phase of Botticelli's career. It became clear that he was capable of producing large compositions which resulted in subsequent commissions during the 1470s.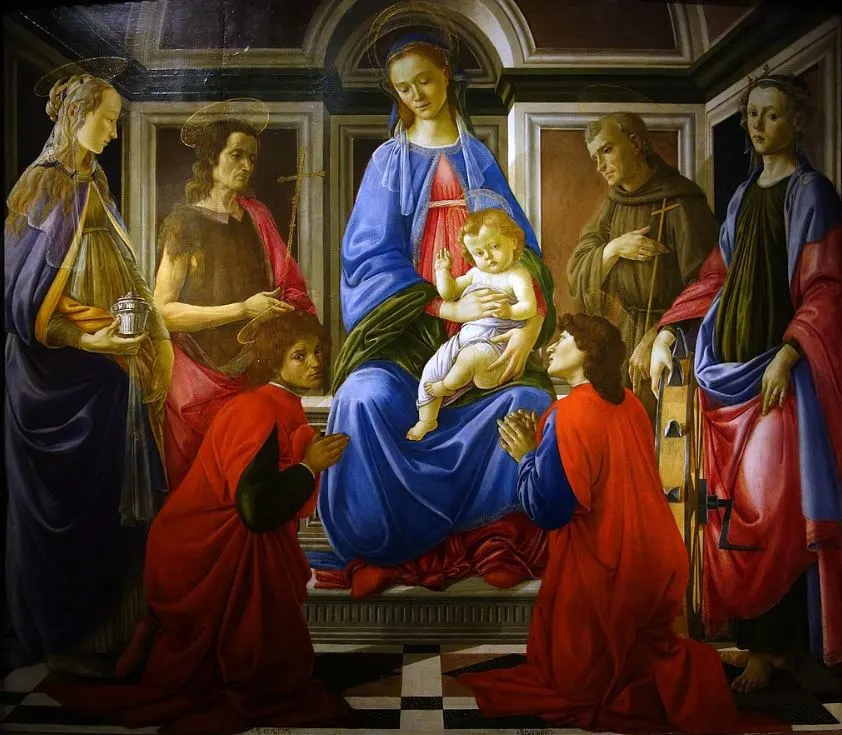 5. Botticelli was one of the original painters of a famous chapel in Rome
Most of Botticelli's earliest commissions were to decorate buildings in Florence. His reputation grew outside of this city as well as he was asked to complete a project in Pisa in 1474.
It wasn't too long before the word of his remarkable talent reached the highest levels in Rome and his great chance to work in Italy's capital came in 1481.
The Sistine Chapel was completed in 1483 and while work was ongoing, Pope Sixtus IV assembled a group of Florentine and Umbrian masters to decorate this new chapel.
Pietro Perugino, the future master of High Renaissance artist Raphael, and Botticelli were among the painters who worked here during the early 1480s.
Botticelli and his assistants painted three monumental scenes, including "The Youth of Moses," Temptations of Christ," and "The Punishment of the Sons of Corah."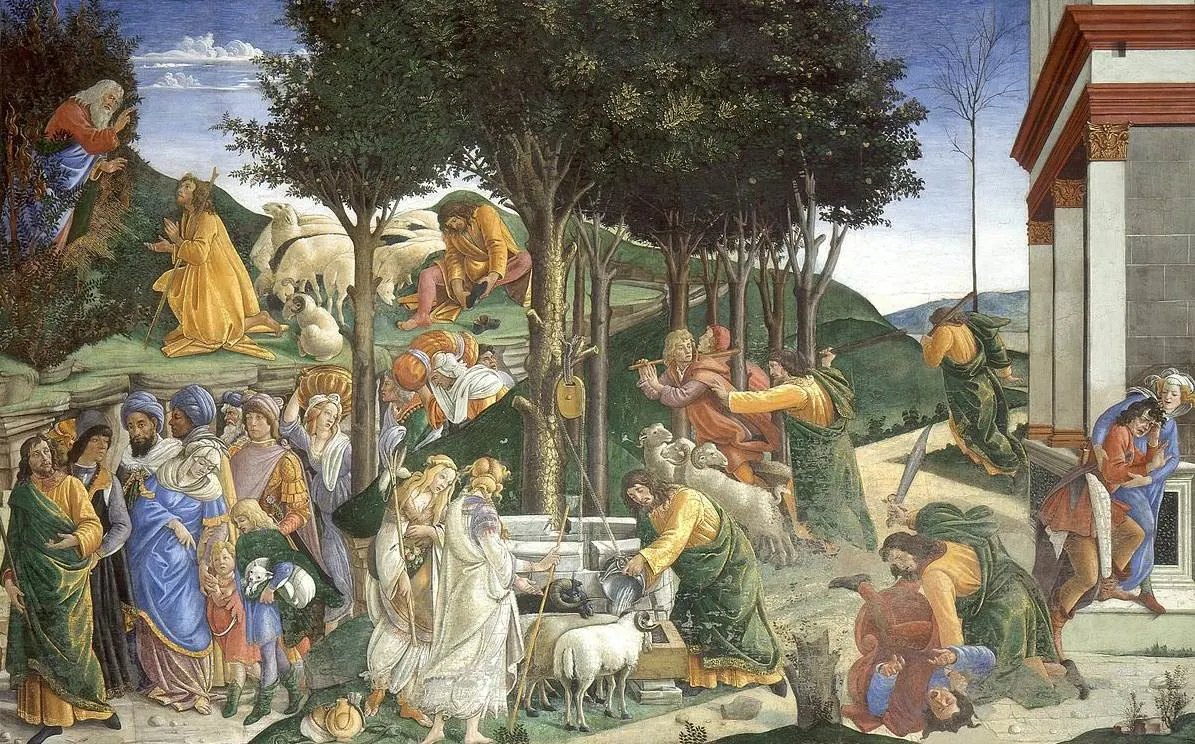 6. He completed some of his ultimate masterpieces during the 1480s
The Florentine painter was already approaching his forties when he returned to his home city and his reputation skyrocketed because of his success in Rome.
The paintings he produced during the 1480s are considered to be his most famous ones, not surprisingly because they feature two world-famous mythological paintings.
Both "Primavera" and "The Birth of Venus" are some of the most iconic paintings in art history and were completed shortly after he returned from Rome between 1482 and 1485.
Although they hang side by side at the Uffizi Gallery in Florence, they are not considered to be accompanying works.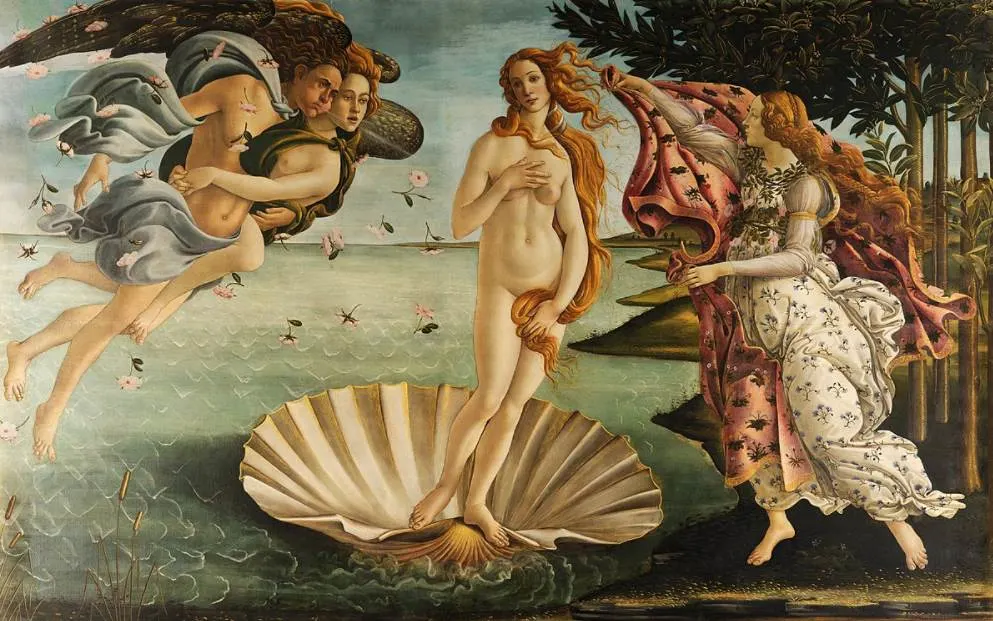 7. He never adopted the style of the High Renaissance that emerged in the 1490s
When you take a look at the paintings of High renaissance artists such as Leonardo da Vinci and Raphael, you'll clearly notice a big difference between Botticelli's paintings.
Da Vinci already mocked Sandro's landscapes back in the 1470s and he surely didn't appreciate the direction he went in during the 1490s and early 16th century.
He returned to the ideals of Gothic artists and he painted the figures in an almost cartoonish manner. This resulted in his posthumous reputation suffering a great deal.
Either way, I personally find these paintings to be quite fascinating because they could easily be used to produce comic books in the 20th century.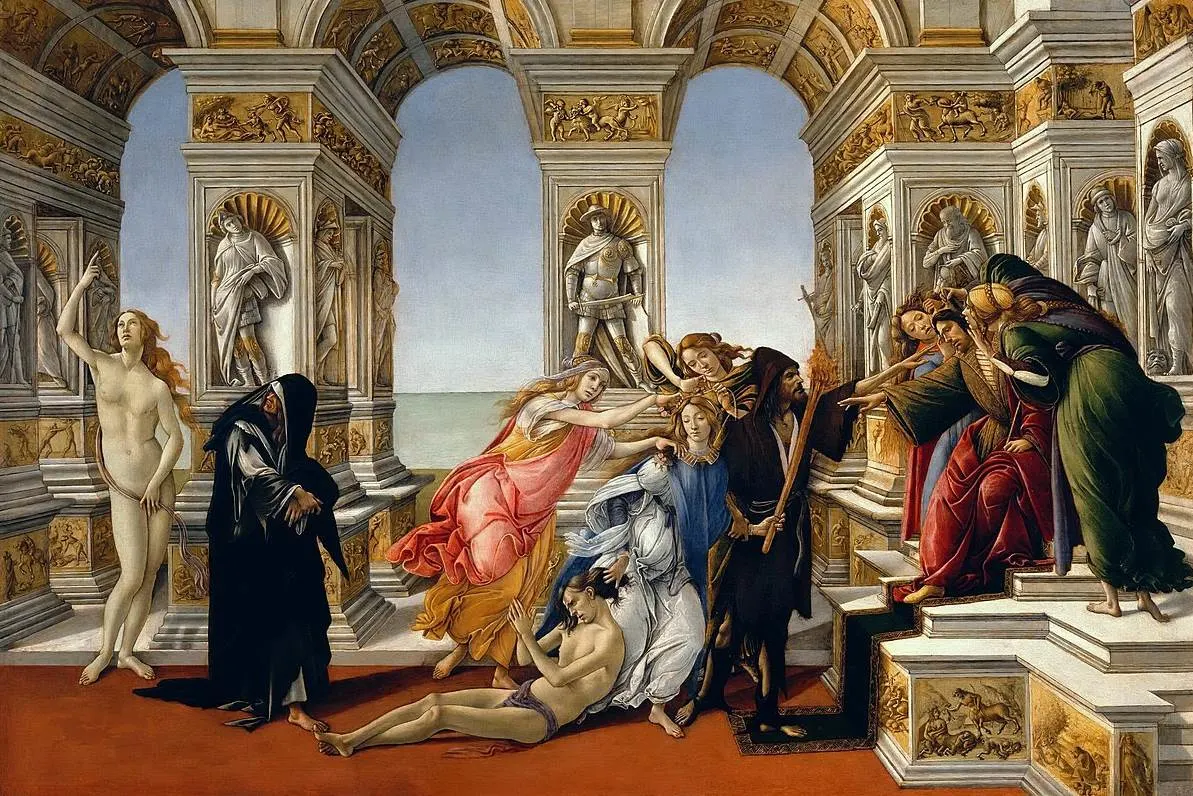 8. He produced many portraits and Madonna paintings in an unusual format
Madonna paintings featuring the infant Jesus Christ were very popular during the 15th and 16th centuries, and artists could also rely on selling these to make a living.
Botticelli started painting Madonnas when he was just starting out in the 1460s and continued to do so until the 1490s. He often earned commissions for secular portraits as well.
What's remarkable about his versions of the Madonna and Child is that he often completed tondos, a round format that was very unusual at the time.
Apart from this notion, his depictions of the Virgin Mary were highly idealized and often very colorful as well. The "Madonna of the Magnificat" (1482) is a perfect example of this.
9. He tried his hand at manuscript printing but this wasn't a success
The Italian painter was extremely fascinated by the Florentine poet Dante Alighieri, a man best known for his poem titled "The Divine Comedy."
This narrative poem was written between 1308 and 1321 and it describes Dante's journey through Hell, Purgatory, and Heaven.
Botticelli worked on his own version titled "Divine Comedy Illustrated by Botticelli" and although only 4 pages were effectively colored, he did complete many pages of which 93 have survived.
Unfortunately, the demand for his work was rather low and it wasn't considered to be a commercial success.
Granted, Sandro most likely worked on it as a hobby project which is quite an interesting notion.
10. It's only from the 19th century that his oeuvre has been held in high regard
As I mentioned, the fact that he didn't adopt the popular High Renaissance style during the 1490s made him a rather obscure painter for many centuries.
His frescoes at the Sistine Chapel were overshadowed by the works of Michelangelo that were completed many years later.
It wasn't until a group of English artists known as the "Pre-Raphaelite Brotherhood" rediscovered his oeuvre in the 19th century that his paintings received the praise they deserve.
They were obsessed with Quattrocento Italian art of which Sandro Botticelli was one of the leading figures, especially because of the direction he took during the final decades of his career.
Many of his paintings remained in situ for centuries and that's why auctions with his works are pretty uncommon.
The so-called "Rockefeller Madonna" sold for $10.4 million in 2013. This amount was shattered by the sale of "Portrait of a Young Man Holding a Roundel" which sold for $92.2 million in 2021.