If you talk about wax museums, you simply talk about Madame Tussauds.
The main museum is located in London and is an immensely popular tourist attraction. No wonder, imagine how many people wait days to get a glimpse of their favorite celebrity, and here you got a museum full of all the most famous people in the world.
The museum is named after its creator, Marie Tussaud, a French artist who specialized in wax statues. She was born in 1761 and died in 1850.
Madame Tussauds Museums can be found in numerous cities all around the world.
Ready to know all about Madame Tussauds? Here are some of the most interesting facts about Madame Tussauds, the most famous wax museum in the world.
1. Marie Tussaud learned wax modeling at a very young age
Marie Tussaud, whose birth name was Marie Grosholtz, was born in 1761 in Strasbourg in France.
When she was a little girl, her mother worked as a housekeeper for a wax sculptor named Philippe Curtius. Marie got interested in wax sculpting when she was just 6 years old.
Clearly recognizing his talent from a young age, Philippe took the little Marie with him to Paris to become his apprentice in the art of wax modeling.
When she was just 15 years old she completed her first wax sculpture, that of French Philsopher Voltaire.
2. Marie Tussaud was in prison
---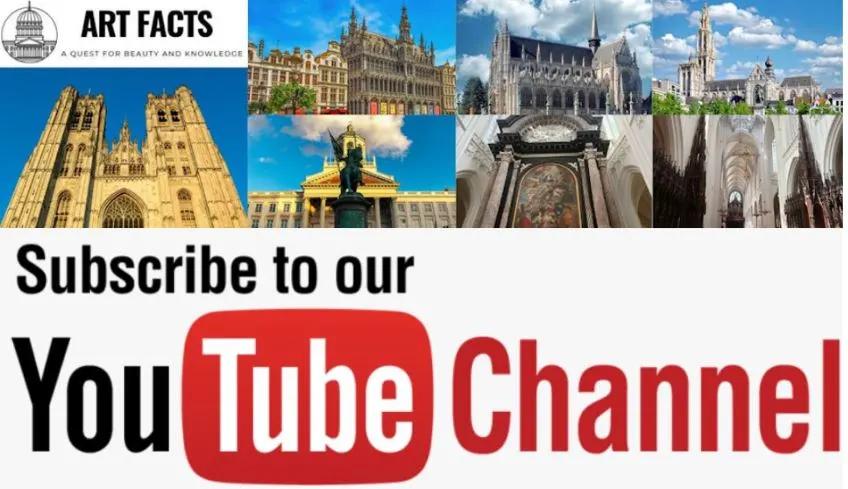 ---
Clearly talented, other opportunities came about for Marie. As her talent was recognized by other, influential people, she had the chance to become the art tutor of Madame Elizabeth.
She was the sister of King Louis XVI of France, which meant she started working at the Palace of Versailles and sure came across Marie Antoinette as well.
Then the French Revolution happened, a time of immense turmoil and war. because of her job at the Palace of Versailles, she was actually imprisoned for 3 months, actually awaiting execution by the guillotine.
3. Her talent got her out of prison
An influential friend, who clearly recognized her talent as well, found a way to get her out of prison.
To prove her support for the revolution (which would get her out), she could help using her talent in wax sculpting.
What did she need to do?
She needed to create replicas of the heads of the aristocrats who fell victim to the French Revolution and had just been executed by guillotine.
The heads were then put on spikes and put on the Place de la Concorde, displayed to everybody passing by.
A disturbing fact for Marie Tussaud: This included her former employer King Louis XVI, his wife, Marie Antoinette, and Marie Elizabeth who were all executed by guillotine.
4. Great Britain Exhibitions
When her old mentor, Philippe Curtius, died in 1794, Marie Tussaud inherited his entire collection of wax sculptures.
This allowed her to create an exhibition, and after her marriage with Francois Tussaud, she called it "Madame Tussaud's."
The most important moment came when she received an invitation from magician Paul Philidor. He invited her to come with her show to the Lyceum Theatre in London.
Unable to return to France due to the Napoleonic Wars, she stayed in the UK and traveled around with her exhibition in Great Britain And Ireland.
So if you wonder why the French wax sculptor Marie Tussaud started her museum in London, these events explain it.
5. The first museum in Baker Street
After over 30 years of traveling around with her exhibition, it was time for Marie Tussaud to settle down and create a museum.
She took several (expensive) leases on a property on the upper floor of the "Baker Street Bazaar," which is located in Baker Street in London.
An interesting fact about Madame Tussauds: The location at Baker Street was the first time Marie Tussaud found a permanent home in the UK. She traveled with her collection starting in 1802 until she settled down in Baker Street in 1835.
6. Final Destination of Madame Tussauds in London
Because of the limited space available and the growing costs, the museum moved to its final (and current location) at Marylebone Road.
The first time the museum was open for the public on its current location was on 14 July 1884.
Due to a lack of initial capital however and a disagreement between family shareholders, the company was sold to Tussaud's was sold to a group of businessmen, led by Edwin Josiah Poyser In February 1889.
The museum was an instant success and grew into the immense tourist attraction it is today.
Not a bad investment at all!
7. Madame Tussauds worldwide
Madame Tussauds didn't just grow in London, it has been spreading all around the world. The first-ever branch to open overseas was the Madame Tussauds' branch in Amsterdam.
At the moment there are exactly 24 museums, and these are the current locations of Madame Tussauds all around the world:
Asia
Beijing, China
Chongqing, China
Shanghai, China
Wuhan, China
Hong Kong
New Delhi, India
Tokyo, Japan
Singapore
Bangkok, Thailand
Europe
Amsterdam, Netherlands
Berlin, Germany
Blackpool, United Kingdom
Istanbul, Turkey
London, United Kingdom
Prague, Czech Republic
Vienna, Austria
North America
Hollywood, United States
Las Vegas, United States
Nashville, United States
New York City, United States
Orlando, United States
San Francisco, United States
Washington, D.C., United States
Oceania
8. Madame Tussauds ownership
Madame Tussauds's museums are big business. That reflects on the change of ownership and the amount of money involved in the deals.
Here's a short overview of ownership transitions:
Madame Tussauds was sold in 2005 to a company in Dubai called "Dubai International Capital" for about $1.5 Billion.
The "Blackstone Group" bought the company for $1.9 Billion in 2007.
Management was left to "Merlin Entertainment"
Dubai International Capital gained 20% in equity in the company after the acquisition as well as £1.03bn in cash.
Merlin sold the freehold of Madame Tussauds to private investor Nick Leslau and his investment firm Prestbury.
Even though Prestbury owns the museums, they are still operated by Merlin on a 35-year renewable lease.
Merlin Entertainments PLC, the current manager of Madame Tussauds, is a British-based entertainment company. They manage numerous theme parks and attractions, including for example the London Eye, and employ over 27,000 people worldwide.
9. (Fun?) facts about Madame Tussauds
Madame Tussauds has been through a lot. From the early days of being an exhibition on the road to becoming a multinational company worth over a billion dollars.
Obviously, the museum hasn't been without its controversies, something you would expect from a museum that displays wax statues of the most famous people in the world.
So let's take a look at some fun and some not-so-fun facts about Madame Tussauds.
Horror sells
One of the most important selling points of the museum in its early days was the statues of infamous murderers and other criminals of history, as well as victims of the French revolution. These were displayed in something called the "Chamber of Horror" and advertising was used to lure people to it as early as 1843.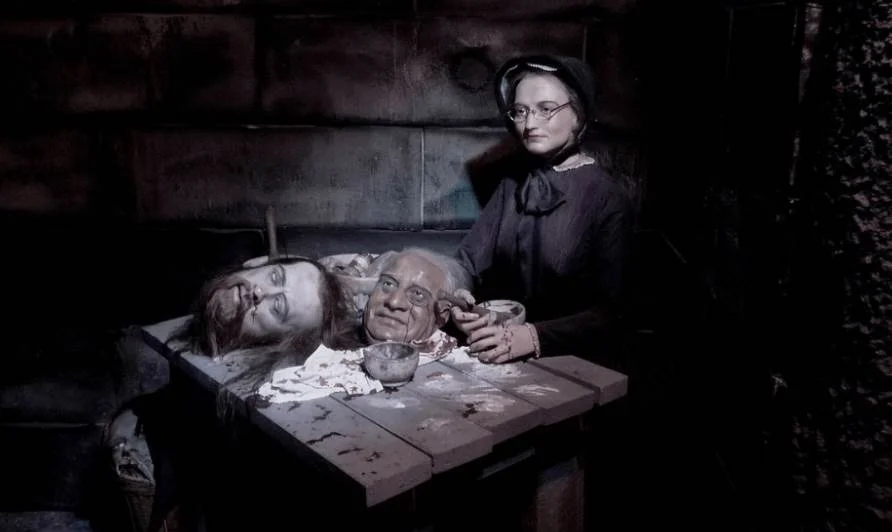 It's Madame Tussauds, not Madame Tussaud's
In case you wonder why the spelling of the museum's name appears to be incorrect, there is a logical reason for that. When Merlin Entertainment took over, the Tussaud Group seized to exist. By their rationale, a reference to the Tussaud Group owning the company wasn't needed anymore, so they simply changed it to "Madame Tussauds."
Museum Tragedies
A lot of wax statues from the early collections have been lost. Even though there are still a few of the old ones in the collection, a fire that happened in 1925 and German bombs during World War II in 1941 have destroyed most of them.
Decapitated Hitler
When the Madame Tussauds branch in Berlin opened its doors, one German wasn't too happy. He stormed past security on opening day, rushed to the wax statue of Adolph Hitler, and tore his head off. Apart from being unaware that decapitating wax statues when visiting Madame Tussauds isn't allowed, the perpetrator was unhappy that Hitler had become a tourist attraction.
Another decapitation victim
As if we're back in the French Revolution, Hitler's statue wasn't the only one losing its head. According to a report from NBC New York, a man pushed the wax statue of Sean Combs, better known by his artist name P. Diddy (originally Puff Daddy, Diddy, Puffy, etc.) causing its head to fall off. The man then repeatedly stomped on the head.
Not Everybody wants a statue
Being eternalized with a replica of yourself seems to be an amazing prospect (unless it gets decapitated for some reason). If you have a wax statue of yourself at Madame Tussauds, it seems your status as a popular celebrity is confirmed. Some people declined though. Mother Theresa is one of the people that didn't want a wax statue of herself to be made, ever.
Statues are made bigger than the person
The idea of creating a wax statue of a person is to have a replica of that individual. Every statue is made 2% bigger than the person really is though. the reason for this is that the statue will shrink during the process, so the moment the statues are put up for display, the size of the statue will be correct.
Creating the sculptures
The most important part of the sculptures is getting the exact measurement of the person. This process can take days as over 500 different measurements are taken! In case the person is deceased, 100's photographs are used to do the measurements.
The hands aren't actually sculpted, but a cast is taken from the person. The process takes about 4 months until the statue is ready to be displayed, and costs about $300,000. Check out a short video about the process here.
Important note: The measurements of the celebrities are kept confidential.
Statue maintenance
The initial cost of creating the statues isn't the only thing. The maintenance required to keep the statues looking nice is immense. Every day a maintenance team does thorough checks, and hairstyling and adding make-up is done frequently as well.
Smallest figure ever
Not all statues are of real people. Sometimes fictional characters are created as well. The smallest wax statue ever created by Madame Tussauds is that of Tinkerbell, a character from Peter Pan.
Wax statue of the creator
Let's finish this post with facts about Madame Tussauds with an image of the creator of the museum itself, Marie Tussaud. Without her, and let's not forget without her mentor Philippe Curtius, Madame Tussauds would never exist. The wax statue of Marie Tussaud can be found in the Madame Tussauds museum in London.