The city of Dubai is home to some amazing structures.
We all know that Dubai, located in the United Arab Emirates, is the place where the tallest building in the world (at this moment) is located, the Burj Khalifa.
An equally impressive building is the Burj Al Arab, one of the most unique hotels in the world.
1. What is Burj Al Arab?
Burj Al Arab is a luxury hotel located in the city of Dubai in the United Arab Emirates.
It is the 7th tallest hotel in the world and has been constructed on an artificial island about 280 meters (920 ft) from the nearest beach called Jumeirah Beach.
You can reach Burj Al Arab via a private bridge that connects the artificial island with the mainland.
Needless to say, Burj Al Arab is a 5-star hotel.
2. How tall is Burj Al Arab?
Burj Al Arab is the 7th tallest hotel in the world and its architectural height is 321 meters (1,053 ft). It's worth noting though that 39% of this is made up of non-occupiable space.
The top floor of the building is located at a height of 197.5 meters (648 ft).
Still, Burj Al Arab is only 3 meters shorter than the Eiffel Tower in Paris and 2 meters taller than the Chrysler building in New York.
Do you want to arrive at the hotel in style?
Then you would be able to park your helicopter right at the top of Burj Al Arab because there's a helipad near the roof at a height of about 210 meters (689 ft).
3. Construction of Burj Al Arab wasn't easy
The fact that the building is located on an artificial island about 280 meters away from the coast made it very difficult to construct.
We could even say that it's not just an architectural but especially an engineering miracle to create a structure like this in the sea.
It took over 3 years to create an artificial island. That's more than it took to actually construct the building itself.
Burj Al Arab was designed by London-based engineering agency Atkins and led by architect Tom Wright.
The construction was done by the South-African company "Murray & Roberts" (renamed to Concor) and "Al Habtoor Engineering."
4. Who owns Burj Al Arab?
Saying that constructing a building like Burj Al Arab is stating the obvious. So you surely won't be surprised to know that its construction cost about $1 billion.
Construction started in 1994, which includes the creation of the artificial island Burj Al Arab stands on and was finished in 1999.
Burj Al Arab is owned by "Jumeriah Hotels and Resorts," a chain of luxury hotels located in the United Arab Emirates.
Jumeirah Hotels and Resorts was founded in 1997 and joined Dubai Holding in 2004.
More interesting facts about Burj Al Arab
5. "Burj" in Arabic translates to "tower" which means the name of the building is simply "Tower of the Arabs."
6. The original design of Burj Al Arab was done by Uruguayan architect Carlos Ott, famously known for constructing the Opéra Bastille in Paris in 1989, which is located on the famous "Place de la Bastille" on the Champs-Élysees (on the other side of the Arc de Triomphe).
7. The design is supposed to resemble the sail of a high-tech J-class yacht and is very similar to that of the "Vasco Da Gama Tower" in Lisbon, Portugal.
8. Burj Al Arab is the 7th tallest hotel in the world. But did you know that Dubai is home to 4 of the 5 tallest hotels in the world? The list at the moment of writing is as follows:
Gevora Hotel – Dubai – 356.3 meters (1,169 ft)
JW Marriott Marquis – Dubai – 355 meters (1,165 ft)
Four Seasons Place – Kuala Lumpur – 343 meters (1,125 ft)
SLS Dubai Hotel and Residences – Dubai – 336 meters (1,102 ft)
Rose Rayhaan by Rotana – Dubai – 333 meters (1,093 ft)
9. The closest beach to Burj Al Arab is Jumeirah Beach. This beach was actually called "Miami Beach" and home to the "Chicago Beach Hotel." It got its name from the "Chicago Bridge & Iron Company" which used to move around big containers of oil in the area.
10. Construction of the project began in 1994, and at its peak involved over 2,000 construction workers.
11. To create the artificial island, construction workers drove 230 forty-meter-long (130 ft) concrete piles into the sand. They then created a surface with rocks that they strengthened with concrete to avoid erosion.
12. One of the marvels of the building is the atrium, which is about 180 meters (590 ft) tall and consists out of 18 stories. Now that's one amazing lobby!
13. Even though the Burj Al Arab is an enormous hotel, it only has 56 floors (28 double-story floors to be more precise) and a total of 202 suites. The suites are all very specious though, as the smallest suite occupies a space of 169 m2 (1,820 sq ft).
14. How much does a room in Burj Al Arab cost?
If you have some spare cash lying around, then you can always book a room in the "Royal Suite." One night will cost you nearly $18,300 per night! (Updated in 2020, prices will surely fluctuate). The cheapest room will still cost you over $1,300 a night.
15. Way back in 2012, CNN Go did a study on where you can find the most expensive hotel rooms in the world. The Royal Suite in Burj Al Arab reached the top 15 in the 12th position.
16. Burj Al Arab is very popular amongst the Chinese. So much that nearly a quarter of all bookings is done by Chinese nationals.
17. There is a restaurant that provides you with an amazing view of Dubai at a height of 200 (660 ft) meters called Al Muntaha ("The Ultimate"). Contrarily, there is also a restaurant below the ground that allows you to get a view inside a huge seawater aquarium, called Al Mahara ("The Oyster").
18. The aquarium holds about 990,000 liters (260,000 US gal) of water and the glass to withstand the pressure from all of this water is about 18 centimeters (7.1 in) thick.
19. The hotel has sometimes erroneously been described as "The World's Only 7-star Hotel." The management has assured them they have never used this as advertising, and are aware that the 5-star they have is all they can ever get. They most probably do appreciate that customers call their hotel this way. The term was first used by a British journalist who had visited the hotel to describe the above and beyond reception, she had experienced.
20. The interior of the hotel is nothing but spectacular. About 1790 square meters of 24-carat gold leaf were used to decorate the various spots people can hang out in the hotel. Ever been to a nightclub decorated with real gold? In the "Gold on 27" in Burj Al Arab you can.
21. There are plenty of buildings that are constructed on artificial islands, right? Burj Al Arab is the only skyscraper to have been built on reclaimed land at the moment.
22. So why was it built on an artificial island about 280 meters away from the beach? The reason is simple, so it wouldn't block the sun for people trying to get a tan on the popular Jumeirah beach!
23. The Dubai sun can be excruciating, reaching over 50 degrees Celsius in the daytime. So how did engineers avoid turning the 18-story high atrium into an oven? By using a membranous material made out of PTFE (Polytetrafluoroethylene) glass fibers.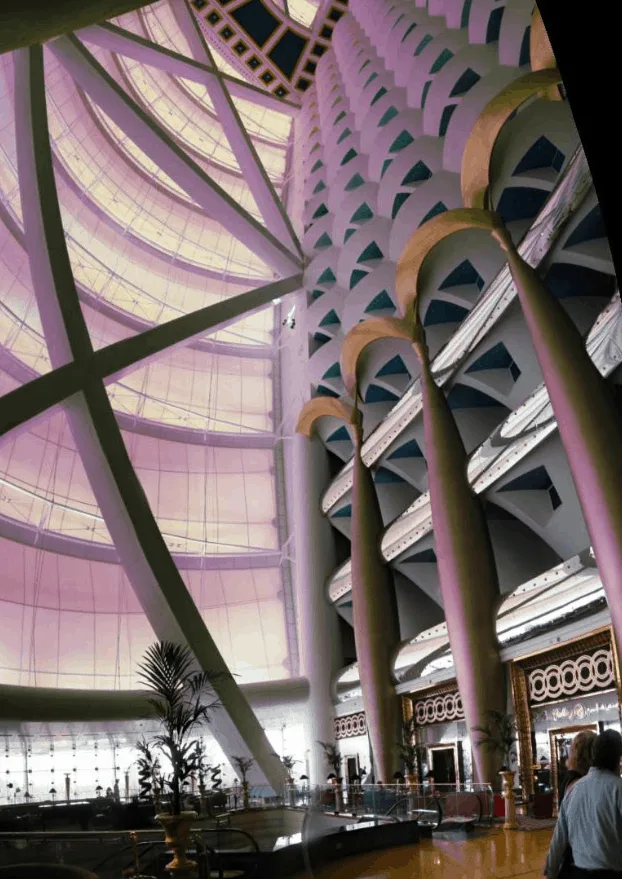 24. Burj Al Arab features a 10,000 square meter luxury platform. This features two pools, cabanas, and a 1,120 square meters beach area. To make it even better, 1 million kilos of white sand were imported to resemble a real beach, and the pools have been decorated with 10 million gold and azure mosaic tiles.
25. The helipad has been a popular attraction to perform stunts. Some include Tiger Woods teeing off from it, Roger Federer and André Agassi playing some tennis on it, and David Coulthard having some fun in his Formula 1 race car.
26. One of the most spectacular (and dangerous) stunts performed on Burj Al Arab's helipad has been a 2017 kite jump done by Danish kiteboarder Nick Jacobsen. It was part of a Mercedes Benz promo video and it all went well.
27. Why was the Burj Al Arab built exactly? That question can be answered by Sheikh Mohammed Bin Rashid Al Maktoum, Vice President and Prime Minister of the UAE and Ruler of Dubai. He wanted to create a building that put Dubai on the map, a building so iconic that it would be ingrained in your mind the moment you saw it. Jumeirah Group CEO José Silva believes the mission for Burj Al Arab regarding this goal has been accomplished.
28. Burj Al Arab opened its doors on December 1, 1999. This means that on December 1 of 2019, Burj Al Arab has celebrated its 20th anniversary!