Everybody must have a favorite type of architecture, and if I were asked to make a list, I would include this style in the top 3.
Brabantine Gothic architecture is a type of Gothic architecture that is clearly distinct from the style that can be found in many Gothic cathedrals around Europe.
It emerged in the region of Brabant, now part of Belgium and the Netherlands, and spread to only a few regions in this part of Europe.
The style can be defined as an exaggeration of the already dramatic French Gothic style which emerged in the 12th century. Great examples of French Gothic are the Cathedral of Reims and Chartres Cathedral.
Most Brabantine Gothic buildings incorporate light-colored sandstone which allowed for sculptors to carve magnificent decorations into these structures.
Let's take a closer look at the most famous buildings of this particular type of architecture!
1. St. Rumbold's Cathedral, Mechelen, Belgium
St. Rumbold's Cathedral is a magnificent example of Brabantine Gothic architecture. Its towering spire, rising 97 meters (318 feet) into the sky, is a prominent feature of the Mechelen skyline.
The cathedral's facade is adorned with intricate tracery, and its interior boasts a stunning collection of stained glass windows and finely carved wooden choir stalls.
2. St. Peter's Church – Leuven, Belgium
St. Peter's Church in Leuven is a prime example of the elegant proportions and intricate detailing of this type of Gothic architecture.
---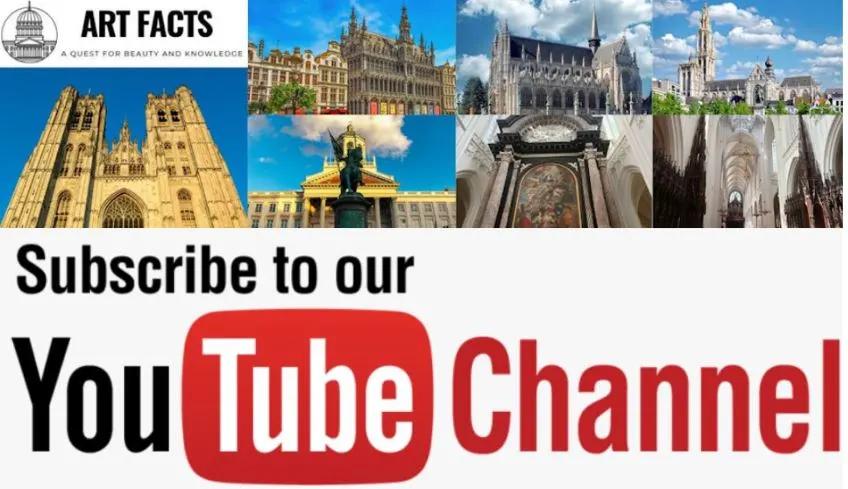 ---
Its stunning stained glass windows and delicate tracery are highlights of the interior. The church's tower, built in distinct tiers but which was never finished, adds to its imposing presence.
3. Cathedral of Our Lady – Antwerp, Belgium
The Cathedral of Our Lady in Antwerp is without a doubt one of the most stunning examples of Brabantine architecture in the world.
It features an incredible bell tower that was intended to be a twin tower, but which was also never finished.
The interior was largely rebuilt and features an amazing collection of artwork. This includes several masterpieces by native painter Peter Paul Rubens (1577-1640).
Unfortunately, you need to pay an entrance fee to admire these artworks, but it's well worth the price in my opinion.
4. Leuven Town Hall – Leuven, Belgium
The facade of the Leuven Town Hall is a masterpiece of Brabantine Gothic design. It features a richly adorned, symmetrical frontage that captivates onlookers with its elegance.
The entire exterior is adorned with ornate sculptures, statues of nobles, and finely carved stone decorations. Delicate pinnacles and niches house statues of historical figures, adding a sense of grandeur to the building.
The central tower rises majestically above the main entrance, culminating in an elegant spire crowned with a gilded statue of St. Peter, the city's patron saint. It's without a doubt one of the most beautiful city hall buildings in the world, don't you think?
5. Cathedral of St. Michael and St. Gudula – Brussels, Belgium
This Cathedral of St. Michael and St. Gudula is a striking building in Brussels that combines elements of both Brabantine Gothic and Romanesque architecture.
Its twin towers are a striking feature, and the interior boasts a beautiful nave with ribbed vaulting. The stained glass windows depict biblical scenes in vibrant colors.
6. St. John's Cathedral – 's-Hertogenbosch, Netherlands
St. John's Cathedral in 's-Hertogenbosch is yet another architectural jewel that exemplifies the grandeur and sophistication of the Brabantine Gothic style.
It stands as a towering masterpiece, dominating the skyline of 's-Hertogenbosch with its striking features and intricate detailing.
The cathedral's facade is adorned with an abundance of finely detailed sculptures and decorative elements and flying buttresses support the weight of the massive stone walls, creating a visually stunning display of architectural innovation.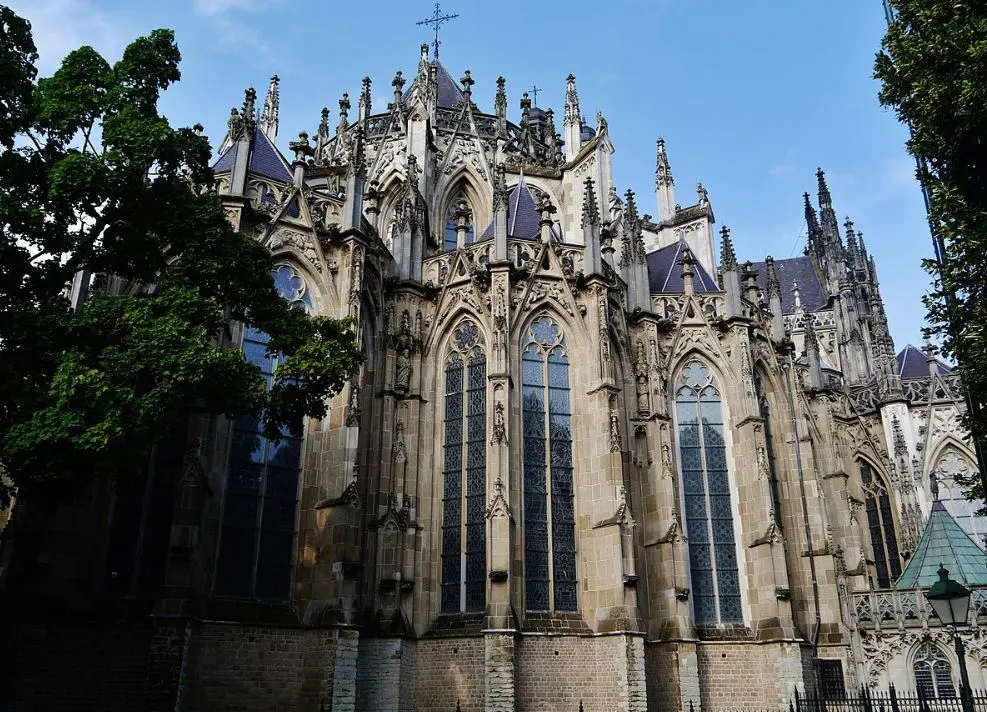 7. Brussels Town Hall – Brussels, Belgium
The Brussels Town Hall is an iconic Brabantine Gothic building. Its ornate facade is adorned with statues of nobles and saints, and its tall spire dominates the Grand Place.
The building's interior includes lavishly decorated chambers, such as the Gothic Room, with its impressive vaulted ceiling.
It's the only medieval building at Brussels' Grand Place that has survived the late 17th-century Bombing of Brussels by King Louis XIV of France.
8. Church of Our Lady – Breda, Netherlands
The Church of Our Lady in Breda features a majestic facade with pointed arches and intricate stone carvings.
Inside, the church is known for its impressive organ and ornate choir stalls, showcasing the craftsmanship of the Brabantine Gothic period.
9. St. Bavo's Cathedral – Ghent, Belgium
St. Bavo's Cathedral is one of the buildings in Ghent that has earned to city the "Manhatten of the Middle Ages."
St. Bavo's Cathedral embodies classic Gothic architectural elements, including pointed arches, delicate tracery work, and towering stained glass windows.
Stepping inside St. Bavo's Cathedral is a transformative experience. The vast, vaulted nave stretches upwards, creating a sense of awe-inspiring space.
The interior is adorned with ornate Gothic ribbed vaults and finely crafted stone columns. The cathedral's choir stalls, pulpit, and altar area are exquisite examples of intricate woodcarving, showcasing the artistic skill of the period.
You can also admire the Ghent Altarpiece here, one of the world's ultimate art treasures. A fee has to be paid to enter this part of the church.
10. Middelburg Town Hall – Midelburg, Netherlands
The facade of Middelburg Town Hall features a symmetrical and balanced design, with red brickwork accented by white stone detailing.
It's adorned with intricately carved stone sculptures, ornamental reliefs, and decorative elements that reflect the wealth and cultural refinement of the period.
The interior of Middelburg Town Hall is equally impressive, featuring a beautifully decorated council chamber adorned with period furnishings and historical paintings.
The ceiling of the council chamber is often a highlight, showcasing ornate plasterwork and intricate wooden beams.
11. Church of Our Blessed Lady of the Sablon – Brussels, Belgium
The Church of Our Blessed Lady of the Sablon is a stunning Brabantine Gothic church located in the Sablon neighborhood of Brussels, Belgium.
This church is celebrated for its exceptional Gothic architecture and its role as a cultural and historical landmark in the city.
12. Oudenaarde Town Hall – Oudenaarde, Belgium
The Oudenaarde Town Hall, known as Stadhuis van Oudenaarde in Dutch, is an exceptional architectural masterpiece located in the charming small city of Oudenaarde, Belgium.
One of the notable features of Oudenaarde Town Hall is its elegant clock tower, rising above the central portion of the building.
The tower is often adorned with a distinctive cupola, weather vane, and carillon, contributing to the town hall's distinctive silhouette.